No team needs a stronger start to Big Ten play than the Michigan Wolverines.
Michigan entered the the season as one of the favorites to go to Pasadena. However, they have not played up to expectations so far.
Despite starting the season 4-0, the Wolverines have looked far from dominant against inferior competition. They roughed up Central Michigan by 50 to start the season, but their next couple of games weren't easy.
Who will win the battle for the Little Brown Jug?
Notre Dame came to the Big House and played Michigan tough. After that big win, the Wolverines looked like they were ready to take off. Unfortunately for them, their struggles were only beginning.
Once the Fighting Irish left town, the Akron Zips came in as huge underdogs. The Zips had lost 28 straight road games and had won only four games since the start of the 2010 season. Given all of those struggles, Akron came within a couple of yards—or a few seconds—of pulling off the major upset.
It was somewhat understandable given the Wolverines were coming off a huge emotional win against Notre Dame. They survived and went up to Connecticut the next week. The Huskies got out to a 21-7 lead in the third quarter, but the Wolverines battled back for a 24-21 victory.
The Wolverines' point total has dropped each week, which explains why they have struggled to beat teams lately.
After those close calls, Michigan has fallen to No. 19 in the polls.
Now, the Wolverines have had two weeks to recover from their game against UConn. Big Ten play will get underway this weekend for Michigan, and it can't afford a slow start.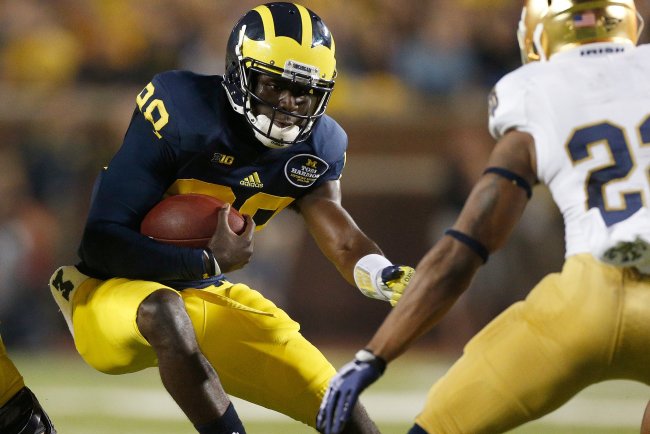 Gregory Shamus/Getty Images
Junior quarterback Devin Gardner has been shaky this season. In four games, he has thrown for only 801 yards with seven touchdowns to eight interceptions. However, the dual-threat quarterback has 301 rushing yards and five touchdowns on the ground.
Gardner has been good at times, but his tendency to turn the ball over will come back to haunt the Wolverines against tougher competition.
Minnesota is 4-1 this season but lost its conference opener last week. The Golden Gophers beat up on small schools in the first four weeks. Once conference play began, they couldn't respond to the tougher competition.
In the battle for the Little Brown Jug, Michigan has owned the rivalry. Minnesota's last victory in the series, which happened to be in Ann Arbor, came in 2005. In fact, Minnesota's only wins in the series since 1978 came in Michigan.
This is a matchup that should give the Wolverines a chance to start off Big Ten play with a win. None of their first five games in conference play, which goes through the middle of November, are against ranked opponents. Michigan needs to take advantage of their schedule before finishing the year against two ranked opponents in the final three weeks, including Ohio State.
Michigan Wolverines 2013 Football Schedule

| | |
| --- | --- |
| Date | Opponent |
| 8/31 | vs. Central Michigan (W, 59-9) |
| 9/7 | vs. No 14 Notre Dame (W, 41-30) |
| 9/14 | vs. Akron (W, 28-24) |
| 9/41 | at Connecticut (W, 24-21) |
| 10/5 | vs. Minnesota |
| 10/12 | at Penn State |
| 10/19 | vs. Indiana |
| 11/2 | at Michigan State |
| 11/9 | vs. Nebraska |
| 11/16 | at No. 16 Northwestern |
| 11/23 | at Iowa |
| 11/30 | vs. No. 4 Ohio State |
MGoBlue.com
A slow start to conference play would be a big blow to the team's confidence. The Wolverines have already had their share of scares this season, so it desperately needs an easy win to start Big Ten play, especially after a bye.
With two weeks to get things worked out, Michigan must send a message in this game. It has to show that it is still one of the conference's best teams and start building momentum. The entire country will be watching how the Wolverines respond, so coach Brady Hoke better have his team ready to play from the start.