NCAA Mandates Automatic Review of All Targeting Penalties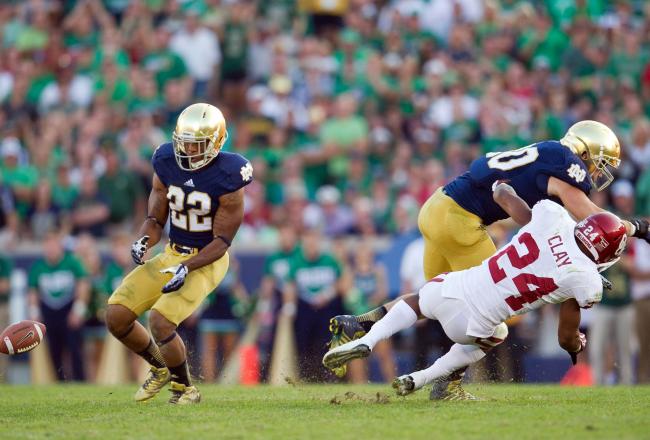 Matt Cashore-USA TODAY Sports
College football games will now be stopped immediately to review penalties involving the targeting of defenseless opponents above the shoulders or after the use of the helmet's crown when contacting an opposing player.
The NCAA announced the rule change is taking place right away and will only be used during games where the necessary technology is available. The hope is that it helps improve the speed of such decisions and keeps coaches from needing to use a challenge.
In the release, NCAA football secretary-rules editor Rogers Redding stated the change should allow officials to make a determination about a player's game status more efficiently:
This new process will allow instant replay officials to review the play in a timely manner to determine whether a student-athlete should be disqualified and not miss any game action if it is overturned. Another benefit of this process is eliminating the need for a coach to use one of his challenges for the review.
Ultimately, referees will have three options after the video is examined, which is common for other reviews. The decision can either stand or, if the video evidence is clear, be confirmed, and then the player would be disqualified.
Is the NCAA doing enough to limit targeting fouls?
If the video review shows the action didn't take place, the call can then be reversed and the player in question would not be ejected from the game.
The change is the latest in an ongoing effort across the football spectrum to improve the game's overall safety without punishing players who make a clean plays. More specifically, to try and limit the number of head injuries.
By making the process more simple, the NCAA gives the officials the flexibility they need to make the right call in a timely manner.
The timing issue was one that became a concern during the early portion of the new season. The change should eliminate that problem while keeping the basic tenants of the rule in place.
The NCAA will find out for sure in the coming weeks.
This article is
What is the duplicate article?
Why is this article offensive?
Where is this article plagiarized from?
Why is this article poorly edited?