An electric atmosphere permeated Muirfield Village on Friday, as Day 2 of the 2013 Presidents Cup featured some phenomenal play by the world's best golfers.
After opening up the event with a one-point lead on Thursday, the United States Team finished the day exactly how it started, leading 4.5-3.5, as The Presidents Cup noted:
Els/de Jonge tighten up the score with their own 4&3 victory over Haas/Mahan. 3.5-4.5 USA. #PresCup #Match8

— The Presidents Cup (@PresidentsCup) October 4, 2013
Unfortunately, only two matches were completed before the rest were postponed until Saturday morning due to a lengthy delay during the afternoon.
Day 2 Scoring from 2013 Presidents Cup

| | | |
| --- | --- | --- |
| USA | INTERNATIONAL | SCORING |
| Phil Mickelson & Keegan Bradley * | Jason Day & Graham DeLaet | USA Wins 4 & 3 |
| Bill Haas & Hunter Mahan | Ernie Els & Brendon de Jonge * | INT Wins 4 & 3 |
| Steve Stricker & Jordan Spieth | Branden Grace & Richard Sterne | USA 3 Up Through 14 |
| Webb Simpson & Brendt Snedeker | Angel Cabrera & Marc Leishman | INT 1 Up Through 13 |
| Tiger Woods & Matt Kuchar | Louis Oosthuizen & Charl Schwartzel | USA 3 Up Through 12 |
| Jason Dufner & Zach Johnson | Hideki Matsuyama & Adam Scott | INT 4 Up Through 11 |
PresidentsCup.com (* Denotes Winner)
Mother Nature didn't cooperate with tournament officials, dumping nearly an inch of rain during the afternoon, according to The Presidents Cup:
Total rainfall today at Muirfield Village was .82"

— The Presidents Cup (@PresidentsCup) October 4, 2013
Coming down in sheets, the rain wreaked havoc on the course.
The flooded greenside bunker on No. 18 was just one of many areas on the grounds that needed work before the players could commence after the storm came through, as shown by Rex Hoggard of the Golf Channel:
Bunker @ 18 is going to need some work. #PresCup pic.twitter.com/sBeQ64avKv

— Rex Hoggard (@RexHoggardGC) October 4, 2013
Finally, after a lengthy delay, play resumed at 5:45 p.m. ET, but there wasn't enough daylight left for most of the players to finish their matches, as Stephanie Wei of SI.com pointed out:
Restart time is 5:45pm. No way they're finishing play the matches today. It gets darks around 7.

— Stephanie Wei (@StephanieWei) October 4, 2013
Play will resume on Saturday morning at 7:35 a.m. ET, followed by a one-hour break before the start of the third session, as Hoggard stated:
There will be a 7:35 a.m. restart @ the #PresCup on Saturday, followed by a 1 hr break before start of 3rd session.

— Rex Hoggard (@RexHoggardGC) October 4, 2013
One of the best parts about this biannual event is the national pride that is exhibited by the players and spectators on the course.
Huge roars were heard whenever the Americans won a hole, but the home crowd wasn't alone in its boisterous celebration.
For the second day in a row, an Australian contingency known as the "Fanatics" graced the grounds at Muirfield Village with their own version of encouragement.
Phil Mickelson and Keegan Bradley Put On a Show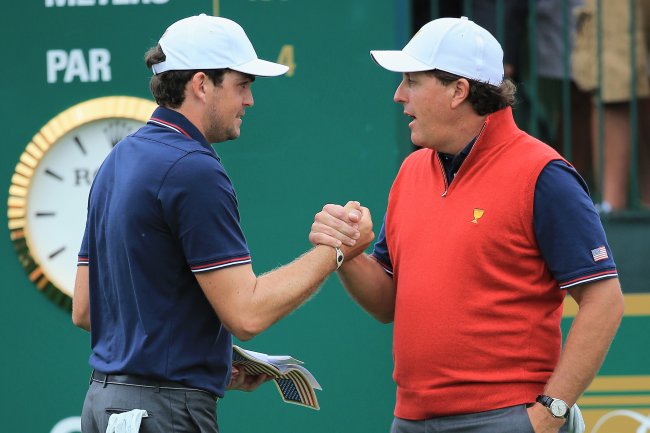 David Cannon/Getty Images
Heading into Friday's action, one of the most intriguing matches of the day featured Phil Mickelson and Keegan Bradley versus Jason Day and Graham DeLaet.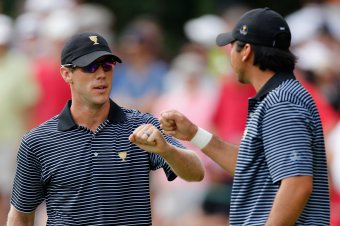 Gregory Shamus/Getty Images
The International duo of Day and DeLaet earned a huge come-from-behind win on Thursday after falling behind by three points early. Mickelson and Bradley may have lost on Thursday after getting off to a hot start, but their penchant for making game-changing shots set the stage for something special on Friday.
Day and DeLaet opened up with a birdie on No. 1 to take an early lead, but the Americans started clicking on the par-five fifth hole. After Mickelson drove his tee shot into the fairway, Bradley flushed a fairway wood to within 17 feet—right on the fringe.
Lefty then did what he's done throughout his career and sunk the eagle putt to get the match back to even.
He wasn't finished, either.
After Bradley put his tee shot in the middle of the fairway on No. 6, Mickelson hit one of the best shots of the day on his approach from 140 yards away.
A tap-in for birdie sparked a big run, as he and Bradley went on an incredible tear to go up by three points heading into the back nine, as John Strege of Golf Digest summarized:
Mickelson/Bradley have gone eagle, birdie, birdie, birdie and looking at another short birdie. They're 3 up. #PresidentsCup

— John Strege (@JohnStrege) October 4, 2013
The duo scored a 30 on the front nine, which is ridiculously good in this format, per Jason Sobel of the Golf Channel, and golf fan Luke Duchossoy called the duo unstoppable:
Phil Mickelson and Keegan Bradley play the front nine in 30 strokes. That's a really good fourballs score. And way better in foursomes.

— Jason Sobel (@JasonSobelGC) October 4, 2013
Mickelson an Bradley #unstoppable

— Luke Duchossoy (@Swoir100) October 4, 2013
They continued to push the pace, going up by six with six holes to play, but Day and DeLaet wouldn't go down easy. With their backs against the wall, the International Team struck back with two birdies in a row to close out holes 14 and 15 and keep the match alive.
But the dynamic duo of Mickelson and Bradley proved to be too much, and they wrapped up the match with a birdie, winning 4 and 3.
Not to Be Outdone...
Mickelson and Bradley weren't the only ones putting together highlight-reel shots on a regular basis, though.
The International Team of Ernie Els and Brandon de Jonge jumped all over Hunter Mahan and Bill Haas, going up by three points early in the match.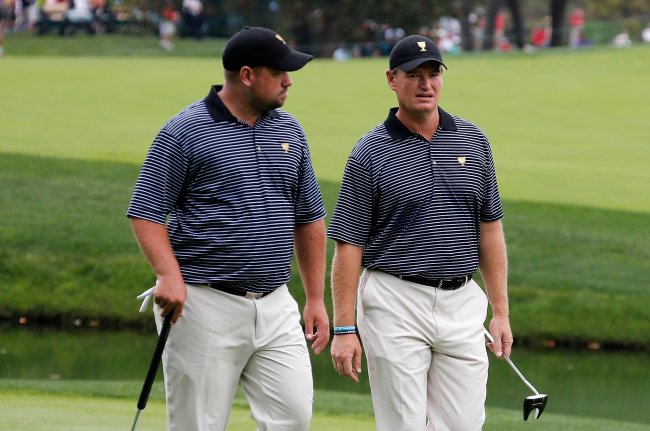 Gregory Shamus/Getty Images
Surprisingly, it wasn't Els who was the star of the show, either.
De Jonge got things started on No. 2 with an impressive birdie putt. Els had hit a nice approach shot to within approximately 15 feet to set up a makable—but not easy—scoring opportunity, and de Jonge drained the putt to put his team up by one stroke.
International captain Nick Price received a fair amount of criticism for hand-picking de Jonge as one of his captain's choices, as alluded to by Yahoo! Sports' Shane Bacon, who called the Zimbabwe-born golfer the early MVP of The Presidents Cup:
Early Presidents Cup MVP - Brendon de Jonge. Got trashed a little for being a captain's pick, but playing as good as anyone in Ohio.

— Shane Bacon (@shanebacon) October 4, 2013
But de Jonge has been rock-solid through two rounds. In fact, he didn't make a single mistake on Friday until No. 9, when he hit his approach shot into the bunker.
Nevertheless, Els quickly rescued his playing partner, draining the bunker shot for an incredible birdie to halve the hole and remain three up through nine holes, as the PGA Tour recounted:
Brendon de Jonge made his first mistake today, leaving it in the bunker at 9. No worries; his partner Ernie Els holed it. 3 up. #PresCup

— PGA TOUR (@PGATOUR) October 4, 2013
Grace under pressure is one of the most admirable qualities in sports, and Els has always been one of the best at keeping his cool under stressful conditions.
After scoring another birdie at No. 11 to stretch their lead, Els and de Jonge were able to wrap up the match, 4 and 3, before darkness overtook the course.
What They're Saying
After putting together the round of the day, Mickelson and Bradley were thrilled with their performance. The two of them were feeding off one another all day long, and Bradley was quick to point out the competitive nature of their efforts, as the PGA Tour relayed:
Keegan, w/ Phil: "It reminded me of the Ryder Cup, getting excited and hitting a lot of great shots. We like showing off for each other."

— PGA TOUR (@PGATOUR) October 4, 2013
When asked about the course yielding birdies, Mickelson didn't shy away from making his feelings known, either:
Phil, do you like the course giving up birdies? "I LOVE it. I love making birdies. We don't want to play defense, we want to play offense."

— PGA TOUR (@PGATOUR) October 4, 2013
Els and de Jonge were also excited after playing on Friday.
The "Big Easy" divulged after the round that he'd spotted de Jonge as a potential partner after they played together in Boston at the Deutsche Bank Championship, as The Presidents Cup passed on:
Ernie Els on Brendon de Jonge: "He's just coming into his own. I played with him in Boston and said to Pricey, I found my partner." #GoINTL

— The Presidents Cup (@PresidentsCup) October 4, 2013
For his part, de Jonge wasn't as keen on taking the glory, as the Associated Press noted (via ESPN.com):
Don't let Ernie give me all the credit. He's by far the most calming influence I've ever been on the golf course with. It's nice to play with a Hall of Famer who hits it in the middle of the fairway and middle of the green. He makes it very easy.
What's Next?
The weather delays that caused play to be suspended overnight will make for a hectic Saturday.
As previously discussed, the golfers who didn't complete their matches will begin their day at 7:35 a.m. ET and play until they're finished. Then, after a one-hour reprieve, they'll head right back out to the course for a double session, which is the typical format for Saturdays.
The first session will feature five four-ball matches, and after these are completed, the golfers will be given a short rest before another set of five foursome matches will commence.
Two-plus rounds a day isn't an outrageous amount of golf for these professionals, but the added pressure of this tournament makes it a grueling grind.
Follow me on Twitter: @JesseReed78