3 Things the Pittsburgh Steelers Can Fix in Their Bye Week
October 4, 2013

Jamie McDonald/Getty Images
Few NFL teams needed a bye week more desperately than the Pittsburgh Steelers.
From the offense to the defense, just about every phase of the team is currently in disarray.
It all culminated in the team's disheartening 34-27 loss to the Minnesota Vikings in Week 4, but, mercifully, Mike Tomlin has a week to make a few changes.
Make no mistake, this team is fundamentally flawed, but correcting these three issues would go a long way toward dragging the squad a little closer to respectability.
Offensive Line Shakeup
The Steelers' offensive line has been a weakness for years now.
While the team was expecting to get some more out of young players like David DeCastro and Mike Adams, it just hasn't come together at all this season.
Losing center Maurkice Pouncey in the season opener certainly didn't help matters, but there's still no excuse for how poorly the unit has played so far.
The line's allowed 15 sacks to this point in 2013-14, good for 28th in the league, and it's largely been due to Adams' ineptitude.
Just watch how Adams and backup guard Kelvin Beachum barely put up a fight against Minnesota's defensive line on what could've been a game-tying drive.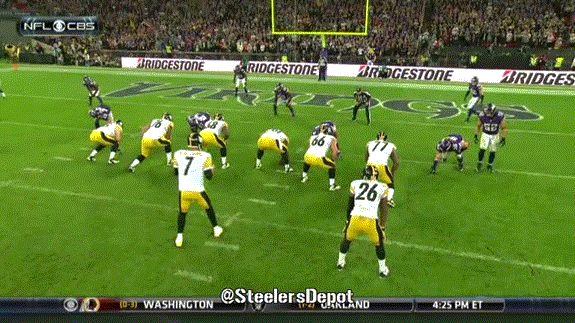 Adams was a turnstile all game long, allowing 2.5 sacks to Jared Allen alone.
The team recently brought in tackle Levi Brown from the Arizona Cardinals to help remedy the situation. 
There's little long-term risk involved in the contract and Tomlin will have to hope that Brown can get acclimated to the offense in time for an impending matchup with the New York Jets.
If he can come in and do even a serviceable job, the line will already be miles better.
Running Back Blocking 
For all of the offensive line's struggles, the running backs haven't exactly helped out when it comes to protecting Ben Roethlisberger.
Isaac Redman hasn't been particularly effective running the ball—or being truthful during concussion tests—but he could at least throw a block or two.
Rookie Le'Veon Bell was impressive carrying the ball in his debut, but as Mark Kaboly of the Pittsburgh Tribune-Review noted, he could use a little work on the blocking side of things.
Felix Jones and Jonathan Dwyer have been similarly inept at picking up blitzes.
With a line as porous as Swiss cheese, it's crucial that the backs be able to provide some protection for Roethlisberger. 
If Tomlin can emphasize this point over the next two weeks of practice, then the offense will have a much easier time sustaining drives.
Shuffling the Defensive Scheme
Defensive coordinator Dick LeBeau is one of the best in the business, but he's made some head-scratching decisions regarding the secondary.
Ike Taylor and William Gay certainly aren't the most intimidating cornerbacks in the league, but they've still played well in fits and starts.
However, they've regularly gotten burned on deep balls because they've rarely had safety help over the top. The Minnesota game was a particularly egregious example of this phenomenon.
Jerome Simpson absolutely torched Gay on two occasions. His 51-yard catch got all the attention, but he also registered a 24-yard grab in the second quarter to prolong a drive that led to a field goal.
Free safety Ryan Clark still plays deep, but LeBeau has been resolute in his use of Troy Polamalu, as the Pittsburgh Tribune-Review's Dejan Kovacevic explains.
If, for example, Dick LeBeau has Troy Polamalu sniffing up at the line every other snap, and the secondary has been burned for huge plays while not appearing to have, you know, safeties playing safety, might Polamalu drop back?

I asked Tomlin: "No, because it's about missed tackles."

I asked Troy: "Our No. 1 goal is to stop the run."

OK, hey, just stick with that, then. Because the rest of us must be blinded by all the times the Vikings threw deep against isolated corners.
Polamalu is undoubtedly a dangerous player when he plays on the line of scrimmage, but the team's ineptitude when it comes to defending the pass should've prompted some sort of adjustment.
Backup quarterback Matt Cassel threw for 248 yards against the Steelers defense—this is the same guy who couldn't complete more than 58 percent of his passes last season.
Stopping Adrian Peterson is certainly important, but Polamalu wasn't really succeeding at that either.
He only ended up tallying two tackles in the whole game, while Peterson averaged six yards per carry.
LeBeau and Tomlin certainly seem steadfast about not making any scheme changes, but some flexibility could really go a long way. 
There's no doubt that the season is over for the Steelers—going 0-4 is pretty much a death knell for any squad. 
Nevertheless, they can raise spirits in Pittsburgh and provide a positive environment for the young players to work in if they make a few changes.
The team has a tough schedule coming up, including a home date with the Baltimore Ravens and a road tilt with the New England Patriots. 
There's little chance for the Steelers to make any headway in a tough AFC playoff race, but they could at least bring some pride back to one of the league's most storied franchises.