WWE Is Making a Big Gamble with Curtis Axel's Booking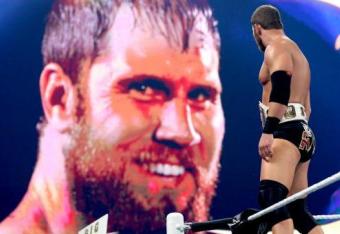 Photo courtesy of WWE.com

WWE is either betting big chips hoping for a big payoff on the Curtis Axel poker table or it doesn't know the rules of the game. The Axel booking has been confusing or it has been stupid. It all depends on how much hope you want to give to WWE's future planning...assuming it has some.
He gets a grand entrance being revealed as the new Paul Heyman guy. He gets wins for several weeks on Raw, one which included a win in the Main Event against Triple H. He won the Intercontinental title on his first pay-per-view.
After that, he took a backseat to Heyman, CM Punk, Brock Lesnar and Ryback.
He's been made to look insignificant next to Ryback. Good for Ryback, good for the Heyman-versus-Punk feud, but bad for the third-generation talent.
He's had losses to guys like R-Truth on Raw and wins against guys like Zack Ryder on WWE's Main Event. Those two outcomes hold equal weight.
The only thing I can detect that could be coming as a result of the way Axel is being booked is he's going to split away from Heyman. He'll rebel after feeling like he was tossed to the side for a bigger, more muscular model. Perhaps he even gets a rub by standing on the same side of the ring as Punk for a scuffle or two.
Even if that happens, how should we care?
A heel turning babyface is only effective if he's been an established and credible heel. The wild card is Heyman. Given Heyman's talents, anybody on the opposing side can be made to look heroic and likable. But as it stands right now, it would still be a tall task for even Heyman to convey importance to Axel as a face when we got minimal importance of Axel as a heel.
This is all on my fantasy booking of WWE actually going this direction. Imagine if they don't.
What if Axel remains second fiddle. What if he remains IC champion. It's a curse to hold that title anymore—a curse that features the champion losing every prominent television match on Raw that is a non-title contest and win the insignificant matches on the shows with less viewership just so the title gets defended.
I'm not off the bandwagon. I still believe and know Axel's abilities. The best scenario for Axel is he handles R-Truth with ease at Battleground and then plays a key heel role in helping Ryback beat Punk.
It returns the favor from Night of Champions to his heel stable associates in Heyman and Ryback if he comes to their aid. WWE must move forward with Axel as a heel. He must get over and be booked with attention as a heel before his career can go to the next level.
The reality is it's all a gamble that is great and a booking that's less than perfect. Everyone place your bets.
This article is
What is the duplicate article?
Why is this article offensive?
Where is this article plagiarized from?
Why is this article poorly edited?