Tiger Woods at Presidents Cup 2013 Tracker Day 2: Highlights, Updates, Analysis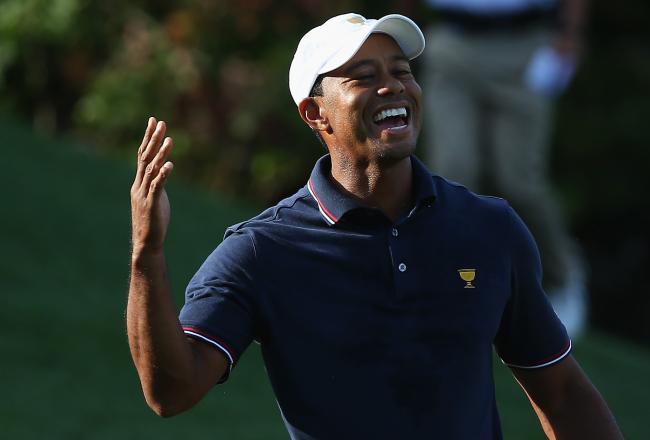 It was all smiles for Tiger Woods after he and partner Matt Kuchar dominated on Thursday.
Andy Lyons/Getty Images
Tiger Woods and Matt Kuchar have not completed their business, but they are in excellent shape in the foursome competition.
They are 3-up after 12 holes, and that's when play was called because of darkness. They will resume play tomorrow at the 13th hole. If they can hold on to their lead in the final six holes, they will earn a valuable point for the American team in the competition.
Heavy rain in the middle of the round caused the round to be delayed.
No more golf tonight for the Woods-Kuchar/Schwartzel-Oosthuizen match. After the US won 12, it's been called for darkness. #PresCup

— PGA TOUR (@PGATOUR) October 4, 2013
Oosthuizen with a long bogey putt, but he's quite shaky. Schwartzel directs him where to hit it, but he misses the putt.
Kuchar with a bogey putt, and it's good enough to allow the Americans to go 3-up.
Kuchar had an awful lie, so he chipped it into the bunker. Tiger does not have an easy lie here as the front wall of the bunker is steep. However, he cozies it up there three feet from the hole.
Oosthuizen's made two mistakes, shoving a 3 footer on 9 and now rinsing his shot into 12 when Tiger went into that back bunker. #PresCup

— Robert Lusetich (@RobertLusetich) October 4, 2013
Tiger's tee shot on the par-3 12th goes beyond the bunker and Kuchar is going to have some work to do with that shot.
However, Oosthuizen can't take advantage and he hits it in the water. The international team is in trouble on this hole.
Kuchar did not hit his eagle putt hard enough and it's three feet short.
Schwartzel is looking at an 18-footer for an eagle that will win the hole for the International team. Schwartzel just misses and that's a birdie. Tiger still has to make a three-plus footer to halve the hole.
He drains its and the American team remain 2-up.
Oosthuizen with a stellar second shot as well. He chased it onto the green and Schwartzel will have a closer eagle putt than Kuchar.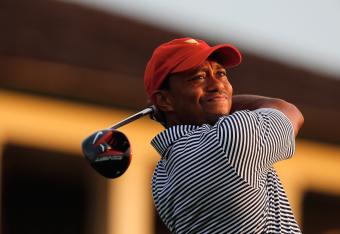 Tiger plays a high cut on the 11th and he bashes it 273 yards with his three-wood. Kuchar will have another eagle opportunity.
It's getting dark out there, but they slog on.
Sunset should be 7:10p. Prob 2-3 holes left. RT @stott_tim any idea when the sun went down yesterday or how many holes we have left

— GC Tiger Tracker (@GCTigerTracker) October 4, 2013
Both teams find middle of 10th green and have good two-putts from there. Tiger/Kuchar remain 2up heading to 11.

— GC Tiger Tracker (@GCTigerTracker) October 4, 2013
Kuchar makes a nice par putt on the 10th and it allows the team to halve the hole. Woods and Kuchar are still two holes to the good.
Kuchar is safely on the green on the 10th, but Tiger is going to have to drain a 30-footer if he is going to make another birdie on this hole.
Tiger and Kuchar have been on top of it again today.
Another tight iron shot from Tiger at 9. Kuch can't convert but Louis misses short par putt. US back to 2up, shot -6 30 in alt shot. #Ballin

— GC Tiger Tracker (@GCTigerTracker) October 4, 2013
Schwartzel rolls his birdie putt by the hole, but Kuchar inexplicably misses his. Oosthuizen still has a tough par putt in front of him, and he can't make it.
It's a gift for Woods and Kuchar. They go up by two once again.
Tiger and Kuchar are 6 under through 8 holes in foursomes. And only 1 up. Some seriously good golf out there between Yanks and Springboks.

— Doug Ferguson (@dougferguson405) October 4, 2013
Oosthuizen reacts as if he hit a poor shot on the par-4 10th, but it's on the green and Schwartzel will have a birdie attempt from 30 feet.
Meanwhile, Tiger stiffs it to within eight feet, leaving Kuchar with another excellent birdie opportunity.
Schwartzel makes a nice 7 footer for birdie to get it back to 1 down against Tiger/Kuchar #PresCup

— Robert Lusetich (@RobertLusetich) October 4, 2013
Kuchar with a great out from that deep bunker; and Tiger cleans up the par putt. However, Schwartzel has no trouble draining an eight-footer for the birdie. Woods and Kuchar are 1-up through eight holes.
Tiger with his first bad shot, he goes into the bunker on the eighth hole.
Kuchar just misses an eagle putt from 25 feet. Schwartzel has an eagle putt of his own and is even closer, but it does not drop. Woods and Kuchar are still 2-up.
Tiger struggled badly at last year's Ryder Cup. He's not struggling in this competition. Stellar fairway play and his putting has been razor sharp.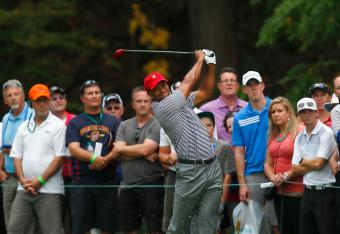 Tiger and Kuchar are playing extremely well as they are five under par through six holes. Tiger's putting has been sharp through these first two days. Oosthuizen and Schwartzel have been solid as they are three-under.
Woods plays a high cut shot 268 yards onto the green on the par-5 seventh hole. Kuchar will have an eagle opportunity.
None of the high-five antics with Kuchar today. Guess they didn't want it to get old.
Tiger back on course. Promply sinks birdie putt at the sixth. No "Fresh Prince" high-five with Kuchar. They are all bidness.

— Dave Shedloski (@DaveShedloski) October 4, 2013
Oostuhuzen misses a long birdie putt on the sixth.
Tigers stares down a 12-foot birdie putt and drains it. Tiger and Kuchar are two-up. What a way to come back after the long rain delay.
Tiger Woods and Matt Kuchar, along with the rest of the golfers, should be competing momentarily.
Fred Albers of @SiriusXMPGATOUR: "By and large the course has drained." Earlier, Jack said "I thought they'd get back out there." #PresCup

— PGA TOUR (@PGATOUR) October 4, 2013
This article is
What is the duplicate article?
Why is this article offensive?
Where is this article plagiarized from?
Why is this article poorly edited?