Athletes Who Think They're Miley Cyrus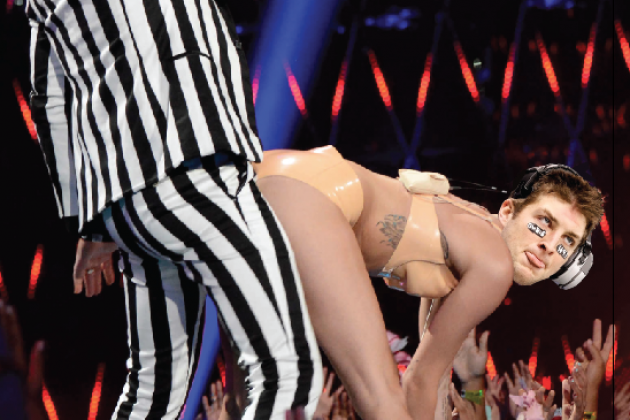 Image via wallpaper.pickywallpapers.com / gotceleb.com
Miley, sports. Sports, Miley.
Now that we have introductions out of the way, lets talk about the one thing no one drawing breath on this green earth wants to hear about anymore—you, Miley.
I know you've been under a lot of heat lately, and I just want to say this: Sports has your back, or at least certain athletes appear to be supporting you. Most won't come out and say it, but there are signs that a contingency of athletes and sports figures are on #TeamTwerk.
The following are athletes who think they're Miley Cyrus, and they have the tongues, butts and try-hard attitudes to prove it.
Begin Slideshow

»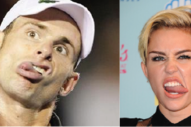 Image via BR / i1.cdnds.net
Whatever this is, it needs to stop.
Andy Roddick and Miley Cyrus both share a strange tendency to stick their tongues out. Roddick's seems more like an unconscious tic, while Miley uses her tongue like an eastern diamondback rattlesnake smelling for prey.
Either way, the world never needs more wild-eyed tongue pointing.
This is professional U.S. surfer Anastasia Ashley, who pulled a savvy marketing move this summer by releasing a video of her patented twerking warm up routine. She is light-years ahead of Miley Cyrus at this this dance/butt-spasm.
If you're still reading this, Ashley began surfing at the age of five and has been nominated for the distinction of "Sexiest Vegetarian Alive." So you can't impress her with bacon, guys.
Image via vthek.net / madamenoire.com
Get low there, John. You don't want to pull a glute or drop that thun thun.
All jokes aside, limbering up is an important part of the game. Spacing, as it were, is also pretty pivotal.
Behold the Twerkinator—the automatic, butt-jiggling machine that supercharged Victoria Azarenka's twerk game.

I don't know what this machine is, but I do know the Belarusian tennis star is using it the way God intended it to be used.
The only sad thing about Steven Lenhart twerking after this goal is that Ray Hudson wasn't on the call when the Earthquakes forward started shaking his rear.
I bet you would be able to hear the veins in Hudson's forehead collapsing over this celebration.
"The height of theater! Pure fire..hotter than...St. Elmo's Fire...dipped in a boiling...vat...of...of...tantric oils! He wags his derriere in their face! He emasculates them!"
This is Ogom Chijindu—the lingerie league player who not only tackles her opponents, but finishes them off with a celebratory twerk.
Also worthy of noting is how Chinjindu's "L.A. booty drop" is worse than anything that you could do in NFL Blitz. Blitz let you butt-pound defenseless players into the center of the Earth, but it didn't let you embarrass them.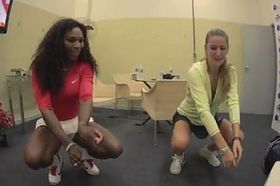 Image via gunaxin.com
Who is the sensei and who is the grasshopper?
Judging by this NSFW video of "Serena Williams" (unconfirmed) twerking in a hotel room, I'd say that Victoria Azarenka is the one doing the learning in this image.
The Belarusian tennis player might be a quick learner, but I don't think she's ready for the ropes course quite yet.
Fact: Bernard Pollard is a better dancer than Miley Cyrus, and far more flexible than any man—even an athlete—should be.
Where did he learn his moves? Fort Wayne, Ind., of course. Where they have "dancers." You know, the ones who pirouette at the local ballet and can pick up a dime without using their hands.
Your soul is going to crumble a bit, but eventually, you're going to watch this clip of Hulk Hogan in a thong.
That's correct—this is the Hulk spoofing Miley Cyrus' "Wrecking Ball" music video in a man thong.
Lets be clear: I don't advise watching this. All day I've done everything in my power to avoid jumping into this mess. Morbid curiosity, however, is one of mankind's biggest weaknesses—and my weakness is strong.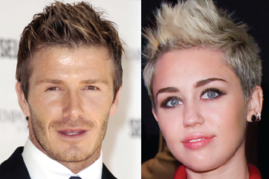 Image via thehairstyler.com / pmchollywoodlife.com
Rugged. Handsome. What more could you ask from a pop star?
Here we have a role reversal, as Miley Cyrus clearly wanted to emulate David Beckham with her hairstyle. Who wore it better? I'm giving the edge to D-Beck, who pioneered the look without trying to make a statement about how grown-up he is.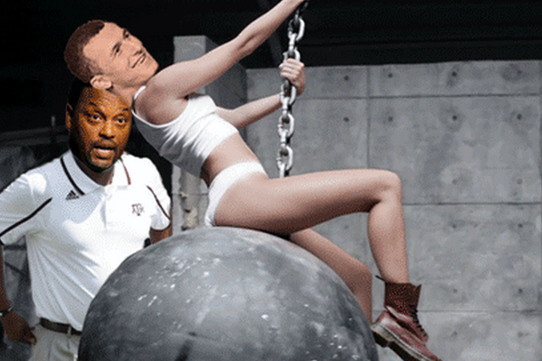 Image via @Kevol80
Why do Miley Cyrus and Johnny Manziel keep ending up in the same sentence these days? For a number of reasons, it would appear.
Charles Barkley has claimed that the only thing "saving" Manziel from being ground into dust by the national media is Miley Cyrus, whose butt-shaking and tongue-flicking have apparently provided created enough of a critical smokescreen/distraction for Manziel to remain alive.
David Dennis, a writer for The Guardian, writes that Manziel has become "the Miley Cyrus of football," because he seeks the spotlight and has chosen to spurn the archetype of the humble white quarterback/American darling.
People have also made .GIFs alluding to this connection—.GIFs you will never be able to scour from your mind's eye. .GIF via @Kevol80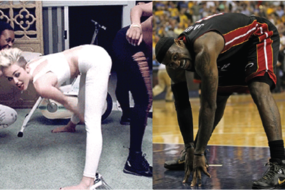 Image via thoughtcatalogue / sportspickle.com
Rough day on the court? Or third quarter twerk party?
I'm not here to judge, LeBron. What you do on the Indiana Pacers' home court is between you and Roy Hibbert.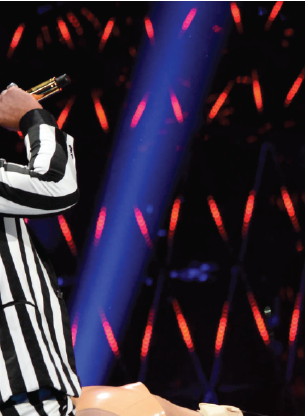 Image via wallpaper.pickywallpapers.com / gotceleb.com
Only God can judge Twerkin' Tebow—and he probably is.
Besides being incredibly famous, Tim Tebow and Miley Cyrus have nothing in common. Tebow attends church regularly, while Miley makes dad cry at night.*
That being said, I shopped this picture as a statement about the duality of man and the forces yin and yang of our world. And because it makes me laugh.
*Billy Ray Cyrus crying unconfirmed.
Join me on Twitter, where I do not discuss Miley Cyrus. At all.