Why NY Knicks Can't Afford to Abandon Small-Ball Lineup Around Carmelo Anthony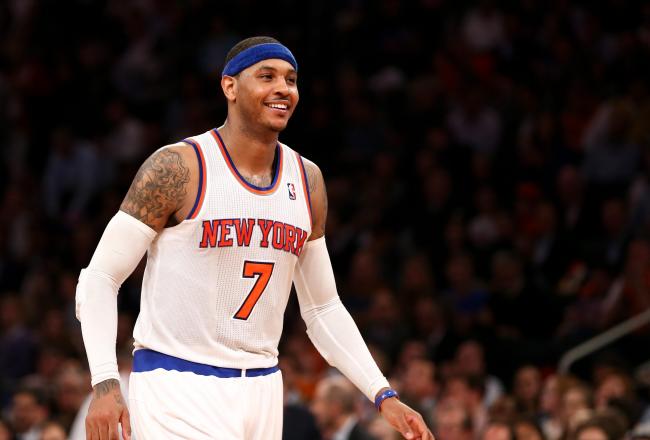 USA TODAY Sports
There's been some buzz at New York Knicks camp regarding the team's new additions and lineup. And I can't say I'm a fan of what I'm hearing.
Coach Mike Woodson has raised the possibility of moving Carmelo Anthony back to small forward. But why?
Please don't say it's related to Andrea Bargnani.
"I'm going to experiment a little with the big lineup," coach Woodson told the New York Daily News when asked about Bargnani starting up front.
The Knicks had something good going last season with Anthony manning the 4. Why switch the formula that led to a 54-win season and a scoring crown for 'Melo?
Knicks were 14-1 during regular season when Felton, Pablo, Iman & Melo started together. Even the analytic guys would agree 14-1 is good.

— Frank Isola (@FisolaNYDN) October 4, 2013
The window for this roster is closing rapidly, and the time for experimenting is over.
An Anthony-Bargnani-Tyson Chandler frontcourt gives the Knicks size, something they needed against the Pacers during last year's playoffs. However, it comes at a cost.
By removing Anthony from the power-forward slot, it diminishes the advantage he has over individual defenders and team defenses.
Exploiting the Mismatch
With Anthony at the 4, the Knicks maximize the danger he poses to opponents. For starters, he's an absolute offensive mismatch against any power forward he faces. He's got their size and strength, but his foot speed and quickness are on a whole other level.
Not to mention he's got arguably the most deadly mid-to-long range game in the world. The attack sirens go off when he has a clunky big man to face up with away from the rim.
Opposing power forwards have no shot against Anthony one-on-one—especially when the Knicks are able to isolate him in space.
As a coach, you want to put your players in high-percentage scoring positions. And there may not be a better bet for points than Anthony isolated against a slower power forward.
Here's Anthony in space working on Udonis Haslem: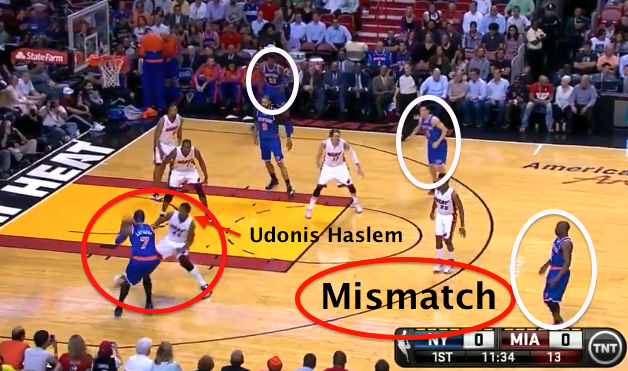 How about Anthony in his sweet spot against Darrell Arthur: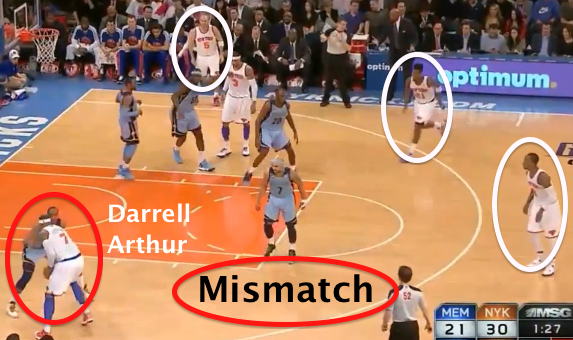 Brandon Bass certainly has no shot containing Anthony one-on-one :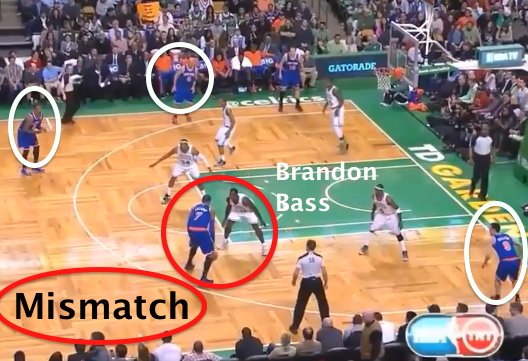 These are prime-time scoring positions for Anthony, and they're all available thanks to the three guards who are spread around the perimeter.
In all the diagrams above, Anthony is surrounded by some form of a trio consisting of Raymond Felton, J.R. Smith, Jason Kidd, Iman Shumpert and Pablo Prigioni. With only Chandler or Kenyon Martin inside the paint, 'Melo has plenty of space to make his move.
The Knicks can direct Bargnani to simply camp out behind the arc, which would allow the lineup to maintain proper spacing, but then they might as well just have kept Steve Novak and their future first-round pick. Bargnani hasn't shot 35 percent from three since 2009-10. They could have found cheaper and more accurate options if they just wanted a stretch big man who can shoot.
Who should start for the Knicks?
That's why I like Bargnani off the bench as a scorer behind Anthony, instead of a shooter alongside him.
The bottom line is that for the Knicks to maintain the spacing needed to put Anthony in scoring position, they'll need three other players to be comfortable sitting around the arc. And if one of those players is Bargnani, his offensive talent is not being maximized.
Spacing
By putting two big guys inside the arc instead of one, it clogs up lanes and angles for Anthony. This is one of the reasons why the 'Melo-Amar'e Stoudemire-Chandler trio never worked. They ate up each other's space.
By playing Anthony at the 4, the Knicks can spread three guards (or two guards plus Metta World Peace) around the perimeter and only have one big man in the lane.
That gives arguably the best pure scorer in the game maximum space to operate. And 'Melo in space equates to an offensive advantage. His ability to command double-teams or draw helps create scoring opportunities and open looks for teammates.
Take a look at this perfectly spaced set the Knicks run against the Pacers. Anthony was able to draw David West at the top of the key—a power forward who doesn't have the lateral quickness to stay with him on the perimeter.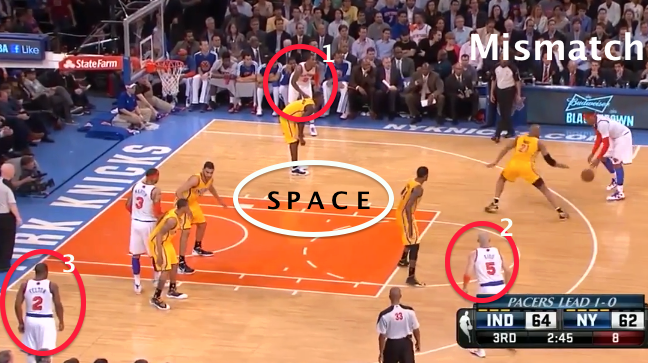 Having three guards in the lineup spread outside the arc makes this spacing possible.
The options for the Knicks and Anthony in this position are infinite. He can either take it to the rack, given he could beat West off the dribble with his shoes tied together: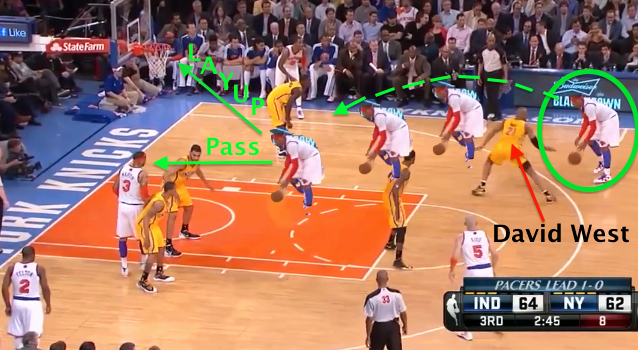 Or he can drive and dish. If help defenders choose to step into the lane, Anthony has the option of kicking it out to one of his shooters (who is now open after his man left to help).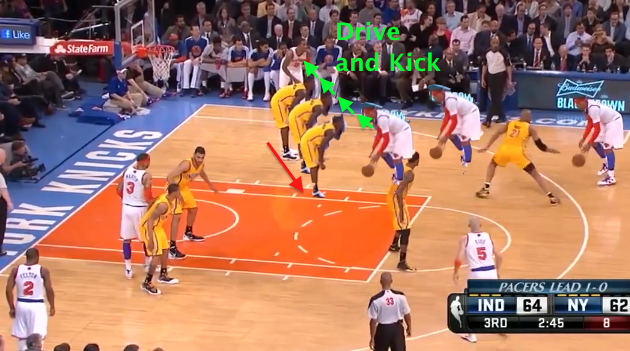 The Knicks finished tied for first in the league last year in three-pointers attempted per game—not because they're so trigger-happy from deep, but because Anthony's ability to draw the double or the help created open shots for spot-up shooters.
The Knicks also ranked No. 25 in the NBA last year in rebounding. But adding Bargnani into the starting lineup doesn't fix the issue. In fact, it could make it worse.
Bargnani's presence could actually push Anthony away from the rim on both sides of the ball. And though Bargnani has the size, it's Anthony who's by far the better rebounder.
Compared to 'Melo's 6.4-rebound career average, Bargnani's is a sad 4.8.
I'd rather the Knicks play tough than play big. If you ask me, the starting lineup would include Raymond Felton at point, Iman Shumpert off the ball, Metta World Peace on the wing, Anthony at the 4 and Tyson Chandler in the middle.
Anthony was an MVP candidate last year after the team found a way to maximize him offensively. Making a change to the forumla in a do-or-die year—for Andrea Bargnani of all people—just seems a little bit crazy.
This article is
What is the duplicate article?
Why is this article offensive?
Where is this article plagiarized from?
Why is this article poorly edited?

New York Knicks: Like this team?