The AFC North has an unfamiliar contender: the Cleveland Browns.
They beat the Buffalo Bills 37-24 in an odd Week 5 affair that was easily the most entertaining Thursday Night Football game of the young 2013 season.
It was the third straight victory for the Browns after they started 0-2. If the Baltimore Ravens lose to the Dolphins in Miami on Sunday—wait for it—the Browns will be alone in first place in their division.
Cleveland's starting quarterback Brian Hoyer was knocked out of the win over the Bills in the first quarter when he slid awkwardly while being hit by linebacker Kiko Alonso.
Buffalo's starting quarterback EJ Manuel left the game in the third quarter when he took a direct shot to his right knee on a scramble of his own near the sideline.
Are the Browns legit? Can they win the AFC North?
Let's examine.
Brandon Weeden vs. Brian Hoyer
Brian Hoyer was becoming the toast of his hometown after a road win in Minnesota against the Vikings and a victory over the Cincinnati Bengals in Week 4.
However, the injury he sustained against Buffalo is season-ending:
#Browns coach Rob Chudzinski said Brian Hoyer has torn acl that will require surgery. be out for season.

— Mary Kay Cabot (@MaryKayCabot) October 4, 2013
It's an injury that puts a major damper on the team's best five-game start since 2001.
Hoyer was a noticeable upgrade over 2012 first-round pick Brandon Weeden in their two starts to begin the 2013 season:
Comparing Brandon Weeden to Brian Hoyer in 2013

| | | | | |
| --- | --- | --- | --- | --- |
| | Completion Percentage | Accuracy Percentage | Yards Per Attempt | TD:INT |
| Weeden's two starts | 53.6 | 70.6 | 6 | 1:3 |
| Hoyer's two starts | 59.7 | 71.4 | 6.41 | 5:3 |
ESPN and Pro Football Focus
(*Pro Football Focus' (subscription required) Accuracy Percentage "accounts for dropped passes, throwaways, spiked balls, batted passes, and passes where the quarterback was hit while they threw the ball - factors that hurt the quarterback's completion percentage but don't help show how accurate they are.")
Now, we must give credit where it's due in regard to Weeden.
He came in cold after being inactive for two weeks with a thumb injury and did enough for the Browns to get a win in a game they should have won following Manuel's injury.
Weeden was far from impressive, but he didn't make the critical mistake that's doomed him early in his NFL career.
However, diving deeper than the statistics, Weeden holds the football much longer than Hoyer, a tendency that doesn't bode well for the future viability of the Browns offense:
Holding The Football

| | |
| --- | --- |
| | Average Time To Throw (seconds) |
| Brandon Weeden | 3.12 |
| Brian Hoyer | 2.56 |
Pro Football Focus
Why is that important?
Take a look at how each quarterback has fared on plays in which they held the ball for more than 2.5 seconds after receiving the snap:
The Consequences of Holding The Football (Over 2.5 Seconds)

| | | | | |
| --- | --- | --- | --- | --- |
| | Percentage of Dropbacks | Completion % | Sacks | QB Rating |
| Brandon Weeden | 69.5 | 49.3 | 16 | 72 |
| Brian Hoyer | 45.1 | 45.2 | 6 | 89.2 |
Pro Football Focus
Weeden simply has held onto the ball longer and has taken more sacks as a result than Hoyer did in 2013.
A year ago, of quarterbacks who took at least 25 percent of their respective team's snaps, only five rather athletic signal-callers held the ball over 2.5 seconds for a higher percentage of their dropbacks before throwing, getting sacked or passing the line of scrimmage than Weeden: Michael Vick, Andrew Luck, Russell Wilson, Cam Newton and Colin Kaepernick.
Weeden has the strong arm to occasionally connect with budding star Josh Gordon down the field, but compared to Hoyer, he hasn't been nearly as decisive or accurate.
The Browns have a more than respectable group of pass-catchers, but they will struggle to move the football through the air consistently with Weeden under center.
Run Game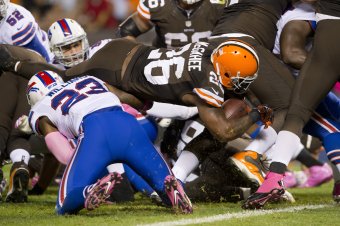 Jason Miller/Getty Images
The trade of Trent Richardson was centered around the future of the organization, that's for sure. Willis McGahee looked remarkably slow against the Bills, but his vision and running instincts aren't gone.
Also, he appears to be in good shape and has been a solid between-the-tackles runner in the latter stages of his NFL career.
During a game in which Kyle Williams and Marcell Dareus had their way with the interior of Cleveland's offensive line and linebacker Kiko Alonso was all over the field, McGahee banged out 72 hard-fought yards on 26 carries and scored a touchdown.
Bobby Rainey carried the ball twice for eight yards.
Chris Ogbonnaya caught one pass for seven yards but was injured on the play:
#browns Chud said ogbonnaya has concussion.

— Mary Kay Cabot (@MaryKayCabot) October 4, 2013
Cleveland will remain a pass-reliant team, and the duo of McGahee and Rainey won't be spectacular, but the two will be good enough for the Browns over the next few months.
The Defense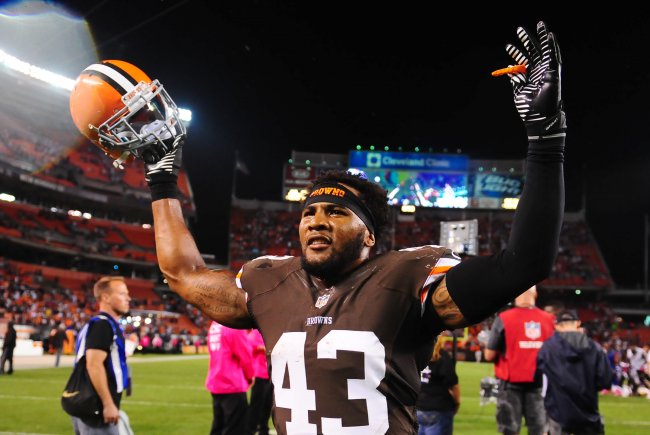 Andrew Weber-USA TODAY Sports
The Browns defense is for real. It's not an elite, top-level defense just yet, but it's well above average. When powerful outside linebacker Jabaal Sheard returns from a knee injury, he, rookie Barkevious Mingo and free-agent acquisition Paul Kruger will formulate quite the formidable pass-rushing trio.
As a team, Cleveland averages 3.6 sacks per game, a fine number.
Craig Robertson and D'Qwell Jackson are impactful inside linebackers, and the secondary, led by T.J. Ward and Joe Haden, is rounding into form.
The Browns defensive backfield has allowed an average quarterback rating of 69.3 in five games, and, by ESPN's count, it's defended 29 passes.
The Contenders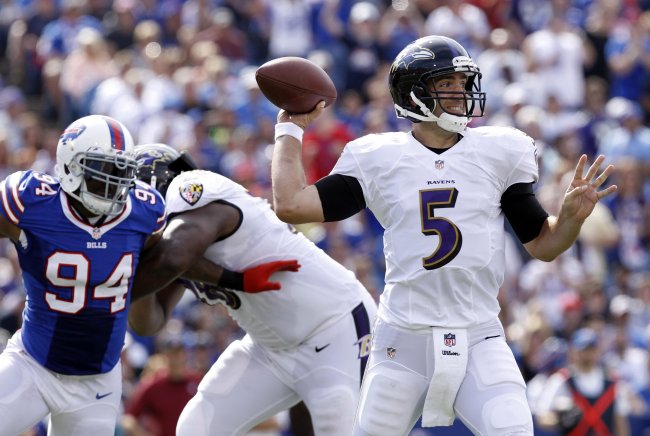 Kevin Hoffman-USA TODAY Sports
Much of the Browns' future has to do with their three AFC North rivals.
Starting in Baltimore, the Ravens still haven't found their new identity. That's obvious. Ray Rice and Bernard Pierce are a little dinged, Bryant McKinnie has regressed and the losses of Anquan Boldin and Dennis Pitta really hurt.
On defense, Lardarius Webb has elite potential, but Jimmy Smith and rookie Matt Elam have been disappointing to start the year.
With GM Ozzie Newsome and John Harbaugh calling the shots, there's reason to believe in the Ravens bouncing back, but they're just as likely to go 7-9 as they are to go 10-6.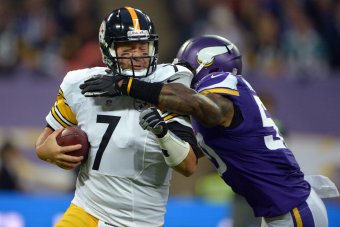 Kirby Lee-USA TODAY Sports
The Pittsburgh Steelers are a mess, and it's mainly due their offensive line deficiencies and a lack of offensive playmakers outside of Antonio Brown.
Ben Roethlisberger is the the ultimate warrior under center, but he can't do it without at least a somewhat productive running game, something Pittsburgh doesn't have right now.
Maybe more importantly, the defense isn't the dominant unit it once was.
Here's how the 2012 Steelers defense compares to the 2013 Steelers defense through four games:
The Pittsburgh Steelers Defense

| | | | | | |
| --- | --- | --- | --- | --- | --- |
| | Yards Per Carry Allowed | Completion % Allowed | Yards Per Attempt Allowed | Sacks Per Game | Points Per Game Allowed |
| 2012 | 3.7 | 57.2 | 6.0 | 2.3 | 19.25 (discounting punt return TD allowed) |
| 2013 | 3.8 | 60 | 6.8 | 1 | 27.5 |
ESPN
Clearly, the 0-4 Steelers, a team in a major hole, will have to improve dramatically to contend in their own division. A finish around 6-10 or 8-8 seems like a best-case scenario.
The Cincinnati Bengals are the Browns' greatest competition, mainly because they're built similarly to the Browns.
Like Cleveland, Cincinnati has a sound defensive front led by defensive tackle Geno Atkins. The linebacking corps is disciplined and plays extremely well when asked to attack downhill.
Joe Haden is comparable to Cincinnati's Leon Hall, and both A.J. Green and Josh Gordon are prolific downfield weapons.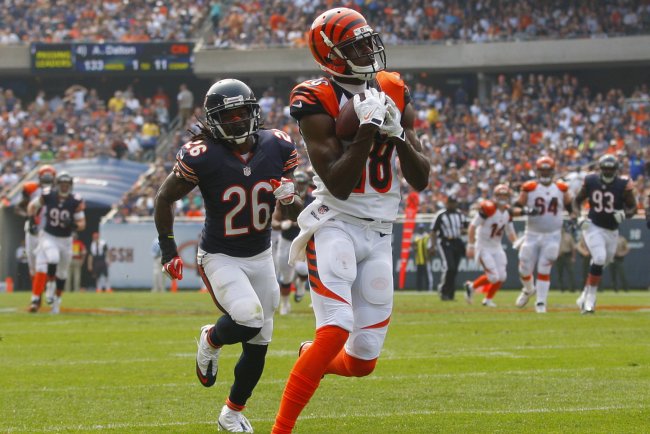 Dennis Wierzbicki-USA TODAY Spor
Jordan Cameron and Tyler Eifert are matchup-nightmare tight ends who are dangerous in the red zone.
The Bengals offensive line is more consistent from tackle-to-tackle, and Giovani Bernard is the most explosive runner on either team.
Will the Browns win the AFC North this season?
In all likelihood, though, the battle of Ohio for the AFC North crown will come down to the quarterbacks.
Weeden's up-and-down ways have been well-documented, and comparably, Bengals signal-caller Andy Dalton has been seen as the vital piece holding back his team.
In order to stay competitive in their division for the remainder of the regular season, Cleveland will have to continue its stingy run-stopping ways, create havoc for opposing quarterbacks off the edge and cover relatively well down the field while getting the occasional big play from its offense.
Unless Brandon Weeden absolutely tanks, the Cleveland Browns should be in contention in December to win their somewhat watered-down division.