NFL Week 5 Picks: Previewing the Weekend's Top Showdowns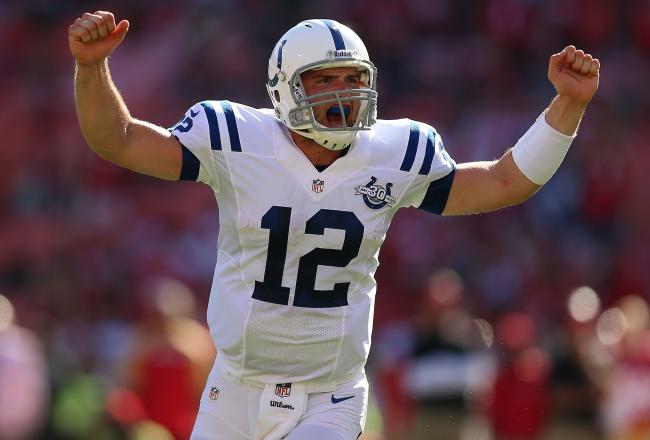 Jed Jacobsohn/Getty Images
Week 5 of the 2013 NFL season will provide some clarity as some of the top teams in the league square off on Sunday.
Five undefeated teams remain after four weeks. This week will be a big test for each of them as they will all be on the road against tough opponents.
As of now, the Denver Broncos and the Seattle Seahawks look like the teams to beat in each conference. The New England Patriots, the Kansas City Chiefs and the New Orleans Saints have yet to lose, but they will have to prove that they can compete with the top two teams.
Several of the undefeated teams will be challenged by teams that are expected to win their divisions, so make sure to watch on Sunday.
Below is the full schedule for Week 5 along with a preview of the weekend's biggest showdowns.
2013 NFL Schedule-Week 5

| | | | |
| --- | --- | --- | --- |
| Date | Time (ET) | Matchup | Winner |
| 10/3 | 8:25 p.m. | Buffalo Bills at Cleveland Browns | Browns |
| Date | Time (ET) | Matchup | Prediction |
| 10/6 | 1 p.m. | Kansas City Chiefs at Tennessee Titans | Chiefs |
| 10/6 | 1 p.m. | Baltimore Ravens at Miami Dolphins | Dolphins |
| 10/6 | 1 p.m. | Jacksonville Jaguars at St. Louis Rams | Rams |
| 10/6 | 1 p.m. | New England Patriots at Cincinnati Bengals | Patriots |
| 10/6 | 1 p.m. | Seattle Seahawks at Indianapolis Colts | Colts |
| 10/6 | 1 p.m. | Detroit Lions at Green Bay Packers | Packers |
| 10/6 | 1 p.m. | New Orleans Saints at Chicago Bears | Saints |
| 10/6 | 1 p.m. | Philadelphia Eagles at New York Giants | Eagles |
| 10/6 | 4:05 p.m. | Carolina Panthers at Arizona Cardinals | Cardinals |
| 10/6 | 4:25 p.m. | Denver Broncos at Dallas Cowboys | Broncos |
| 10/6 | 8:30 p.m. | Houston Texans at San Francisco 49ers | 49ers |
| 10/6 | 11:35 p.m. | San Diego Chargers at Oakland Raiders | Chargers |
| 10/7 | 8:40 p.m. | New York Jets at Atlanta Falcons | Falcons |
Kyle Newport
Seattle Seahawks (4-0) at Indianapolis Colts (3-1)
This is easily the most intriguing matchup of the weekend. The Seahawks are unbeatable at home, but they have shown vulnerability on the road. Indianapolis struggled early in the season, but it has added Trent Richardson and looked good in winning its last two games.
Seattle has had to rally in the fourth quarter of both road games this year. Last week, the Seahawks managed to rally from a 20-6 deficit in the fourth. If they fall behind this week, don't expect the Colts to let them back in the game.
Indianapolis is strong enough to put teams away when it has a lead. Richardson gives the team a power back who can help milk the clock. Andrew Luck has done a good job early in his career of finishing games.
There's no denying that Seattle has the best defense in the league. It will keep the Seahawks in every game this year and lead them to victory more times than not. However, the team hasn't looked great away from home this season. Eventually, it won't be able to pull off a miraculous win on the road.
The talent favors Seattle, but the Colts are playing with a lot of confidence right now.
Prediction: Indianapolis Colts 21, Seattle Seahawks 17
New England Patriots (4-0) at Cincinnati Bengals (2-2)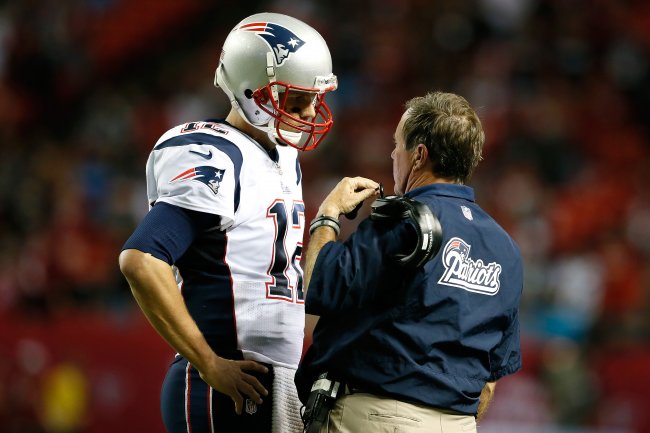 Kevin C. Cox/Getty Images
Before Week 4, this looked like a showdown of division leaders. After a surprising loss to the Cleveland Browns last week, the Cincinnati Bengals are looking to get back on track and are currently tied for second in the AFC North.
Cincinnati's secondary is battling injuries. Leon Hall, Dre Kirkpatrick and Reggie Nelson are all banged up. That's not a good sign as Tom Brady comes to town.
After failing to complete at least 56 percent of his passes in his first two games this season, Brady has completed 67.1 percent of his passes in the past two weeks. He has thrown for 541 yards with four touchdowns to only one interception in the last two games.
New England had an impressive victory in the Georgia Dome last week, so the Patriots have shown that they can win anywhere.
Brady and the Patriots are clicking right now, and Cincinnati's offense is struggling. If the Bengals had a healthy defense, they would have a better shot in this game.
Prediction: New England Patriots 28, Cincinnati Bengals 21
Denver Broncos (4-0) at Dallas Cowboys (2-2)
Although the Denver Broncos should have no problem in this game, the Dallas Cowboys have the talent on offense to keep up with the Broncos.
Quarterback Tony Romo has Dez Bryant and Jason Witten to help him. Receiver Austin Miles has been battling a hamstring injury, so his status is unclear.
Which team is least likely to be undefeated after Week 5?
As strong as the team's passing attack is, this game will be depend on Dallas' running game. If DeMarco Murray can make an impact on the ground and keep Peyton Manning off the field, the Cowboys will have a chance.
However, Manning has been spectacular this year. The four-time NFL Most Valuable Player has never been better. He has thrown 16 touchdowns and zero interceptions, and that's with his team taking its foot off the gas late in games.
Manning has thrown for at least 300 yards in every game this season, and he has plenty of weapons to work with on offense. Demaryius Thomas, Eric Decker, Wes Welker and Julius Thomas all make it tough on defenses.
Romo has to be perfect in this game in order for his team to have a chance, and Murray has to be a force on the ground. Unfortunately for the Cowboys, there will be too much Manning on Sunday.
Prediction: Denver Broncos 38, Dallas Cowboys 21
*All stats are courtesy of NFL.com
This article is
What is the duplicate article?
Why is this article offensive?
Where is this article plagiarized from?
Why is this article poorly edited?