Breaking Down Gerardo Martino's Barcelona Tactics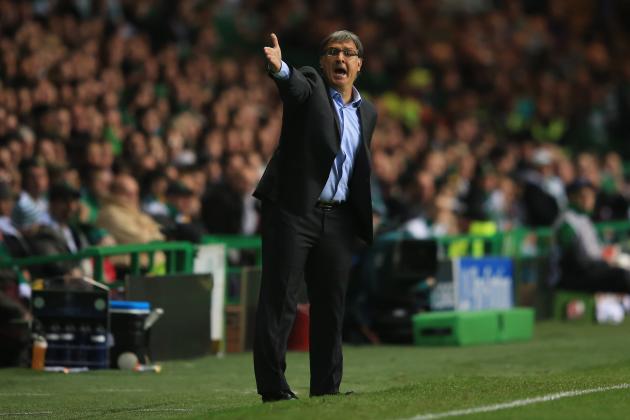 Richard Heathcote/Getty Images

New Barcelona manager Gerardo "Tata" Martino has already added much to the Catalan club. Though he has not changed the system of play, he has introduced a new dimension to how Barcelona competes.
For some the changes have not been well received, while others are very excited about what is happening. Love it or hate it, the changes to the system are paying off in a very big way.
In this article we will take a look at Martino's tactics at Barcelona focusing on what he has added to the Tiki-Taka system.
As always feel free to get involved in the discussion in the comment section below and note that all statistics are courtesy of WhoScored.com and Squawka.com.
Begin Slideshow

»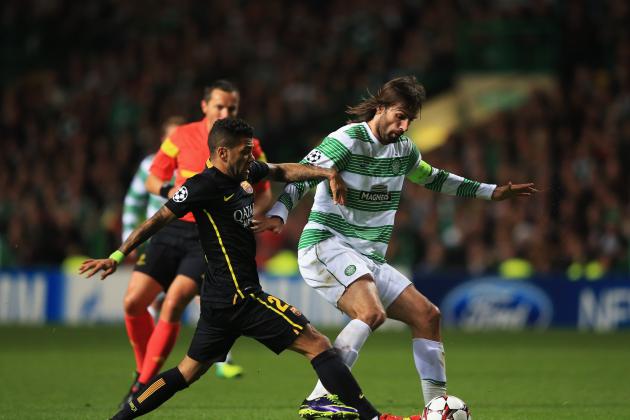 Richard Heathcote/Getty Images

Barcelona once staked their reputation on pressuring the ball and winning back possession. That strategy had all but disappeared last year, but Martino has brought it back.
In an interview reported on FCBarcelona.com, the new manager was quoted as saying, "I go for possession, attacking, putting a lot of men in the opposing half, taking risks."
One of the most exciting things for Barcelona fans in regards to Martino being named the new coach was the renewed urgency he would bring back to the defensive side of things.
Martino has not only brought back Barcelona's heavy pressure that made them famous, he has also used it in a way to benefit the defense as a whole.
The Catalans have only conceded five goals this year, which is a tribute to the improved pressing of the ball. But a high line and defensive urgency are not the only tweaks that Martino has made.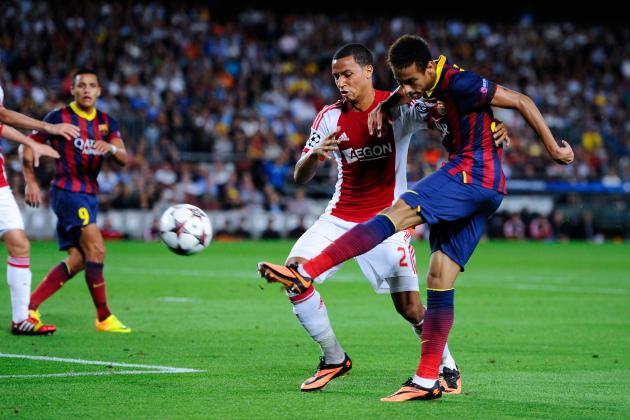 David Ramos/Getty Images

Parking the bus.
This defensive tactic has been used against Barcelona for over two years now, and it has truly become a problem for the Catalans. The Barcelona style of possession play often forces attacks to come through the center of the pitch, and opponents have learned how to soak up the pressure.
Tata Martino has since introduced a rather simple formula for counteracting the parked bus and pulling defenders out of position.
What Martino has added to the Barcelona system is a new desire for spacing. With wingers like Neymar and wing-backs like Dani Alves in the squad there is no reason why Barcelona cannot play out wide.
This added dimension has seen Barcelona switch fields much more often than in previous seasons and has also seen an added influence on attacking from the sides.
What this has done is open up new holes in opposing defenses while also working to pull defenders out of their parked bus positions.
Spacing may not seem like a radical new idea, but it is something Barcelona has been greatly missing. Not only has it given a new alternative to the Blaugrana style, it has given opponents even more to deal with.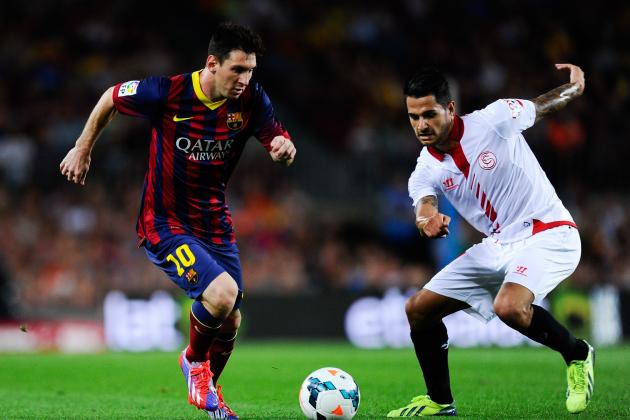 David Ramos/Getty Images

Possession does not win games. Having more possession than your opponent is never a bad thing, but it also guarantees nothing in today's football.
Over the past few years Barcelona has learned how to keep more and more possession without creating anything out of it. During long stretches of passing it has become normal to wonder when someone will finally take a shot, but it never comes.
Tata Martino has taken the possession-based style of play at Barcelona and returned the purpose it once had.
There is no longer wasted possession or passing. Barcelona is constantly looking for the final ball to beat defenders, and that has become the top priority when the Catalans have the ball.
It may have resulted in Barcelona having less possession than they have become accustomed to, but it has also given the Catalans much more attacking ability.
Last season in La Liga Barcelona averaged roughly 10 created chances per match. This season in seven matches under Martino the club is averaging nearly 14 chances per game.
That number may not seem like a big change but it does show that there is more urgency with the ball. The best way to beat a parked bus isn't to dribble around it, it's to go through it.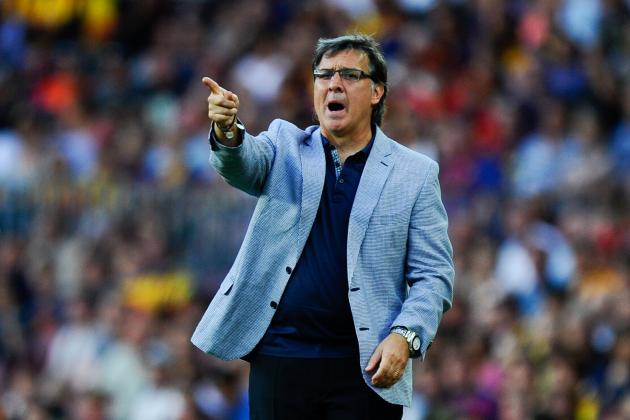 David Ramos/Getty Images

One of the most talked about issues regarding Barcelona's style of play is a plan B. Some fans believe a tall target man would help in difficult games while others think a player that can shoot from distance will un-park the bus.
The problem is that any plan B that is introduced at Barcelona would radically change the original style of play.
Last season in an interview reported by ESPN.com, Dani Alves stated, "What suits us is to improve our plan A, not have a plan B."
To put it simply, the Brazilian was right. For Barcelona to need a second option would be to admit that the first option was not working.
Whether you agree with the changes made by Martino or not, they were necessary. The new Barcelona manager has not given the club a plan B; rather he has made revisions to the original system which was already successful.
The changes under Martino could been seen as a plan B. However, it is better to look at them as improvements on the current Tiki-Taka system.
From top to bottom the Tiki-Taka system has not changed. Martino has only tweaked minor details to get the best out of the system and it is working. It is time to accept that the revised system is here to stay.
There will not be a plan B at Barcelona because it was never needed. What was needed was for the original system to adapt to its surroundings, and that is exactly what is happening.
What do you think of Martino's changes? Is Barcelona Tiki-Taka changing? Leave your thoughts and comments below!
Tre' Atkinson. Follow me on Twitter for more discussions on FC Barcelona!