Dusty Baker Reportedly Out as Cincinnati Reds Manager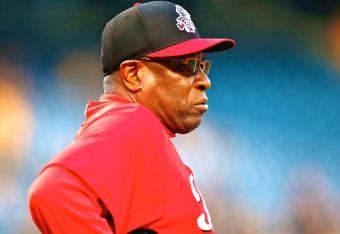 Despite leading the Cincinnati Reds to a 90-72 record and a postseason appearance, manager Dusty Baker is being relieved of his duties, according to Major League Baseball's official Twitter feed:
The @Reds dismiss manager Dusty Baker.

— MLB (@MLB) October 4, 2013
Ben Walker of the Associated Press first reported the news, and he says the club will make an official announcement concerning Baker's departure Friday.
UPDATE: Friday, Oct. 4
C. Trent Rosecrans of The Cincinnati Enquirer has Baker's reaction to his firing.
"I got the news yesterday," Baker said. "I was a little shocked, I wasn't really shocked because I hadn't heard from anyone in a couple of days."

Baker said last week Reds general manager Walt Jocketty had discussed the possibility of letting go hitting coach Brook Jacoby at the end of the season. That didn't sit right with Baker, and he said so.

"We talked about Brook about a week ago, and they were talking about replacing him and I didn't think that was right," Baker said. "All the coaches get blamed for everything. Maybe it was time to go. I did say something like that -- and they did it. It wasn't a mutual thing. There's probably some other things in there, some things that were said or didn't get said, stuff that was done over the years and then they said we didn't have much motivation and spunk over the last week -- but our pitching was bad and we didn't hit."

...

"I'm not retiring. That wasn't in my plans, I'm not taking a year off unless I'm forced to if the right job doesn't come along or no job comes along," Baker said. "Either way, I'd rather be in the game because that's what I know and that's what I love."
UPDATE: Friday, Oct. 4
From John Fay of The Cincinnati Enquirer:
Baker: I'm not retiring. I'm not taking a year off. #reds

— John Fay (@johnfayman) October 4, 2013
UPDATE: Friday, Oct. 4
Jon Heyman of CBS Sports has more info on the details of Baker's firing. It seems Baker made the initial proposal:
Reds general manager Walt Jocketty in a year-end hash-out session about the team's dissatisfying season told Baker he was intending to fire hitting coach Brook Jacoby, according to a person familiar with the situation. And that was all Baker had to hear.

Baker wasn't the one who brought in Jacoby, but he also knew it wasn't Jacoby's fault. So Baker took the bold step that led to Jocketty ousting him as Reds manager.

"If you want to fire someone, fire me,'' Baker told Jocketty.

[...]

The next day, Thursday, Baker was called in. And Jocketty fired him. So there went Baker's Reds career, blown up trying to protect a coach under attack.

There's a wonder whether Baker sensed something was up and was testing Jocketty. But Baker, who didn't dispute the conversation, says no, that wasn't it.

"I wasn't testing anyone,'' Baker said. "I was just doing what I thought was right."

"Sometimes it gets to the point where you're always blaming the teacher (meaning Jacoby). Sometimes it's the pupils,'' Baker said.
UPDATE: Friday, Oct. 4
From the Reds' official Twitter feed:
Jocketty: "This was a very difficult decision to make." (more)

— Reds (@Reds) October 4, 2013
Jocketty: "Dusty played an important role in the recent success, and we thank him for his contributions during his time here,"

— Reds (@Reds) October 4, 2013
Jocketty: "We feel a change is necessary, however, if we are to continue to move the organization forward."

— Reds (@Reds) October 4, 2013
John Fay of The Cincinnati Enquirer confirmed that the veteran manager, who first took over the reins of the franchise back in October 2007, would be departing:
Confirmed: Dusty Baker is out as #Reds manager.

— John Fay (@johnfayman) October 4, 2013
It's not currently known whether the 64-year-old will be stepping down or if he will be fired, but he still had one season remaining on a two-year contract he signed last October.
Baker is out in Cincinnati just three days after losing to the Pittsburgh Pirates in the National League Wild Card play-in game.
The Reds' front office folks were seething after their playoff loss to PIT. And they acted, feeling that change was needed. Dusty Baker out.

— Buster Olney (@Buster_ESPN) October 4, 2013
Before he arrived for the 2008 season, the team had missed the playoffs for 12 straight seasons and only finished above .500 twice in that span. After Baker arrived—following stints with the San Francisco Giants and Chicago Cubs—Cincinnati made the playoffs three times.
The Reds failed to win a postseason series under Baker and blew a 2-0 advantage in last year's NLDS against the Giants. The Reds were 2-7 in postseason play with Baker.
Baker had the second-most career wins among active managers, with a record of 1,671-1,504. He's won Manager of the Year three times, most recently in 2000 with the Giants.
This article is
What is the duplicate article?
Why is this article offensive?
Where is this article plagiarized from?
Why is this article poorly edited?