Mike Glennon isn't ready for this.
Whether the former N.C. State quarterback was drafted as a catalyst to push Josh Freeman to become better or to be used as a pawn in head coach Greg Schiano's agenda to remove Freeman from the top of Tampa Bay's depth chart, no one expected Glennon to be vaulted into a starting role by Week 4 of the NFL season.
But here we are.
After a few weeks of soap opera-like betrayal, backstabbing and rumor mongering, the Buccaneers have a new quarterback in Glennon and an ousted former starter in Freeman, who not only was benched, but Thursday was released by the Buccaneers with only a 90-word written statement from general manager Mark Dominik, via Buccaneers.com.
We made the decision today to release Josh Freeman. We appreciate his efforts over the past five seasons, but we felt this was in the best interests of both Josh and the Buccaneers.
Freeman, who holds the Tampa Bay franchise record with 80 touchdown passes over his five-year career, cleaned out his locker, and the Buccaneers will use their Week 5 bye to figure out how to salvage the 2013 season with Glennon, who's barely been around long enough to see 80 practices.
What can we expect from Glennon moving forward?
Growing Pains
Just eight minutes and 43 seconds into Glennon's career as a starting quarterback, he hit Mike Williams for an eight-yard score. It was a heck of a confidence boost to see that kind of early success on Tampa Bay's second drive of the game against the Arizona Cardinals.
But the early success was short-lived. Glennon's six-play, 41-yard touchdown drive was followed by three drives that gained 53 yards combined and all ended with a punt.
Tampa Bay's longest drive of the game was a 13-play drive that spanned 51 yards late in the second quarter. Two incomplete passes by Glennon and a false start penalty from Williams helped stall the drive, and the Bucs only managed a field goal.
Glennon was 15-of-24 in the first half of his first game, with a touchdown pass and 115 yards. The 62.5 percent passing was a huge upgrade from what Freeman had done in his previous three games. But Glennon's second half wasn't as clean.
The Buccaneers didn't score in the second half, eventually losing 13-10. Glennon threw two interceptions, was part of a botched handoff exchange with running back Doug Martin and landed just 47.4 percent of his passes (9-of-19) over the final two quarters.
Glennon's first interception was an attempt by the rookie to throw into single coverage and hit his No. 1 target Vincent Jackson. Former player turned radio host on Tampa's 98.7 the Fan, Stephen White, believes the ball was thrown poorly.
This last one is the first Glennon int and I have to disagree with folks putting most of the blame on V Jax pic.twitter.com/XJFFJf719L

— Stephen White (@sgw94) October 3, 2013
The ball was behind Jackson a bit, and Arizona cornerback Patrick Peterson stepped in to pick it off. A better throw by Glennon, White pondered through a few more tweets, still might not have resulted in a completion but might not have been picked off.
Should 83 have run a cleaner route and not drifted? Absolutely. But the ball was still behind him. A better route and the ball is still

— Stephen White (@sgw94) October 3, 2013
Behind him, probably even moreso. Now maybe Peterson wouldnt have intercepted it, maybe, but it was still a bad pass and 83 would have had

— Stephen White (@sgw94) October 3, 2013
To make a spectacular catch if he caught it. I think its more likely a better route with the same ball and its still picked off. Look at

— Stephen White (@sgw94) October 3, 2013
Glennon's second interception was the result of intense pressure and a bone-jarring hit from Arizona defensive end Frostee Rucker.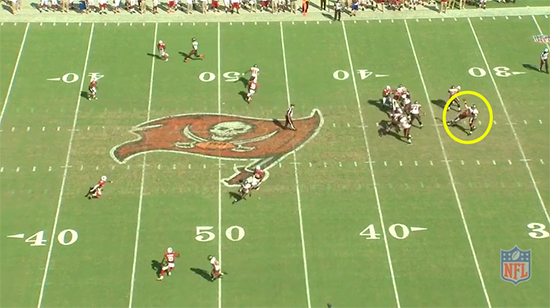 Glennon was popped by Rucker as he threw the football. The ball then sailed on Glennon over his intended target and into the hands of Peterson.
That pressure from the Cardinals resulted in a lot of angst Sunday. According to Pro Football Focus (subscription required), Glennon was under pressure 35.6 percent of the time. Of his 45 dropbacks, Glennon was under duress 16 times and completed just 28.6 percent of his passes, was hit as he threw three times and sacked twice.
It was this same intense pressure last season that derailed Tampa Bay's (and Freeman's) midseason success and will also slow Glennon's development.
Again White posted on Twitter his thoughts on the pressure Glennon was under and how, even though the offense tried to scheme short, quick routes to help the rookie passer, this pass rush made Glennon's life miserable.
I know the Bucs helped Glennon with some short/intermediate routes on Sunday. But not always. pic.twitter.com/myBKSliNO3

— Stephen White (@sgw94) October 3, 2013
Red arrow shows Dockett after beating Davin Joseph clean about to murdalize Glennon while most of his WRs haven't come out of their breaks

— Stephen White (@sgw94) October 3, 2013
Here's more from White, who's now tweeting about Glennon's receivers running deep routes while the rookie gets hammered by Arizona's heavy blitz.
Same thing here, Cards blitz (and sack) Glennon and his WRs still run deep routes. pic.twitter.com/YNSWq2rN5s

— Stephen White (@sgw94) October 3, 2013
Red arrows on blitzers coming free, yellow arrow on Glennon barely in the shot with what i assume is an "oh sht" look on his face.

— Stephen White (@sgw94) October 3, 2013
There is going to have to be a gentle balance between Glennon learning to take some heat in the pocket and Tampa Bay's offensive line stepping up an protecting the passer much better. There's not much history between Glennon and this offensive line, but looking back at last season it's easy to see how the offensive line partially led to the downfall of the season.
Between Week 6 and 11 last year, the Buccaneers won five of six games and Freeman threw 16 touchdown passes and only three picks. He was sacked seven times. Over the next six games, Freeman was sacked 12 times, he threw 10 interceptions and only six touchdowns, and Tampa Bay won only one game.
It's hard to believe that Glennon can grow and ultimately flourish if his offensive line can't protect him. Factor in the rookie mistakes and growing pains he'll ultimately endure, and Tampa Bay could be in for a long frustrating season.
Glennon's Upside
Glennon looks like an NFL quarterback. At 6'6" and 225 pounds, the third-round pick has the body. And according to Jon Gruden, Glennon has the arm strength too.
"The one thing that you can do as well as anybody in the country, anybody we've had in here, is throw the ball," said Gruden to Glennon on the ESPN show Gruden's QB Camp.
Gruden also told ESPN's Pat Yasinskas more about Glennon in a sit-down after the show.
Specifically, he can flat-out drive the football. The guy can absolutely hum it. Glennon can throw the ball to the wide side of the field effortlessly. In college, with the wider hashmarks, when you throw the ball to the wide side of the field, it's a big-time throw. In fact, there are some programs that don't even attempt it -- they don't even bother asking a QB to attempt a wide-side throw down the field. That's not the case with Glennon.

This guy can make some really difficult down-the-field throws. If you watch the camp session with Glennon, you'll see we went through a "Fox Two XY Hook." I coached that pattern for 18 years. I'm not sure I've ever seen a QB at any level throw it with the ease Glennon can. Brett Favre threw a certain second-reaction post, by my count, about four times in his career. I saw Glennon throw it four times last season.
While comparisons to Brett Favre aren't exactly the fairest to Glennon because of the immense pressure that could put on the young quarterback, being linked to an NFL great in a sentence from Gruden has to mean something, potentially something special.
Glennon's arm strength will eventually become an asset. Remember last season when the Bucs entered the bye week and Freeman emerged throwing more deep balls. That was a huge coaching move and one that made a lot of sense because Freeman throws a good deep ball.
The strategy move worked, too, at least until the offensive line broke down toward the end of the season.
Glennon might not be ready to take over games with his arm strength; there are still too many nuances of being an NFL quarterback he needs to figure out. But eventually, yes. If Glennon can survive the final 12 weeks of his rookie campaign, with an offseason of work with the team as its starting quarterback, you could see some giant leaps forward from Glennon.
At N.C. State you not only saw arm strength but also leadership and some pretty awe-inspiring pocket maturity. As the league slows down for Glennon and his rookie voice takes on a more experienced tone, he could be a perfect fit in Tampa Bay.
Freeman had some of these same skills, but as more and more of this soap opera comes to light, it looks as if Freeman didn't have the deep desire to lead this team. If Glennon's time with the Wolfpack is an indicator, he'll eventually emerge as the leader Freeman wasn't.
Unless otherwise noted, all quotes and statements were obtained firsthand.
Knox Bardeen is the NFC South lead writer for Bleacher Report and the author of "100 Things Falcons Fans Should Know & Do Before they Die." Be sure to follow Knox on Twitter.