Presidents Cup 2013 Day 2: Live Scores, Standings and Results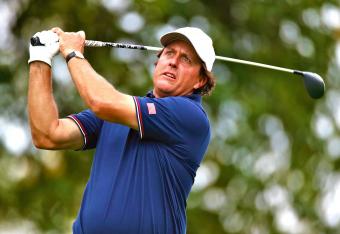 For the second straight day, heavy rains played havoc with the schedule at the Presidents Cup in Dublin Ohio.
Midway through the round, play was suspended once again—this time for more than 2.5 hours.
The weather delay on Day 1 helped the International Team to rally from a big deficit and stay competitive in the tournament. On Day 2, they started stronger and finished the day on even terms with the United States team.
Each team gained one point before play was suspended due to darkness. Of the four groups still in action, the Americans lead two matches while the Internationals lead the other two.
The round will be completed on Saturday morning. Coverage begins at 7 a.m. ET on Golf Channel.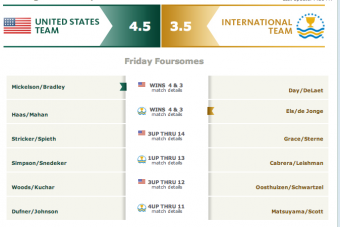 Here's where all six teams stand at the conclusion of play on Friday, courtesy of pgatour.com.
Play's been suspended due to darkness at the @PresidentsCup with 4 matches still on the course. Golf Channel will have coverage at 7 AM ET.

— PGA TOUR (@PGATOUR) October 4, 2013
And there we have it. The last group will resume their putting on the 12th tomorrow morning. We're done for today.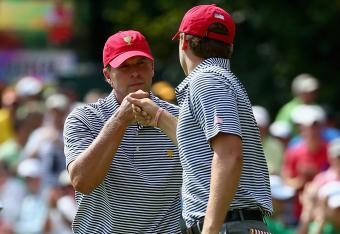 Match 9, Stricker/Spieth vs. Sterne/Grace, has also now stopped for the day. The Americans are three up through 14.
The last group, at the 12th hole, plays on.
Golf Channel elaborating on how much darker it is than appears on TV. I keep expecting Jason Dufner to walk straight into the lake.

— Sam Weinman (@samweinman) October 4, 2013
Even Jack Nicklaus had to bail on the proceedings before day's end.
He had a prior commitment, appearing as the guest of honor over at the Columbus Blue Jackets' opening-night hockey game of the new season.
Jack Nicklaus gets a stirring introduction and standing ovation before puck drop. #NHLFlames #CBJ

— Rusty Miller (@RustyMillerAP) October 4, 2013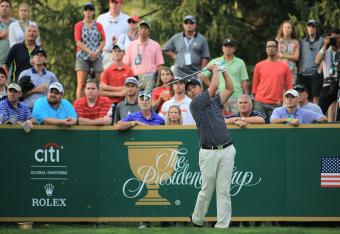 Tiger's group, Match 11, has shut it down. But the group behind them is playing on.
Matsuyama is lining up his tee shot with his 21-year-old eyes.
In the waning light at the 12th hole, Woods and Kuchar go three up.
Well that was a mess. TW went into junk past green, but Louis put it in water. After Kuch chip, TW from sand to 4 ft...US wins w bogey. 3 up

— GC Tiger Tracker (@GCTigerTracker) October 4, 2013
The beginning of the end at the 14th hole.
Cabrera-Leishman vs. Simpson-Sneds halted for darkness. #PresCup

— Brian Wacker (@pgatour_brianw) October 4, 2013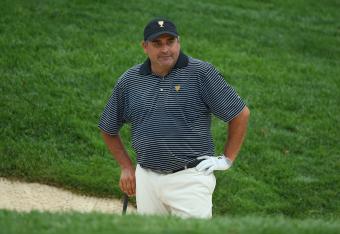 Angel Cabrera breaks his team's hot streak with a bogey on 13. Their lead shrinks back to one.
"he's by far the most calming influence I've ever played with." - de Jonge on playing partner @TheBig_Easy

— Amanda Balionis (@Amanda_Balionis) October 4, 2013
Here's what we may see tomorrow.
Tentative plan 7:35 re-start Saturday a.m., then short break and onto first of two team sessions, trying to squeeze it all in @PresidentsCup

— Cam Cole (@rcamcole) October 4, 2013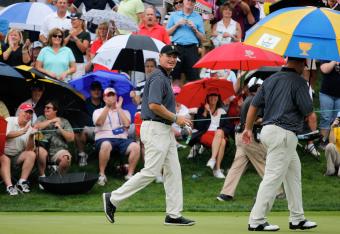 Ernie Els and Brendon de Jonge take care of business on the 14th, picking up the first point of the day for the International team.
Updated Score: United States 4.5 Internationals 3.5
After a rough outing yesterday, Phil and Keegan are in much better spirits today.
Phil on @Keegan_Bradley: "I love playing with Keegan. I love the energy. I love the quirkiness. He brings out the best in me." #PresCup

— Brian Wacker (@pgatour_brianw) October 4, 2013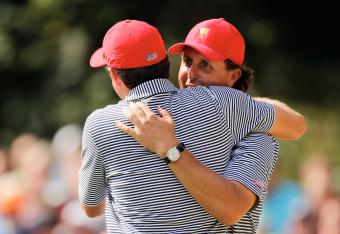 Our first point of the day goes to Phil Mickelson and Keegan Bradley, who dominated in Match 7 for the United States team.
Updated score: United States 4.5 Internationals 2.5
17.5 points in total are needed to win.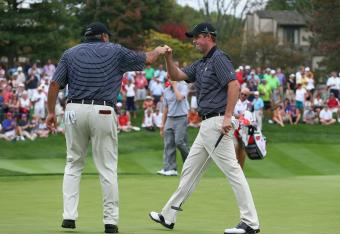 Cabrera and Leishman are making their move!
Angel sinks a long, curling putt for birdie on 12 and just like that, they're two up.
Spieth and Stricker are comfortably four up through 13 holes.
Here's a look back at one of their best finishes—their birdie on 10.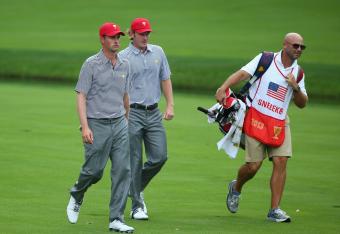 In our tightest match of the day, Webb Simpson and Brandt Snedeker blinked on the 11th.
Their bogey allowed Cabrera and Leishman to go one up, which ties up the day.
The United States Team and the International Team are leading three matches each.
Can Day and DeLaet muster another late rally?
Jason Day sticks it to makable range... they just might extend another hole here...

— Benjamin Everill (@beneverill) October 4, 2013
Here's a look back at the heavy rains that delayed play for just over 2.5 hours this afternoon.
The pros will have another half hour or so to move through the course before play will be called due to darkness.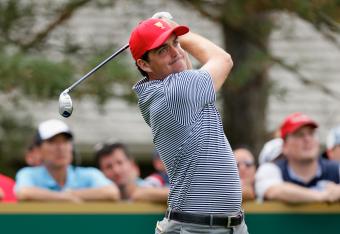 Now Bradley has botched his tee shot at 14. The ball's in the trees.
Looks like he had checked out for the day. How long till he can get his concentration back?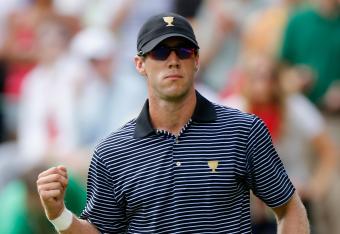 Looks like Phil and Keegan are having too much fun to stop playing just yet!
Graham DeLaet makes a high-pressure putt to keep the International team in the hole, then Bradley misses the par save off Phil's lip-out.
The Internationals win the 13th and the lead is cut to five up.
We have another 30 through nine holes.
Another tight iron shot from Tiger at 9. Kuch can't convert but Louis misses short par putt. US back to 2up, shot -6 30 in alt shot. #Ballin

— GC Tiger Tracker (@GCTigerTracker) October 4, 2013
This article is
What is the duplicate article?
Why is this article offensive?
Where is this article plagiarized from?
Why is this article poorly edited?