Who needs Josh Cribbs when you have Travis Benjamin?
The Cleveland Browns return man set a franchise record for return yardage and defensive back T.J. Ward scored a pick-six off Jeff Tuel to cap the game, as Cleveland defeated the Buffalo Bills 37-24 at FirstEnergy Stadium on Thursday night.
#BROWNS WIN 37-24!! Party City wants to celebrate w/ a special offer from tonight's victory! http://t.co/qExSkTQwnM pic.twitter.com/YhPaIs0xln

— Cleveland Browns (@Browns) October 4, 2013
Benjamin, a second-year receiver out of Miami (Fla.), finished the game with seven punt returns for 179 yards. He gave Cleveland great field position multiple times throughout the contest and gave the club its first lead of the game with a 79-yard touchdown return in the second quarter.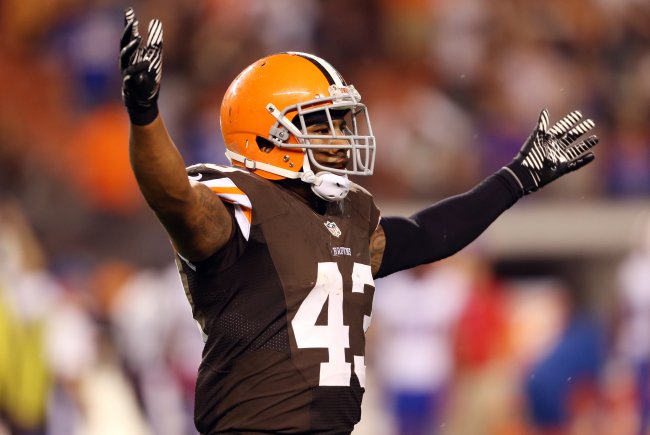 Ron Schwane-USA TODAY Sports
Tuel's interception came with just under two minutes to go with the Bills down only 30-24. Having all three timeouts and needing a touchdown, he attempted to use the middle of the field on a short route but was read by Ward, who took it 44 yards to the house.
The undrafted free agent, who was supposed to serve as Buffalo's Week 1 starter, completed eight of 20 passes for 80 yards and that pick. But it's his presence in the first place that introduces the theme in Cleveland on Thursday night: critical injuries.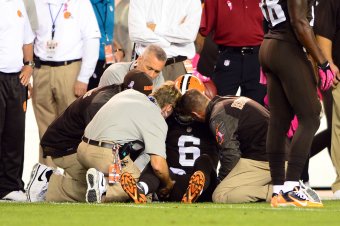 Andrew Weber-USA TODAY Sports
Browns quarterback Brian Hoyer and Bills signal-caller EJ Manuel both went down with leg injuries at different points in the game, failing to return and leaving their statuses going forward up in the air.
Hoyer was hurt on just Cleveland's second drive. He rolled out of the pocket and attempted to slide down, but did so as Bills linebacker Kiko Alonso was diving to make a stop. Alonso hit Hoyer in the head and shoulder area, while the momentum of his impact twisted the Cleveland signal-caller's leg.
According to NFL Network sideline reporter Alex Flanagan, the Browns fear he could have torn ligaments in his knee:
From @Alex_Flanagan: Hoyer will undergo an MRI. Browns are fearful that he might have torn ligaments in his knee.

— NFL: AroundTheLeague (@NFL_ATL) October 4, 2013
He was replaced by Brandon Weeden, who went 13-of-24 passing for 197 yards and a touchdown. Weeden, the team's opening-week starter, connected on two deep throws to Greg Little and Josh Gordon on a critical third-quarter drive, the latter scoring a 37-yard touchdown to tie the game at 24-24. He had been inactive the past two weeks, during which time he lost the starting job to Hoyer.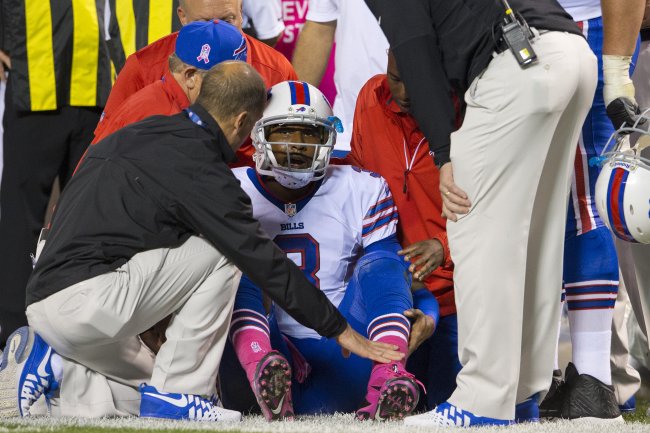 Jason Miller/Getty Images
Manuel lasted two additional quarters, but his injury was no less devastating. Buffalo's first-round pick went down in the third quarter when attempting to pick up a 3rd-and-8 via a scramble outside the pocket. Though he had gone past the first-down marker by a couple yards, Manuel attempted to barrel over Browns free safety Tashaun Gipson, but was clipped in the knees instead. He also did not return, though he was running on the sidelines and looked to be in better condition than Hoyer.
ESPN's Mike Rodak offered some perspective on Manuel's status during the game from Bills head coach Doug Marrone:
I saw him working out on the sidelines and thought we could get him back. And then [the medical staff] shut him down.

I'm sure the kid wanted to score a touchdown. EJ's a tough kid. He took a shot. He got flushed out, he scrambled. What do you say? Don't scramble? Don't score a touchdown?
Even before Manuel came out of the game, he had lost his top target in wideout Stevie Johnson to a back injury. The Browns also lost running back Chris Ogbonnaya and defensive end Desmond Bryant, neither of whom came back into the game.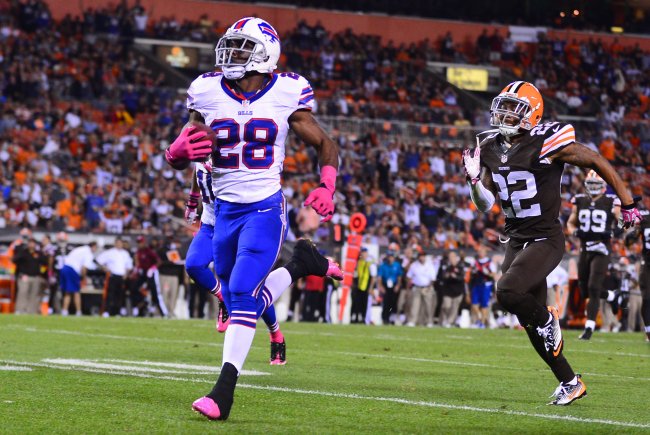 Andrew Weber-USA TODAY Sports
On the positive side of the injury front, Bills running backs Fred Jackson and C.J. Spiller both played despite being hobbled and performed well. Spiller broke open a 54-yard touchdown run in the third quarter en route to an eight-carry, 66-yard night. Jackson received the majority of the work, rushing 17 times for 53 yards and two touchdowns.
But despite the defense's difficulty with stopping the Buffalo ground game, it came up big when needed the most.
The win puts Cleveland in first place in the AFC North—at least temporarily. At 3-2, the club holds a half-game lead over the Cincinnati Bengals and Baltimore Ravens. The Bengals will host the New England Patriots this week, while the Ravens hit the road to take on the Miami Dolphins.
The #Browns pull out the 37-24 victory over the #Bills to move to 3-2. They're over .500 for the first time since December 2007.

— Bleacher Report (@BleacherReport) October 4, 2013
Now 2-3, the Bills are 2.5 games behind the Patriots in the AFC East and may be one or two more losses away from locking themselves out of the playoffs again. Buffalo last made the postseason in 1999.
Grades
Kiko Alonso (LB, Buffalo Bills): A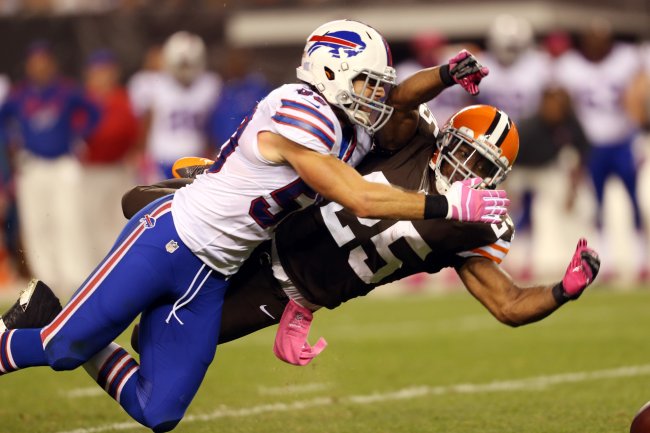 Ron Schwane-USA TODAY Sports
Can we all just turn in our Defensive Rookie of the Year ballots in now? It just seems unfair to everyone else at this point.
While I'm being somewhat facetious, games like Thursday night are why many folks think Alonso will have a long career in this league. The former Oregon standout had a career-high 12 tackles and was actually the culprit to both Hoyer and Ogbonnaya's injuries.
No one should get credit for injuring another player. What was impressive, however, was how voraciously he attacked the football. There was a particular rush in the fourth quarter where he read the snap count perfectly, barreled through the initial surge and pushed a Browns offensive lineman four yards into the backfield.
Weeden ultimately got the pass off, so it didn't show up in the stat sheet, but Alonso comes up with two or three of these outcomes on a weekly basis.
Not bad for someone taken eight spots behind Manti Te'o. Not bad at all.
Other Notable Buffalo Bills

| | |
| --- | --- |
| Player | Grade |
| QB EJ Manuel | C+ |
| QB Jeff Tuel | D |
| RB C.J. Spiller | B+ |
| RB Fred Jackson | B |
| WR Robert Woods | B+ |
| Offensive Line | C |
| DE Mario Williams | A |
| LB Jerry Hughes | A- |
Travis Benjamin (WR/PR, Cleveland Browns): A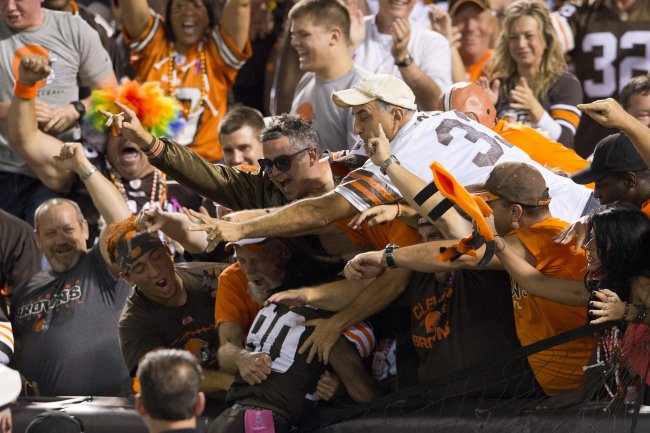 Jason Miller/Getty Images
It's always a bit unfair when we go out of our way to praise return men. Touchdowns and long returns are predicated by so many different variables that it's among the least predictable feats in sports from a year-to-year basis.
But on a night where Browns fans were reminded how truly depressing the Weeden era can be, it's only right to honor Benjamin, who was consistently the most thrilling Cleveland player on the field. His return yards were the catalyst for two Browns scores. Without them, the result probably would have been a blowout.
Still, we have to acknowledge that Benjamin is at least somewhat a figure head for the entire punt return unit. He did a great job of turning on the jets when needed and finding the correct holes, but the fact that they were there is a testament to all 11 guys on the field.
Other Notable Cleveland Browns

| | |
| --- | --- |
| Player | Grade |
| QB Brandon Weeden | B- |
| RB Willis McGahee | C+ |
| WR Josh Gordon | B+ |
| TE Jordan Cameron | C |
| Offensive Line | C- |
| LB D'Qwell Jackson | B |
| DB Buster Skrine | A- |
| DB T.J. Ward | A |
What's Next?
The 3-2 Browns will spend their next week-plus preparing to take on the 3-1 Detroit Lions' high-powered offense. The 2-3 Bills host the Cincinnati Bengals at Ralph Wilson Stadium in Week 6.
Follow Tyler Conway on Twitter: