UCLA vs. Utah: Live Score and Highlights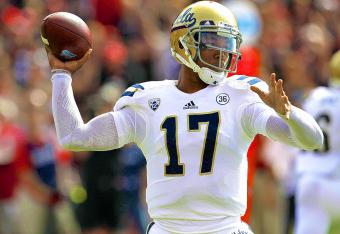 No. 12 UCLA survived a major scare in Salt Lake City on Thursday, holding off upset-minded Utah and winning by seven points. The Bruins are now 4-0.
Current Score: UCLA 34, Utah 27 – Final
Here's a look at 10 things we learned from UCLA at Utah.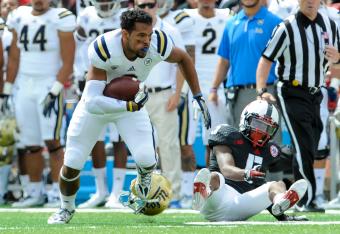 One final thought:
I mentioned it briefly during the game, but even with the win, UCLA is leaving this game both bloodied and bruised.
Left tackle Torian White left in the first half, and Jordon James disappeared from the sideline in the second half. Those are two instrumental pieces to this team, no matter how good Paul Perkins looked in backfield relief duties.
Just something for Bruins fans to keep an eye on the next few days.
Thanks for following along tonight—it's been a fun one. Sleep tight, east coast. And have fun celebrating, Los Angeles.
#UCLA defense held Utah to 2-13 on 3rd down and just 3 points over the final 3 quarters.

— The Mighty Bruins (@themightybruins) October 4, 2013
Story of the Game: UCLA's Defensive Adjustments
The first half went according to the script. It looked like we had a full-fledged shootout on our hands.
But something changed at half-time—for both teams. And UCLA's defense came out with a fire in the second half, forcing turnovers left and right.
It bent—rarely—but never broke. And it made big play after big play to secure this win. That is a very encouraging sign moving forward.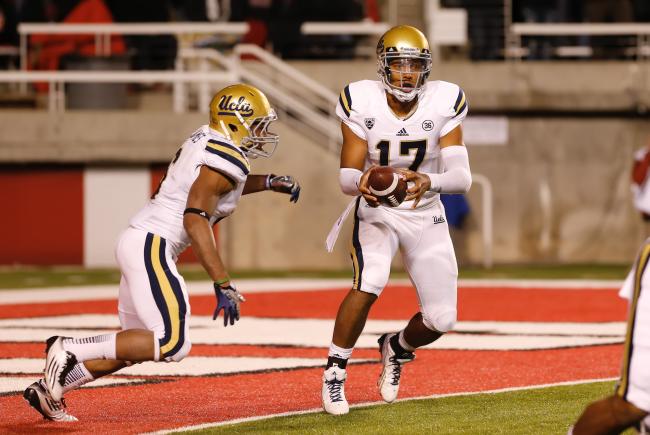 Player of the Game: QB Brett Hundley, UCLA
He petered out (a little bit) in the second half, but Hundley was still the Bruins' best player. And he came up big when they needed it most.
He caught a touchdown. He threw a touchdown. He ran for a touchdown. He did a little bit of everything.
Even though one mistake, a pick-six, almost cost UCLA the game, Hundley did nothing to hurt his nascent Heisman campaign. He's a heck of a football player.
Travis Wilson played as brilliant a six interception game as you will ever see.

— edsbs (@edsbs) October 4, 2013
That's the honest-to-goodness truth.
Wilson has some growing to do. This much is obvious. He cannot give the ball away with such reckless abandon.
But man, the kid does have some guts. He can be a good one...in time. For now, he's still not there yet.
MYLES JACK WITH THE INTERCEPTION!!! THANK YOU!

— Bruins Nation (@BruinNation) October 4, 2013
UTES TURNOVER – GAME OVER
Well, that was...fitting.
UCLA has been tipping and intercepting passes all night. The game ends on a tipped-and-intercepted pass—Wilson's sixth of the game—by Myles Jack.
That's the ball game. UCLA 34. Utah 27. FINAL.
Jake Murphy almost comes down with a diving touchdown grab, but his foot pretty clearly hit the pile-on, so the ref was correct in calling it incomplete.
4th-and-10 forthcoming for the Utes. Do they have any magic left?
Drama!
An offsides on 4th-and-12 makes things manageable, and Wilson completes for a first down on 4th-and-7. This drive is still going.
Cold rain coming down. This is awesome.
THE CALL STANDS.
Utah ball. 1:57 on the clock. Travis Wilson gets another chance starting at his own 49.
Aaaaand it comes down to Glasses Ref for a big review. Hurray.

— The Solid Verbal (@SolidVerbal) October 4, 2013
It looks an awful lot like Evans had possession and got down before the ball came out. But it is VERY close.
Which means the fate of this game is in the hands of "Glasses Ref" and the notorious Pac-12 officiating crew.
Uh-oh.
UTAH RECOVERS THE ONSIDE KICK
Great onside kick, which Shaq Evans gets his hands on, but Trevor Riley jars it loose with a HUGE hit before he can get down.
The ball comes loose and Utah picks it up. The play is under review.
UTES FIELD GOAL – UCLA 34, Utah 31
That was close. Phillips (my boy!) knocks one off the upright and in from 37 yards out, pulling this within one score with about two minutes left.
Right call by Utah. Onside kick forthcoming.
Caught 1, threw 1, and now THIS -> http://t.co/Owg65GtsO4 #Hundley

— FOX College Football (@CFBONFOX) October 4, 2013
Here's that TD for Hundley, who has now caught, thrown and rushed for a touchdown tonight.
Meanwhile, Utah is threatening to score and make this interesting.
Hundley isn't as explosive as Marcus Mariota, but he's not too far off

— Kyle Kensing (@kensing45) October 4, 2013
Agreed.
Hundley's explosion is more understated than Mariota's—but it's there. Great, great game (minus that one mistake).
BRUINS TOUCHDOWN – UCLA 34, Utah 24
Say goodnight, folks. Hundley parts the sea and runs for a 36-yard touchdown.
It hasn't been pretty, but UCLA is up 10 with just over three minutes left. It should go on to win.
Right...
UTES TURNOVER
Wilson pumps and throws, but the only man within ten yards of the ball is Bruins DB Anthony Jefferson, who comes up with the pick.
I said we're about to find out how good Wilson is. That was his fifth pick of the night.
Sufficient to say we have our answer.
Now Shaq Evans is down. Injuries to #UCLA's leading rusher and receiver tonight plus LT Torian White.

— The Mighty Bruins (@themightybruins) October 4, 2013
Win or lose, UCLA is leaving Salt Lake City both battered and bruised.
Oh, also, UCLA just punted. Utah has the ball inside its own 20 with about four minutes on the clock.
How good is Travis Wilson? We're about to find out.
After a holding flag, Hundley looks for Shaq Evans on the outside. Incomplete.
But that's the less-bad news. Evans is writhing in pain on the field, holding his right knee/leg area.
He just hobbled off the field with help. We'll update when we know more.
More like Brett RUN-dley.
Sorry, I've been waiting to say that all night. Hundley runs a draw up the middle for 15 yards on 2nd-and-8. UCLA can salt the game away if it slows down and holds onto the ball.
But for some reason, it's still pushing the pace.
Another tackle for loss by Anthony Barr.
He's basically Clay Matthews.
Huge scramble there by Hundley. Cost the Utes three points

— Tony Jones (@Tjonessltrib) October 4, 2013
Hundley scrambled to pick up a nice chunk of yards on 3rd-and-20, putting UCLA back in field goal range after the intentional grounding.
He's gotten no help from the offensive line, but that proved to be an impactful effort.
Bruins Field Goal – UCLA 27, Utah 24
No matter. Ka'imi Fairbairn knocks through a 47-yarder, a season-long, and puts UCLA back on top by three. No harm, no foul on that intentional grounding.
Good kicking from both sides tonight.
UCLA putting together a nice drive. But after another free run on a Utah blitz, Hundley throws one away for intentional grounding.
Will that derail its momentum? The upcoming field goal now looks much tougher.
Brett Hundley forces one and Keith McGill makes the Bruins pay. #Pick6 http://t.co/csEvR7HX39 24-24 in the 4th!

— FOX College Football (@CFBONFOX) October 4, 2013
Check out the play that turned this game on its head.
Good job, good effort for Hundley. He definitely tried. But that was not a smart throw.
It's crazy how many negative plays the Utes' defense has forced tonight. UCLA keeps putting itself in deeper and deeper holes.
This article is
What is the duplicate article?
Why is this article offensive?
Where is this article plagiarized from?
Why is this article poorly edited?