NFL Power Rankings: Week 5 Standings After Thursday Night Football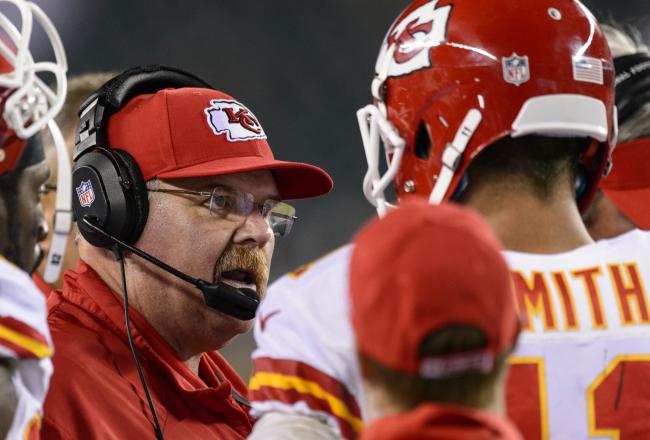 Howard Smith-USA TODAY Sports
With Thursday Night Football all wrapped up for Week 5, it's time to take a look at the latest power rankings heading into Sunday.
The Cleveland Browns were able to defeat the Buffalo Bills 37-24 on Thursday, continuing this hot streak. Both teams suffered injuries to their starting quarterbacks, yet the game had plenty of big plays and was a fun one to watch.
So, with one game down, here are the updated power rankings for Week 5.
32. Jacksonville Jaguars
If you didn't know by now, the Jaguars are bad. I mean, really bad.
Don't expect much from this team this season, as the QB situation isn't pretty and the offense is almost completely nonexistent. This team has a shot at going 0-16, and they likely should have the No. 1 overall pick in May.
31. Oakland Raiders
Terrelle Pryor has been the lone bright spot on what has been a bad team. The talent level is low on this team, with few big names other than Darren McFadden.
Things will likely get worse before they get better. The Raiders will play games against the San Diego Chargers and Kansas City Chiefs before they have their bye week. After that, however, they will be playing three teams with a combined record of 1-11, so they could get a couple more wins.
30. Tampa Bay Buccaneers
The Buccaneers are starting to feel like the media circus that the New York Jets were last season. Greg Schiano has been criticized by many and the Josh Freeman saga has put a lot of negative attention on the team.
Luckily for fans, the Freeman talk should die down in the near future, as the Bucs decided to release him on Thursday, according to ESPN's Adam Schefter.
Filed to ESPN: Bucs have released QB Josh Freeman. Bucs tried to trade him but couldn't.

— Adam Schefter (@AdamSchefter) October 3, 2013
Mike Glennon isn't the answer at quarterback, so this team is going to struggle this season until that situation gets sorted out.
29. Pittsburgh Steelers
This has been a quick slide over the past two seasons for the Steelers. Age is finally catching up with them on both offense and defense, not to mention the injuries.
The ground game that the Steelers used to be known for has been nonexistent so far, averaging just 58 rushing yards per game. Four straight losses to start the season have been progressively more ugly, with the defense looking worse and worse.
Hey, at least the Pittsburgh Pirates are in the playoffs.
28. New York Giants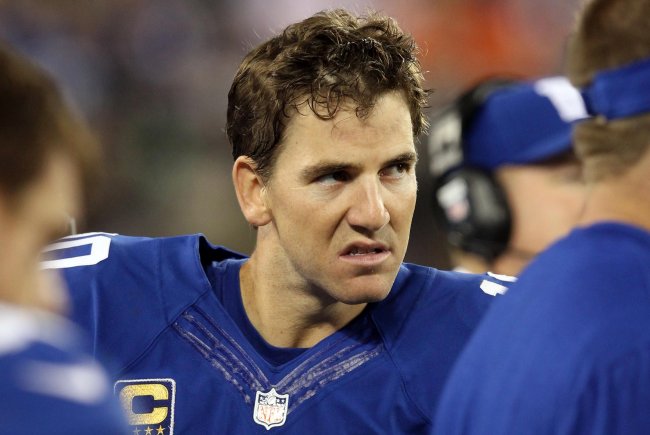 Brad Penner-USA TODAY Sports
Oh how the mighty have fallen.
After winning the Super Bowl just two seasons ago, the Giants missed the playoffs last season and now are looking at a possible 0-5 start after this Sunday. The offensive line looks awful, and Eli Manning is getting knocked around.
The defense hasn't looked much better, giving up at least 30 points in every game and letting teams walk all over them.
27. Washington Redskins
It wasn't the best start to the season, but now the Redskins have finally gotten their first win of the 2013 campaign.
Still, beating the Oakland Raiders isn't going to impress anyone. The defense is still a major concern while Robert Griffin III shakes off the rust and works on carrying the team with a strong offense.
26. New York Jets
After looking decent to start the season, the Jets are starting to look like what we originally expected.
Geno Smith is sloppy with the ball so far, throwing interceptions and failing to hold onto the ball when needed. The defense has been good so far, but they can't put up points.
They're not the circus that they were last season, but they aren't much better right now.
25. Minnesota Vikings
Christian Ponder's starting job looks to be in real jeopardy after a surprisingly solid performance from Matt Cassel helped lead the Vikings to their first win of 2012.
Adrian Peterson is still going to carry this team on offense, but something needs to be done about that defense. They keep giving up plenty of points and yards, giving up 326 passing yards and over 30 points per game.
24. Buffalo Bills
It was a tough loss for the Bills against the Browns, and now things look even worse.
EJ Manuel suffered a scary knee injury after running out of bounds in the game. As soon as he was tackled, he grabbed his knee and looked to be in real pain. He walked off, but according to Ian Rapoport, Manuel was certainly not coming back into the game.
His cleats are off. Done for tonight RT @NFL_ATL: EJ Manuel's return is doubtful.

— Ian Rapoport (@RapSheet) October 4, 2013
If Jeff Tuel has to play, this team might be in trouble. The defense is going to have to step up if they want to turn it around and win some more games this season.
23. Carolina Panthers
Ron Rivera's job is in jeopardy once again this season with a 1-2 start, even with the 38-0 win over the Giants.
Cam Newton and the Panthers are going to need to look good for the rest of the year after coming off of the bye week to help Rivera keep his job, and they have a shot to do so over the next four weeks, playing the Cardinals, Vikings, Rams and Buccaneers.
We all know how explosive their offense can be, now that defense needs to make big plays consistently.
22. Tennessee Titans
It doesn't look like Chris Johnson is going to break 2,000 rushing yards again like he hoped.
The offense looked efficient and was making strides, but the injury to Jake Locker will likely have them taking a step back. The defense has looked better, though, with Alterraun Verner tied for the most interceptions in the NFL with four.
Ryan Fitzpatrick isn't a terrible quarterback, but Titans fans are certainly disappointed to see their young quarterback, who was beginning to look like a franchise QB, go down.
21. Philadelphia Eagles
It doesn't matter how exciting this offense is, the Eagles aren't going to win games with that defense.
Giving up 52 points is unacceptable, even if it is against the Denver Broncos. Giving up almost 450 yards of total offense per game is even worse.
Michael Vick and LeSean McCoy will continue to make plays on offense. However, they can't keep up with opposing offenses if any more of their playmakers go down.
20. Cleveland Browns
I'm still trying to wrap my brain around this team, but they seem certain that they're the real deal. After trading Trent Richardson to the Indianapolis Colts, this team was won all three of their games.
It's apparently not just Brian Hoyer, who left this week's game. Brandon Weeden came in and this team was still able to go down the field and put up points. Travis Benjamin was a huge lift as well, putting up an impressive 179 yards and a touchdown off of punt returns.
They're the real deal folks, at least for now, as they are on top of the AFC North.
19. St. Louis Rams
The past three games haven't been pretty, losing by a combined score of 97-42.
Without Steven Jackson, this is the worst running team in football, averaging only 47.3 rushing yards through four games. Sam Bradford has new weapons in Jared Cook and Tavon Austin, but neither have been much of a factor over the past couple of games.
18. Arizona Cardinals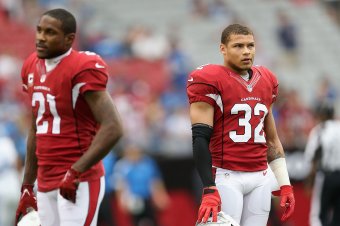 Christian Petersen/Getty Images
Almost everything about this team looks better than it was last season. Carson Palmer is finally able to get the ball to Larry Fitzgerald and the defense has some playmakers with Patrick Peterson and Tyrann Mathieu.
Consistency is going to continue to be the problem with this team. An impressive win against the Detroit Lions was followed by a blowout loss against the New Orleans Saints and a close win against the Bucs.
The Cardinals still play in the NFC West, so they're going to struggle to win a lot of games this season.
17. Baltimore Ravens
We all knew this team was going to have some troubles to start the season with so many new faces, yet very few people were expecting this kind of start.
Five interceptions from Joe Flacco last week made this offense look terrible until late in the game. Despite having both Bernard Pierce and Ray Rice, this ground game can't seem to keep it going, averaging under 3.0 yards per carry.
The defense is beginning to gel. Unfortunately, Jim Caldwell's offense isn't getting it done and the team is looking at a very sloppy 2-2 start.
16. Dallas Cowboys
It just seems fitting to put the Cowboys at the No. 16 spot in the power rankings. Not only are they 2-2 to start the year, they also went 8-8 the previous two seasons.
Talk about being consistently average.
Tony Romo and that offense can make a big play at any time with guys like Dez Bryant and DeMarco Murray out there, but the defense has been very up and down. They allowed just seven points against the Rams, then got torched for 30 points against the Chargers.
15. Detroit Lions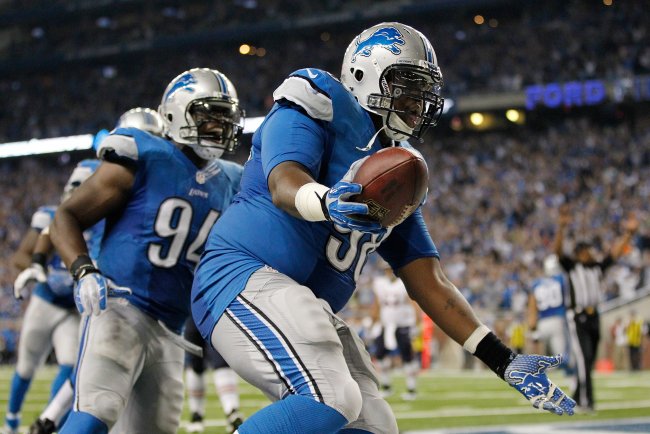 Gregory Shamus/Getty Images
Don't look now, but the Lions are tied for the lead in the NFC North.
The offense looks so much more balanced than it did last season when Matthew Stafford passed 727 times. Now, he's on pace for just 600 passes thanks to Joique Bell and Reggie Bush making plays out of the backfield.
Their defensive line is one of the most intimidating in football, but the rest of the defense hasn't been very good. That offense is going to keep them in games, however, and they have a shot to upset the Green Bay Packers this week.
14. Atlanta Falcons
This is the best 1-3 team in football, there's no denying that. However, it's going to be an uphill battle as the Falcons try to catch up in the NFC South.
Matt Ryan still has some nice weapons on offense with Tony Gonzalez, Roddy White and Julio Jones, plus once Steven Jackson returns the offense will look much nicer. There are still some hiccups, though, which is hurting this team.
Meanwhile, the defense continues to lose starters to injury while the secondary is still very young and inexperienced.
13. San Diego Chargers
Remember the Philip Rivers that used to be really good? Yeah, he's finally back.
In just four games, the Chargers are putting up big numbers through the air, with Rivers throwing for 1,199 yards and 11 touchdowns with only two picks.
The Chargers are going to keep playing in shootouts with that struggling defense. They should be able to win two of their next three games before the bye week, although they're still going to struggle to make an impact in the AFC West with the competition in that division.
12. Miami Dolphins
There are a lot of good pieces on this team that are coming together. The secondary is much improved thanks to Brent Grimes, and the pass rush is dangerous when Cameron Wake is healthy and in the lineup.
He was underrated in his rookie season, but now Ryan Tannehill is finally starting to get some love. Having Mike Wallace and Brian Hartline to throw to has been nice for the young quarterback, and if he keeps it up, this could be a legitimate playoff contender in the AFC this season.
11. Houston Texans
Something is wrong with the Texans right now. They're 2-2 after basically handing the Seahawks a win. They were up by a touchdown with a few minutes remaining, then Matt Schaub threw a pick-six to Richard Sherman that tied the game, which the Seahawks then took to overtime and won.
J.J. Watt looks just as good this season and the defense is giving up the fewest passing yards per game. Still, they can't keep the offense from giving up points, and that's going to need to get fixed before the Indianapolis Colts start pulling away in the AFC South.
10. Cincinnati Bengals
I'm going to credit the loss to the Browns as a fluke, because from what I've seen so far from the Bengals, they're a very good football team.
Giovani Bernard is becoming one of my favorite players to watch. He's been explosive on the ground and through the air, putting up 269 total yards and three total touchdowns as his role in this offense continues to get bigger.
Guys like Leon Hall and Vontaze Burfict are making big plays on a defense that has a lot of talent, which could pay off in this division down the road.
9. Indianapolis Colts
There's a completely new mentality on this Colts team from last season to now, which is due to the change at offensive coordinator from Bruce Arians to Pep Hamilton.
Despite having some excellent weapons and Andrew Luck in the passing game, this team is running a balanced offense with Trent Richardson and Ahmad Bradshaw. They currently rank third in the NFL with 150.3 rushing yards per game, something that would have seemed crazy to think about a few seasons ago.
Chuck Pagano is healthy this season and the Colts are still hungry and motivated. That should scare the rest of the AFC.
8. Green Bay Packers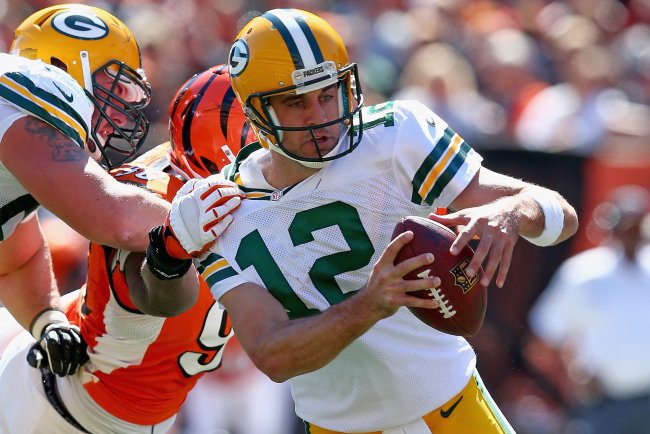 Andy Lyons/Getty Images
A bye week is exactly what the Packers needed after so many players have been banged up. Now, the Pack should be getting back Eddie Lacy, Jermichael Finley and Morgan Burnett for this week's game against the Lions.
Aaron Rodgers was frustrated against the Bengals in his last game, but we all know that he can turn it around quickly, especially with guys like Randall Cobb, James Jones and Jordy Nelson around him.
The defense is a little shaky so far, so that offense is going to need to turn it around from their last game to make them a Super Bowl contender once again.
7. Chicago Bears
Marc Trestman has come in and established a winning attitude for the Bears, even with the loss to the Lions last week.
Kyle Long has looked like a brilliant first-round selection so far, doing a great job protecting Jay Cutler. Alshon Jeffery is also emerging as a real weapon to go along with Martellus Bennett and Brandon Marshall.
Things aren't the same without Brian Urlacher on this team, but the defense is still producing plenty of turnovers and making this team look like the real deal in the NFC.
6. New England Patriots
No Danny Amendola or Rob Gronkowski? No problem.
Rookie wide receivers Aaron Dobson and Kenbrell Thompkins looked lost on the field for the first couple of weeks. Now, they've gotten more comfortable in the offense, especially Thompkins, who went off for 127 yards and a touchdown on six receptions against the Falcons.
Losing Vince Wilfork is going to be devastating for the defense, but it's always about the next man up in the NFL, and we will be keeping a close eye on that defensive line over the next few games.
5. New Orleans Saints
Through a quarter of the season, the Saints are already pulling away in the NFC South.
Drew Brees has been as great as always, putting up big numbers and finding his weapons in Jimmy Graham and Darren Sproles He's already thrown for over 1,400 yards and 10 touchdowns, looking like a real contender for the NFC Offensive Player of the Year.
The defense has been the big difference from last season. They were awful last year, but now they're allowing just under 14 points per game, showing how much of a difference the return of Sean Payton has made on this team.
4. San Francisco 49ers
Originally my No. 1 team to start the season, the 49ers didn't look the same in their two losses against the Seattle Seahawks and Colts.
They were able to turn it around last week against the Rams thanks to some big plays from their offense, with Anquan Boldin having another nice game. Even with a depleted group of receivers, this team is finding ways to put up points with players Colin Kaepernick, Vernon Davis and Frank Gore.
3. Kansas City Chiefs
The Chiefs are the ultimate example of what a good head coach and quarterback can do for an NFL team. After going 2-14 last season, they have already doubled their win total in just four weeks.
The offense is more efficient than flashy, with just three turnovers so far. Alex Smith has done a great job under center, throwing seven touchdowns and just one interception.
It doesn't seem like any offensive line can contain Justin Houston, who has exploded onto the scene with 7.5 sacks so far, tied for the most in the NFL with Robert Mathis. They say defenses win championships, and the Chiefs would tend to agree with that statement.
2. Seattle Seahawks
The Seahawks shouldn't have won that game against the Texans, but I bet that they're not complaining with that gift of a defensive touchdown.
This is the best and most complete defense in football without question. From the secondary to the defensive line, the Seahawks are filled with studs.
Marshawn Lynch continues to earn his nickname Beast Mode, while Russell Wilson is looking more and more poised each and every week. It's a close call, but there's just one more team in the league that's better than them right now.
1. Denver Broncos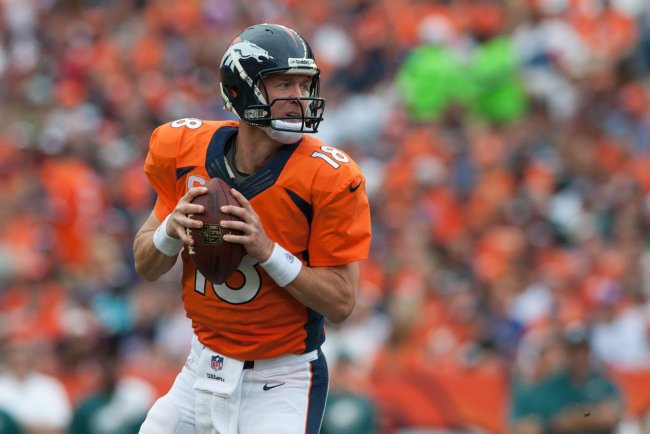 Dustin Bradford/Getty Images
Who is the best team right now in football?
They aren't as complete of a team as the Seahawks, but there isn't another team that's playing better right now than the Broncos.
Peyton Manning continues to shred defenses with 16 touchdowns and zero interceptions thanks to great targets in Demaryius Thomas, Wes Welker and Eric Decker. The defense is playing average, but that's all you need with an offense like this.
Let's also give Trindon Holliday some love on here. He may only be 5'5'', but he's been making some big plays on special teams, including a punt return and kickoff return for touchdowns.
Who will be the first team to take down the Broncos? We may be waiting a while for that answer.
This article is
What is the duplicate article?
Why is this article offensive?
Where is this article plagiarized from?
Why is this article poorly edited?