San Francisco 49ers: Was Michael Crabtree Really a Steal?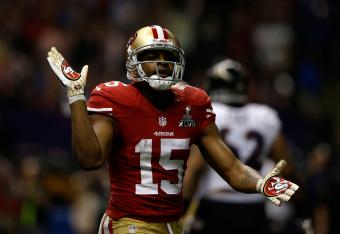 Ezra Shaw/Getty Images
Currently, 49ers fans have the date November 17th circled on their calendars. It's something I see every day right below the November photo of Kate Upton on my wall.
November 17th is the day Michael Crabtree is tentatively scheduled to return to the team when they face off against the New Orleans Saints. Everyone is itching to see how Colin Kaepernick and the offense will perform with their most valuable and lethal weapon back on the field, finally completing the implacable and indefensible battle cruiser that was assembled shortly after the Niners lost the Super Bowl.
We've heard this before with Crabtree. This is the year. San Francisco's first real receiver since Terrell Owens, yaddah yaddah. But it didn't happen. Ever. Through all of the talk and all of the injuries (Lord, the injuries) the superstar everyone envisioned never materialized.
For three years King Crab (as he playfully nicknamed himself on Twitter) woefully underachieved on the field despite his undeniable talent and potential. There was a thirst to prove himself, but he never became the receiver we all thought he would be.
His early reputation, one of arrogance and entitlement, began shortly after his name was called during the infamous 2009 NFL draft.
Selected 10th overall, the 49ers, along with the rest of the league, believed they were getting away with a felony. So did Crabtree. The best receiver in college being paid less than Darrius Heyward-Bey? He wouldn't have any of it. Despite never playing a single snap in the NFL.
Knowing that his draft position was a result of the Raiders' stupidity, Crabtree demanded to be paid like the stud he knew he was. The 49ers refused to capitulate, apparently more willing to forfeit their pick than play his ill-conceived game of chicken.
Michael eventually caved in, ignoring the whispers and the pleas from some of the dumbest agents in the business and joining the team five weeks into the season. He played his first game in his home state of Texas, having no knowledge of the offense and zero rapport with his teammates. But that didn't stop Mike Singletary from immediately naming him the team's No. 1 receiver.
Talent takes no backseat to loyalty. Crabtree was the anointed one. The prodigal son. And he proved he was the team's best receiver in his first game, leading in both total yards and receptions.
But much like the 49ers during the Singletary era, he flat-lined the rest of the way, catching only two touchdowns for the season and averaging a mere 50 yards per game. Still, his unimpressive stat sheet could easily be excused because of his late start and a conundrum at the quarterback position.
Fans believed a full offseason of training would cure any woes and elevate Crabtree to the likes of Johnson, Fitzgerald and Welker.
It turns out they would have been happy with Plaxico Burress.
Crabtree missed his second consecutive preseason with a neck injury, and reportedly got into a heated scuffle with captain Vernon Davis during practice. He barely made any strides from the previous year and at times looked disinterested. But again he avoided any blame, watching safely from a distance as ownership dropped off Mike Singletary on a deserted sidewalk along with a pile of used office furniture.
Aside from the team's coaching problems, the revolving carousal under center was also a crippling disadvantage for receivers. After weeks of window shopping for quarterbacks, the best thing the 49ers could dig up was Troy Smith, who was quickly buried beneath the depth chart after a few starts, never to be heard from again.
Fast forward one year later. The 49ers signed Jim Harbaugh in the offseason, and Crabtree was now a different receiver. Sort of. While his numbers were certainly better, he still wasn't the red-zone threat that the team hoped for, tallying just four total touchdown receptions. Hardly anyone noticed. San Francisco had won its first division title in nearly a decade, and little things like statistics just weren't relevant.
Then came the playoffs. The King didn't just disappoint, he disappeared. The letters on his jersey might as well have spelled Cooper instead of Crabtree, with a little D.B. preceding the surname. The only proof of his existence was his lowly stat line: In two games he totaled five total receptions for 28 yards, and he caught only one pass for three yards in the NFC Championship Game. It's worth noting that the 49ers played the Giants and the Saints, two teams that had highly permeable defenses that season.
The dreaded B-word (I won't say it but it's spelled "bust") started floating around Bay Area sports bars almost as much as the F-word, A-word and C-word.
And then, last year happened.
With the 49ers adding to their offense through free agency, Crabtree finally began catching more balls. Though he still couldn't stretch the field, his receptions were a thing of beauty, and it allowed the offense to move the chains and control the clock. Then, the inevitable. Alex Smith was knocked out of action halfway through the season.
A second-year quarterback named Colin Kaepernick—who Crabtree had competed against during his days at Texas Tech—was named the starter, and the short-yardage possession receiver suddenly morphed into a shocking downfield threat, snatching bullets out of the air and finding the end zone with regular ease.
Fans watching at home checked their VCRs to make sure they weren't watching old games from the days of Steve Young and Jerry Rice.
We weren't seeing things.
Crabtree had been waiting for this his entire career. A fearless gun-slinging quarterback who could deliver the lightning strikes that only he could handle.
With a full offseason together, his true potential would finally be realized.
Naturally he got hurt again, and the offense has suffered considerably as a result.
During his time as a 49er, Crabtree has sat out three full preseasons. He's also endured a neck injury, two broken feet and a torn Achilles. All of which occurred during offseason workouts.
He was also temporarily blind during the final drive of the Super Bowl.
Was he really the steal the 49ers thought they were getting?
Yes he was.
Despite the mountain of injuries and behaving like a petulant diva during his holdout, Crabtree remains one of the most talented and dangerous receivers in the NFL. One could easily take his 1,100 yards and nine touchdowns from last season and extrapolate that into a 1,500 yard/15 touchdown effort if Colin Kaepernick had been the starter from Week 1.
And though he struggled a lot during his early years, a large part of that was Alex Smith throwing him the football.
As things stand now, he's only 26 and has a lot of football left in him. Maybe the best has yet to come. Perhaps it'll come in the form of a game-winning catch in the Super Bowl.
This article is
What is the duplicate article?
Why is this article offensive?
Where is this article plagiarized from?
Why is this article poorly edited?

San Francisco 49ers: Like this team?