Texas vs. Iowa State: Live Score and Highlights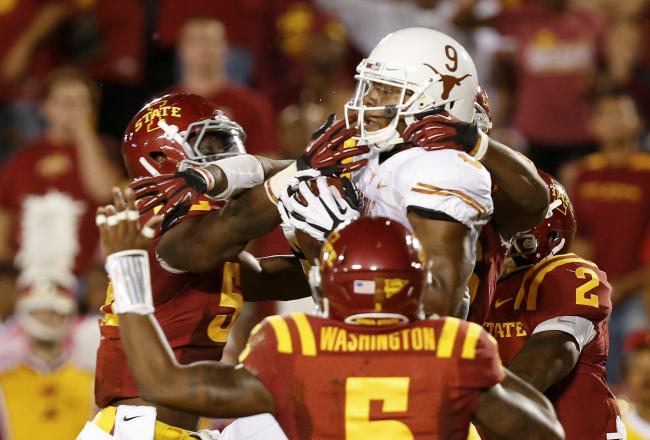 David Purdy/Getty Images
The Texas Longhorns edge the Iowa State Cyclones in a 31-30 victory. The 'Horns are now 2-0 in the Big 12, good for first in the conference heading into the weekend.
Keep following this blog to get a glimpse at the madness that took place in Ames, IA tonight. My "10 Things We Learned" piece will be posted soon for further analysis.
If you would like to follow the box score, go to NCAA.com.
Here is what we learned from the Longhorns' "win." Have a happy Friday and enjoy your weekend.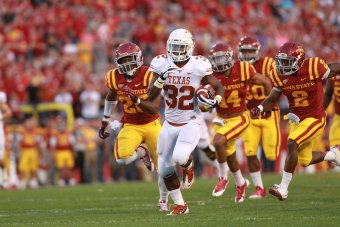 Reese Strickland-USA TODAY Sport
Keys to the Game
Penalties: Iowa State had 10 penalties for 118 yards. Texas had six for 62 yards, including a disgusting one by WR Mike Davis. Five of the Cyclones' ten penalties were for pass interference, including two on the final drive.
Turnovers: Texas wins the battle two forced turnovers against Iowa State's one. There was a highly controversial Johnathan Gray fumble that was ultimately decided by the call on the field. Jackson Jeffcoat's last-second interception sealed the victory for the 'Horns.
Rushing Attempts: The Cyclones ran the ball 49 times to Texas' 29, earning Paul Rhoads' group almost a 10-minute edge in time of possession.
Yardage: The Cyclones outgained the Longhorns 463 to 363, averaging over a yard more per play. If you feel like Iowa State outplayed Texas, you are feeling right.
The Sooners need to put the hammer down on Mack Brown's squad. May he be removed from coaching as soon as possible. #TEXvsISU

— Manuel Palazzo (@mxpalazzo) October 4, 2013
This is the real takeaway from the night. All due respect to a kid that had a great game tonight, but Blake Bell is a better football player than Sam Richardson. Same goes for Brennan Clay and Damien Williams compared to Aaron Wimberly, though that one is closer.
The Longhorns are in major trouble next week against the Sooners. Brown's job may be safe for today, but he will be toast after what happens in Dallas next week. It is not going to be pretty.
For the record, I have no respect for anyone that blames a referee for a loss. I'll give you the Seahawks-Packers with the replacement ref, but that's about it. Blaming a referee is the sports equivalent of "...but he started it."
Think about it this way. If Texas boosters or regents paid off the referees, would the Longhorns really only win by one point? They may as well have lost if they're going to only beat Iowa State by one.
how can Mack Brown even celebrate after that? It's like celebrating after dunking on a 5 ft tall hoop, after you missed twice. #TEXvsISU

— Jim K (@jmmy_k) October 4, 2013
Yup. This is about right.
Iowa State lost that game with their penalties on the last defensive drive, the refs didn't win texas that game #TEXvsISU

— Aaron Bohl (@a44bohl) October 4, 2013
Lots of talk about the refereeing at the end of the game, especially with regard to uncatchable balls. If the defender impedes the receiver, which happened on every call, the ball simply has to be in the neighborhood.
Now for the fumbles. Those were both fumbles, and there is no doubt about that. But when the call on the field is no fumble, there has to be indisputable evidence to overturn it. You can't see the ball until the Iowa State defender is running with it, and that is no conclusive. And he recovered the second one making it a moot point.
Texas 31, Iowa St. 30—Final
Jackson Jeffcoat intercepts Sam Richardson to seal the win for the Longhorns. Wow. Just wow.
Pour your thoughts into the comments. I'll be here for a while.
"Draw a pass interference call, fumble twice, win the game … just like we planned it."

— Stewart Mandel (@slmandel) October 4, 2013
If Texas holds on, fans should know the difference. They will have escaped with this one.
Texas 31, Iowa St. 30
Case McCoy sneaks in for a half-yard touchdown. Lots of controversy regarding Johnathan Gray's ball security, but he keyed what could be the game-winning drive.
Keep in mind that Duke Thomas will be back on the field out of necessity, and he has already been beaten for a 97-yard touchdown.
Going to be tough to overturn that. Can't really see where the ball comes out, though I would say that ball gets ripped.
Texas 24, Iowa St. 30
Cole Netten kicks his third field goal of the night to give the Cyclones a "precarious" six-point lead. Sam Richardson and Aaron Wimberly continue to dominate the Longhorn front-seven in their upset bid.
Texas gets the ball back with 3:42 to go for what could be their last drive of the night. Will it be the last of Mack Brown's career?
When Case McCoy throws 41 passes, you're doing football all wrong #TexvsISU #Longhorns

— Chris Flanagan (@ChrisFlanaganUT) October 4, 2013
It's like there aren't two five-star running backs in the backfield.
These commentators act like Brown has had one bad year. If he loses this game, he is 24-19 over the past three years and change. Is there really not another head coach out there that can do better than that? With top-5 recruiting classes?
Please don't answer that.
Someone should tell case McCoy the dirt isn't an eligible receiver. #TEXvsISU #HookEm

— Brandon Borders (@Brandon_Borders) October 4, 2013
I nominate Major Applewhite.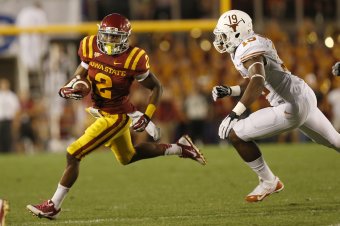 David Purdy/Getty Images
Texas 24, Iowa St. 27
Aaron Wimberly turns a Joe Bergeron fumble into his second touchdown of the night. Longhorns are a mess on both sides of the ball in this fourth quarter.
INJURY UPDATE: Sheroid Evans is out for the rest of the game. He is the team's fastest corner and leaves Texas thin at corner. Freshman Antwuan Davis is in uniform if the coaches decide that they cannot trust Duke Thomas.
Texas CB Sheroid Evans helped off the field after suffering injury on punt return. #TEXvsISU

— Zach Schurmann (@zachschurmann) October 4, 2013
This is big because it forces Texas to go back to Duke Thomas, who was burned on the 97-yard touchdown.
Texas cheap shot https://t.co/zkRiIwvKEw

— PlannedSickDays (@PlannedSickDays) October 4, 2013
In case you haven't seen the replay of Davis' cheap shot, here it is. Suspension-worthy? I think so.
Texas cheap shot https://t.co/zkRiIwvKEw

— PlannedSickDays (@PlannedSickDays) October 4, 2013
Here's a thought. College athletes want to get paid, but would they accept being fined as a result? Because Mike Davis would get one for that.
Texas 24, Iowa St. 20
Joe Bergeron rumbles into the end zone. Mike Davis commits a despicable penalty after being gifted 30 yards on the drive. Johnathan Gray has one touch so far in the second half.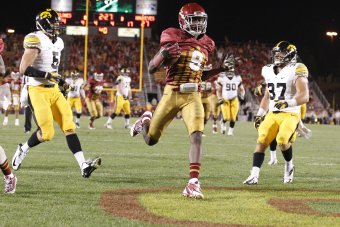 David Purdy/Getty Images
Texas 17, Iowa St. 20
Quenton Bundrage and Sam Richardson connect for a 97-yard touchdown to give Iowa State the lead. The play was the longest in the history of Iowa State football.
McCoy makes Texas football almost as boring as baseball. I said almost, but it's close.
At least I got some carnitas tonight. If you've never had carnitas, they're tender pork with just the slightest bit of crispiness on the outside. Get some for yourself and just try to have a bad night. I dare you.
Daje Johnson picks up 18 yards on his first touch of the night. #TEXvsISU

— ESPN Texas (@ESPNTexas) October 4, 2013
"Let's not give him the ball. Case looks like he's starting to get it."—Mack Brown
This article is
What is the duplicate article?
Why is this article offensive?
Where is this article plagiarized from?
Why is this article poorly edited?