The Toughest Nonconference Matchup for NCAA Basketball's Top 2013-14 Contenders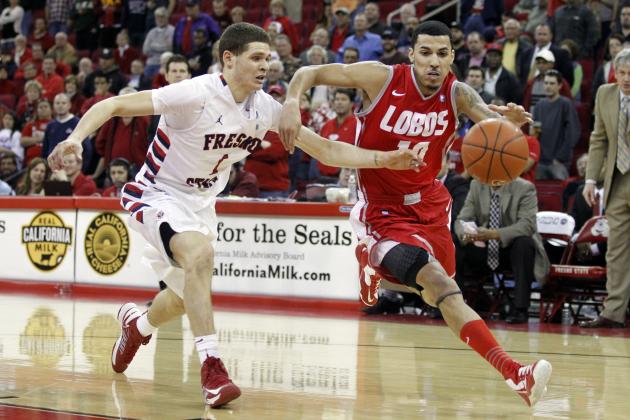 Cary Edmondson-USA TODAY Sports

An NCAA basketball team's best chance to impress the selection committee is by playing and beating quality opponents outside of its own conference. Some contenders take that lesson to heart while others play as few challenging nonconference games as possible.
One program that's squarely in the former camp is New Mexico, which faces a brutal December under new coach Craig Neal. The toughest of three games against power-conference foes in that month has the Lobos traveling to Lawrence to take on Andrew Wiggins and Big 12-favorite Kansas.
Herein, a closer look at the Lobos-Jayhawks showdown and the rest of the most daunting nonconference contests on the schedule of each of the top 20 teams from our latest preseason rankings.
Note: most teams on this list are playing preseason tournaments such as the Maui Invitational. Potential later-round matchups in those tourneys are often among the best games of the nonconference season but were not included here because an upset on either side of the bracket would keep the game from happening.
Begin Slideshow

»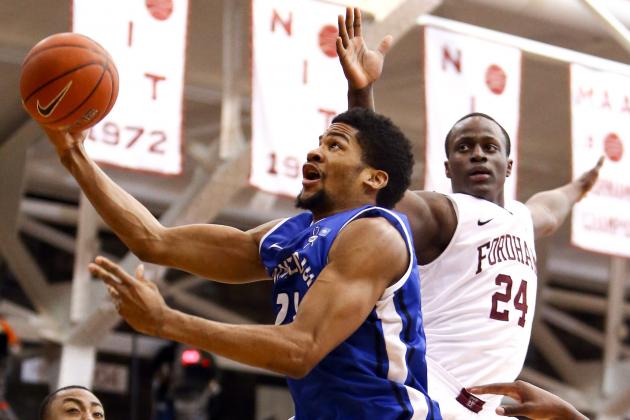 USA TODAY Sports

St. Louis' game plan for 2013-14 is to smother opponents with tireless man-to-man defense and find enough points (from somewhere or other) to win the game.
In November at the Cancun Challenge, the Billikens face one of the few teams in the country that can beat them at their own game.
Bo Ryan's Badgers ranked sixth in the nation (to the Billikens' 16th) in scoring defense last season.
Dwayne Evans will get his points even against a taller Wisconsin front line, but getting scoring from anyone else will be a serious challenge, especially away from home.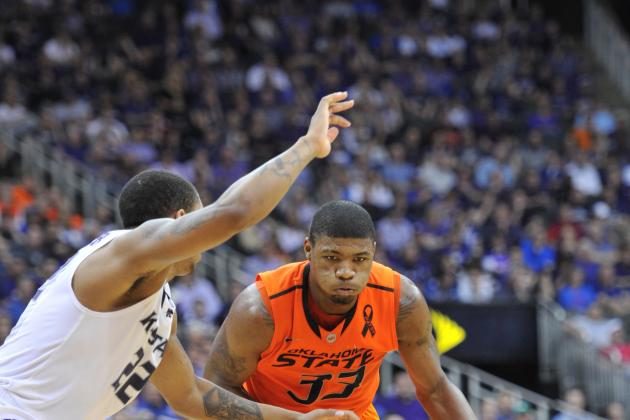 Peter G. Aiken-USA TODAY Sports

Oklahoma State will live and die by an outstanding collection of perimeter players led by PG Marcus Smart.
In their fourth game of the season, though, the Cowboys will face a backcourt even deeper than their own when the Memphis Tigers come to Stillwater.
Memphis' Joe Jackson is no Smart, but the senior won't be intimidated by facing a national Player of the Year candidate.
Not only do the Tigers have four outstanding senior guards to match up with OK State, but Memphis forwards Shaq Goodwin and Austin Nichols will have a rare matchup advantage against the Cowboys' shaky front line.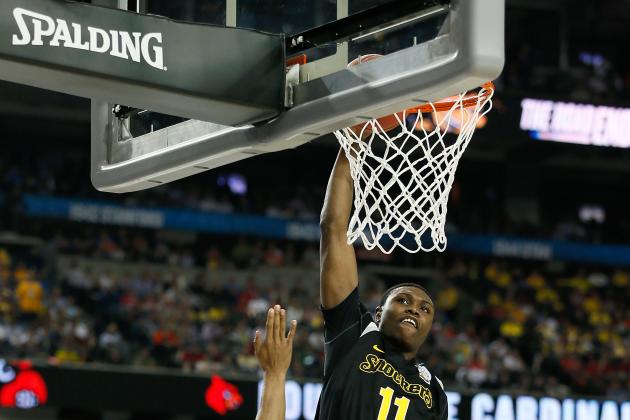 Kevin C. Cox/Getty Images

The good news for the Shockers is they're a great bet to win the CBE Classic over Thanksgiving weekend.
The bad news is, if they have any letdown at all after that victory, they'll immediately get decked by a tough St. Louis squad playing on its home floor.
SLU's Dwayne Evans is a mobile, physical defender who will give Cleanthony Early his toughest test of the regular season.
Unless the Shockers' three-point shooters have a big day in a hostile gym—rarely a scenario to count on—the bruising Billikens have a great chance to shut them down for a defensive victory.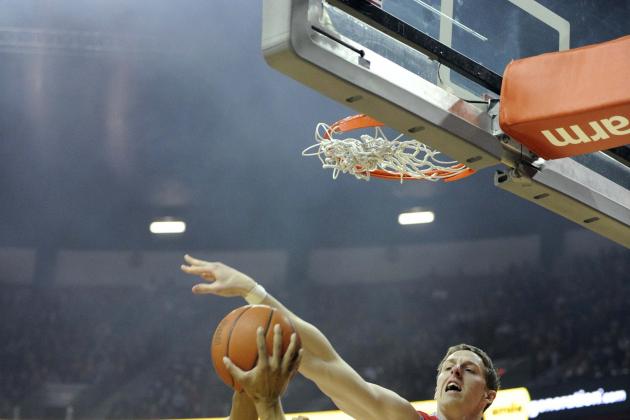 USA Today Sports

For most of the Lobos' nonconference schedule, they'll have the safety net of playing at the Pit where they enjoy one of the biggest home-court advantages in the nation.
One of the few teams that's even tougher than they are on its own floor is the Kansas Jayhawks—as New Mexico will find out in December.
The Lobos have the edge in experience over callow KU, but all the athleticism is on the Jayhawks' side.
New Mexico must keep Andrew Wiggins and his mates from getting out in transition and exploiting their superior speed, but even then, it'll be tough for Kendall Williams and Alex Kirk to generate enough points to win here.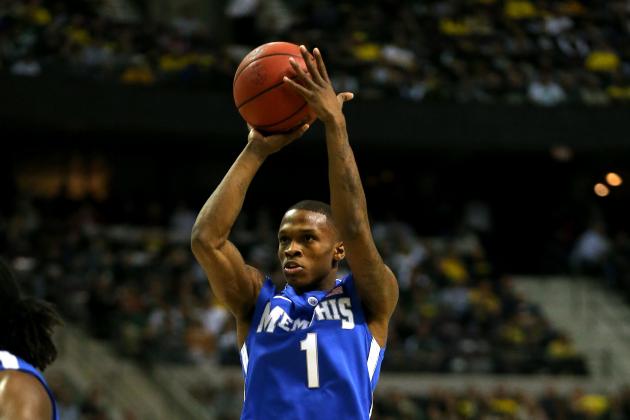 Jonathan Daniel/Getty Images

Lace up your track shoes for what should be one of the year's fastest-paced games. Memphis and Florida both love to run and press, and there will be fast-break points aplenty when they meet a week before Christmas.
There's ample depth on both sides in the backcourt with point guards Joe Jackson (Memphis' senior leader) and Kasey Hill (Florida's wunderkind freshman) as the headliners.
The decisive factor is likely to be the Gators' muscle as Patric Young and Will Yeguete have a great chance to put the Tigers in early foul trouble, especially in front of a raucous Gainesville crowd.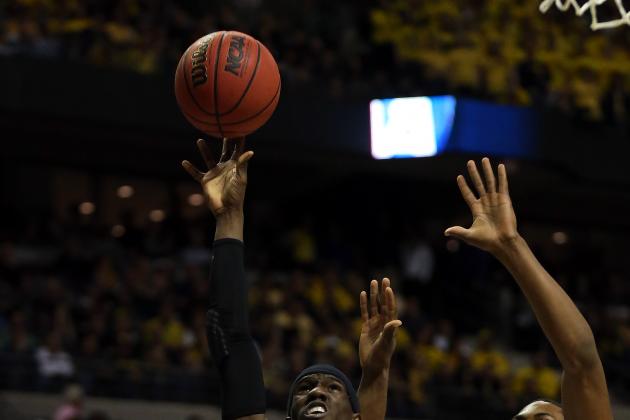 Jonathan Daniel/Getty Images

In all probability, VCU's later-round opponents in the Puerto Rico Tip-Off will be even tougher than Florida State. Either way, the physical Seminoles D will present plenty of challenge in its own right.
The Rams will, as always, have their high-pressure Havoc defense to lean on, but the offense will have to prove how good it can be when Leonard Hamilton's team is able to force a half-court game.
FSU's roster features three 7-footers (not to mention 6'8" senior leader Okaro White) and knows how to use all that size on both ends of the floor.
Undersized VCU will need to play very smart on offense, putting the pressure on new starting PG Briante Weber.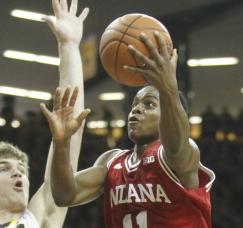 Matthew Holst/Getty Images

One of the marquee games of the ACC-Big Ten Challenge serves up a rematch of the storied 1987 national title game.
The Hoosiers won't have Keith Smart to bail them out this time, and winning at the Carrier Dome will be a daunting prospect for the Big Ten's youngest contenders.
Sophomore PG Yogi Ferrell has the most starting experience on IU's roster, and even he hasn't faced an environment like Syracuse's gargantuan home arena.
The Orange 2-3 zone humiliated Indiana last March, and these younger Hoosiers are likely in for a similar treatment against a deep, experienced 'Cuse front line.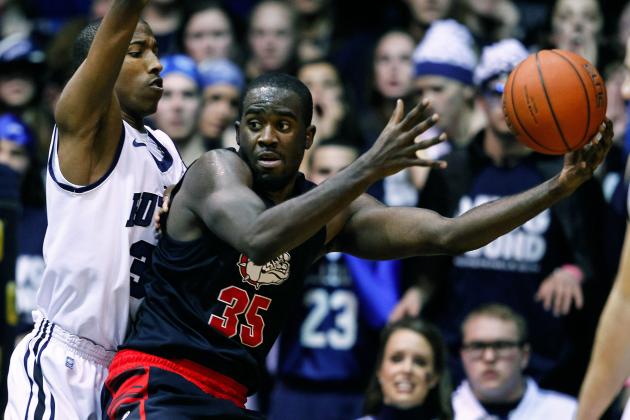 Michael Hickey/Getty Images

For 2013-14, Gonzaga continues its unusual tradition of inserting a prime nonconference game in the middle of its WCC schedule. The Zags fell in a thriller at Butler last year. They will hope to avoid a similar fate in Memphis in February.
The Tigers' deep backcourt—featuring Missouri transfer Michael Dixon, Jr., among others—will be too much for even Kevin Pangos to handle without significant help.
Either Sam Dower or Przemek Karnowski will need to come up big against an inexperienced Memphis front line if the Bulldogs hope to escape here.
Denny Medley-USA TODAY Sports

The last time North Carolina and Kentucky met, in December of 2011, Anthony Davis sealed a win for the eventual national champs with a last-second block on John Henson.
Those two are now in the NBA, which is where most of the starters in this season's contest will also be headed.
In a battle of star-studded lineups, the most impressive matchup could be at PF, where UNC's James Michael McAdoo will duel high-powered UK freshman Julius Randle.
The bigger concern for the Tar Heels, though, is the point guard contest where Marcus Paige will be giving up five inches in height to another of Kentucky's McDonald's All-Americans, Andrew Harrison.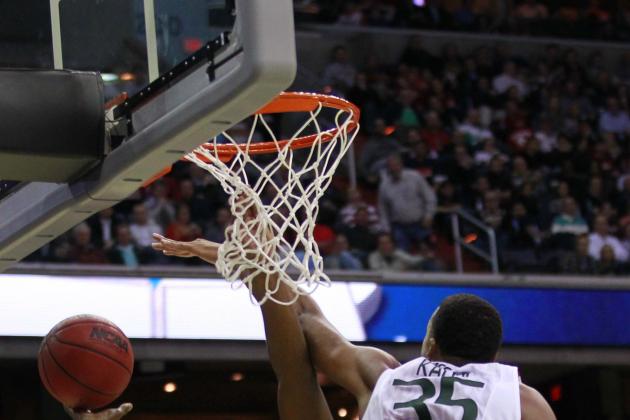 Geoff Burke-USA TODAY Sports

Marquette freshman Duane Wilson already faces plenty of pressure as the new starting point guard for a defending Elite Eight team with high hopes for 2013-14.
On top of that, Buzz Williams will have to ask his new floor leader (in the third game of his college career) to keep the ball away from the best defensive player in college basketball.
Ohio State's Aaron Craft is a nightmare for the most experienced of point guards, and the Buckeyes senior will make the Golden Eagles' offense miserable all night.
Davante Gardner will do his share of damage against OSU's nondescript post players, but he alone won't be enough to outscore the Buckeyes arsenal of athletic wings—led by NCAA tournament revelation LaQuinton Ross.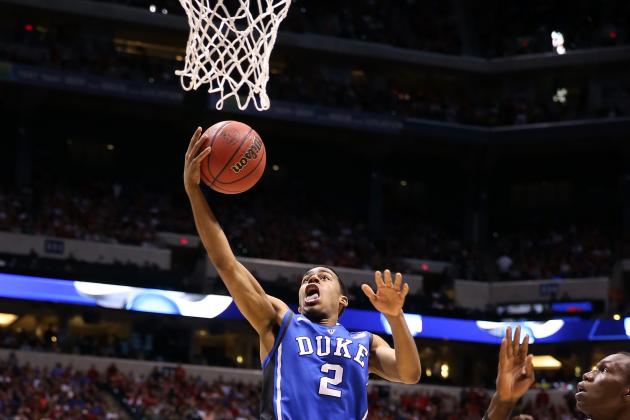 Andy Lyons/Getty Images

The top-two freshmen in the country will be on the floor when the Blue Devils and Jayhawks battle, but they won't necessarily match up against each other.
Duke's Jabari Parker, a natural small forward, may be playing at the 4-spot when he visits SF Andrew Wiggins and KU.
Other big-time scoring weapons in this likely shootout include Rasheed Sulaimon for Duke and Kansas' Perry Ellis—who would face Parker as a power forward.
With two extremely young teams, momentum and the crowd will be huge factors, and Phog Allen Fieldhouse will make sure both of those elements are on the side of Bill Self's squad.
Bob Donnan-USA TODAY Sports

In one of the high points of the ACC-Big Ten Challenge, John Beilein's Wolverines will get to trade three-pointers with the Blue Devils' deep perimeter corps.
Cameron Indoor is the single toughest building in the nation for a road team, and Michigan will be bringing a freshman point guard (Derrick Walton, Jr.) into that environment.
Even so, the Maize and Blue will give Duke all it can handle thanks to the Final Four-veteran trio of Mitch McGary, Glenn Robinson III and Nik Stauskas.
Those three will put up at least as many points as Duke's similarly undersized frontcourt, making the point guard matchup of Walton against Duke's Quinn Cook loom even larger.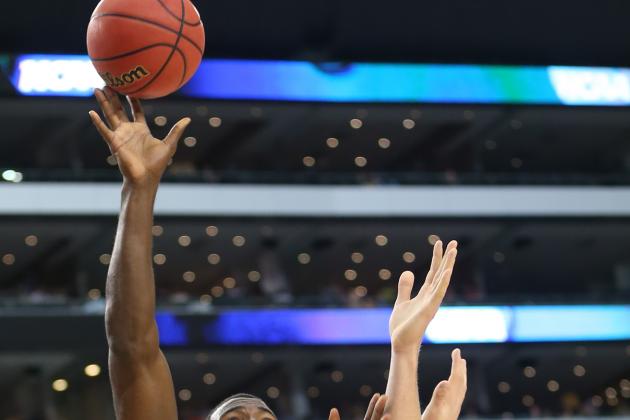 Kevin Jairaj-USA TODAY Sports

Even in the SEC, Billy Donovan's Florida teams rarely face a non-Kentucky opponent who can match them for sheer athleticism up and down the lineup. They'll have that dubious pleasure this year thanks to a visit from a raw but explosive Kansas squad.
The Jayhawks' Andrew Wiggins is the most impressive individual talent on either roster, and Perry Ellis has too much agility even for Florida's big men.
The Gators' press will go a long way toward evening the score, but Kansas PG Naadir Tharpe is no stranger to steep challenges after facing Marcus Smart twice and Trey Burke once (albeit in a second-string role) last year.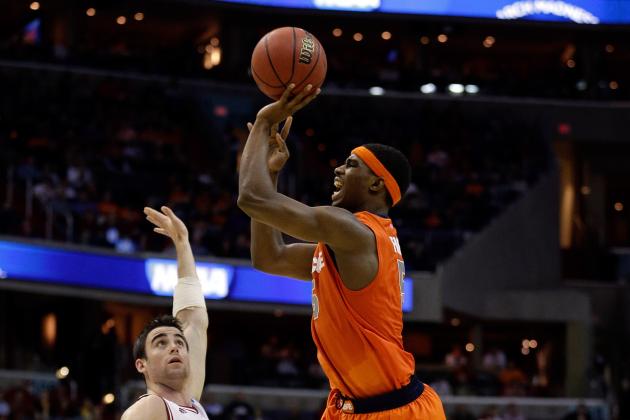 Rob Carr/Getty Images

Most of the Orange's nonconference slate features Jim Boeheim's traditionally soft opponents, but even at the Carrier Dome, Indiana won't be a pushover.
The Hoosiers will be out for blood after Syracuse wiped the floor with them on the way to last year's Final Four.
This IU squad, like last year's, features a wealth of dangerous shot-makers to test Syracuse's 2-3 zone.
The Orange no longer have Michael Carter-Williams to dominate on offense, and even C.J. Fair and a veteran frontcourt won't have it easy against Indiana's own length and athleticism inside.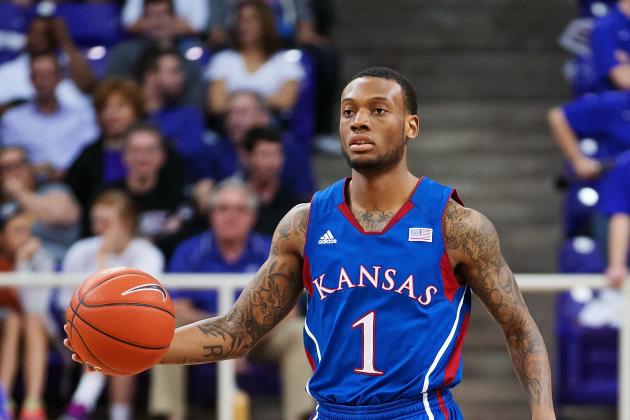 Kevin Jairaj-USA TODAY Sports

Bill Self hasn't shied away from tough schedules since arriving in Lawrence, but this year's is scary even by his standards.
Two of the Jayhawks' toughest opponents (Duke and Georgetown) must come to Lawrence, but it's KU that will be on the road to face the high-pressure Florida defense.
Florida's Patric Young will be a dreadful matchup for the slower Tarik Black at center, and long-armed Casey Prather will make Kansas phenom Andrew Wiggins work for every point.
A strong effort from Naadir Tharpe against Florida freshman Kasey Hill would put Kansas in good position, but this game is likely to be a nail-biter regardless of who comes out on top.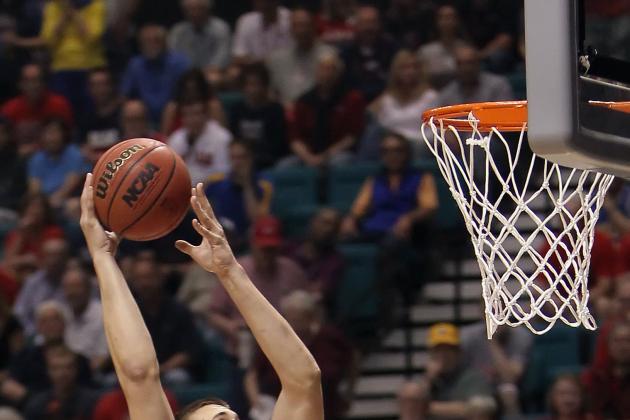 Jeff Gross/Getty Images

Arizona's vaunted front line will get its toughest challenge of the regular season in Ann Arbor.
Michigan's forwards don't have the raw power of Wildcats Kaleb Tarczewski, Brandon Ashley and Aaron Gordon, but the Wolverines are quick, athletic and appreciably more experienced thanks to last March's Final Four run.
Mitch McGary only gives up two inches to the towering Tarczewski, and UM's NCAA tournament sensation actually outweighs the Arizona center by five pounds.
With Ashley and Gordon stuck chasing jump-shooters Glenn Robinson III and Nik Stauskas all over the floor, the pressure will be on Wildcats defensive whiz T.J. McConnell to keep the Michigan offense from running Arizona out of the building.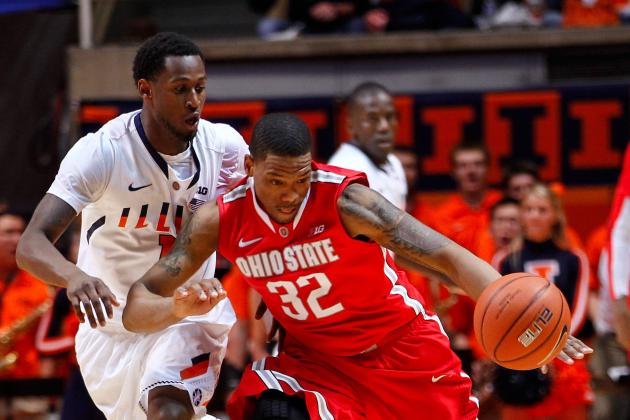 Michael Hickey/Getty Images

Ohio State plays exactly one true road game before Big Ten action opens, and this is it. The Bradley Center can hold an awful lot of Golden Eagles fans, and they'll provide a great boost for a Marquette team that excelled under pressure last March.
Ohio State's lack of inside scoring will be on full display against Chris Otule and the physical Marquette defense.
Aaron Craft's own defensive wizardry will produce some easy baskets, but if the jump shots aren't falling for Lenzelle Smith, Jr., and company, it'll be a very long night in Milwaukee.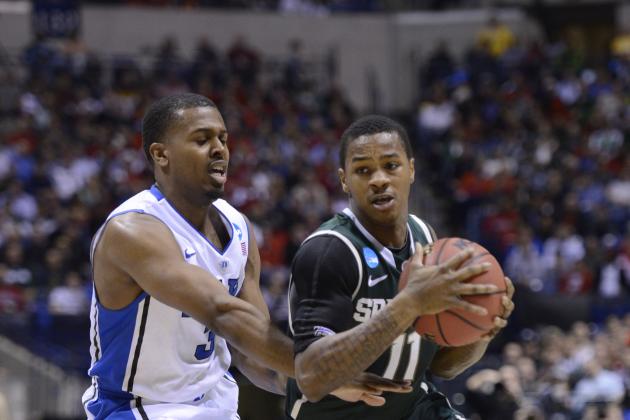 Jamie Rhodes-USA TODAY Sports

In 2012-13, Michigan State faced then-No. 7 Kansas in the second game of the season. For an encore, Tom Izzo has set up a meeting with potential preseason No. 1, the Kentucky Wildcats, at the Champions Classic in Chicago.
The two most athletic centers in the country, Adreian Payne and Willie Cauley-Stein, will provide plenty of highlight footage while physical shooting guards Gary Harris and Aaron Harrison could spend the night in a wrestling match.
A hot night from volatile Keith Appling would really help the Spartans, who must compensate for a power forward mismatch between blue-collar Matt Costello and superstar Kentucky recruit Julius Randle.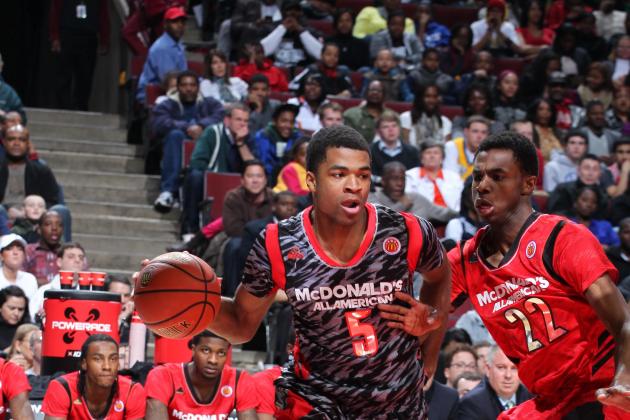 Brian Spurlock-USA TODAY Sports

March Madness is coming three months early in Louisville. The last two national champions renew their fierce rivalry in a game that's exceedingly likely to feature the top two teams in the national rankings.
For Kentucky, the biggest concern will be facing Louisville's full-court press with a freshman-heavy team on a hostile floor.
Even Andrew Harrison, impressive a point guard as he is, will still be just a couple of months into his college career, and veteran Louisville could get a huge psychological edge with an early turnover-fueled run against the green Wildcats.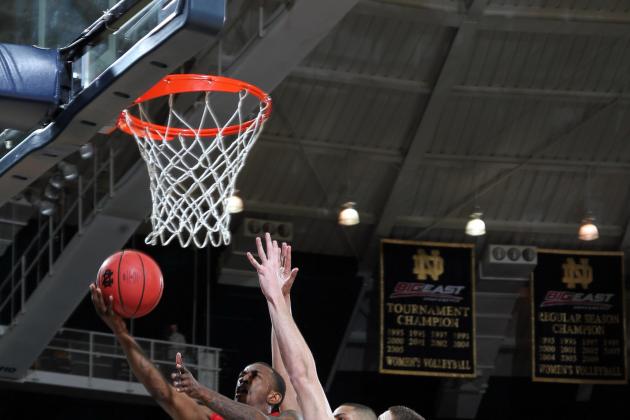 Brian Spurlock-USA TODAY Sports

The battle for Kentucky state supremacy (and the top of the national polls) would be a dream of a national championship preview.
All the experience is with the home team—three starters are back from the 2013 national champs, plus several key reserves—but Kentucky has a lot working in its favor, too.
UK guards Andrew and Aaron Harrison (a pair of 6'5" twins) will have a huge size advantage over 6'0" Chris Jones and 6'1" Russ Smith, and even Louisville's post players are surrendering several inches each against 6'9" Julius Randle and 7'0" Willie Cauley-Stein.
Add in the Wildcats' tremendous team speed, and even the Cards' crushing defense may not be enough to win this game.