Tottenham Hotspur: AVB Outburst Shows Refusal to Be Bullied by Mourinho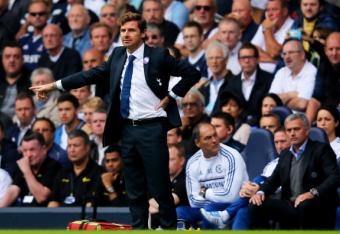 Andre Villas-Boas is determined to prove he is no longer in the shadow of Jose Mourinho
Clive Rose/Getty Images
Tottenham Hotspur manager Andre Villas-Boas was not just standing up for his player when he criticised the FA's failure to take action against Fernando Torres.
He was also showing he could stand up to his compatriot Jose Mourinho, who had blamed Torres' red card on the play-acting of Spurs defender Jan Vertonghen.
The Chelsea boss, a past master of mind games, claimed that by feigning injury the Belgian had cost his team the momentum and all three points in Saturday's London derby at White Hart Lane.
He told the BBC: "It's a disgrace you do that to a person from your same job," and, "When nobody touches or hurts you and you pretend that the opponent touched you, had a violent conduct and hurts you, you are putting the referee in a very difficult situation."
Conveniently, Mourinho forgot the diving, feigning injury and other gamesmanship perfected by the Porto team he once managed. It was used to good effect by Real Madrid's Pepe and other players he has worked with.
Didier Drogba had more than a few tactical tumbles under Mourinho at Chelsea, negating his argument that foreign imports should not do it in the English game—a culture in which referees are inclined to assume a degree of integrity and honesty among players.
But nobody interprets Mourinho's comments as him being genuinely angry at Vertonghen. If the centre-back played under him, the self-styled "Special One" would be unlikely to discourage him from doing anything which might give his team an advantage, regardless of right or wrong.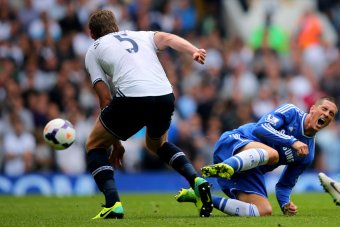 Clive Rose/Getty Images
Mourinho was simply defending his players, hinting that they would have won had it not been for this "disgraceful" behaviour, as he called it.
He was ensuring they were not criticised for their performances and thereby put under increased pressure for future games, and that they are seen as having been unfairly treated, something which might influence future referees.
And at the same time, as Mourinho often does, he was having an underhand dig at the opposition. He was saying to Spurs, who he said last week he regards as genuine title contenders, "we would have beaten you if we'd had 11 men on the pitch."

Just as Mourinho was more interested in taking pressure off his players and onto his opponents than criticising Vertonghen, so Villas-Boas had other reasons for speaking out when he expressed anger at the actions of a Chelsea player in the game.
The 35-year-old fumed at the Football Association's failure to take action against Torres when he appeared to claw at Vertonghen in an earlier incident.
"How can you see the images, pretty clear, and come out without punishment?" Villas-Boas asked (per the Daily Mail). "I think the decision is a disgrace."

Villas-Boas also pointed out that he did not wish to question the integrity of Torres or Mourinho in expressing the view. But he was not just interested in defending Vertonghen's role either.
And he was probably not even that bothered about whether Torres would face a ban, as the Spaniard's recent form, apart from a second-half spell against Tottenham, has hardly suggested he will be the man to ensure Chelsea finish above teams such as Spurs this season.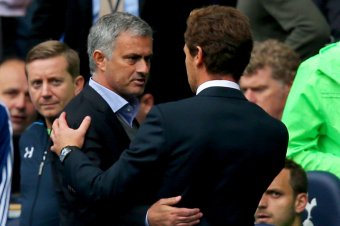 Clive Rose/Getty Images
The statement Villas-Boas was making was that Mourinho, whose ways he knows so well having worked with him for seven years, cannot criticise one of his players without expecting an equally robust response.
He was saying that his former boss cannot expect to walk all over him, and his Tottenham team, any more.
This article is
What is the duplicate article?
Why is this article offensive?
Where is this article plagiarized from?
Why is this article poorly edited?

Tottenham Hotspur: Like this team?