MLB Playoff Predictions 2013: Picks for Entire Divisional Round
Jeff Curry-USA TODAY Sports
With the Wild Card games out of the way, the MLB playoffs are officially underway, as the Pittsburgh Pirates and Tampa Bay Rays won their respective games to finalize the schedule.
The NLDS kicked off on Thursday with a pair of games while the ALDS begins Friday, as baseball embarks on a month-long process to determine which team is worthy of winning the World Series.
Each division series is chock full of interesting storylines and matchups, so let's get right into it. Here are predictions for the entire opening round.
Note: All information and statistics are courtesy of MLB.com.
8 teams remain. #NLDS begins today. #ALDS starts tomorrow. A week from today we'll be down to 4. It's simple: Nothing Beats October.

— MLB (@MLB) October 3, 2013
American League Division Series
Tampa Bay Rays vs. Boston Red Sox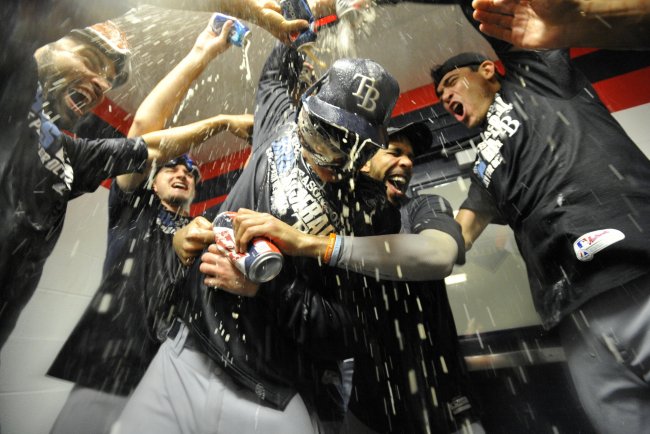 David Richard-USA TODAY Sports
A bitter matchup between AL East rivals not featuring the New York Yankees is sure to entertain as Tampa Bay and Boston get things going in a series that was competitive all year long.
Tampa Bay won the regular-season series by a 12-7 margin, but things will play out differently here.
The Rays tout an impressive pitching staff, as they displayed in their Wild Card win over Cleveland with Alex Cobb blanking the Indians over 6.2 innings.
While Tampa's mound staff is well-rounded, Boston has an offense that is difficult to silence. The Red Sox led baseball in scoring and on-base percentage, and that won't change against the Rays.
It's important to note the Rays are riding a wave of momentum, having won three in a row, but in an important series, the smart money is on the offense of the Red Sox to pull it out.
Prediction: Red Sox in four

Detroit Tigers vs. Oakland Athletics
This one is going to have an impressive display of pitching with both staffs led by some of the best arms in the game.
Oakland's Bartolo Colon is 40 years old and still going strong after a season in which he won 18 games with a 2.65 ERA. He is backed by youngster Sonny Gray.
Max Scherzer, Justin Verlander and Anibal Sanchez top the elite group that has led the way for Detroit thus far.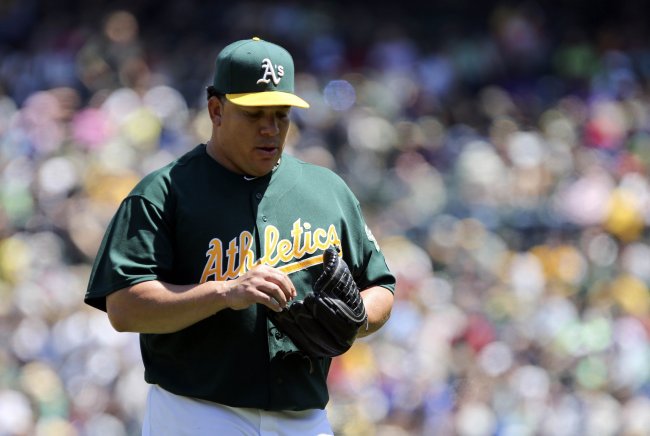 Kelley L Cox-USA TODAY Sports
Outside of pitching, the hitting star of this series is Miguel Cabrera, who batted .348 with 44 home runs and 137 RBI this season. However, Cabrera seemed tired down the stretch, batting just .278 in September.
The biggest storyline here? Detroit knocked Oakland out of the postseason in this round last year. While a bit of revenge would be sweet as the A's take the next step, it's simply not going to happen against the elite pitching that Detroit brings to the mound each game.
Prediction: Tigers in five
National League Division Series
Pittsburgh Pirates vs. St. Louis Cardinals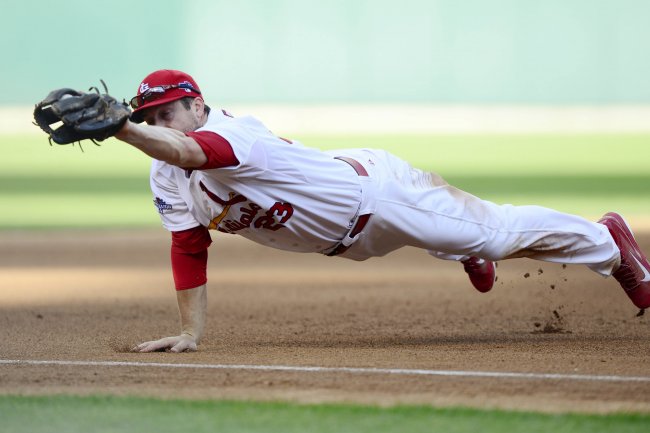 Jeff Curry-USA TODAY Sports
The Pittsburgh Pirates are this year's Cinderella story after moving past the Cincinnati Reds in the Wild Card round and making the playoffs for the first time since 1992.
All the attention for the Pirates should be focused on the solid pitching staff led by Francisco Liriano, A.J. Burnett and youngster Gerrit Cole, who has turned more than a few heads during his first year in the majors.
On the opposite side is St. Louis, a team more than familiar with the grand postseason stage and able to handle anything that the Pittsburgh home crowd throws its way. St. Louis is led by Adam Wainwright and his 2.94 ERA, but the focus should be on an impressive offense led by Carlos Beltran and a host of others.
Beltran and the Cardinals flexed their muscles in Game 1 of the series on Thursday night with Beltran slugging a three-run homer in St. Louis' 9-1 rout of Pittsburgh.
St. Louis is simply too explosive up and down the lineup while Pittsburgh has questionable depth in the rotation. It's been a great run for the Pirates, but St. Louis will play the villain and make quick work of Pittsburgh.
Prediction: Cardinals in five.
Atlanta Braves vs. Los Angeles Dodgers
In a classic strength versus strength matchup, the Atlanta Braves bring a high-powered offense into its series with the Los Angeles Dodgers, a team solid up and down the rotation and led by baseball's best pitcher in Clayton Kershaw.
Kershaw won 16 games this season on the heels of his amazing 1.83 ERA and showed no signs of letting up in Game 1 on Thursday. Kershaw allowed only one run on three hits while striking out 12 over seven innings in the Dodgers' 6-1 thumping of the Braves.
Kershaw shut down Atlanta's elite lineup, including Justin Upton, Freddie Freeman, Evan Gattis and Brian McCann, all of whom hit 20 or more home runs this season.
In low-scoring affairs, the advantage typically lies with the team more likely to hit home runs, and that team is far and away the Braves. Add a stout pitching staff that ranked No. 1 in ERA by season's end with a 3.18 ERA and it's easy to see why the series will have plenty of scoreless innings.
Los Angeles can be unstoppable at times, but while the Dodgers came out swinging in Game 1, neither team is expected to be doing a lot of scoring. Atlanta is more consistent offensively and will overcome the Dodgers through sheer persistence.
Prediction: Braves in six.
Note: *Watch postseason baseball live on TBS.com or your mobile device.
Follow B/R's Chris Roling on Twitter for more news and analysis @Chris_Roling
This article is
What is the duplicate article?
Why is this article offensive?
Where is this article plagiarized from?
Why is this article poorly edited?