Grading Detroit Lions' Positional Units at the First Quarter Mark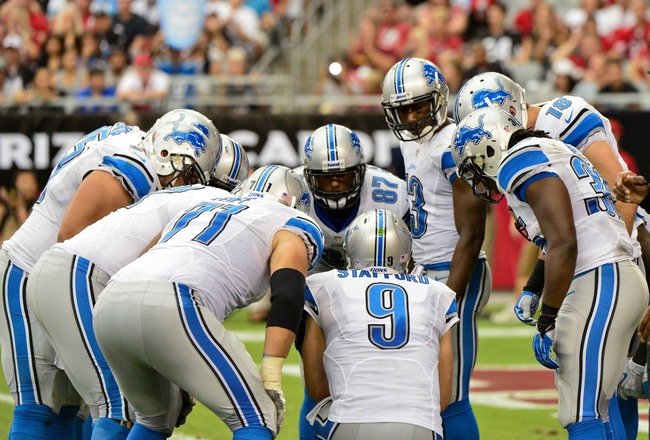 Matt Kartozian-USA TODAY Sports
The Detroit Lions have played one quarter of its 2013 season. After four games, the team sits at 3-1, tied for the lead in the NFC North.
Before we get to the grades, allow me to explain my grading criteria.
I try to weigh the expectations of a player against how well they have played. Stars are graded with harder scrutiny than reserves. Penalties, mental errors and poor technique are significant downers for a player.
Consistency and reliability augment grades, so does play which exceeds expectations.
Without further ado, here are the first quarter grades by position group.
All statistics are from NFL.com unless otherwise indicated
Quarterbacks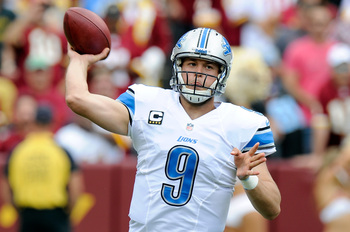 Greg Fiume/Getty Images
Matthew Stafford has put up some pretty impressive numbers thus far. Of course he did that last year, too.
This year those numbers are more meaningful. Instead of piling up copious yardage statistics in lots of garbage time, Stafford is converting drives into touchdowns while games have yet to be decided.
He has 100 completions for 1,262 yards and seven touchdowns, on a completion rate of 64.1 percent. Stafford ranks fourth in yards, eighth in QB Rating, seventh in yards per attempt and tied for ninth in touchdowns. He leads the league in sack percentage, which reflects how quickly he's getting the ball out.
Even better, we have barely seen the lazy mechanics that plagued his 2012 season. He's getting rid of the ball quickly with solid mechanics. The numbers say Matt Stafford is a top 10 quarterback in the league, and so does the eyeball test.
Grade: B+
Running Backs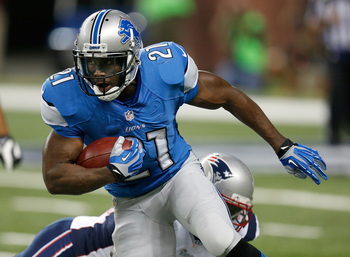 Gregory Shamus/Getty Images
Reggie Bush has been a significant difference-maker in the backfield. His 173 combined yards against Chicago provided perhaps the most excitement in Detroit since Barry Sanders in his prime. He's averaging 5.2 yards per carry, though that figure was a lot uglier early.
Perhaps more impressive is his 16.3 yards per reception. Bush did miss one full game and half of another with a knee injury.
Joique Bell has emerged as one of the better reserve running backs in the league. Like Bush, his work in the passing game really augments his value.
Bell provided a huge lift in the Washington game, rushing for 63 yards and catching passes for 69 more. His fumble and lack of production against Chicago hurts the overall mark a half-grade.
Rookie Theo Riddick has seen scant playing time and touched the ball just three times.
The Lions have not seen this level of consistent production in a long time.
Grade: A-
Wide Receivers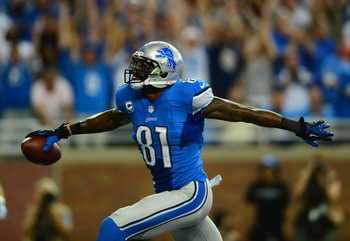 Andrew Weber-USA TODAY Sports
Calvin Johnson is not likely to set the NFL record for receiving yards in a season as he did a year ago. Honestly, he hasn't been great this year other than two outstanding touchdown plays. His catch rate is barely above 50 percent, and he's once again been victimized by failing to complete the process of the catch.
Megatron still remains a dangerous weapon, as he showed on the long touchdown against Arizona. His blocking has been very strong, too. But we've seen him play better.
Nate Burleson was off to a great start on the field, catching almost everything thrown his way. Mr. Lionblood was looking quicker and tougher each week, but an unfortunate car accident has sidelined him.
Kris Durham played a great game against Chicago, netting 58 yards receiving and throwing several key blocks for Reggie Bush. He also recovered an onside kick. The rest of his season has been substandard compared to the players in his role on other teams.
Ryan Broyles has been slow to make an impact, playing just 59 snaps and making just three catches so far. He was invisible against Chicago in his first extended action.
Patrick Edwards has missed most of the season with an ankle injury. He showed decent vertical speed early but has just 30 yards on three receptions.
With all the injuries here, it's hard to pin down a concrete grade. Calvin Johnson's relative decline weighs down the mark quite a bit for me.
Grade: C-
Tight Ends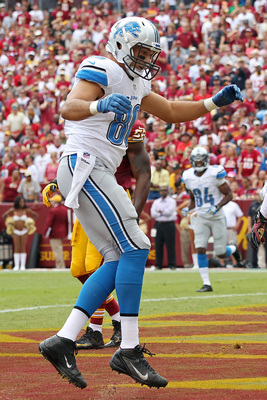 Geoff Burke-USA TODAY Sports
This has been the most inconsistent unit on the team in 2013.
Brandon Pettigrew started slowly, dropping a couple of balls and losing a fumble. I did note strong blocking on his part over the first two weeks.
He finally had a strong receiving game against Chicago, but his 7.7 yards per reception is not pretty. His uninspiring play was the genesis of my own negative article on Pettigrew.
Undrafted rookie Joseph Fauria has done very little other than snaring two touchdown passes. He's widely known for his celebratory dance moves, which has inflated the national opinion of Fauria far beyond his actual play.
The touchdowns are nice, but Fauria has been limited in part by his lackluster blocking and running the wrong routes a couple of times.
Tony Scheffler made his biggest splash in Week 4 when he caught one pass. Like Fauria, his ineffective blocking limits his usage.
Grade: C-
Offensive Line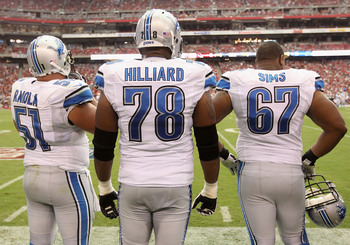 Christian Petersen/Getty Images
The Detroit offensive line might be the most under-appreciated unit in the entire league.
Riley Reiff has transitioned nicely to the starting left tackle spot. The game charters at Pro Football Focus (subscription required for premium content) have logged one sack and seven quarterback pressures on Reiff. That's not bad, and his strong run blocking has been a boon.
Left guard Rob Sims and center Dominic Raiola are showing their veteran savvy. Raiola hasn't played this well in years, though he did get exposed against Washington. Sims is a rock in pass protection. His run blocking has been up and down, more down.
Rookie right guard Larry Warford has been outstanding. Bleacher Report's own Dan Hope rightfully included Warford as one of the biggest steals in the draft class thus far. He deserves Pro Bowl consideration.
Right tackle Corey Hilliard has filled in pretty well for initial starter Jason Fox, who was hurt early in the opener and has not returned. His terrible edge protection led to a blocked field goal in the loss, however, and he's struggled with speed off the edge.
Overall, the line is the best in the league in pass protection. They have the lowest sack rate in the NFL and have capably handled some blitz-happy defenses in Washington and Arizona.
Grade: B+
Defensive Line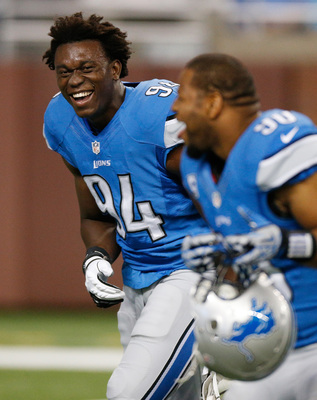 Gregory Shamus/Getty Images
With three first-round picks in the last four years, expectations are high for this unit.
They have delivered.
I believe Ndamukong Suh should be the NFL Defensive Player of the Month for September. He has the highest grade of all defensive tackles from Pro Football Focus (subscription required) and has consistently wreaked havoc in opposing backfields. Aside from the one ridiculous penalty, he's kept his head, too.
Nick Fairley has a fumble recovery for a touchdown, but has not played all that well. A shoulder injury has marred his season, as have penalties.
Ziggy Ansah has proven Martin Mayhew and Jim Schwartz correct in taking him fifth overall last April. He has 2.5 sacks and a forced fumble, and he has also lost two forced fumbles and sacks to penalties.
The one starter who wasn't a first-round pick is end Willie Young, and he's often played like a first-round pick this year. His pass rushing has been fantastic, but earning at least one penalty in each of the first five halves of the season is troubling.
The depth has not been great. C.J. Mosley is adequate as a run-stuffer inside, but veteran end Israel Idonije looks very long in the tooth. Jason Jones was not playing well before a knee injury prematurely ended his season.
Rookie Devin Taylor has shown promise as a pass-rusher in limited duty.
This unit gets docked a full letter grade for penalties.
Grade: B
Linebackers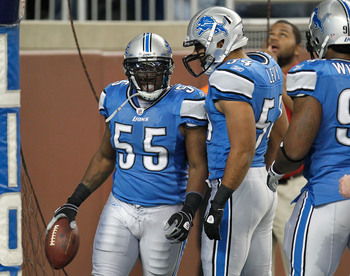 Gregory Shamus/Getty Images
DeAndre Levy and Stephen Tulloch have both raised their level of play, and the overall defense has really benefited.
Levy looks quicker and more alert than he has in prior years, and his range in coverage has been a major asset. He has already surpassed the entire linebacking unit's 2012 turnover production by himself in the first four weeks.
Tulloch is tied with Levy for the team lead with 28 tackles. He's been more aggressive in attacking the ball and blitzing quite effectively, picking up two sacks.
Ashlee Palmer has been passable as the third linebacker, playing about a third of the snaps. That he hasn't been awful should be taken as a positive.
The team strongly emphasized getting more impact plays from the linebackers, and they have delivered. Levy and Tulloch are a huge reason why the team leads the league in third down conversion defense.
Grade: A-
Defensive Backs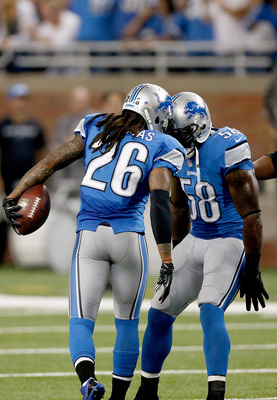 Gregory Shamus/Getty Images
The two safeties, Glover Quin and Louis Delmas, have been very good. Delmas keeps getting better every week, and his playmaking flair has really improved the overall defense.
Quin has been impressive in run defense and has provided a stable presence in coverage. Together the duo shows good communication and chemistry, something Lions fans haven't seen from their safeties in a long time. Delmas' taunting penalty against Minnesota costs the overall unit a half-grade.
The corner play is still the weakest part of the team. Chris Houston has shown better ball recognition and decent stickiness in man coverage. He's missed some tackles and still tends to allow too much room along the sidelines.
Bill Bentley remains wildly hit-and-miss as the nickelback. Unfortunately he often appears as if he's guessing in coverage. At least he's proven to be a reliable tackler.
Darius Slay played his way out of the starting lineup after several egregious errors in coverage. He did play better against Chicago, which I wrote about earlier this week, but together he and Rashean Mathis have not been effective in the second starting role.
Jonte Green raised the overall unit mark a half-grade by showing competence in limited duty against Chicago.
Grade: C+
Specialists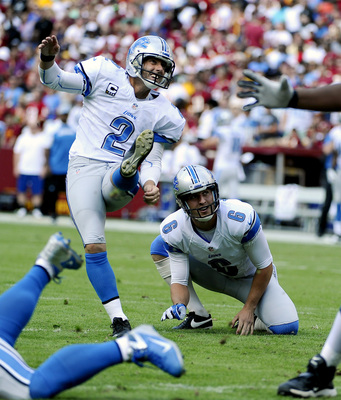 Brad Mills-USA TODAY Sports
Kicker David Akers has been perfect in three of the four games. Unfortunately he missed two field goals in the loss to Arizona, including a blown redemption shot after a penalty gave him a second chance on one of those misses.
Sam Martin handles both the punting and kickoff duties. He won the NFC Special Teams Player of the Week against Washington, and he's been a huge upgrade over the rotating cast of punters the Lions have deployed the past few seasons.
Return man Micheal Spurlock has been largely terrible, save one great return against Chicago. He has not shown elusiveness, nor has he displayed vision to find running lanes. The blocking in front of him has been woefully inadequate, which has made his job harder.
Martin and Akers both earn a solid B+ and the coverage units are even better than that. But the return woes really lowers the grade.
Grade: C
Keep Reading

Detroit Lions: Like this team?