It's almost time for the 2013-14 NBA season to begin.
The NBA preseason is upon us, and while the games don't count for anything in the regular-season standings, there is plenty to be excited about.
The number of storylines are almost incalculable. The action will begin on Saturday when the Oklahoma City Thunder travel to Turkey to take on Fenerbahce Ulker at Ulker Sports Arena. Fenerbahce Ulker are the five-time Turkish league champions, but they aren't likely to see a lot of Kevin Durant or Serge Ibaka.
Thunder head coach Scott Brooks probably won't play his stars much in the first preseason outing. He's already without point guard Russell Westbrook after knee surgery, per ESPN.com, so the Turkish fans won't see the Thunder at full strength.
The stateside games also begin on Saturday. Here's a look at the complete schedule and viewing information for the first weekend of the NBA preseason. See the entire schedule at NBA.com.
NBA Preseason Opening Weekend Schedule

| | | | |
| --- | --- | --- | --- |
| Date and Time | Matchup | TV | Live Stream |
| Oct. 5 at 9 a.m. ET | Oklahoma City vs.Fenerbahce Ulker | NBA TV | |
| Oct. 5 at 7 p.m. ET | Chicago at Indiana | NBA TV | |
| Oct. 5 at 8 p.m. ET | New Orleans at Houston | | |
| Oct. 5 at 10 p.m. ET | Golden State at Los Angeles Lakers | NBA TV | |
| Oct. 6 at 12 p.m. ET | Philadelphia at Bilbao Basket | NBA TV | |
| Oct. 6 at 9:30 p.m. ET | Denver at Los Angeles Lakers | NBA TV | |
NBA.com
Top Story Lines of the Preseason
Derrick Rose Back on the Court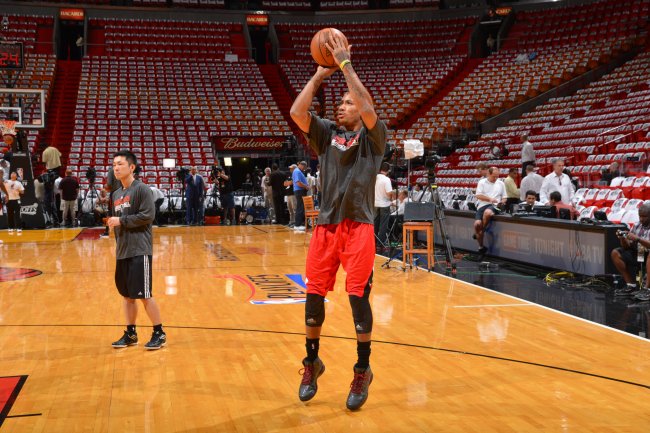 Jesse D. Garrabrant/Getty Images
How many games will Rose play this season?
Rose is expected to make his long-awaited return to the Chicago Bulls' lineup on Saturday, per ESPN.com. Don't expect him to log 30 minutes, but Bulls fans should be elated to see their star back in uniform. Chicago's preseason opener is in Indianapolis, which is a little under three hours away, so some rabid Bulls fans may be in attendance.
Still, we won't get an opportunity to hear the response the hometown faithful have for Rose until Oct. 16 in the Bulls' home opener. It is just a preseason game against the Detroit Pistons, but it'll mark Rose's first game on the Untied Center floor since he tore his ACL in April 2012.
Dwight Howard in Houston