The worst football game is almost better than the best game of any other sport.
There's been some discussion about whether or not Thursday Night Football is good for the NFL. Bleacher Report's Dan Levy dipped his toe into the water last week.
The general consensus seems to be that while the quality of TNF games may not be the best, fans will tune in because it's football.
While it's a valid viewpoint, it's a bit of a harsh take on midweek NFL games. Thursday Night Football has had more of a problem of one-sided matchups rather than two good teams playing badly.
You can look forward to these three games later in the season.
Thursday Night Football Schedule—Week 5 and Beyond

| | | |
| --- | --- | --- |
| Week | Date | Matchup |
| 5 | Oct.3 | Buffalo Bills at Cleveland Browns |
| 5 | Oct. 6 | San Diego Chargers at Oakland Raiders |
| 6 | Oct. 10 | New York Giants at Chicago Bears |
| 7 | Oct. 17 | Seattle Seahawks at Arizona Cardinals |
| 8 | Oct. 24 | Carolina Panthers at Tampa Bay Buccaneers |
| 9 | Oct. 31 | Cincinnati Bengals at Miami Dolphins |
| 10 | Nov. 7 | Washington Redskins at Minnesota Vikings |
| 11 | Nov. 14 | Indianapolis Colts at Tennessee Titans |
| 12 | Nov. 21 | New Orleans Saints at Atlanta Falcons |
| 14 | Dec. 05 | Houston Texans at Jacksonville Jaguars |
| 15 | Dec. 12 | San Diego Chargers at Denver Broncos |
NFL.com
Week 6: New York Giants at Chicago Bears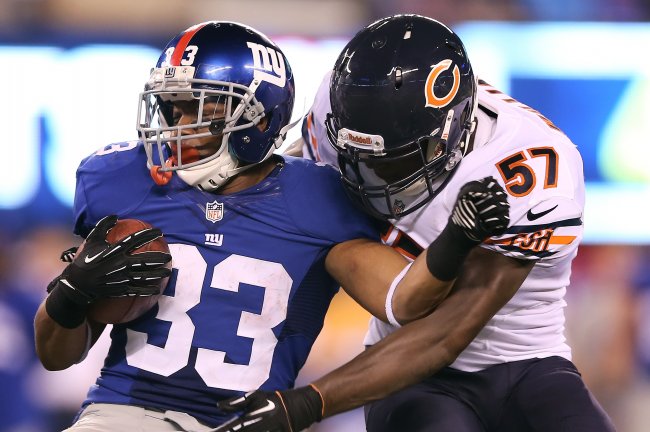 Elsa/Getty Images
Might the New York Giants be 0-5 by the time they take on the Chicago Bears? The funny thing is, going into Week 5, they're still just two games out of first in the NFC East.
Chicago might be able to move ahead of the Detroit Lions in the NFC North when Week 6 rolls around.
More than the playoff implications, this game could be wildly entertaining, if only for the battle between the opposing quarterbacks—Eli Manning and Jay Cutler. They're two of the most inconsistent talented QBs in the league and locked in a dead heat with Philip Rivers to become the top "gunslinger" since Brett Favre's retirement.
With any luck, fans will see both guys together at their collective bests or collective worsts. It would be great to watch Cutler and Manning try and out-awful each other, just as it would be awesome to watch them go toe-to-toe and combine to throw 700 yards and six touchdowns.
Week 11: Indianapolis Colts at Houston Texans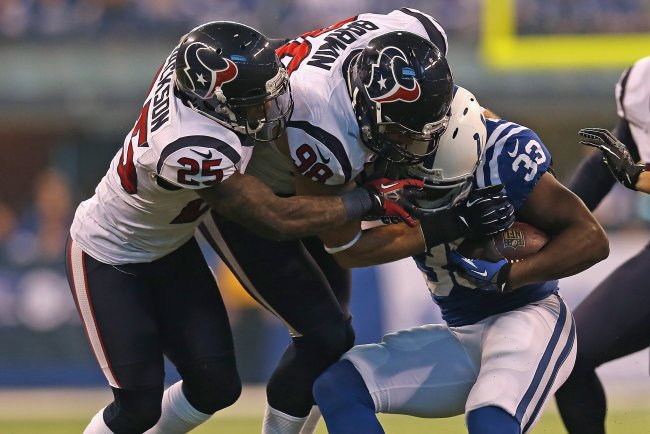 Jonathan Daniel/Getty Images
The Houston Texans looked really good against the Seattle Seahawks, until Matt Schaub went and Schaub-ed all over the game.
It's basically the last few years in a nutshell for the Texans. They haven't been able to make that next leap—best symbolized by Schaub's inability to perform when it counts the most.
At its best, though, Houston can be one of the best teams in the league.
The Texans are looking up at the Indianapolis Colts in the standings at the moment, and that could change by Week 11.
Indianapolis has been even better than last year, though. The defense is making the necessary improvements, while Andrew Luck is cutting out the interceptions.
The battle for the AFC South could be one of the more entertaining division races in the conference throughout the season. Unlike the AFC East and West, there isn't one team that's gonna run away with the division. And the AFC North looks to be a battle of attrition.
Week 12: New Orleans Saints at Atlanta Falcons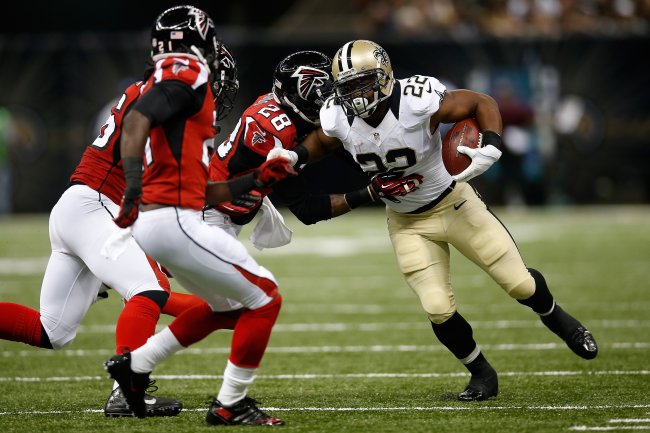 Chris Graythen/Getty Images
Here's to hoping the Atlanta Falcons have their problems sorted out by Week 12. They've had a tough run of games to start the season, but that's no excuse to have a 1-3 record with a team that has so much talent.
It may be too big a leap for Atlanta to catch up to the New Orleans Saints, but it could at least earn a wild-card berth.
On the other sideline, New Orleans looks like one of the best teams in the NFC. Sean Payton's return has coincided with a huge improvement on defense.
When these teams met in Week 1, the game went right down to the wire. The Saints got an interception in the end zone to get the 23-17 victory. It was a great duel between Matt Ryan and Drew Brees.