Ole Miss Officials Comment on Report of Ole Miss Players Using Homophobic Slurs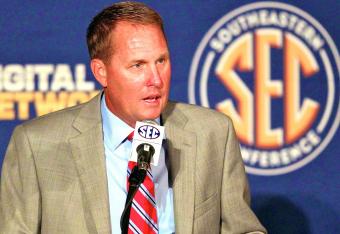 Ole Miss head coach Hugh Freeze issued a response to the allegations that members of the Rebels football team used anti-gay slurs and behaved in a disruptive manner during a performance of the play The Laramie Project on Tuesday night.
Freeze issued a response on Thursday via Twitter, stating that his program does not condone these types of actions and that he is currently on a fact-finding mission to sort this issue out:
We certainly do not condone any actions that offend or hurt people in any way.We are working with all departments involved to find the facts

— Hugh Freeze (@CoachHughFreeze) October 3, 2013
Per Ty Duffy of The Big Lead, there are approximately 20 football players enrolled in a freshman theater class at Ole Miss, and many are being accused of uttering a number of hurtful, homophobic taunts during the play.
UPDATE: Thursday, Oct. 3
Hugh Kellenberger of The Clarion-Ledger provides this statement from Ole Miss Chancellor Dr. Dan Jones and AD Ross Bjork:
While we work to determine with certainty who disrupted the Laramie Project play, we want everyone within our university community and beyond to know that we strongly condemn the behavior exhibitedTuesday night. As a member of the Ole Miss family, each of us has a responsibility to be accountable for our actions, and these individuals will be held accountable. Our investigation will determine the degree to which any and all students were involved.

As a first step to addressing behavior at the performance Tuesday night, we will meet today with the freshman student-athletes (from various sports) who attended the play and have a dialogue about what happened, about our university-wide commitment to inclusivity and civility, and about the important role they play in representing the university. It is clear that some students badly misrepresented the culture of this university. From there, we will work with Student-Affairs and the Bias Incident Response Team to determine the facts and appropriate next steps.

Incidents like this remind all educators that our job is to prepare our students to be leaders in life during their years on campus and after they graduate from Ole Miss. This behavior by some students reflects poorly on all of us, and it reinforces our commitment to teaching inclusivity and civility to young people who still have much to learn. We will be engaging our student-athletes with leaders on the subject of individuality and tolerance, so we can further enforce life lessons and develop them to their fullest potential.

On behalf of our 22,000 students, our faculty, and our staff, we apologize.
Original Text:
A report from Adam Ganucheau of TheDMOnline.com claims that these players disrespected and disrupted a performance of The Laramie Project—a play that deals with the 1998 torture and murder of Matthew Shepard, an openly gay University of Wyoming student.
Using terms like "fag" and other "borderline hate speech" to heckle the cast members, the football players reportedly made it difficult for the actors and director to finish the play. The DMOnline report also claims that the players took pictures of the cast members while mocking them, talked on their cell phones and to other audience members and hollered at several female members of the cast.
Cast member and junior theater major Garrison Gibbons described the painful incident, as per Ganucheau:
I am the only gay person on the cast. I played a gay character in the show, and to be ridiculed like that was something that really made me realize that some people at Ole Miss and in Mississippi still can't accept me for who I am.
Director Rory Ledbetter claimed that the football players were not the only disruptive audience members—most of whom are students at Ole Miss—but insinuated that they initiated others to be offensive:
The football players were certainly not the only audience members that were being offensive last night. But they were definitely the ones who seemed to initiate others in the audience to say things, too. It seemed like they didn't know that they were representing the university when they were doing these things.
Associate Director of Academic Support Drew Clinton was summoned to the play to check on the actions of the students, and after the second act, an unidentified member of the football team apologized for his and his teammates' behavior backstage. The apology reportedly made two of the cast members cry. But Theatre Department Chair Rene Pulliam claims that most players had no idea why they were sorry, per Duffy:
"The football players were asked by the athletics department to apologize to the cast. However, I'm not sure the players truly understood what they were apologizing for."
It's an ugly, terrible situation, one that Coach Freeze must help to get resolved in prompt and proper fashion.
At this time, it's unclear if these players will face any discipline for their actions. The Ole Miss Rebels (3-1, 1-1 SEC) square off with the Auburn Tigers (3-1, 1-1 SEC) in an SEC showdown on Oct. 5.
This article is
What is the duplicate article?
Why is this article offensive?
Where is this article plagiarized from?
Why is this article poorly edited?