Thursday night's game features the Buffalo Bills traveling to face the Cleveland Browns in a matchup of two surprising teams. Both the Bills and the Browns are off to 2-2 starts this year in large part due to the play of their young quarterbacks.
The Bills are led by rookie signal caller EJ Manuel who so far has proven why he was the first quarterback taken in the 2013 draft. On the other side of the ball, the Browns have turned to five-year veteran Brian Hoyer. Hoyer backed up Tom Brady for three years in New England and that has translated into success.
Let's breakdown these two quarterbacks into four categories: Arm strength, accuracy, mobility and leadership and see who has the edge in each.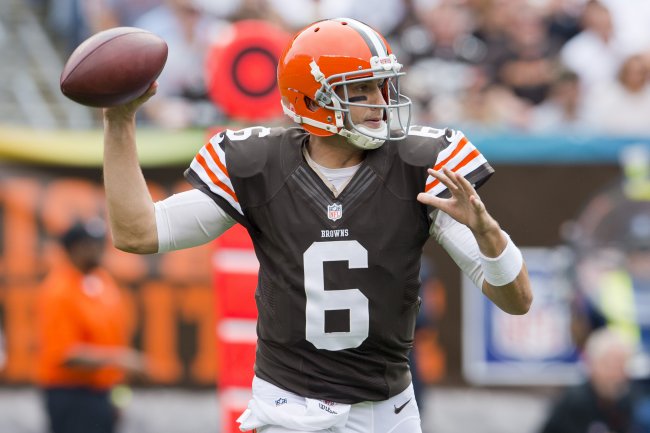 Jason Miller/Getty Images
Arm Strength
Manuel
Coming out of Florida State, everyone knew that EJ Manuel had a huge arm. He is capable of making every throw, sideline to sideline. Through four games he has showed that as well as confidence to step up in the pocket and drive the ball.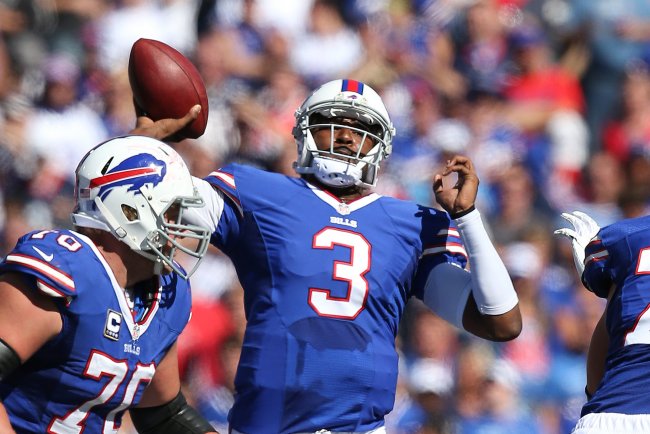 Tom Szczerbowski/Getty Images
Manuel has elite arm strength and towards the end of the season that will come in handy playing in Buffalo. Against the Browns, Manuel will need to deliver the ball quick and let his receivers make plays in space against a good Browns secondary.
Hoyer
Hoyer isn't known for his ability to drive the ball all over the field. Hoyer relies on his touch and accuracy to make all his throws. This doesn't mean that he has a weak arm but it definitely isn't his strength.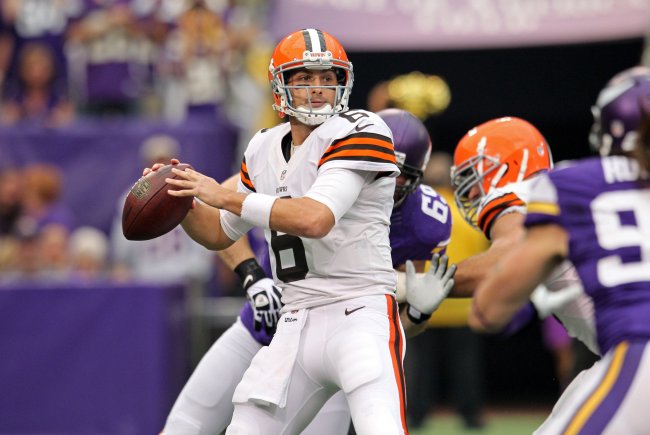 Brace Hemmelgarn-USA TODAY Sport
The Browns have won two straight games since tabbing Hoyer as the starter. If he can continue this success, Hoyer will take over for Brandon Weeden full time. Look for Hoyer to attack the depleted Bills secondary much like Joe Flacco did last week throwing it 50 times.
Advantage: EJ Manuel
Accuracy
Manuel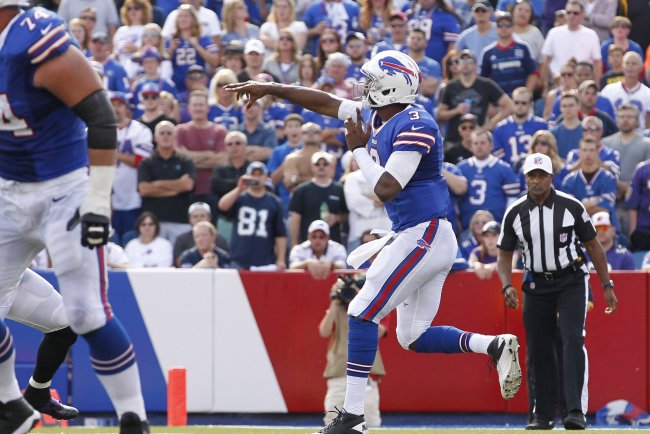 Kevin Hoffman-USA TODAY Sports
When watching Manuel it is clear that he struggles with accuracy. In his last two games, Manuel has completed just 45.3 percent of his passes. He has the ability to allow his receivers to go up and get the ball, however over the middle of the field, struggles with touch.
Lacking accuracy is expected of rookie quarterbacks but it will develop over time for Manuel. Look for the Browns to play press coverage against Manuel and make him prove that he can make accurate throws.
Hoyer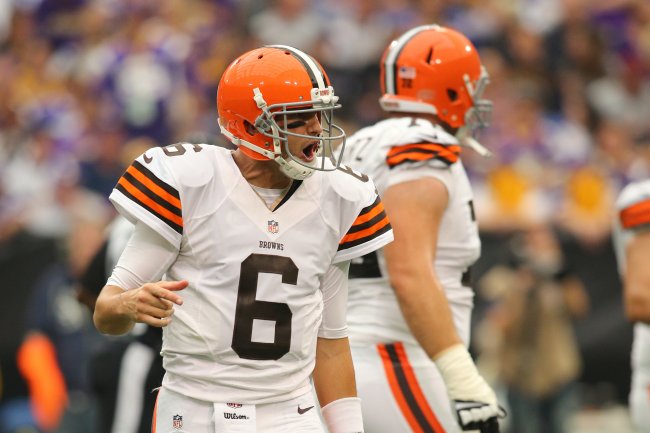 Adam Bettcher/Getty Images
Hoyer's biggest asset is his accuracy. He can put the pall exactly where it needs to be on all throws. The biggest recipient of this has been TE Jordan Cameron. At 6'5" Cameron is tied for the league lead with five touchdown catches.
Hoyer has great touch on the sidelines and in the back of the end zone. In only two games this season, Hoyer has 590 yards and completing nearly 60 percent of his passes. Look for the Browns to methodically drive the ball down the field, limiting mistakes and capitalizing in the red zone.
Advantage: Brian Hoyer
Mobility
Manuel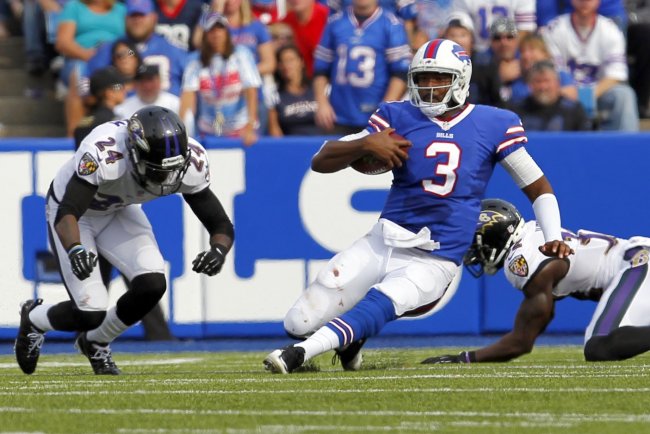 Timothy T. Ludwig-USA TODAY Spor
Manuel is a big strong quarterback who has good escapability. He won't run past you the way Colin Kaepernick or Michael Vick will, but he has enough mobility to get out of the pocket and make plays with his legs. This season he has 77 rushing yards showing that he can be a dual threat.
#Browns Chud acknowledged that he told EJ Manuel he reminded him of Cam Newton from skillset standpoint, strong arm, good mobility.

— Mary Kay Cabot (@MaryKayCabot) October 1, 2013
Within the pocket Manuel looks a bit inexperienced with two fumbles already this year. But there is room to grow and he will continue to improve. The Browns have one of the most underrated defensive lines in the NFL and if they can generate pressure, Manuel will need to show off his athletic ability.
Hoyer
In terms of mobility outside the pocket Hoyer is very limited. However, within in the pocket, he can maneuver very well. If Hoyer learned one thing from his time in New England, it was the way Brady moves in the pocket and stepping up to avoid pressure.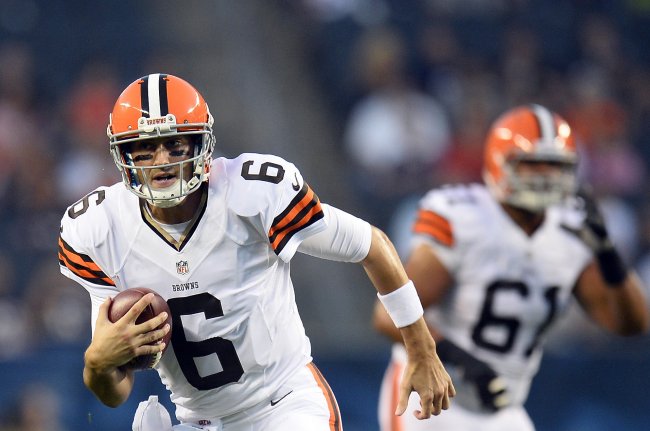 Mike DiNovo-USA TODAY Sports
Hoyer has shown off his pocket presence the last two weeks and will need to do it again this week. The Bills were able to generate enough pressure last week to disrupt the Ravens' offensive line and will need to continue that against the Browns mediocre offensive line. Look for Hoyer to make some plays within the pocket, but get sacked two or three times.
Advantage: EJ Manuel
Leadership
Manuel
From day one, Manuel has had command of the locker room and his teammates. He is a born leader and that has shown this season. In Week 2, Manuel led a game winning drive against the Carolina Panthers, throwing a touchdown pass as time expired.
Manuel makes his presence felt every time he walks into a room and expects a lot from his team. He takes full responsibility after losses and credits the team after wins. Manuel may lack in accuracy and pocket presence, but there is little debate over his leadership skills.
Hoyer
Via @eliassports Brian Hoyer: trying to become first QB to win his first 3 starts with the Browns since Tommy O'Connell in 1956

— ESPN Stats & Info (@ESPNStatsInfo) October 3, 2013
While it is still early, Hoyer has gone 2-0 has the starter for the Browns leading the team to wins over the Vikings and division rival Cincinnati Bengals. Against the Vikings, Hoyer threw a touchdown pass to Cameron in the final minute to win his first game as a starter.
Hoyer will need to continue to show that he can lead the team and manage the game well. Tonight against the Bills, look for Hoyer to maintain his composure and have the Browns in a position to win late.
Advantage: EJ Manuel
The Bills have the better quarterback and the better team. However, after last week's victory against the Bengals, the Browns have an air of confidence and will use the home field to their advantage. Look for the Brian Hoyer to keep the Browns close throughout the game, but EJ Manuel will get the ball last leading the Bills to their second straight win.