NFL Week 5 Picks: 4 Teams in Line for a Big Victory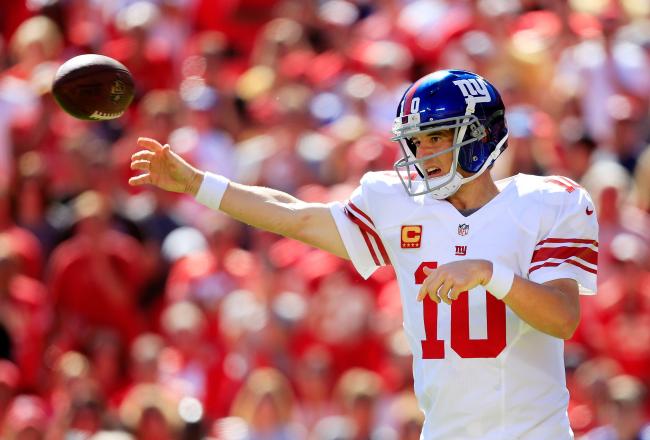 Eli Manning looks to get the Giants back on track against Philadelphia in Week 5.
Jamie Squire/Getty Images
Following the first four weeks of the 2013 season, a number of NFL teams are poised to have big wins heading into Week 5.
Some of these clubs have been lackluster and underachieving up to this point while others have enjoyed a tremendous start to the 2013 season. Yet Week 5 provides the opportunity for some dominant and impressive performances looking forward.
The St. Louis Rams will play host to the Jacksonville Jaguars which gives the Rams a tremendous opportunity to get back on track. The Philadelphia Eagles will travel to take on the New York Giants. The San Francisco 49ers will host the Houston Texans on Sunday Night Football and the Atlanta Falcons will take on the New York Jets on Monday night.
If fans are looking for big wins, these will be the games to watch.
---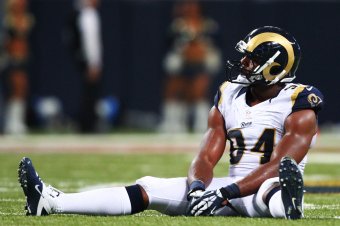 Dilip Vishwanat/Getty Images
Jaguars @ Rams—Sunday, October 6 at 1:00 p.m. ET
Perhaps the easiest victory will come from the Week 5 matchup between the Jaguars and the Rams.
St. Louis enters the game with a 1-3 record and has been an utter disappointment after trying to improve their franchise during the offseason. Yet the Rams will benefit from playing Gus Bradley's rebuilding Jaguars who remain winless after four weeks.
[sad trombone] the Rams are actually 12-point favorites over the Jaguars http://t.co/saoHPTRC3w

— TurfShowTimes (@TurfShowTimes) September 30, 2013
It is safe to assume that the hapless Jaguars have little chance on the road against St. Louis. While the Rams currently rank 25th in scoring and 28th and points allowed, they do have the benefit of taking on a Jacksonville team that ranks dead last in offense. Their defense is faring little better.
If there ever is a time to turn around a team riding a three-game losing streak, it is now.
The Rams will also benefit from the extended period of rest, having played San Francisco on Thursday Night Football back on September 26. That should give them plenty of time to prepare for this particular game and address some of the problems that have plagued them thus far.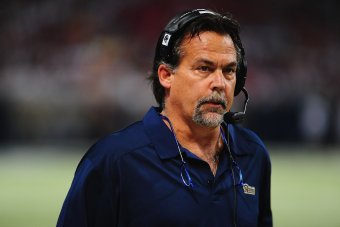 Michael Thomas/Getty Images
Head coach Jeff Fisher feels that they are doing this and stated via Fox Sports, "We found out where our team is and what we need to do and where we need improve on.''
Despite all of the problems St. Louis has endured this season, look for their defensive front to put up a good showing against Jaguars quarterback Blaine Gabbert and running back Maurice Jones-Drew. If the Rams offense can put together any rhythm against an abysmal defense, St. Louis should be able to walk away from this one with an easy victory.
For that to happen, look for quarterback Sam Bradford to hook up with rookie wide receiver Tavon Austin. He has been Stafford's favorite target thus far and should have little problem with an inept Jacksonville defense.
This might be anticipated as a boring game between two bad teams, yet the Rams have a chance to put up some big numbers en route to their second victory of the season.
Prediction: Jaguars 13, Rams 28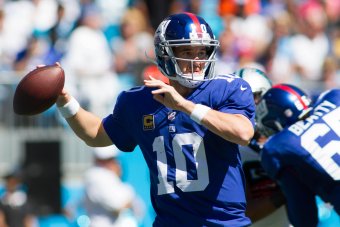 Jeremy Brevard-USA TODAY Sports
Eagles @ Giants—Sunday, October 6 at 1:00 p.m. ET
Let us examine an exciting divisional matchup between the Eagles and winless Giants.
Philadelphia sits at 1-3, with a defense that ranks 31st in points allowed. While their offense has been a focus of good fortune, their defense has looked lost thus far into the season.
Giants quarterback Eli Manning and the offense needs to get back on track and they could do so against Philadelphia. Manning is much better than his 69.1 quarterback rating indicates and matching up against a poor Eagles defense is a good start for New York to correct things.
Even Manning acknowledges the need to improve and he stated so via Fox Sports, "We're a better team than what we've been playing like, but we've got to go out there and prove it."
Further adding fuel to the fire is the fact that this division rivalry could prove the turning point for both teams. As tweeted by Ralph Vacchiano of New York Daily News, the Giants are playing to save their season and turning things around starts now.
Giants know they're playing to save their season (via @ebenezersamuel) ... http://t.co/ogg1zTvSKD #NYG

— Ralph Vacchiano (@RVacchianoNYDN) October 3, 2013
Perhaps it will.
The Giants are too good of a team to allow a record of 0-4 to thwart their season. If that is motivation enough, expect them to come out firing on all cylinders against Philadelphia.
The Eagles offense will certainly do its fair share of damage and the only realistic hope for the Giants is for Manning and the offense to correct their woes and start playing to their capabilities.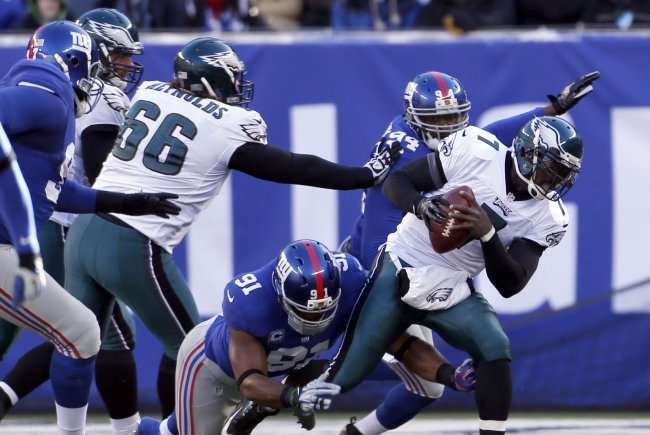 The Star-Ledger-USA TODAY Sports
Week 5 provides ample opportunity.
This might be a close game, yet it will be a meaningful one for New York. Expect them to squeak by in a huge win over Philadelphia.
Prediction: Eagles 27, Giants 30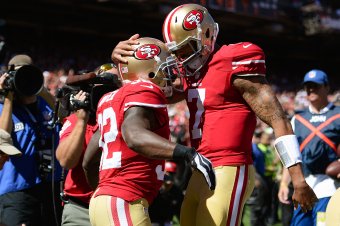 Thearon W. Henderson/Getty Images
Texans @ 49ers—Sunday, October 6 at 8:30 p.m. ET
San Francisco is due for a big win on Sunday Night Football over the Texans who are reeling from a heartbreaking overtime loss to the Seattle Seahawks last week. Both teams are 2-2 and are looking to get back on track.
The 49ers have already made their move, having soundly defeated St. Louis in Week 4. Houston took a step backwards against the Seahawks.
While there are reasons to assume that the 49ers offense will struggle against Houston—as pointed out by James Brady of Niners Nation—there are also indications that San Francisco will continue their upward trend.
Houston's defense, led by defensive end J.J. Watt, will be angry after what happened last Sunday. While that may provide some motivation, it cannot offset the fact that the 49ers enjoyed a long period of preparation and rest having played on Thursday Night Football in Week 4.
Two notable elements can be revealed from that extended period. For starters, All-Pro linebacker Patrick Willis is hopeful about returning to the lineup from a hamstring injury that forced him out in Week 4.
49ers Patrick Willis (groin) is limited in practice, cautiously optimistic he'll be ready to play vs. Texans. http://t.co/Bqv7y8jMdP

— Matt Maiocco (@MaioccoCSN) October 3, 2013
Secondly, the additional time off allows San Francisco to address some of its woes heading into Week 5.
Houston will also be hampered by the potential absence of linebacker Brian Cushing after suffering a concussion against Seattle. If he is unable to go, stopping quarterback Colin Kaepernick and running back Frank Gore becomes much more difficult.
The Texans defense has allowed 453 rushing yards thus far—good for 23rd in the league. Look for the 49ers to utilize Gore and the ground attack early and often. If that works, moving the ball through the air will spell trouble for Houston's defense.
Is that something that the Texans can overcome Sunday? Probably not.
Stephen A. Hill selects the 49ers to win over Houston in Week 5.
While San Francisco may take a quarter or two to get rolling, look for them to turn up the pressure as the game wears on. They will have the extra rest and ample time to prepare. Home-field advantage works in their favor too.
As a result, the 49ers will walk away in this one.
Prediction: Texans 17, 49ers 31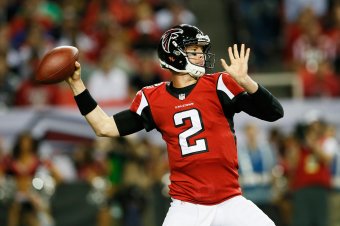 Kevin C. Cox/Getty Images
Jets @ Falcons—Monday, October 7 at 8:40 p.m. ET
At 1-3, the Falcons have to be shocked by their underachieving performance thus far into 2013.
Fortunately, they will be able to correct things in a big way when they take on New York on Monday Night Football.
While Atlanta's 22nd-ranked defense has been a primary reason behind their woes thus far, their offense has actually played well averaging 23.5 points per game. On the flip side, the 2-2 Jets defense has been pretty solid, ranking 13th in the league in points allowed.
So how will the Falcons overcome a decent New York defense?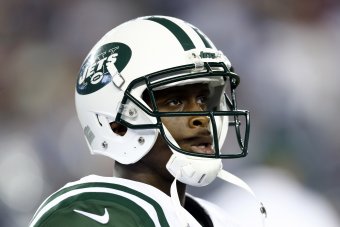 Mark L. Baer-USA TODAY Sports
A lot of that will hinge on how well Jets quarterback Geno Smith plays during the game. He has had flashes of brilliance thus far but has also had a knack for turning the ball over—eight interceptions and three fumbles over the first four weeks.
"It's just taking ownership to your mistakes and manning up," he said via Fox Sports. "A lot falls on my shoulders as far as taking care of the ball, but that's something I have to do.
He will also be forced to play the game without star receiver Santonio Holmes.
Geno Smith will have to step up Monday night without his biggest weapon, Santonio Holmes. #nyj | http://t.co/Kx8T0cxB1G

— Seth Walder (@SethWalderNYDN) October 3, 2013
All of this indicates problems for the Jets defense. If Smith and the offense are unable to sustain any rhythm, their defense will be on the field for a very long time. Tired defenses almost always mean losing defenses and Falcons quarterback Matt Ryan is as good as any when it comes to exploiting this weakness.
Atlanta's defense will have plenty of opportunities to force turnovers and give the ball back to Ryan and the offense. Look for the Falcons to produce some points off turnovers which will, in turn, result in Atlanta gradually taking a larger lead over the course of the game.
Wide receiver Julio Jones and tight end Tony Gonzalez should also have a big game as the Falcons continue to add to their lead.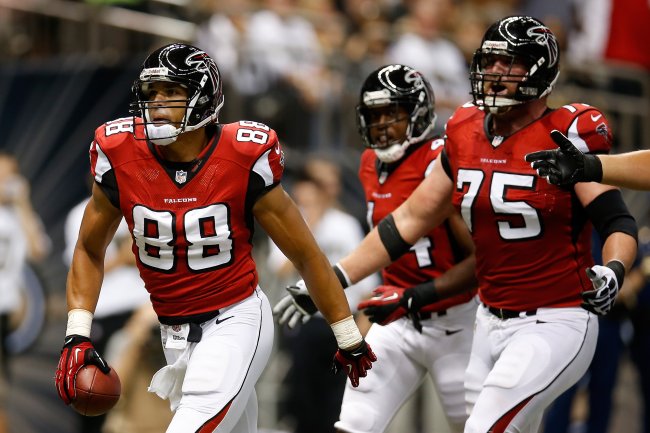 Chris Graythen/Getty Images
Atlanta needs a win in a big way and this game creates a perfect opportunity. Smith and the Jets simply have too many problems to even keep this game close.
Prediction: Jets 13, Falcons 31
---
Which team has the most dominant win in Week 5?
Each of the aforementioned teams is looking to get back on track. For some, any chances of postseason play have already been thwarted. For others, a big win in Week 5 could indicate better things to come.
Big wins will indicate a number of things for each team and the individual matchups provide the opportunity for some lofty statistics and performances. These games will not be close and will hopefully point the winners in the direction they hope their respective franchises are going.
Yet these are just predictions after all and the teams and their players must properly execute their game plans in order to turn expectations into reality.
All statistics, records and accolades courtesy of Pro-Football-Reference.com unless otherwise indicated.
Peter Panacy is a featured columnist for Bleacher Report. Follow him @PeterMcShots on Twitter.
This article is
What is the duplicate article?
Why is this article offensive?
Where is this article plagiarized from?
Why is this article poorly edited?