WWE Battleground 2013 Live Stream: How to Watch WWE Action Online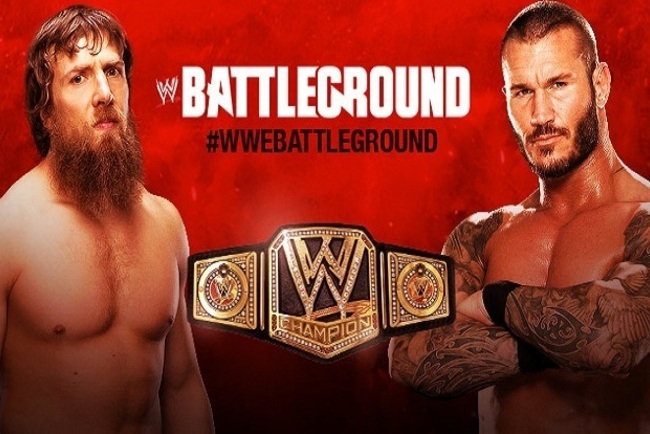 Photo courtesy of WWE.com

WWE will trot out a brand-new pay-per-view on Sunday night in Buffalo, N.Y. in the form of Battleground, and thanks to a strong card, it could potentially have some staying power moving forward.
Although Battleground can be described as an extension of Night of Champions in many ways, that doesn't mean that it can't be a great event. With Daniel Bryan and Randy Orton going head-to-head for the vacant WWE Championship as well as a host of other intriguing bouts, Battleground should be a highly entertaining show.
WWE is clearly building toward Survivor Series, which will act as a bridge to WrestleMania build, so Battleground will play a key role in setting things up. It may not have the name recognition of some of WWE's bigger pay-per-views, but it is definitely worth watching.
Here is a complete breakdown of how you can catch the event on regular pay-per-view or through a number of platforms that offer online streaming.
Where: First Niagara Center in Buffalo, N.Y.
When: Sunday, Oct. 6 at 8 p.m. ET
Watch: PPV
PPV Live Stream
If you're unable to order the pay-per-view on your television, there are plenty of other ways to catch Battleground on Sunday night. Whether you want to view the show on your computer, mobile device or gaming system, WWE has you covered, as you can purchase the event through all of these outlets, according to WWE.com:
- WWE.com
- iTunes
- Google Play
- Amazon AppStore
- Windows 8 AppStore
- Samsung SMART TV
-PlayStation 3
- Xbox 360
Kickoff Live Stream
The pay-per-view will be preceded by a special "Kickoff" match between "Mr. Money in the Bank" Damien Sandow and "The Showoff" Dolph Ziggler, starting at 7:30 p.m. ET. The match is absolutely free and can be viewed on all of these platforms, according to WWE.com:
- WWE.com
- WWE App
- YouTube
- Yahoo!
- Facebook
- Twitter
- Samsung SMART TV
- Google+
- Pinterest
- Pheed
- PlayStation 3
- Xbox 360
WWE Battleground Match Card

| | | |
| --- | --- | --- |
| Match | Stipulation | Title |
| Daniel Bryan vs. Randy Orton | N/A | WWE Championship |
| Alberto Del Rio (c) vs. Rob Van Dam | Hardcore | World Heavyweight Championship |
| CM Punk vs. Ryback | N/A | N/A |
| Cody Rhodes & Goldust vs. Seth Rollins & Roman Reigns | Rhodes family jobs on the line | N/A |
| AJ Lee (c) vs. Brie Bella | N/A | Divas Championship |
| Curtis Axel (c) vs. R-Truth | N/A | Intercontinental Championship |
| Dolph Ziggler vs. Damien Sandow | Kickoff match | N/A |
WWE.com
Top Matches to Watch
Daniel Bryan vs. Randy Orton
For the second pay-per-view in a row, Daniel Bryan and Randy Orton will do battle with the WWE Championship hanging in the balance. Things are a bit different this time, though, as the title is being held in abeyance by Triple H. Bryan defeated Orton for the title at Night of Champions, but it was deemed that referee Scott Armstrong had administered a fast count, so there is no titleholder heading into Battleground.
Which Battleground match are you most excited about?
Unless there is some kind of wacky finish, either Bryan or Orton is guaranteed to exit Buffalo with the title in tow. This feud has clearly been the main focus of the company since SummerSlam, and the creative team has done an excellent job building up both men involved. Orton's "Viper" persona has returned in force, while Bryan's popularity is through the roof.
From a kayfabe perspective, it's absolutely believable that either man could conceivably win. With that said, Orton has to be considered the favorite. Bryan is at his best as an underdog face chasing the title, and Orton is at his best as a dominant heel champion. Triple H has done everything in his power to keep the title away from Bryan thus far, and he'll find a way to hold Bryan down yet again at Battleground.
Cody Rhodes & Goldust vs. Seth Rollins & Roman Reigns
Aside from the WWE Championship angle between Bryan and Orton, it can be argued that the most entertaining aspect of WWE programming in recent weeks has been the Rhodes family saga. Cody was fired several weeks ago following a loss to Orton, Goldust failed to get Cody his job back by losing to Orton in his own right and Dusty was knocked out by an unwilling Big Show. They were invited to Raw this past Monday, as seen in this photo courtesy of WWE's Instagram account, and they will now play a pivotal role at Battleground.
In one of the most intriguing matches on the card, Cody and Goldust will take on Tag Team champions Seth Rollins and Roman Reigns of The Shield. Although the titles aren't on the line, the Rhodeses' jobs are hanging in the balance. If Cody and Goldust win, they get their jobs back, and Dusty gets to keep his at NXT. If they lose, however, Triple H stipulated that they will never work in WWE again.
This match could go in a couple different directions, but a heel turn for one of the Rhodes sons seems quite likely. Cody turning on Goldust in the middle of the match and allowing The Shield to win would make sense, as Cody could get his job back by showing loyalty to Triple H and then potentially feud with Goldust. It's also possible that Cody and Goldust could win the match, and then a turn could take place after the fact. Whatever the case, it should be a pretty wild encounter.
CM Punk vs. Ryback
So many of WWE's current storylines branch from the central corporate angle, but CM Punk and Paul Heyman have stayed out of the fray. Ever since Heyman's betrayal of Punk at Money in the Bank, they have been engaged in a heated rivalry. Heyman has continually gotten the better of Punk, as Brock Lesnar beat him at SummerSlam, and Heyman beat him with help from Ryback at Night of Champions. Now it is Ryback's turn to get a crack at Punk on his own.
While it was obvious that Heyman needed a client aside from Curtis Axel in order to keep this feud relevant, it remains to be seen if Ryback was the right choice. Ryback and Punk do have plenty of history, though, as they feuded over the WWE Championship just over a year ago. Ryback couldn't pry the title away from Punk last year, but he seems poised to get one over on Punk this time around, as suggested by Heyman's devious smile in this WWE Instagram photo.
Based on the fact that the Punk-Heyman feud figures to extend into Hell in a Cell at the very least, it would make sense for Ryback to go over. After all, Ryback has lost a lot of credibility over the past year due to his shortcomings on pay-per-view. A win over Punk would be huge for his character, and WWE can't allow that opportunity to slip away.
Follow @MikeChiari on Twitter.
This article is
What is the duplicate article?
Why is this article offensive?
Where is this article plagiarized from?
Why is this article poorly edited?