The first quarter of the 2013 NFL season is history, and for the four teams on a bye in Week 5, it may feel like the season is already over.
The Pittsburgh Steelers are 0-4 and have been outscored by 41 points through four games. The Tampa Bay Buccaneers are also winless, having scored just 44 points total thus far in 2013.
On the other hand, the Washington Redskins and Minnesota Vikings are feeling a little better after picking up wins in Week 4, but neither 1-3 team has played well defensively, and both were lucky to have taken on downtrodden teams last weekend.
Read on to find out which 0-4 team I like to win this weekend and which other teams I predict will come out on top in Week 5.
*Spread info according to Covers.com.
NFL Week 5 Picks

| | | | |
| --- | --- | --- | --- |
| Winner | Score | Loser | Over/Under |
| Cleveland Browns (-3.5) | 23-16 | Buffalo Bills | 40.5 |
| Green Bay Packers (-7.5) | 34-27 | Detroit Lions | 53.5 |
| New Orleans Saints (Even) | 21-17 | Chicago Bears | 48.5 |
| New England Patriots (+1) | 29-23 | Cincinnati Bengals | 45 |
| Kansas City Chiefs (-1) | 21-10 | Tennessee Titans | 38.5 |
| Indianapolis Colts (+1) | 18-15 | Seattle Seahawks | 43.5 |
| St. Louis Rams (-11.5) | 31-14 | Jacksonville Jaguars | 41.5 |
| Baltimore Ravens (+2.5) | 23-20 | Miami Dolphins | 43.5 |
| New York Giants (-1) | 31-28 | Philadelphia Eagles | 53 |
| Arizona Cardinals (+1) | 17-13 | Carolina Panthers | 41.5 |
| Denver Broncos (-7.5) | 41-21 | Dallas Cowboys | 56 |
| San Francisco 49ers (-7) | 27-17 | Houston Texans | 41.5 |
| San Diego Chargers (-4) | 30-20 | Oakland Raiders | 45 |
| Atlanta Falcons (-10.5) | 24-13 | New York Jets | 43 |
Spread info according to Covers.com
Kansas City Chiefs over Tennessee Titans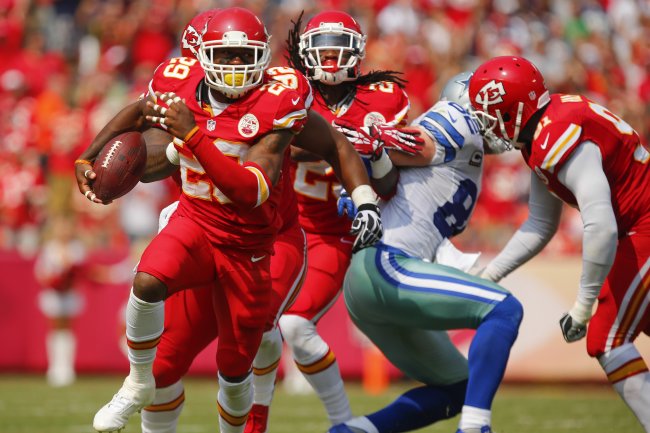 Kyle Rivas/Getty Images
Something has to give Sunday afternoon in Nashville when the undefeated Kansas City Chiefs hit the road to take on the upstart Tennessee Titans.
Andy Reid's squad is a perfect 4-0 through the first quarter of the season, while Mike Munchak's crew is a surprising 3-1, having dropped just one game in overtime on the road at Houston. But with starting quarterback Jake Locker out with a hip injury, don't expect the Titans to come out on top in this one.
Defensively, you can't play much better than Kansas City has been playing coming into Week 5. The Chiefs rank No. 1 in scoring defense and No. 7 in total defense, allowing just 10 points and 306 yards per game.
Can the Chiefs win the AFC West?
On top of that, the Chiefs boast a balanced offensive attack that's putting up more than 25 points per game this season.
The Titans are a serious threat to make the playoffs in the AFC, but the new-look Chiefs and their dominant defense are championship-caliber, and that's why I give them a narrow advantage.
Indianapolis Colts over Seattle Seahawks
In another colossal Week 5 showdown, the unbeaten Seattle Seahawks will travel to Indianapolis to play the 3-1 Colts in a highly anticipated second-year quarterback matchup between Russell Wilson and Andrew Luck.
Picking a winner in this game is awfully difficult, but the slight edge goes to the Colts at home.
Who ya got in Sunday afternoon's marquee matchup?
Indy has been dominant inside Lucas Oil Stadium during the Luck era, going 8-2 there since the start of 2012. Plus, Seattle proved extremely vulnerable in Week 4's overtime escape in Houston, where the Texans practically gave the game away.
Another reason to consider the Colts is the fact that Indy has a running game capable of keeping Seattle's defense on the field. The Colts are racking up more than 150 yards per game on the ground, and the Seahawks are giving up more than four yards per carry.
With Luck and the Colts returning from a two-game road trip that saw them outscore San Francisco and Jacksonville 64-10, it's definitely not difficult to see Indy handing Seattle its first loss on the road this weekend.
Denver Broncos over Dallas Cowboys
No team has been able to slow down, let alone stop, the Denver Broncos offense in 2013, and the Dallas Cowboys certainly won't be the first.
Which is the bigger lock in Week 5?
Peyton Manning and the undefeated Broncos are averaging nearly 45 points per game this season. That's almost 13 more than the second-highest-scoring team in the league. Denver also boasts the NFL's most dominant scoring differential at plus-88.
The Seattle Seahawks are second at plus-62.
Then there is the lackluster Dallas secondary. Dallas ranks 27th against the pass through four games in 2013, allowing more than 300 yards per game. With Manning having thrown for more than 1,400 yards and 16 touchdowns already, that's bad news for Big D.
Even worse, Dallas is one of only three teams in the league to have surrendered at least 10 passing touchdowns through the first quarter of the year.
Follow Bleacher Report Featured Columnist Patrick Clarke on Twitter.