La Liga: How Can Spanish League Become More Balanced?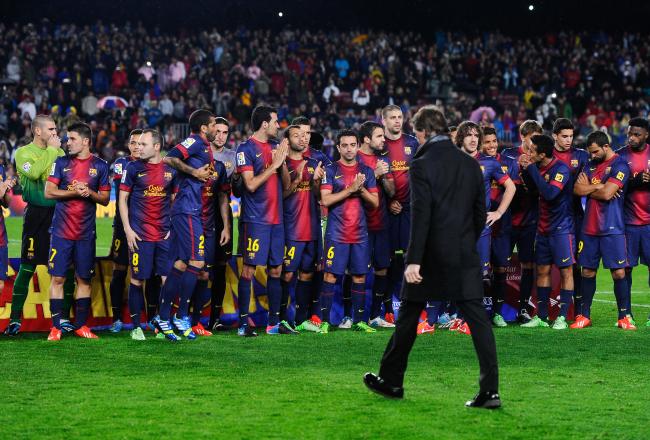 David Ramos/Getty Images
Most people are well drilled on the cons of La Liga these days.
Of course, there are pros too, but it is the cons which need to be addressed before those pros become unsustainable.
Sevilla president Jose Maria del Nido once said, via ESPN:
Our league is not the worst rubbish in Europe, but in the whole world. It's a third-world competition where two clubs steal the money that the rest of us fight for.
Del Nido is of course referring to Barcelona and Real Madrid; two clubs who, financially, sit miles ahead of the rest of the league.
A survey from Global Sports revealed that Manchester City have the highest weekly pay roll at £5.3 million, followed by the Los Angeles Dodgers at £4.9m. Coming in third and fourth were Real Madrid (£4.72m) and Barcelona (£4.69m) respectively.
No other Spanish club featured in the list of the top 12, and Manchester United, who were 12th, pay out almost £1,000,000 less each week than Spain's duopoly.
At the end of the 2012/13 season, AS published a table which featured each club's annual budget. Real Madrid and Barcelona's combined budget was €987m, while the total for the other 18 clubs was €872.6m—€114.4m less than Madrid and Barca.
La Liga budgets 2012/13

| | | |
| --- | --- | --- |
| Position | Club | Budget |
| 1 | Real Madrid | €517 |
| 2 | Barcelona | €470 |
| 3 | Atletico Madrid | €123 |
| 4 | Valencia | €103 |
| 5 | Malaga | €89 |
| -- | -- | -- |
| 18 | Granada | €22 |
| 19 | Real Valladolid | €20 |
| 20 | Rayo Vallecano | €16.7 |
AS
Atletico Madrid had the third-highest budget (€123m), followed by Valencia (€103m) and Malaga (€89m) who, amid troubling financial times, sought to reduce their budgets over the summer.
Rayo Vallecano, who finished eighth, had a budget of just €16.7m, yet they missed out on Europe due to financial irregularities.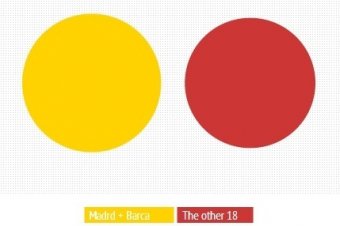 One major movement to equal out those figures is the talk of all 20 clubs agreeing on a collective television deal.
At the moment each club negotiates their own rights, only Portugal has a similar setup, which leads to Madrid and Barca accounting for 46.6 percent of all TV revenue—they picked up €140m each last year, while Atletico, the third-biggest owners, pocketed €42 million.
Over the summer The Guardian did report that Francisco Roca, the chief executive of La Liga, was seeking to implement a collective deal within three years.
It won't necessarily heal all though.
Some of these clubs have to shoulder at least part of the blame for excessive spending over the last 15 years with little thought of the future.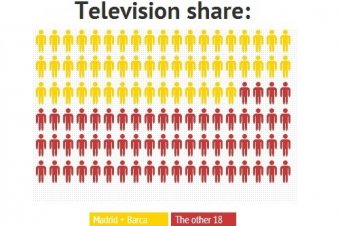 Valencia, now being run by local government, have two grounds; one they can't afford to finish building and one they can't manage to sell.
Deportivo de la Coruna ran up debts of around €156m, contributing to the total debt of around €2,800m shared between Spanish football clubs—according to The Independent 24 clubs have entered administration in Spain's top two divisions in recent seasons.
The La Liga talent drain does signal a shift in philosophy though, with nearly every club, other than the apex predators, cashing in on their star assets and relying on youngsters and freebies.
It also represents a realisation from the clubs that they need to cleanse themselves, to sort out their debts and move forward more sensibly.
This of course is proving highly beneficial for the Spanish national team, as they continue to see an emergence of young, talented, technically astute footballers—research by Stuart James in The Guardian showed that of Europe's top five leagues, none featured more national players than the 332 who featured in the Primera Division last season.
National players in top league

| | | |
| --- | --- | --- |
| Country | National Players (top four) | Appearances (top four) |
| Spain | 332 (60) | 6,391 (1,131) |
| France | 320 (70) | 6,274 (1,215) |
| Italy | 269 (52) | 5,070 (979) |
| Germany | 224 (52) | 4,035 (1,062) |
| England | 189 (29) | 3,411 (611) |
Sporting Intel
As a side note clubs also need to do more to fill up their stadiums. Getafe have had attendances as low as 5,000 this season and, while ticket prices and initiatives could and should be improved, the league's organisational skills have a deserved reputation for being terrible.
Kick-off days and times aren't often announced until as little as two weeks before matches are due to be played, and when they are announced they're spread over four days with 10 different time slots—some, at the beginning of the season, kick off as late as 2300—not ideal for families with young children, day trippers of away fans.
Despite all this, La Liga continues to be a force.
Last season Malaga inspired everyone with their run in the Champions League—cruelly knocked out by Borussia Dortmund in the quarter finals—and Atletico have made a perfect start in the league this season while remaining unbeaten in three meetings against Barcelona and Real Madrid.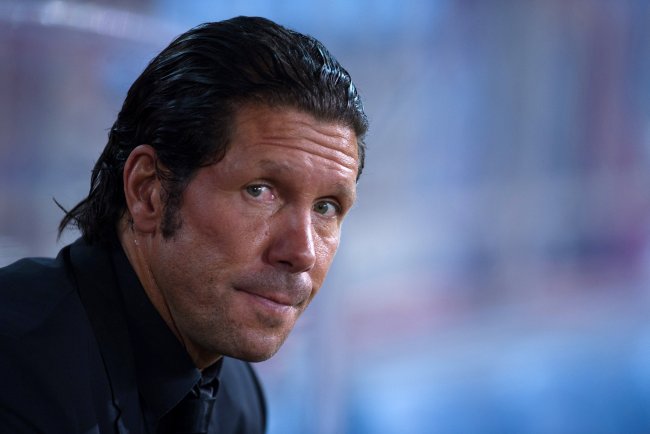 Denis Doyle/Getty Images
However, Diego Simeone still insists that his side can't compete over a league season, via Goal.com:
"Their economic strength puts them out of our reach. In a one-off match we can try and match them, but not over a league season."
For La Liga to become more balanced the new TV deal, although not as be-all-end-all as some entertain, needs to come to fruition, but the league and the clubs also have their part to play.
Club owners need to be sensible and more business minded in their running of their clubs—not as easy as it sounds for some Spanish presidents—and the league needs to start running La Liga for what it is on an organisational level: one of Europe's top three leagues.
This article is
What is the duplicate article?
Why is this article offensive?
Where is this article plagiarized from?
Why is this article poorly edited?