Presidents Cup 2013 Day 1: Live Scores, Standings and Results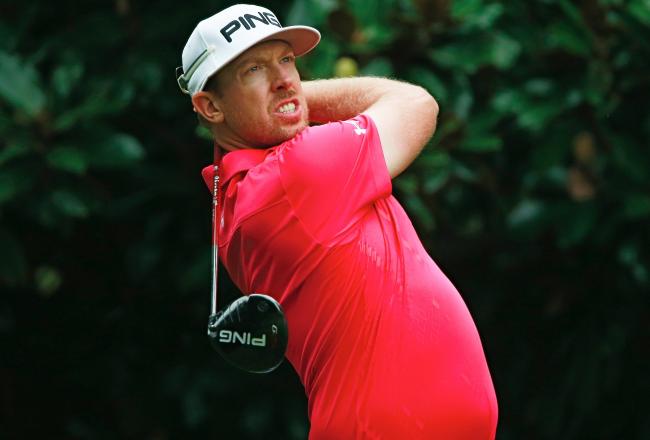 Fans saw a little bit of everything at Day 1 of the Presidents Cup from Muirfield Village in Dublin, Ohio.
The favoured American team got out to a hot start and looked to dominate the day before an 80-minute rain delay shifted the momentum in favor of the International side.
Tiger Woods and Matt Kuchar dominated for the Americans in their match against Angel Cabrera and Mark Leishman, while Graham DeLaet and Jason Day rode a roller coaster to a win for the Internationals. Steve Stricker's heroic performance during his final two holes was enough to ensure that Team USA finished the day with a lead.
The game shifts to six foursome matches on Friday, where the Internationals will hope to keep the pressure on.
After Thursday fourball, the score at the Presidents Cup is United States team 3.5, International team 2.5.
Nick Price: "My team made a great effort coming back. The U.S. team played unbelievable golf." #PresCup

— Brian Wacker (@pgatour_brianw) October 3, 2013
International Team captain Nick Price gets the last word of the day:
From the Australian point of view:
3.5 - 2.5 Don't like being behind already but considering 6-0 or 5-1 looked very likely for 90percent of the session, i'll take it. #PresCup

— Benjamin Everill (@beneverill) October 3, 2013
Not the ideal turnout for US after day 1. Not after the hot start they had. Still, 3 1/2 to 2 1/2 favoring US after four ball. #PresCup

— Rudy Granaghan (@RudyGranaghan) October 3, 2013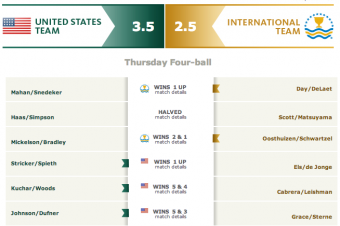 Your final scoreboard for the day.
He makes it, securing the point in Match 4 for the Americans.
Final score after Day 1: United States Team 3 1/2 International Team 2 1/2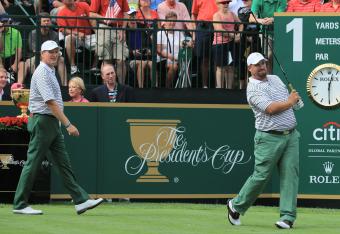 Here's de Jonge's birdie putt, for a chance to halve the match right now.
It's 15 feet or so...and rolls just wide to the right.
If Stricker makes his par putt, he'll win the match for the United States Team.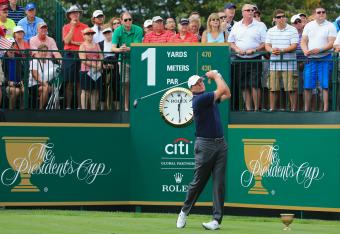 As the 18th unfolds, the International Team looks like it's in better shape than the Americans.
Spieth has taken a drop; Stricker's deep in the bunker.
All is going smoothly for Brendon de Jonge so far. His positioning looks good...till Stricker chips out of the bunker and leaves his ball within a couple of feet of the pin.
"U-S-A" chants the crowd.
I don't think Tiger likes Davis Love"s squirrel.

— Jordan Eberle (@ebs_14) October 3, 2013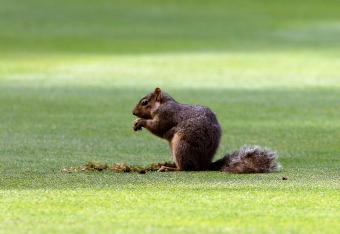 As Jordan Spieth has another rough hole on the 18th, Lindsey Vonn is teasing Tiger on the sidelines with Davis Love III's lucky squirrel.
Tiger is engrossed in what's happening on the course. He doesn't notice what Lindsey's doing at first, then bats at the squirrel on his neck with disgust. Hope the little guy's OK!
With de Jonge & Els in the fairway, Spieth puts his tee shot in the water on 18. With the pressure on, Stricker finds the fairway. #PresCup

— PGA TOUR (@PGATOUR) October 3, 2013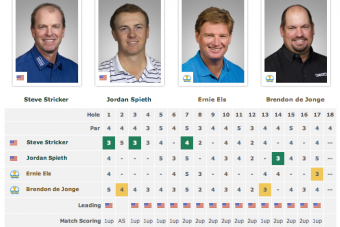 Here's how we got here in Match 4.
If Els and de Jonge can scratch out a win on this final hole, that would even the score at 3-3 heading into Day 2. The International Team would be thrilled to remain on a level playing field.
He makes it! We play on to the 18th.
13 feet is better for Ernie than 5 ... #PresCup

— Robert Lusetich (@RobertLusetich) October 3, 2013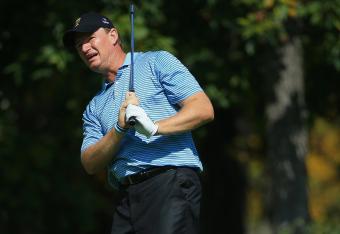 Ernie Els has another chance to make birdie and win the hole, bringing the International Team within 1 with one hole to play.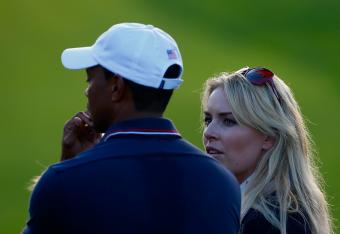 Our final group is Match 4 - Steve Stricker and Jordan Spieth are up two against Ernie Els and Brendon de Jonge.
It's a messy hole so far. The course seems to have dried right out from the earlier rains. All the golfers are sitting in the grass supporting their teammates, looking like they could be in high school in their matching uniforms.
Match Six ends with a concession by Sterne/Grace. USA gets a 5&3 victory. All tied up now at 2.5 points w/ one match remaining. #PresCup

— The Presidents Cup (@PresidentsCup) October 3, 2013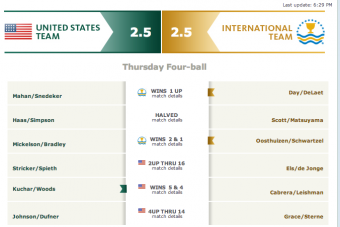 Here's how we stand with one match to go.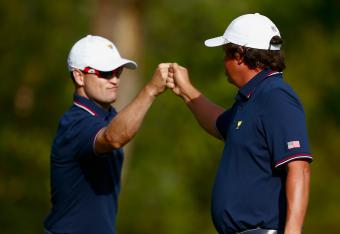 That's a 5 and 3 win for Zach Johnson and Jason Dufner.
Now we're tied, with 2 1/2 points for each side.
USA is guaranteed half point from the final two matches still playing. Stricker/Spieth 2UP with 2 to play. Dufner/Johnson 4UP, 4 to play.

— The Presidents Cup (@PresidentsCup) October 3, 2013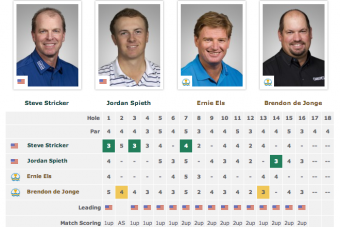 Ernie Els misses a putt that could have brought the International Team within one in Match 4.
Instead, the Americans take their two-shot lead into the second-last hole.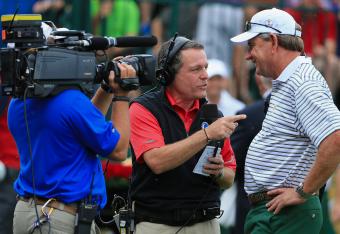 Considering how dominant the United States Team was during the early part of the day, it's quite a shock that the biggest lead they can take out of this day is now just a single point.
The weather delay really changed the momentum of the round. Will we hear more about how Nick Price rallied his troops?
In Match 6, Grace and Sterne are four back with four holes to go. It's likely just a matter of time before Johnson and Dufner record that win.
Here's the latest scoreboard.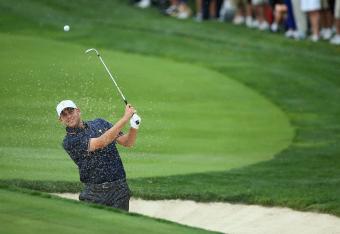 Bill Haas misses his 25 foot birdie putt to save the win for the United States Team in Match 2.
Matsuyama wins the final hole, so the match is halved.
The International Team now has 2 1/2 points while the United States Team has 1 1/2.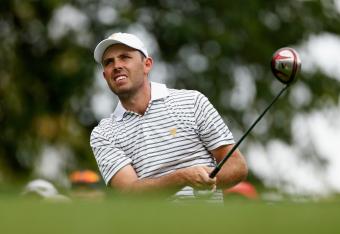 Schwartzel drains his birdie putt on 17 to put the International Team 2 up after 17.
That's enough for the win.
Schwartzel and Oosthuizen triumph over Mickelson and Bradley in Match 3.
The International Team leads 2-1.
Wow. Hideki. Tap-in birdie. Americans 1-up but might end up AS... What a comeback.

— Stephanie Wei (@StephanieWei) October 3, 2013
This article is
What is the duplicate article?
Why is this article offensive?
Where is this article plagiarized from?
Why is this article poorly edited?