The Tennessee Titans are coming off back-to-back wins for the first time since Week 7, last season, and are two games over .500 for the first time since at this same juncture of the 2011 campaign.
However, an injury to an emerging Jake Locker and a slate of games against opponents with a combined record of 10-2 over the next three weeks has thrown a wrench into the team's playoff push.
While Jake Locker's prognosis of a bruised hip and strained MCL have resulted in an encouraging recovery time of about a month, the Titans still must deal with it's toughest stretch of the season. As far as backup quarterbacks go, Tennessee could do much worse than Ryan Fitzpatrick.
The Titans face a Kansas City Chiefs team that has surged to a 4-0 record under a new head coach, Andy Reid, and new starting quarterback, Alex Smith. Up until last week, the Titans and Chiefs were the only two teams yet to turn the ball over. Only the Titans remain after Kansas City committed three turnovers in Week 4 against the New York Giants.
Defensively, both teams rank in the top 10 in total yardage and points allowed. Both teams are tied for a league-best plus-9 in the turnover differential column and each pass rush is in the top five in pressuring the quarterback.
The teams are remarkably similar, but something will have to give in Week 5.
Maintain Turnover Streak
If the Titans manage to not give the ball away for another week, they will set a league record for most weeks to start a season without committing a turnover. Fitzpatrick is inherently a bit of a risk-taker. During his career, he has thrown 81 interceptions in just 74 games.
In his final season with the Buffalo Bills, Fitzpatrick had six games without an interception, and the team won five of those games. He's a more accurate passer than Locker, completing more than 60 percent of his passes in 2011 and 2012.
What the Titans will need to do is focus on making sure Fitzpatrick takes more of a game-manager-type role rather than trying to score on every possession. The Chiefs offense isn't much more explosive than the Titans, averaging 25.5 points per game compared to Tennessee's 24.5.
The Titans offensive line will play a big part in helping Fitzpatrick to produce, because he is not nearly as mobile a specimen as a healthy Locker. The Titans will need to utilize the shifty Kendall Wright in the passing game to help compensate for Fitzpatrick's noticeably weaker arm.
Revamped Offensive Line Must Prove Its Worth
All the efforts the Titans' front office put into improving the interior of the team's offensive line has failed to show any positive results on the field. The team's pass-blocking, a strength last season, has fallen off precipitously so far this season. After ranking eighth overall in 2012 with a plus-32.7 grade in 2012, the unit now ranks 23rd, scoring a minus-9.8 through four weeks, according to Pro Football Focus (subscription required).
The Chiefs defense ranks first in the NFL in sacks with 18. The Titans have faced its share of tough defensive fronts already in Houston and Pittsburgh, but the Chiefs have been lighting up opposing quarterbacks. Andy Levitre was billed as an elite pass-blocker and Chance Warmack was a top-10 draft selection, yet both rank near the bottom in pass-blocking, according to PFF.
Titans and Chiefs Pressure-Packed Defense Stats

| | | | | |
| --- | --- | --- | --- | --- |
| Team | Sacks | Hits | Hurries | Batted Passes |
| Chiefs | 18 | 12 | 69 | 8 |
| Titans | 14 | 19 | 53 | 3 |
All Stats Gathered from Pro Football Focus
The Titans will need to employ more quick-developing routes and play-action to help minimize the affects of the Chiefs overwhelming pass-rush talent.
Establish the Running Game
As strong as the Chiefs' defensive line has been in pressuring opposing quarterbacks, they have still managed to relinquish a monstrous 5.4 yards per carry on the ground. If the Titans offensive line can provide Chris Johnson with some lanes, the blazing back could rip off some long runs on Sunday.
The Titans have already faced three 3-4 fronts this year, so they should be well prepared for yet another one. Look for the Titans to run the ball behind its maulers, Warmack and David Stewart. Also, if Shonn Greene is able to return from injury, his power-running style will help to wear down Kansas City's aggressive pass rush.
Continue Opportunistic Play on Defense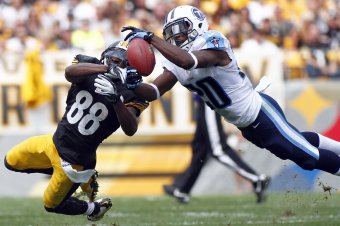 Justin K. Aller/Getty Images
While the Titans offense have been miserly with the ball, they've ransacked their opponents of it to the tune of 2.25 turnovers per game. Cornerback Alterraun Verner leads the way in the takeaway category with a league-leading four interceptions and two fumble recoveries.
The lowly New York Giants defense was able to twice intercept the usually mistake-free Alex Smith. Both interceptions were thrown in the middle of the field and for less than 10 yards. That puts the onus on the linebackers to be ready to capitalize should one of the defense's many blitzes fluster Smith.
The Titans pass rush has been very potent in its own right, and the Titans will need it to continue its dominance to keep this game close until the finish.