Penn State vs. Indiana: Live Score and Highlights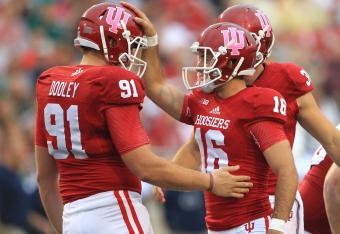 Penn State 24, Indiana 44—FINAL
Indiana beat Penn State for the first time ever. The Hoosiers were led by quarterback Nate Sudfeld, wide receiver Cody Latimer and running back Tevin Coleman, all of whom had great games.
Indiana was in control of the game all day with excellent defensive play and forced freshman quarterback Christian Hackenberg to look like a freshman quarterback.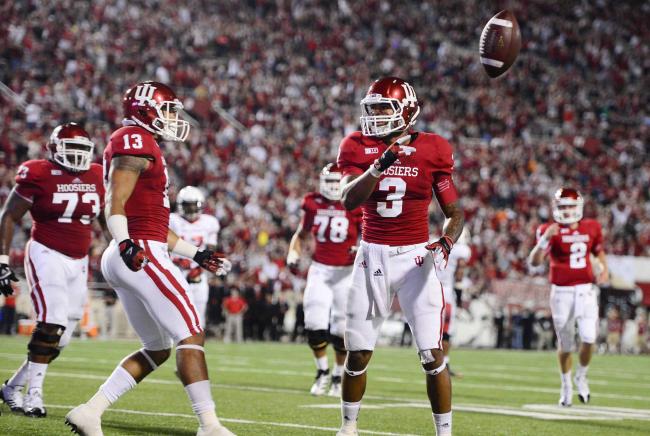 Christian Hackenberg's line of 30-of-55 (54.5 percent) for 340 yards and three touchdowns went primarily to Allen Robinson, who had the second-best game of his career, with 12 catches for 173 yards and two touchdowns.
On the other side, Nate Sudfeld led the offense, but contributions from Tevin Coleman were what set the tone on the day. Sudfeld finished 23-of-38 (60.5 percent) for 321 yards, two touchdowns and one interception.
But the game's MVP was Cody Latimer.
His nine catches for 140 yards were without a touchdown. However, he made clutch plays on special teams, recovering a fumble to set up a touchdown from the 9-yard line and recovering an onside kick in a clutch moment in the game.
Penn State had some promise early in the game, but continually shot itself in the foot with missed opportunities in the red zone and mistakes by Christian Hackenberg to stall drives. The Nittany Lions defense did very well covering for the offense's mistakes through three quarters.
However, turnovers and poor special-teams play gave the ball to Indiana in too many opportune positions. Indiana was able to attack the weaknesses in the Penn State defense and outscored Penn State 23-7 in the fourth quarter.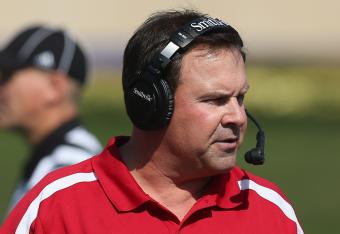 Christian Hackenberg quashed any hopes of a potential comeback with a dropped pass on first down, a tipped ball on second and a screen that went short on third down. He capped off his lack of offensive production on this drive with a short fourth-down run.
Indiana just ran the clock out for its first victory over Penn State in team history. Congrats Hoosiers, you deserved it with the extremely well-coached, well-played game.
Indiana 44, Penn State 24—FINAL
After the safety, Tevin Coleman led off a clock-running drive with a run for two yards, and after a false-start penalty, a 14-yard swing pass for the first down.
Tre Roberson lost five yards on a play and then handed it back to Coleman and Houston to continue to grind the clock down and force Penn State to take all of its timeouts.
Indiana punted it back to Penn State to give the Nittany Lions a shot down 20 points with 2:26 to go. This is by far the toughest situation to attempt a comeback win in.
Still can't believe IU is going to beat Penn State today. I've only been waiting for a decade!

— Carey Fox (@redwood17257) October 5, 2013
And here comes another score for the Hoosiers. Christian Hackenberg had the ball stripped away in the end zone, and an offensive lineman fell on it for a safety.
Indiana 44, Penn State 24—5:40 4th quarter
Important play, and guess who makes a play to help seal it?
Cody Latimer. He's earning an MVP award right now for the day, and he's still yet to score a touchdown.
A trio of runs ground some time off of the clock to set up a 4th-and-2 from the Nittany Lions 37-yard line with 5:59 left. The Hoosiers took a delay-of-game penalty and then punted it inside of Penn State's 5.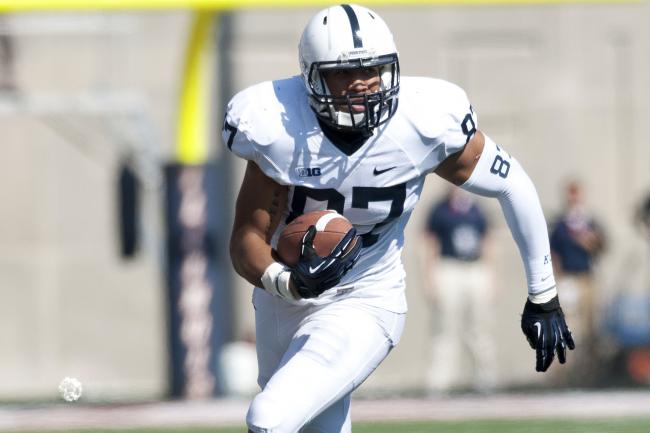 Christian Hackenberg hit Kyle Carter for a pair of catches to gain the first down. A failed run by Bill Belton was followed by a quick out route to Eugene Lewis. On 3rd-and-4 from the 45, Hackenberg ran out of bounds for a minimal gain.
On 4th-and-3 from his own 46, Hackenberg passed to Carter, who gained 26 yards, and a 15-yard personal foul was tacked on to give the Nitttany Lions the ball at Indiana's 14-yard line.
Belton caught a first-down pass in the back of the end zone to bring Penn State within 18.
Penn State 24, Indiana 42—7:44 4th Quarter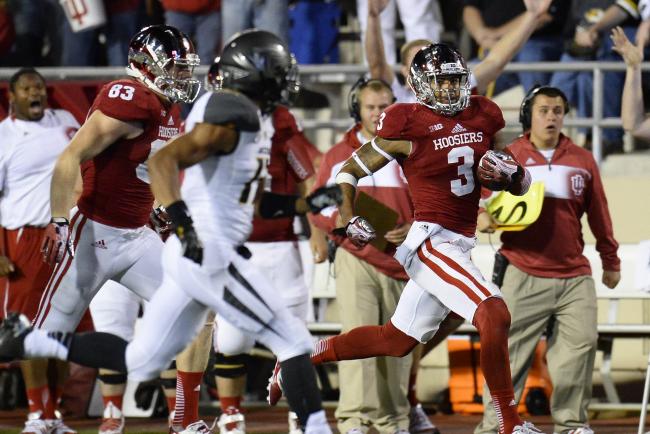 And mistakes are just killing the Nittany Lions. Cody Latimer recovered the fumble on the kickoff at the Penn State 9-yard line. And then yet another touchdown scored by Tre Roberson. This is like playing NCAA Football 14 and changing the setting to freshman at halftime.
Indiana 42, Penn State 17—10:30 4th Quarter
I did not think Indiana would beat Penn State like a drum. Props to Kevin Wilson for getting his team to play markedly better.

— Matt Zemek (@MattZemek_CFN) October 5, 2013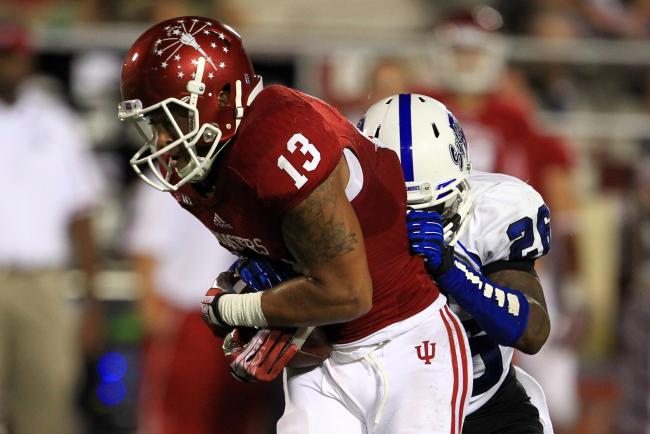 Opening up with a loss of three on a run, Nate Sudfeld hits Kofi Hughes on a beautifully thrown ball in the end zone. The Hoosiers just put this game completely out of reach with that throw.
Indiana 35, Penn State 17—10:42 4th Quarter
And the mistakes keep on coming for the Nittany Lions. A false-start penalty opens the drive, while a completion for a five-yard loss sets the freshman quarterback up for failure. Add in yet another false start, and the Nittany Lions get rewarded with a 2nd-and-25.
Allen Robinson looks like he's OK, as he bailed out Christian Hackenberg with a 14-yard grab to set up a 3rd-and-11 from their own 24. Hackenberg showed even more moxy by just giving himself some time and finally getting a good throw off to set up 4th-and-2.
On 4th-and-2 from the Penn State 33, Indiana's Bobby Richardson tipped the ball and forced another incompletion to get the ball back for the Hoosier offense.
Indiana is not that good. Michigan and ohio state could easily put up 30 points and win. Penn state is too soft an flat. #callinitlikeiseeit

— Brandon Barber (@BrandonBarber59) October 5, 2013
Penn State in danger if losing to Indiana for first time ever. Trail Hoosiers 28-17 with 14:10 left in fourth quarter.

— Eric Knopsnyder (@eric_knopsnyder) October 5, 2013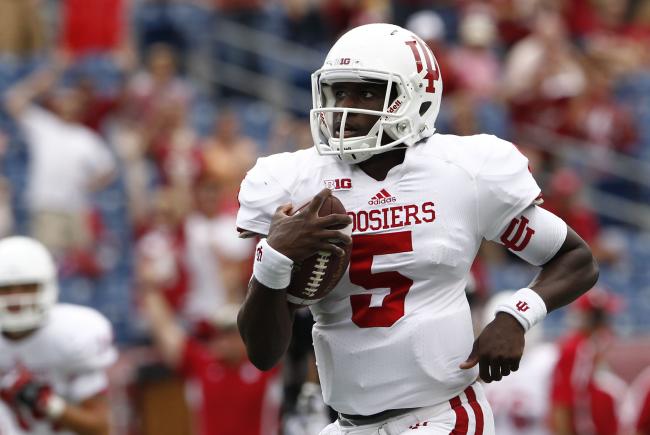 Opening the fourth quarter, who does the ball go to?
If you said Cody Latimer, you would be 100 percent correct. He took a quick screen to set up a goal to go. After a short run, they went back to Latimer but just missed him. On 3rd-and-goal from the 2, the Hoosiers sent Tre Roberson in to get the touchdown.
He initially was ruled to have scored, but it has gone under an official review. There isn't nearly enough indisputable video evidence to overturn the call, though, and it stands.
Indiana 28, Penn State 17—14:10 4th quarter
This game comes down to the first quarter where penn state/o'brien failed to get points on good drives

— Ryan Murphy (@MurphDirty16) October 5, 2013
Tevin Coleman currently has 128 yards on a combined 22 touches and one touchdown. He's been providing an excellent option out of the backfield for Nate Sudfeld in the passing game and can break a long run at any time.
And now, it's the Tevin Coleman show. After a pair of runs gave the Hoosiers a first down, Coleman took a screen pass another 13 yards before gaining another eight on another pair of runs.
Then the Hoosiers decided to give DeAngelo Roberts the ball, and he had a pair of runs that combined for 24 yards to set up a 2nd-and-6 at the Penn State 20. The Hoosiers will open the fourth quarter there.
Indiana 21, Penn State 17—End 3rd Quarter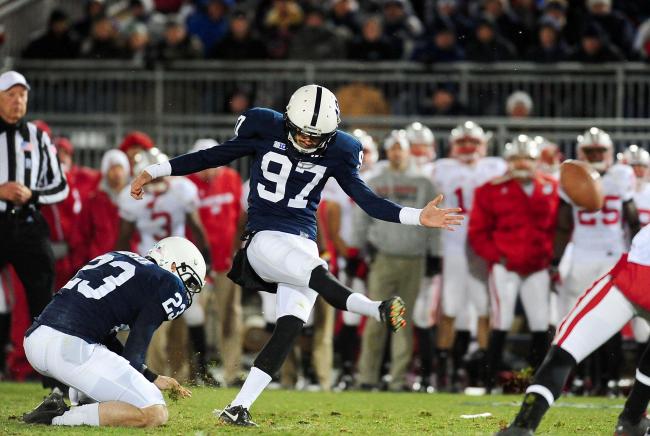 And those fans almost got their wish with an errant Nate Sudfeld throw. And on the very next play, the defense did come through after Glen Carson tipped the ball to Adrian Amos on a Nate Sudfeld interception.
Christian Hackenberg found someone not named Allen Robinson to open his drive on a throw to Eugene Lewis for the nine-yard pass on first down. Bill Belton converts the first down with a pair of runs. After a pass to Kyle Carter on first down gained seven, Hackenberg hit Robinson for his 11th connection with him on the day.
On an attempted touchdown pass, Robinson hit the turf hard and looks like he's going to be out for at least the next play. He landed on his back and was down on the turf for a while. If he's unable to return, he'll finish the day with 11 catches for 159 yards and a pair of touchdowns.
On 3rd-and-6 from the Indiana 7-yard line, Hackeberg got sacked by John Laihinen. Sam Ficken finally kicks one through the uprights to bring the Nittany Lions within four.
Penn State 17, Indiana 21—2:04 3rd Quarter
Penn State desperately needs to force a turnover here. Try and get some momentum going back in their direction.

— Justin Rocke (@JustinRocke) October 5, 2013
IU defense which has been solid for much of the game,forces another Penn State punt. Hoosiers have chance to take charge.

— Pete DiPrimio (@pdiprimio) October 5, 2013
The Allen Robinson show continues with an 11-yard catch, but then Penn State stalls yet again with poor throws by Christian Hackenberg. Indiana's defense has looked excellent today.
If we lose Robinson Penn state will literally never score another touchdown.

— justin wolfe (@JustinMW0lfe) October 5, 2013
David Kaminski is the right guard who went down with a leg injury on the touchdown play. Losing a right guard would normally be tough for a team. However, the Big Ten is known for its linemen, and Indiana should have the necessary depth to replace him.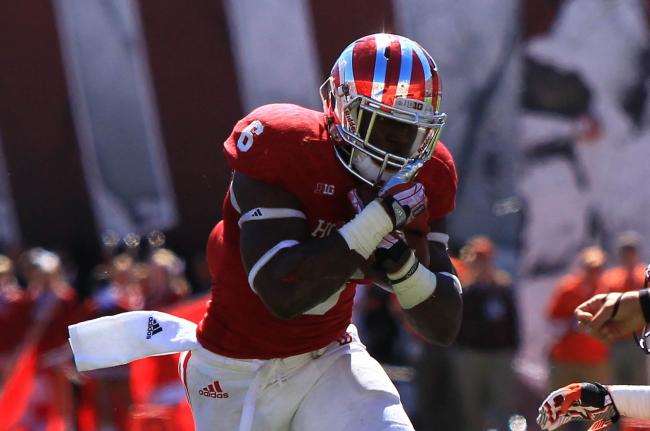 Zach Sudfeld picks apart the Penn State defense. He hits Cody Latimer yet again and Ted Bolser for the first time on the day before the handoff to Tevin Coleman for 45 yards and a touchdown.
Indiana goes back up five points and decides to go for two. Tre Roberson converts the two-point conversion to bring the Hoosiers up seven points.
Indiana 21, Penn State 14—7:56 3rd Quarter
Penn State takes its first lead when my dad texts to say he turned the game off. Keep the TV off, Dad!!!!

— Kristi (@krismacca) October 5, 2013
You would think teams would know to cover Allen Robinson by now, Touchdown Penn State! #FightOnState

— Phil Hess (@PHess919) October 5, 2013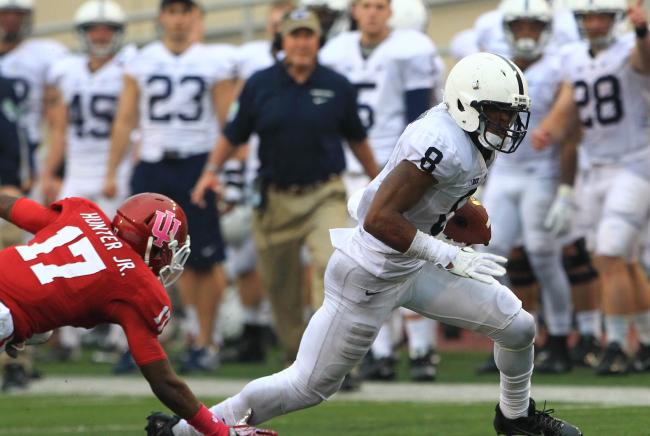 Christian Hackenberg also came out firing on Penn State's first drive with a nine-yard out to Allen Robinson. But he missed multiple passes, which would have stopped them short on the drive, had Indiana not committed a pass-interference penalty on a 3rd-and-6 pass.
Penn State gifted a pass interference call on third-and-6 to extend its drive past midfield. Close call, but Lions will surely take it.

— Collegian Footblog (@psufootblog) October 5, 2013
Zach Zwinak continued to provide a legitimate power rushing game for Penn State to balance its passing attack. He's able to continually push the pile forward on short second and third downs to keep the drives moving.
But the passes that have been missing for Hackenberg are hanging his receivers out to dry too often. He makes some plays that make you realize he's a freshman. Then he makes passes like his 31-yard touchdown strike to Robinson on 3rd-and-10 to bring the Nittany Lions up one point, looking like a legitimate starter in the process.
Penn State 14, Indiana 13—9:18 3rd Quarter
If Penn State loses to Indiana and nobody is there to see it, does it really count?

— Sophomore Matt (@krott16) October 5, 2013
This article is
What is the duplicate article?
Why is this article offensive?
Where is this article plagiarized from?
Why is this article poorly edited?