The New Orleans Pelicans possess one of the league's rising stars in 20-year-old Anthony Davis, and head coach Monty Williams has plenty of options to better utilize the second-year power forward.
Two big-name NBA talents—Jrue Holiday and Tyreke Evans—were acquired during the offseason, and one player will especially aid Davis' progression.
Davis has the tools to be a superstar, and a few tweaks to his game will point him in the correct direction. The trick for Williams, however, is figuring out the optimal way to get the most out of Davis, while not putting too many responsibilities on the young forward.
Note: New Orleans' new nickname "Pelicans" will be used when referring to the 2012-13 season when the team was known as the "Hornets."
Utilize Pick-and-Roll Action
New Orleans will be a very dynamic offensive team. There is so much individual talent scattered across the roster, and it would be ridiculous if the Pelicans cannot score points.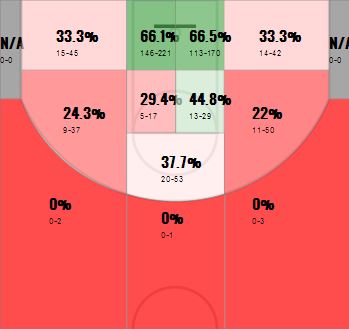 Jrue Holiday is an excellent distributor, Eric Gordon and Tyreke Evans can both slash to the basket, Ryan Anderson is a dead-eye three-point shooter and Davis provides scoring in the post.
It certainly would help New Orleans if Davis had a mid-range jumper because Holiday's facilitating ability combined with Gordon and Evans will open plenty of space for Davis to get open looks.
Last season, Davis struggled shooting from outside the paint, as seen by the accompanying graph from Vorped.com.
Ben Golliver of Sports Illustrated notes Davis said "I've been working on my jumper, trying to be more versatile, expand my game." But even if he cannot find the touch from 12-17 feet, Davis' athleticism allows him to set a pick, attack the basket and give a huge target to the ball handler.
And there aren't many players who can stop that rim-shaker.
Playing Time With Ryan Anderson
Last season, the Pelicans' most effective offensive lineup was comprised of a distributor, shot-creator, defender, jump-shooter and post presence. According to 82games.com, New Orleans scored 6.5 percent more points and had a higher win percentage with a lineup consisting of Greivis Vasquez, Gordon, Al-Farouq Aminu, Anderson and Davis than with Robin Lopez instead of Anderson.
Somewhat surprisingly, the defensive efficiency did not fall. Williams' team posted an equal defensive rating with Davis and Anderson than it did with Davis and Lopez.
The biggest advantage the Pelicans have by using Anderson and Davis—along with Holiday—is each player's best attributes complement one another. Davis can be used away from the basket and crash to the rim, Anderson can start where he pleases and pop out for an open three and Holiday "simply" finds the open man.
By combining pick-and-roll and quick ball movement, New Orleans' offense scatters the defense and oftentimes, someone gets wide open.
An inside/outside threat of Davis and Anderson facilitated by Holiday, quite clearly, gives the Pelicans a versatile offensive attack.
More Efficient Defense
Few will argue that Davis is on his way to being a premier shot-blocker, already tallying the 11th-most (1.75) blocks per game in the NBA as a rookie.
But a statistic that is just as important as the volume of blocks is that of blocks per foul. Last season, Davis blocked 112 shots and, according to 82games.com, committed 77 shooting fouls. In other words, Davis swatted 1.45 shots for every foul.
Reminder: The ratio is based on blocks per shooting fouls, not personal fouls as Davis was called for 158 PFs.
Bleacher Report's Adam Fromal discussed Davis' tendency to play overaggressive defense on jump shooters and willingness to abandon the paint. Davis usually does a superb job staying between the offensive player and the basket while focusing on the ball-handler, as seen below.
If Williams can teach Davis to stay in the proper position so as to not allow cheap layups yet be prepared to give help-side defense, the 6'11" big will absolutely block more shots.
And those third-row swats definitely are fun to watch.