Why Charlie Coyle Is Minnesota Wild's Biggest X-Factor for 2013-14 Season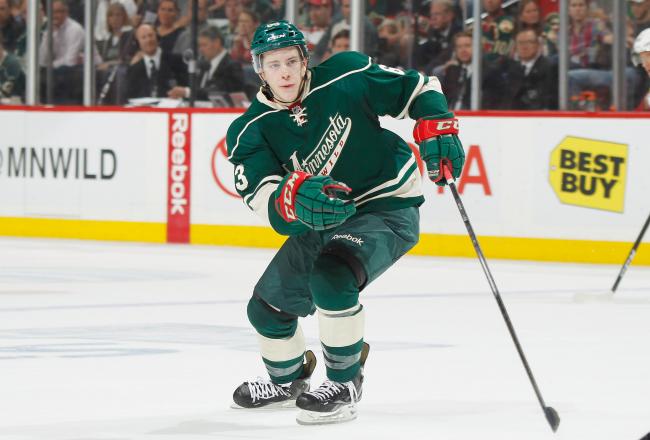 Coyle had a monster camp and should be a difference-maker for the Wild in 2013-14.
Bruce Kluckhohn/Getty Images
The X-factor for the Minnesota Wild is Charlie Coyle, who had the best camp of all the young forwards and helped the other players around him improve as well.
It could be Nino Niederreiter as well. The Wild brought him in to be a second-line forward and expect him to have a breakout season. He should put up numbers that not only justify his selection at No. 5 overall in 2010 but the Wild's decision to trade Cal Clutterbuck and a third-round pick to acquire him as well.
It could also be Jonas Brodin, who played like a veteran defenseman at age 19 last year, or any of the other young players who should crack the lineup this year—Jason Zucker (21), Justin Fontaine (25) or even Mathew Dumba (19). Young players are going to play pivotal roles on this year's team, and they are also the most volatile.
The thing with Coyle, however, is that he could make all those players better. The 21-year-old is another young forward who joins Brodin as the most talented of the bunch.
Hannah Foslien/Getty Images
Coyle was drafted No. 28 overall by the
San Jose Sharks
in 2010—behind
Niederreiter
and Mikael
Granlund
—and arrived with Devin Setoguchi in the Brent Burns trade. While Burns was a fan favorite and is a productive player in Northern California, Coyle could make this deal look sweet for Wild fans.
He spent most of last season playing alongside Zach Parise and Mikko Koivu on the team's top line and had enough monster shifts that Minneapolis Star Tribune beat writer Michael Russo once asked head coach Mike Yeo if he considered removing 6 from Coyle's No. 63 sweater midseason during his rookie year.
It didn't happen last year, but Coyle was rocking No. 3 when the team had its first open scrimmage at the Xcel Energy Center—and the number is well deserved.
He had a monster training camp and appears to have beaten out Granlund for the No. 2 center spot—a position that appeared to be his last year until he was sent down. As the team's No. 2 pivot behind Koivu, he will be able to help other players on the second line and take the pressure off Minnesota's captain to play huge minutes every night. He has had the most success so far of Minnesota's myriad young forwards, which means he should have the most impact on the team next season.
He Can Help Other Players as the Second-Line Center
Coyle is an all-around player who can score as well as he sets up and is reliable in his own end. As a pivot, he makes the players on his wing better by setting them up to score, and he helps out the defensemen by winning faceoffs in key situations.
The player who will benefit most from his play is probably Niederreiter, who no longer has to be on his team's top line to play with a first-rate center. Niederreiter wasn't on the receiving end of many John Tavares passes during his time on Long Island, but he gets the benefit of playing with Coyle in St. Paul.
Similarly, Granlund—a center blessed with incredible offensive talent who was battling with Coyle for the No. 2 center position—may be placed on his wing and receive similar opportunities to score.
Dany Heatley, who at age 32 is considerably older than "Nino" and "Granny," has seen his production drop off since his days on the CASH Line with Jason Spezza and Daniel Alfredsson as a member of the Ottawa Senators. Coyle probably can't get him back to a 50-goals-per-year pace, but then again Heatley is technically still in the prime of his career and in a contract year. Fifty goals might be a stretch, but 30 or 35 shouldn't be out of reach.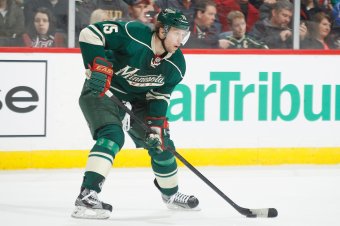 Bruce Kluckhohn/Getty Images
Even the guys on the blue line can benefit from Coyle's play.
While Ryan Suter and Jonas Brodin are not known as offensive defensemen, Coyle might be setting them up for offensive opportunities. It is more likely, however, that he wins a faceoff in a key spot and prevents another team from making a push toward the net.
Coyle played a big role opposite Parise and Koivu on the top line last year, but he probably is better used as the second-line center this year.
He Takes Pressure off Koivu and the First Line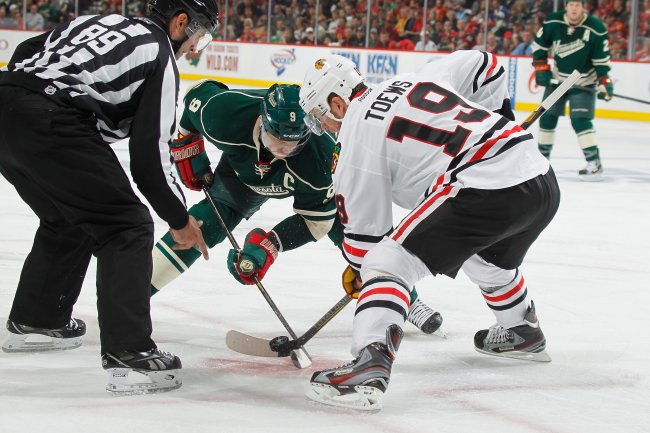 Bruce Kluckhohn/Getty Images
Make no mistake: Coyle doesn't belong in the same sentence as Joe Thornton,
Jonathan
Toews or Dustin Brown just yet, but Koivu needs to get to that point if the Wild are going to be successful in the Parise-Suter era.
He is never going to be an elite offensive player—Coyle and Granlund have more upside as scorers—but he is paid to be an elite setup man on the ice as well as a team leader in the locker room. His point total is going to consist mostly of assists, something that he is better able to do when he is adequately rested throughout the season.
The expectation in Minnesota is that the Wild are going to establish themselves as contenders in the near future. Parise and Suter were not only signed to massive deals, but they were also signed close to their 30th birthdays. Nobody is predicting a falloff of Heatley proportions for either player, but they were signed to win now.
Young forwards tend to be productive enough to carry a decent amount of weight offensively. They tend to play their best between ages 26 and 32, but many of them break out around age 24. Keep in mind that Patrick Kane and Jonathan Toews are 24 and 25, respectively, and
Sidney Crosby
and Anze Kopitar are 26.
Coyle, Niederreiter, Zucker and the rest are not expected to play at their best right now because they are still young, but Parise, Koivu and Jason Pominville are expected to excel.
If Coyle's line can assure Coach Yeo that they can be productive offensively, there is no reason for him to overplay Parise, Koivu and Pominville. This is huge, especially during the grind of an 82-game season and in the playoffs, when the top line is always going to have shifts against the league's best defensemen.
Coyle was a help to Parise and Koivu while playing with them last season, but he may influence them more this season by centering his own line.
He Has Had the Most Success of the Young Forwards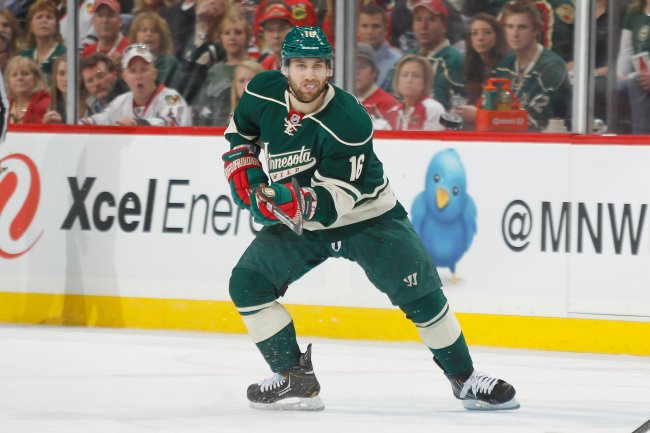 Bruce Kluckhohn/Getty Images
It's a tossup whether Brodin or Coyle is the most productive young player on the Wild, but it makes no difference. Brodin will not be taking faceoffs anytime soon, and Coyle is unlikely to be paired with Suter.
It's hardly a debate over who is the best young forward on the team, however, seeing as Niederreiter and Granlund have a lot to prove still and Zucker is probably a third-line guy for the time being.
Coyle is a threat to score, can set up his teammates and plays on both sides of the rink. He can play the wing if necessary, like he did last year, or take faceoffs as a second-line player. During this year's camp, he proved to be both a value pick and the most important return in the Burns trade.
He is a player who can make everybody else around him better, and that's why he is Minnesota's X-factor this year.
Tom Schreier covers Minnesota sports for Bleacher Report and is a contributor to Yahoo! Sports.
This article is
What is the duplicate article?
Why is this article offensive?
Where is this article plagiarized from?
Why is this article poorly edited?

Minnesota Wild: Like this team?