Video Highlights: Beware of Alain Ngalani, ONE FC's Muay Thai Wrecking Machine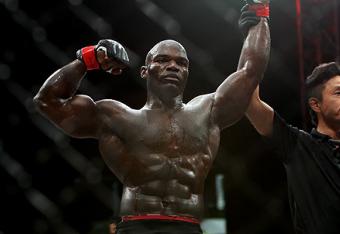 Photo credit: Dave Mandel/Sherdog

ONE Fighting Championship is a bit of an anachronism. While the Western MMA world moves toward a more blended fighting style, in which combatants work to hone equally formidable skill sets in each phase of the fight, the Singapore-based ONE FC promotion actively celebrates the specialist.
Anyone who notes that unbalanced specialists would get eaten alive at the sport's highest levels is missing the point. Watching a world champion-level expert ply his trade in a forum as free as the MMA cage remains as intoxicating as it was in the sport's frontier days.
Maybe that's why ONE FC has brought in specialists like kickboxing ace Melvin Manhoef and world grappling champion Bruno Pucci to round out their talent stable. Even the name of their inaugural event in 2011—"Champion vs. Champion"—strongly hinted at this philosophy.
Alain Ngalani's pro MMA debut at ONE FC 10 (fight starts at 11:00 mark).
The latest example might be the most interesting. It's heavyweight Alain "The Panther" Ngalani. There's not a lot of mix in Ngalani's martial arts game. But it's funny how many holes can be filled by a pair of world-champion Muay Thai belts.
Ngalani is the marble-cut and newly minted MMA heavyweight who couldn't even control himself for 30 second before deciding to lay waste to Mahmoud Hassan (himself a converted boxing champion) in his pro MMA debut in September at ONE FC 10.
Because the native Cameroonian is 38 years old, he's unlikely to wind up on a lot of hot prospect lists, or in a major-league promotion that would eventually expose him to a D-I wrestler.
Nevertheless, um, holy crap. Have you ever seen a man as big as Ngalani brandish Muay Thai's eight-point attack so fluidly? How often do you see a heavyweight snap off a head kick with that kind of speed, or land a wheel kick with that kind of pinpoint precision (I think his foot actually went up Hassan's nose)? And he does both with legs that might intimidate a centaur.
If you haven't yet had the privilege, check out the highlights here. In particular, try his signature move on for size. It's known as "The Panther High Kick." No word on the effectiveness of combo breakers against it.
We may not see him fighting Cain Velasquez anytime soon. But that shouldn't prevent fans from enjoying this brutal specialist for however long he stays in professional MMA, and until further notice his ONE FC appearances are appointment television for hardcore fans.
This article is
What is the duplicate article?
Why is this article offensive?
Where is this article plagiarized from?
Why is this article poorly edited?