Week 5 of the 2013 NFL regular season will commence on Thursday, Oct. 3, as the Buffalo Bills travel to play the Cleveland Browns. In turn, fantasy football owners across the globe are counting down the hours until the first set of players are locked in.
The question is, with four teams on bye weeks, which underrated players can you trust to step in and shine?
NFL Fantasy Football Rankings

| | | | | |
| --- | --- | --- | --- | --- |
| Rank | Player | Position | Standard League Points | PPR League Points |
| 1. | Peyton Manning, Denver Broncos | QB | 119 | 119 |
| 2. | Drew Brees, New Orleans Saints | QB | 95 | 95 |
| 3. | Jimmy Graham, New Orleans Saints | TE | 80 | 107 |
| 4. | Adrian Peterson, Minnesota Vikings | RB | 76 | 87 |
| 5. | Jamaal Charles, Kansas City Chiefs | RB | 71 | 94 |
| 6. | Aaron Rodgers, Green Bay Packers | QB | 70 (3 GP) | 70 (3 GP) |
| 7. | Philip Rivers, San Diego Chargers | QB | 88 | 88 |
| 8. | Jordan Cameron, Kansas City Chiefs | TE | 64 | 94 |
| 9. | Demaryius Thomas, Denver Broncos | WR | 62 | 91 |
| 10a. | LeSean McCoy, Philadelphia Eagles | RB | 70 | 77 |
| 10b. | Matt Forte, Chicago Bears | RB | 61 | 84 |
Points via http://games.espn.go.com/ffl/leaders?leagueId=0
Philip Rivers, San Diego Chargers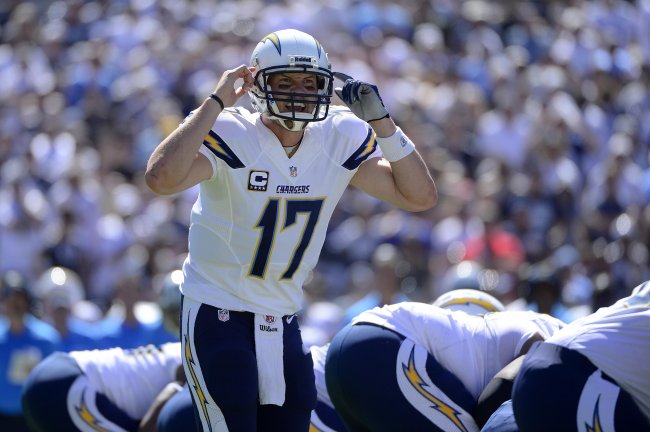 Donald Miralle/Getty Images
Position: Quarterback
Opponent: Oakland Raiders
Owned: 81.6 percent
2013 Season Statistics
4 GP; 118.8 RAT, 1,199 YDS, 11 TD, 2 INT
The San Diego Chargers are 2-2, but without Philip Rivers, they'd likely be an 0-4 football team. Thus far, Rivers has 1,199 passing yards, 11 touchdowns and two interceptions, ranking second in the NFL in passer rating.
Somehow he's done all of this with Eddie Royal and Danny Woodhead serving as his top two receivers behind tight end Antonio Gates.
During Week 5, Rivers will take on an Oakland Raiders defense that has been strong but has allowed 61 points over the past two weeks. Rivers, meanwhile, has two games with at least 400 passing yards through four weeks.
Don't expect him to slow down anytime soon.
Rivers has topped 20 fantasy football points in three of his four outings, per ESPN, including a 22-point performance against a deep Houston Texans defense and 26 against the Dallas Cowboys. There's always a risk in starting a player on the Chargers, but Rivers has played sensational football.
Somehow, he's only owned in 81.6 percent of fantasy football leagues.
Julian Edelman, New England Patriots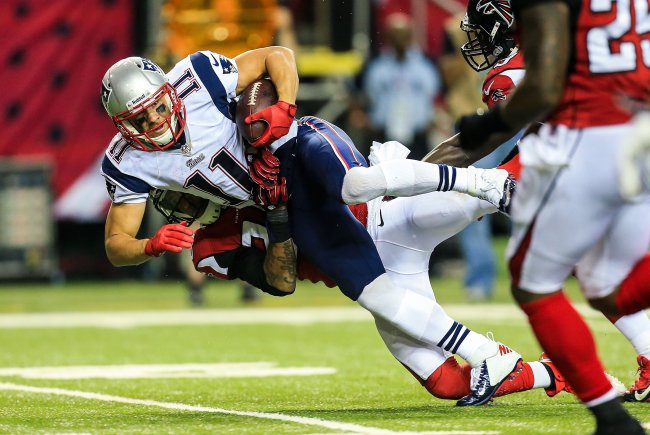 Daniel Shirey-USA TODAY Sports
Position: Wide Receiver
Opponent: Cincinnati Bengals
Owned: 63.8 percent
2013 Season Statistics
4 GP; 34 REC, 319 YDS, 2 TD
The New England Patriots have a confusing amount of fantasy football value during Week 5 due to the potential return of Danny Amendola, per Mike Reiss of ESPN Boston. In turn, many owners are fearing that Julian Edelman will lose his value.
Seeing as Edelman is only owned in 63.8 percent of ESPN fantasy football leagues, it's safe to say that a strong percentage of owners failed to believe in him before Amendola's potential return was announced.
That's a fair fear, but Edelman did catch seven passes for 79 yards and two touchdowns with Amendola playing during Week 1. In fact, Edelman has caught no less than seven passes during each of his four games in the 2013 NFL regular season.
Why bet against him now?
The Cincinnati Bengals have an excellent defense, but if Amendola returns, that means Edelman will not be covered by Leon Hall. If Hall is placed on Edelman, the 27-year-old could have trouble, but he's a slot receiver who has already faced the Buffalo Bills, New York Jets and Tampa Bay Buccaneers.
His value is close to exclusive to point-per-reception leagues, but if you're in one, Edelman is a genuine fantasy football star.
Charles Clay, Miami Dolphins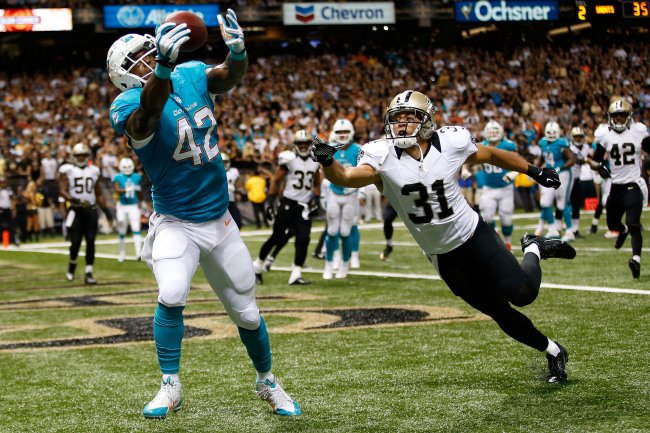 Chris Graythen/Getty Images
Position: Tight End
Opponent: Baltimore Ravens
Owned: 20.0 percent
2013 Season Statistics
4 GP; 20 REC, 245 YDS, 1 TD
The Baltimore Ravens have done an excellent job against tight ends in 2013, specifically due to the pass-rushing combination of Elvis Dumervil and Terrell Suggs. That duo could force Miami Dolphins tight end Charles Clay to block instead of receive.
If you're in a PPR league, however, Clay is an attractive option with four teams on bye.
Clay has 20 receptions for 245 yards and a touchdown through four games, catching at least four passes in every game. During Week 4, Clay had six catches for 42 yards and one touchdown, which would've given him 10 points without the score in PPR leagues.
Miami's offense has been rather unpredictable, but if there's one thing that we know, it's that Tannehill will find Clay on a consistent basis.
There's risk here, but if you're unsatisfied with your current tight end situation, Clay is the player who you need to start. He's a reliable PPR player and will continue to be an effective option as the season progresses.
As long as you're not trusting him to score touchdowns, Clay can be a trusted fantasy football player.