How Russell Westbrook's Absence Could Impact Kevin Durant's 2013-14 MVP Case
There's no way to argue that Russell Westbrook's second knee surgery is a good thing for the Oklahoma City Thunder. But it's actually possible that the absence of OKC's second star could wind up giving Kevin Durant the best shot he's ever had at an MVP award.
For the sake of this discussion, we've got to assume that Westbrook is going to miss at least as much time as the team thinks he will. That means we're penciling in a four-to-six-week absence. And perhaps just as importantly, we're taking for granted that he'll perform at a somewhat reduced level of efficiency when he returns.
If Westbrook doesn't miss much time or comes back as the same player he was last year, it's hard to make a case that Durant's circumstances will have changed in a way that improves his MVP chances.
So let's all just agree to adopt these assumptions for the sake of argument. Cool? Cool.
Addition by Subtraction
We're way past the faulty notion that Westbrook is actually a negative influence on Durant. I mean, we've seen the Thunder make it all the way to the NBA Finals with their dynamic duo sharing the load. So we can't possibly still be possessed of the notion that Durant might be a better player without his sidekick on the court.
Or can we?
According to NBAWowy.com, Durant played 503 minutes during the 2012-13 regular season without Westbrook on the floor. In those minutes, KD was actually a much more efficient offensive player than he was when Westbrook joined him on the hardwood.
You can see some of his notable improvements in the chart below.
Better Off Alone?

| | | | | |
| --- | --- | --- | --- | --- |
| | TS% | eFG% | FG% | Points per Shot |
| Durant w/ Westbrook | .629 | .554 | .503 | 1.21 |
| Durant w/o Westbrook | .682 | .583 | .548 | 1.36 |
NBAWowy.com
From a team standpoint, the statistics prove unequivocally that the Thunder are much worse without Westbrook. Per NBA.com, OKC loses nearly five points per 100 possessions off of its net rating when Westbrook sits.
But the same can't be said of Durant, who simply played out of his mind during a relatively small sample of Westbrook-less minutes last year.
So, it turns out that the tired criticism of Westbrook's negative impact on Durant isn't so tired after all.
With that in mind, there's a pretty good chance we'll see some big numbers out of Durant this season which we might not have gotten with a healthy Westbrook. KD will get a chance to prove that he can retain (or even improve) his remarkable efficiency without his All-Star teammate.
Westbrook's absence gives Kevin Durant a chance to build early momentum in this year's MVP race. It'll be interesting to see what he does.

— Darnell Mayberry (@DarnellMayberry) October 1, 2013
That'll certainly help in his pursuit of an MVP award.
On His Own
OKC won't just be missing Westbrook to start the season; it'll also be without reserve scorer Kevin Martin, who left for the Minnesota Timberwolves in free agency.
The Thunder are hopeful that Jeremy Lamb can give them enough scoring punch off the bench to make up for Martin's absence, but the young wing hasn't done anything to prove he's ready for that role yet. With Reggie Jackson slotted into Westbrook's position in the starting lineup, OKC is going to be relying on a pair of unproven players to shoulder big loads.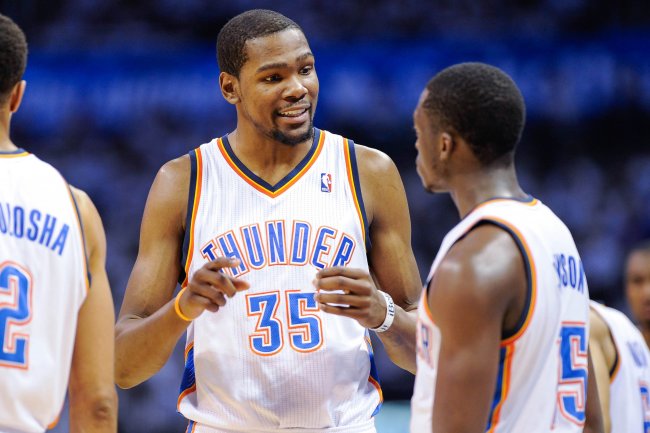 USA TODAY Sports
And that's another reason to believe Durant could post some monstrous numbers.
If his minutes, usage and scoring average all spike as OKC searches for secondary scorers, Durant could make a real impression on MVP voters. We all know there's still a large contingent of basketball analysts who are impressed by big counting numbers. So while the majority of the NBA cognoscenti look toward efficiency ratings, the guys making MVP decisions could be swayed by a massive scoring average from Durant.
If KD has to handle a disproportionate amount of his team's offensive responsibilities, don't be surprised to see his scoring average creep into the mid-30s. Voters will be hard-pressed to ignore that.
Basically, Durant is going to get his chance to silence critics who have argued he has it easier than other superstars. Carmelo Anthony apologists in particular are wont to make the case that 'Melo would be just as effective as Durant if he had a similarly capable sidekick.
Well, KD's safety net is gone now. So if he can put up huge numbers while retaining most of his efficiency, he's got a good shot to shut mouths and open eyes.
The numbers show that KD is capable of major production without Westbrook. Now, he'll get a chance to prove it.
On the Other Hand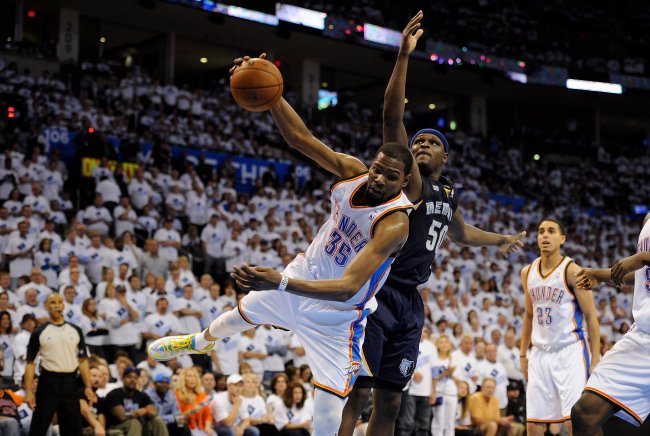 USA TODAY Sports
You know what often matters to MVP voters more than numbers? Team success.
As we've established, the Thunder simply aren't as good without Westbrook. If OKC's record suffers while Durant piles up the numbers, it might be difficult for him to wrangle his first MVP.
Outside factors might weigh into the equation, too.
Across the Western Conference, the competition has gotten tougher. The Houston Rockets, Los Angeles Clippers and Golden State Warriors all improved during the offseason, while the San Antonio Spurs and Memphis Grizzlies look to be as dangerous as ever. Even with Westbrook, it might have been difficult for Durant and the Thunder to snag another No. 1 seed in the West.
And speaking of those Grizzlies, we can't overlook how awful the Thunder looked against them in the second round of last year's playoffs.
Grantland's Zach Lowe, take it away:
Westbrook's injuries exposed Oklahoma City's offense for what it has always been in this era: a stagnant collection of four or five set pieces with nothing behind them — no counters, no constant motion, few bits of exciting improvisation. Any halfway smart team could sniff out what was coming by the time the ball crossed midcourt. And if those set pieces failed, the Thunder would fall back on something even simpler—a one-on-one play for Durant or Westbrook, or perhaps a semi-improvised pick-and-roll, as the other players stood around.
While it's true that Durant generally performed well without Westbrook last season, he took a real beating against Memphis. Not every team defends like the Grizzlies, but now the rest of the league has a blueprint for attacking OKC when it's missing its point guard.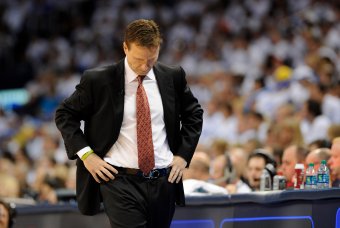 USA TODAY Sports
And pardon me if I don't feel particularly confident that Scott Brooks is going to draw up an entirely new offense to combat the league's Durant-centric defenses.
If Durant sees the kind of dogged pressure and single-minded defensive attention he saw against the Grizzlies, he's got no shot to put up MVP numbers this year.
So You're Sayin' There's a Chance...
Troy Taormina-USA TODAY Sports
Ultimately, something had to change in order for Durant to win an MVP award. With LeBron James still around—and inexplicably somehow improving—there was no way KD could have hoped to overtake him under normal circumstances.
But the Thunder won't face normal circumstances this year.
Durant is going to have to take on an oversized load, and by doing so, he's at least going to give himself a chance to break out of the status quo.
Maybe he'll buckle under the pressure. Maybe defenses will key on him to such a degree that it'll be impossible for him to retain his trademark efficiency. Maybe the Thunder will wind up in the middle of the pack in the West.
Or maybe Durant will seize the opportunity to push himself, prove he can be even better than anyone ever dreamed and capitalize on adversity.
The situation isn't ideal for the Thunder, but it might be the perfect one for KD to chase down his first MVP award.
This article is
What is the duplicate article?
Why is this article offensive?
Where is this article plagiarized from?
Why is this article poorly edited?

Oklahoma City Thunder: Like this team?