MLB Playoffs 2013: Ranking Best Remaining Pitching Staffs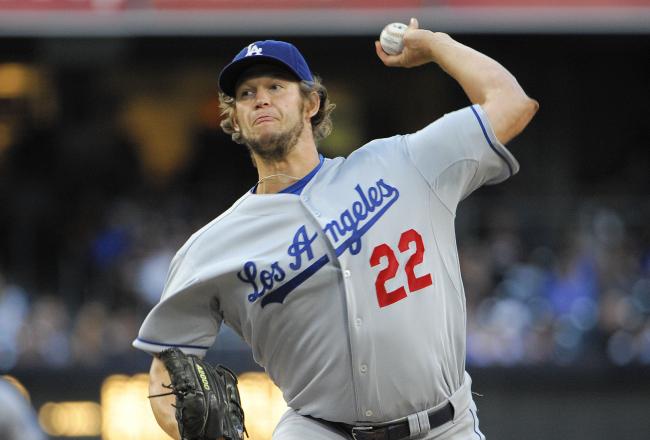 Denis Poroy/Getty Images
All those home runs and clutch hits are exciting, but when it comes to the MLB playoffs, a strong, deep pitching staff is what makes a team a true World Series contender.
From great starting pitchers to dominant closers, a strong pitching staff can shut down any batting order, regardless of how strong they are. Despite all of the power that the Detroit Tigers had in 2012, they were still swept in the World Series thanks to that strong pitching staff of the San Francisco Giants.
There are a number of teams with great pitching staffs in the playoffs this season, so let's rank all of them. These rankings are based off of overall pitching, with an emphasis on starting pitchers.
*Watch postseason baseball live on TBS.com or your mobile device.
9. Cleveland Indians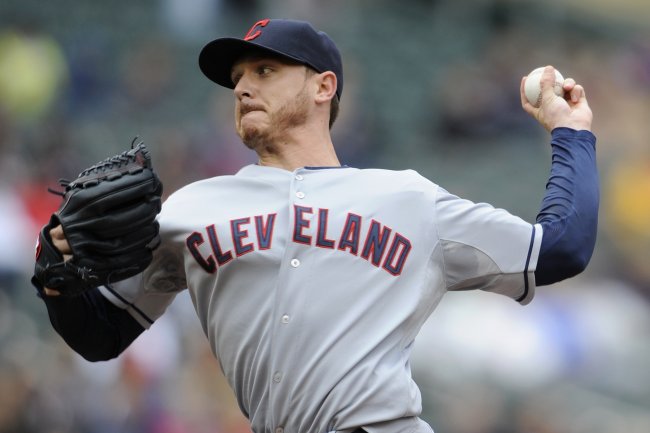 Hannah Foslien/Getty Images
A strong batting order has led the way for the Indians this season, with their pitching staff a bit behind. Still, with a playoff berth, I'm sure the Indians aren't complaining too much.
After struggling mightily since the move to Cleveland, Ubaldo Jimenez finally looks like his old self. He has just a 3.30 ERA in 182.2 innings pitched, throwing 194 strikeouts. The rest of the starters have struggled with consistency however, ranking just 27th in the majors with 73 quality starts this season.
The lack of a dominant closer hurts this team as well, so the offense will be looking to give their team plenty of wiggle room by the end of games.
8. Boston Red Sox
When you're undeniably the best offensive team in the MLB, you can get away with an average pitching staff.
As a team, the Red Sox have an ERA of 3.79, which isn't bad, but it's not elite like some of these other teams. John Lackey leads the team with the best eligible ERA at 3.25, but other starters, like Felix Doubront and Ryan Dempster, have ERAs of 4.32 and 4.57.
Koji Uehara has become a great closer almost out of nowhere this season. He's had 21 saves and 13 holds, but also has 101 strikeouts in just 74.1 innings and an ERA of just 1.09.
7. Tampa Bay Rays
It seems crazy to have the Rays this low on the list, but it's just a testament to how truly impressive the pitching is on all of these teams.
David Price and Matt Moore have been strong starting pitchers this season, combining for 337 innings pitched, 27 wins and 294 strikeouts. Both pitchers' ERAs are also hovering around the 3.30 mark. Fernando Rodney has also been an electric closer, posting 37 saves and 82 strikeouts.
However, players like Jeremy Hellickson and Roberto Hernandez have hurt this pitching staff, posting ERAs of 5.17 and 4.89 respectively. They've also combined for 23 losses this season.
6. St. Louis Cardinals
What makes the Cardinals so good isn't the fact that they have an absolutely dominant pitching staff, it's that they have balance with great batting and great pitching.
They might not be the best pitching staff in the playoffs this year, but Adam Wainwright is one of the best pitchers left standing right now. An ERA of 2.94 in 241.2 innings pitched along with a 19-9 record shows why he's one of the best in the business.
Being in the National League skews the Cardinals' stats a bit, but they also aren't the strongest team at keeping opponents from getting hits, with a batting average against of .249, 12th in the MLB.
5. Detroit Tigers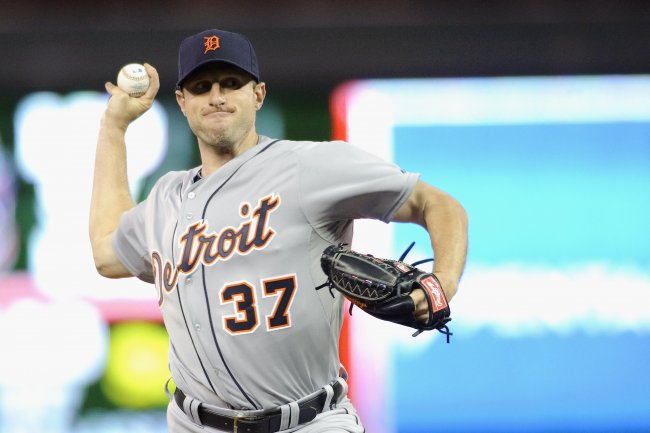 Hannah Foslien/Getty Images
The bats are dangerous in Detroit, but so is their pitching staff, which is why they have a shot to go to the World Series for the second straight season.
Justin Verlander hasn't been as dominant as in previous seasons, but he's still been great, positing a 3.46 ERA and 217 strikeouts. Max Scherzer has been the true star of the pitching staff, going 21-3 with a 2.90 ERA in 214.1 innings this season, making a strong case for the AL Cy Young award.
With Anibal Sanchez in the mix as well, this starting staff looks top-notch. However, they're going to need to get some support from their bullpen if they want to hold on to leads through the playoffs.
4. Pittsburgh Pirates
Wow, Francisco Liriano certainly looked great in that Wild Card round, and the Pirates are going to be hoping that their pitchers can play like that every game in order to continue this Cinderella Story.
A consistent Liriano and an aging, but impressive, A.J. Burnett have led the starters this season, but the team as a whole is shutting opponents down with a 3.26 ERA. Opposing batters are also just hitting .238, the second-best in the majors.
It will be interesting to see how they use their young prospect Gerrit Cole throughout the playoffs. In his first season in the big leagues, Cole has gone 10-7 with an ERA of 3.22, showing off that speedy fastball.
The bats aren't always the hottest for the Pirates, so they're going to need to rely upon their starters to toss some gems, and for the bullpen to step up if they want to continue their postseason run.
3. Oakland Athletics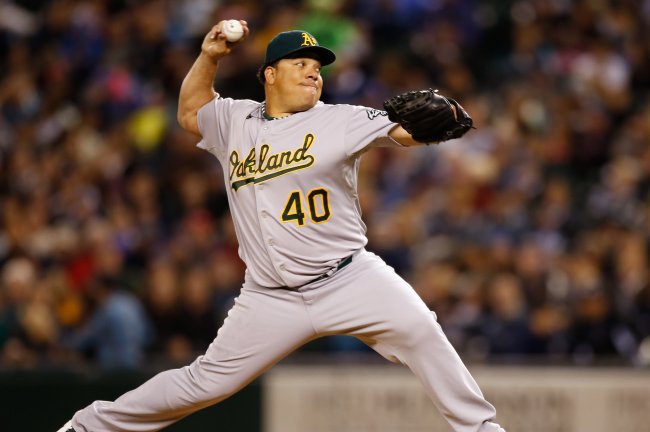 Otto Greule Jr/Getty Images
Not a lot of people were expecting this kind of season from the Athletics, but now that they're here, they're looking to make a big push in the playoffs behind some strong pitchers.
As a team, the Athletics had the second-best ERA at 3.56 in the American League. They also had an opposing batting average of .242 and WHIP of 1.22.
At 40 years, Bartolo Colon has blown people away. Not only has he won 18 games, he's also had an ERA of just 2.65 in 190.1 innings. Their late-game specialists in Ryan Cook and Grant Balfour have been spectacular as well, with both recording an ERA just over 2.50 and combining for 40 saves and 23 holds.
2. Los Angeles Dodgers
Yasiel Puig got all of the media attention this year, but that pitching staff looks truly elite. A team ERA of 3.25 is the second-best in all of baseball, and they rank top 10 in quality starts, WHIP, BAA and strikeouts as well.
Clayton Kershaw has arguably been the best pitcher out of anyone this season, and is the clear favorite for the NL Cy Young award. He has a ridiculous ERA of just 1.83 in 236 innings pitched with a WHIP at 0.92. Hyun-Jin Ryu has been making his own case for the NL Rookie of the Year, going 14-8 with a 3.00 ERA in 30 games started.
Had the Dodgers had a truly dominant closer, they would be number one, but the choice for the top pitching staff isn't a difficult one.
1. Atlanta Braves
Who has the best pitching staff in the playoffs?
Could you really think of any team with a better pitching staff than the Braves? They lead the majors with just a 3.18 ERA, and are second with 102 quality starts and a 1.20 WHIP.
Mike Minor, Kris Medlen and Julio Teheran have been sensational starters, pitching in a combined 92 games with 42 wins and nearly 600 innings pitched. Anthony Varvaro has been a fantastic relief pitcher, appearing in 62 games with an ERA of just 2.82.
To top it all off, Craig Kimbrel has just been a terrific closer. He's had 50 saves and just four blown saves this year, boasting a 1.21 ERA and 98 strikeouts in just 67 innings pitched.
There's no denying how great the Braves' staff is, and if they're as good in the playoffs as they were in the regular season, they shouldn't have much trouble making it to the World Series.
This article is
What is the duplicate article?
Why is this article offensive?
Where is this article plagiarized from?
Why is this article poorly edited?