Virginia Tech Football: Breaking Down Their Offensive Problems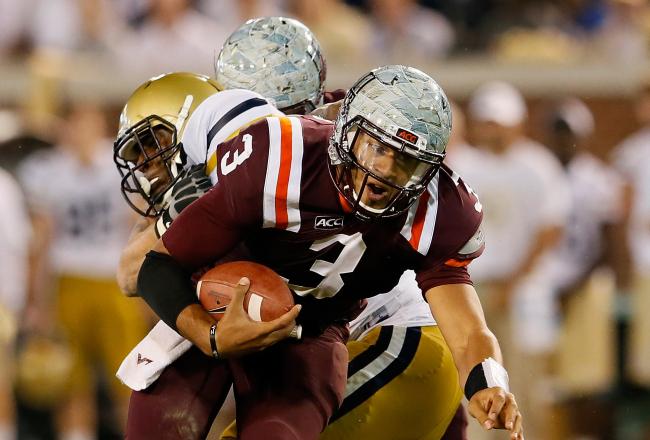 Quarterback Logan Thomas played well against Georgia Tech, but there's still lots of room for improvement on the Hokies' offense.
Kevin C. Cox/Getty Images
The Virginia Tech football team's defense is one of the best in the country, but saying that its offense has some room for improvement is putting it lightly.
The offense might not be as much of a train wreck as last year's squad, which finished 83rd in total yards in the whole country last season, but it's still been hard to watch.
The unit is only averaging 328.6 yards per game this year.
If the team wants to be serious about contending in the ACC Coastal division, offensive coordinator Scot Loeffler will have to help the offense step up and stop relying on Bud Foster's defense.
Wide Receiver Woes
Quarterback Logan Thomas had a brutal season in 2012, but it was hardly all his fault.
He lost Tech receiving legends like Jarrett Boykin and Danny Coale, and didn't have much to replace them with.
This is season is no different.
Although his receivers have flashed potential, Thomas has still been held back by their inconsistency.
Thomas has undoubtedly been inaccurate at times, but the sheer volume of drops by his receivers has been a bit incredible.
Sophomore Demitri Knowles has been particularly frustrating.
Knowles has speed but hasn't mastered the body positioning needed for deep routes.
Several of his mistakes have led to interceptions on deep balls, like this one against Western Carolina.
Demitri Knowles regularly struggles with deep balls.
Yet Thomas keeps going to him and Loeffler keeps running him on deep routes, instead of utilizing his speed in other ways.
But Knowles is hardly the only culprit.
Redshirt senior D.J. Coles has been especially bad, with a variety of drops, like this one against the Georgia Tech Yellow Jackets.
D.J. Coles has displayed inconsistent hands this season.
Thomas may have his issues, but his receivers have greatly enhanced them.
Running Game Oddity
The rushing attack has shown flashes of competence, but it has yet to come together consistently.
Part of this may be due to the inexperience on the offensive line or at the running back position itself, but the play design on many run plays aren't helping matters either.
This run for no gain by Trey Edmunds against the Jackets is a perfect example of Loeffler's odd way of executing running plays.
This Trey Edmunds run is a perfect example of Scot Loeffler's frustrating play design.
With just three minutes left in the game, everyone in the stadium knows that the Hokies wanted to run the ball.
Yet the team lined up in a spread formation with Edmunds split out wide.
But then Edmunds motions to stand next to Thomas and immediately takes the handoff.
He's predictably dropped at the line, largely because of the play design.
If he'd just started out next to Logan in a more predictable shotgun formation, maybe the Jackets believe the Hokies are serious about throwing and want to use Edmunds as a blocker.
Instead, Loeffler moves Edmunds around, drawing attention to him.
The best motions are meant to reveal what the defense is doing, not showcase who's getting the ball on offense.
It's typical of Loeffler's attitude toward the run game.
For all his preseason proclamations about wanting to run a power run game, he often seems hesitant to simply line up in a power formation and pound the ball. He has some strong interior lineman in guards Caleb Farris and Andrew Miller, and a power back with Edmunds, but he still insists on using trickery.
But this hasn't even been the biggest problem with the running attack.
Thomas Troubles
One of Thomas' best attributes as a player is his running ability.
That doesn't mean the coaches need to run him at the exclusion of everyone else.
Thomas led the team in rushing yards last season because the team struggled to find consistency at running back; Loeffler claimed those days were a thing of the past.
Yet, Thomas again led the team in rushing against Georgia Tech and is second on the team in both carries and running yards so far this season.
By the end of the game in Atlanta, Loeffler ran Thomas pretty much exclusively, as many observed.
Virginia Tech going ball control here. Putting it on Thomas' shoulders. Couple of read option plays there. #Hokies

— Andy Bitter (@AndyBitterVT) September 27, 2013
Now, that's not always a bad thing. Thomas has gotten better at read option plays and they can undoubtedly be effective.
Just look at the way this good read by Thomas confuses Georgia Tech's defense and leads to a big gain.
Thomas is capable of making good runs.
But the downside to this tactic is that it puts a huge physical pressure on the team's most important player. He was dealing with an abdominal strain coming into the game, and this week he's been spotted in a walking boot to nurse a strained ankle.
Relying on Thomas also makes read option plays and the inverted veer considerably less effective.
The Jackets quickly learned to ignore the team's running backs on option plays because they knew Thomas would be the one keeping the ball and he took a pounding as they keyed on them.
Thomas also tends to merely glance down field instead of sitting in the pocket, and he'll turn to the run as an alternative.
Running the quarterback so often encourages the defense to put a spy on Thomas and shut down these attempts at improvisation, as the Jackets do on this play.
Thomas will get pounded on improvised runs if he's run on designed runs too often.
Thomas is certainly a physical freak, but he won't stay that way if he keeps bearing the brunt of the load in the run game.
Instead, he should only run on the occasional play to maintain the element of surprise. Anything else is just overkill and ineffective.
The defense is certainly capable of carrying this team to a lot of wins, but the offense has to pick it up.
If the receivers can improve and Loeffler can fix these aspects of the running game, the unit might finally start to find some success.
But if the unit keeps performing the way it has, winning the ACC Coastal division, let alone the conference itself, is be a pipe dream.
This offense has the potential to be explosive. It just needs to correct a few simple issues to make it to the next level.
This article is
What is the duplicate article?
Why is this article offensive?
Where is this article plagiarized from?
Why is this article poorly edited?

Virginia Tech Football: Like this team?