NBA Training Camp 2013: Breaking Down the 7 Biggest Camp Battles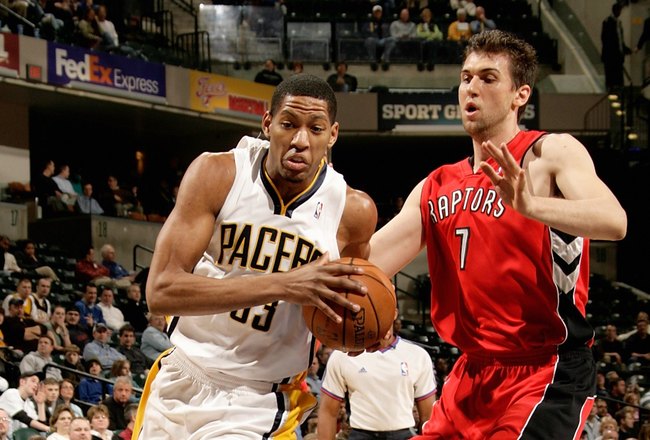 Ron Hoskins/Getty Images
After wheeling, dealing and signing their way through the offseason, the work isn't done for NBA teams. They must now sift through what they've built and decide who fits where.
Handfuls of organizations already have their starting lineups and rotations close to figured out. Others, meanwhile, are using training camp and the preseason games that follow to gauge how they'll approach the regular season.
Will Danny Granger start over Lance Stephenson? Are the Houston Rockets serious about starting Dwight Howard at power forward? Do the Sacramento Kings know you don't get bonus points for having too many logjams?
Next season has mercifully become this season, which means starting spots and rotational jobs are up for grabs. And there's no shortage of players looking to reach in and snag them.
Honorable Mention: Boston Celtics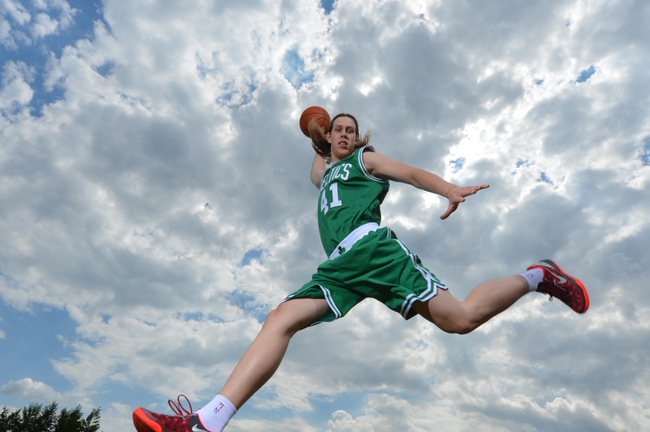 Jesse D. Garrabrant/Getty Images
The Battle For: Starting center
Participants: Kelly Olynyk vs. Casper the friendly ghost
The Question: Is it true grabbing rebounds is optional?
Olynyk should start at center for the Boston Celtics. At 7'0" he can space the floor like Andrea Bargnani as a stretch 5, but he has the potential to rebound like he stands for everything Bargs doesn't.
With the Celtics lacking size and sufficient three-point shooting in general, however, Olynyk is likely to see more minutes as a stretch 4, where three-point enthusiasts are more accepted. Kris Humphries and Vitor Faverani will get more business at the 5.
This is really just my plea for the Celtics to reconsider before they even make a decision.
Humphries, to his credit, poses an intriguing option. Able to rebound but fitted with the range to play inside-out next to Olynyk, he's also the better option. Brandon Bass, Jared Sullinger and the guy who plays the banjos six blocks east of the TD Garden will be expected to pitch in as well.
I will say this: If Brad Stevens names Faverani the starter, Danny Ainge will no longer be able to tell us Boston isn't tanking without snickering or being struck by lightning.
Prediction: Stevens starts Humphries at center knowing full well there may come a time when Avery Bradley needs to play out of position.
Honorable Mention: Oklahoma City Thunder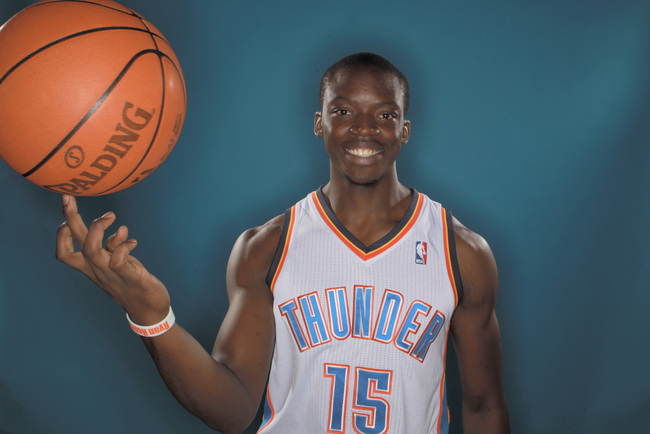 Layne Murdoch Jr./Getty Images
The Battle For: Sixth man
Participants: Reggie Jackson vs. Jeremy Lamb
The Question: Did we really call "no take backs" on the James Harden trade?
This isn't going to be an issue right away. The Oklahoma City Thunder announced Russell Westbrook would miss the first four to six weeks of the regular season, invoking the need for Jackson to start in the interim.
Once Westbrook returns, this becomes a pressing issue again.
Lamb stands to benefit from Westbrook's absence, as he won't have to beat Jackson out for the right to be Kevin Martin's successor right away. He logged just 147 total minutes last season. He will need more than a training camp and preseason to gain traction. Any extra playing time he gleans from being an immediate sixth man will either bolster or undermine his case moving forward.
Starting, meanwhile, gives Jackson the chance to prove his postseason wasn't a mirage. In nine games as a starter, he averaged 15.3 points and 3.7 assists on 47.2 percent shooting. Building upon that performance saves the Thunder from immediate disaster to open the season and gives Scott Brooks some things to think about.
It's difficult to imagine Jackson winning the sixth man slot, if only because the Thunder don't have the tools to run a dual point guard lineup. Neither Jackson nor Westbrook is a floor-spacing shooter, and their playing styles conflict considerably.
If Westbrook returns on a minutes cap and his time on the floor can effortlessly be staggered against Jackson's insertion, then maybe. But unless Jackson proves to be a valuable shooter out of the gate, or his competitor tanks Kendrick Perkins style, Lamb makes more sense as a sixth man next to Kevin Durant and Westbrook.
Prediction: Lamb becomes OKC's everyday sixth man, much to the chagrin of yours truly, who previously argued in favor of Jackson.
Cleveland Cavaliers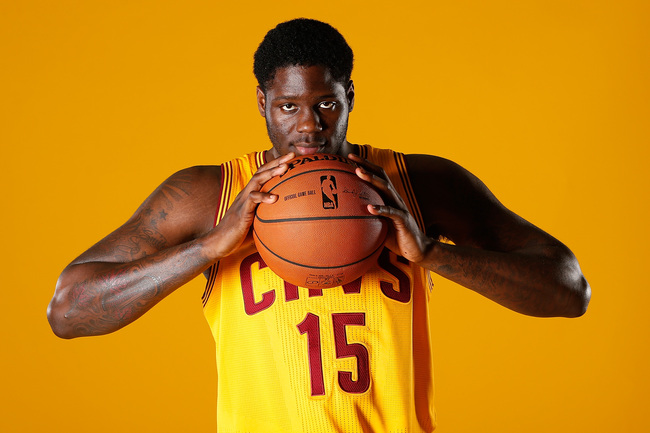 Gregory Shamus/Getty Images
The Battle For: Starting power forward
Participants: Anthony Bennett vs. Tristan Thompson (vs. Anderson Varejao?)
The Question: What in tarnation have we built here?
No. 1 overall picks are typically used as starters, but they're also normally selected to fill a gaping hole. The Cleveland Cavaliers shockingly didn't abide by such standards this past summer.
Two years after drafting Thompson with the fourth pick of the draft, they took Bennett with the first. Then they went and signed Andrew Bynum, giving them the option of running with Varejao at the 4 too.
Since Bynum is Bynum, and Varejao is an injury-prone mess himself, the center situation should work itself out. The battle for who starts at power forward will likely be reserved for Bennett and Thompson.
Who the Cavaliers ultimately choose depends upon a number of things, like who has a better training camp and preseason—or who's actually healthy. Bennett had surgery on his left shoulder before the draft, so that could factor into the decision-making process.
Top selections aren't supposed to come off the bench. They're usually taken by desperate franchises that need a savior now.
But the Cavs are a rare combination of lucky in the lottery, far from incompetent and slightly confusing. They could go either way, and no one in Cleveland would lose sleep.
Prediction: Cavs consult LeBron James; he tells them to run with Thompson to start the season.
Sacramento Kings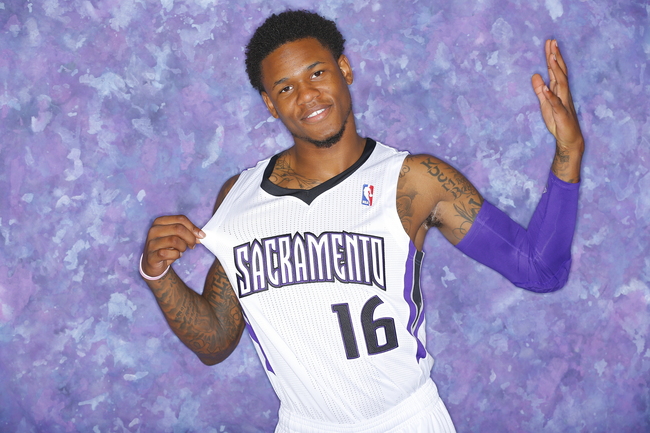 Rocky Widner/Getty Images
The Battle For: Just about everything
Participants: Everyone not named DeMarcus Cousins
The Question: Holy crap, is this really our roster?
The Kings inexplicably have a logjam at every position. Nowhere on the roster is there a player who stands out at his position over everyone else, other than Cousins of course.
Leading into the regular season, we'll be treated to a multitude of positional battles. Greivis Vasquez vs. Isaiah Thomas at point guard. Ben McLemore vs. Marcus Thornton at shooting guard. Luc Richard Mbah a Moute vs. John Salmons at small forward. Carl Landry vs. Patrick Patterson vs. Jason Thompson vs. the hot dog vendors at power forward. Jimmer Fredette vs. Travis Outlaw for the comfiest seat on the bench.
Under new ownership and free from the albatross of actual expectations, the Kings can experiment like husbands on a Hall Pass. Mike Malone can mix and match all he wants to see which lineups work best.
Given all the choices at hand, however, let's just say I don't envy him.
Prediction: After finding out the NBA won't let them roll 10-on-five, the Kings field a starting lineup of Vasquez, McLemore, Mbah a Moute, Landry and Cousins. Thornton becomes the sixth man, while Thomas, Patterson and Thompson are valued role players. Jimmer gets traded (eventually).
Indiana Pacers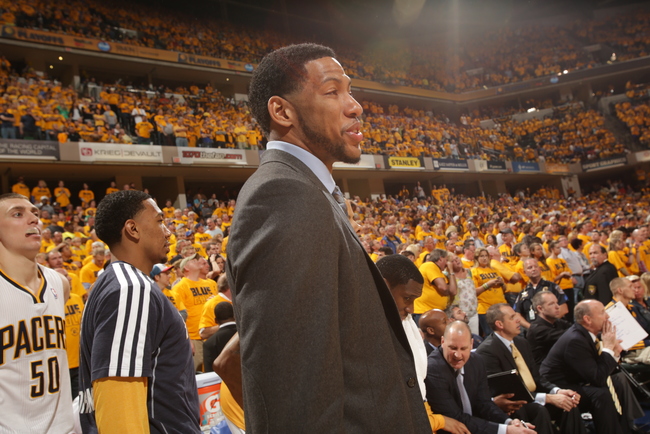 Ron Hoskins/Getty Images
The Battle For: Starting shooting guard or small forward
Participants: Lance Stephenson vs. Danny Granger
The Question: Can't we just start six players?
Training camp decisions aren't any more difficult than the one Frank Vogel must make.
On the one hand, the Indiana Pacers have a returning Danny Granger, a former All-Star who led the team in scoring just a season ago. On the other, they have a budding Lance Stephenson, who is both younger and more athletic.
Choosing Granger is dicey because he's on an expiring deal. Unless he plans on taking a drastic pay cut, he'll be a glorified placeholder. Do the Pacers really want to change their starting lineup again next season after he leaves?
Yet Granger is still the way to go.
He spreads the floor more than Stephenson, who has shot under 30 percent from deep for his career. When you run with two bigs and a swingman who likes to put the ball on the floor (Paul George), Stephenson restricts Indy's offensive arsenal more than Granger.
Consider that the Pacers don't have a dominant point guard either. George Hill is a shooting guard masquerading as a 1, while C.J. Watson is all kinds of turbulent. Stephenson will be a nice anchor as a second-unit playmaker.
Prediction: Granger starts at the 3, while George slides to the 2 and Stephenson joins a suddenly deep bench. This move proves only temporary, as Granger gets traded by the deadline, re-injures his knee or leaves during free agency.
Golden State Warriors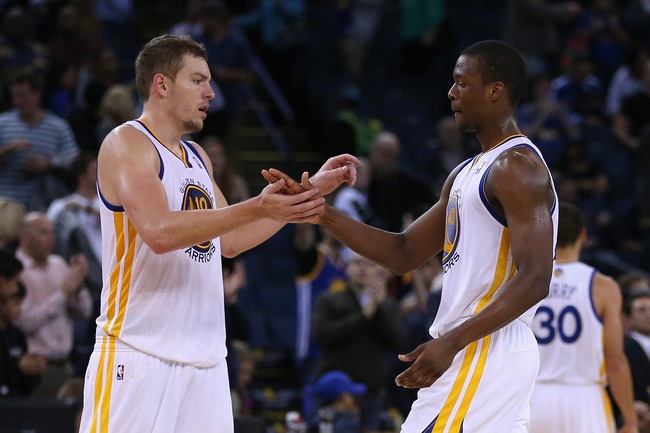 Ezra Shaw/Getty Images
The Battle For: Starting power forward
Participants: David Lee vs. Harrison Barnes

The Question: Festus, can you pick for us?
Mark Jackson has skillfully evaded questions on what the Golden State Warriors' starting five will look like, but he won't be able keep us in the dark much longer.
Sheer logic would have the Warriors start Lee. It shouldn't even be a question. He's a two-time All-Star, double-double machine and seasoned vet. Let Barnes lead the second unit as a sixth man.
Golden State's party line would read something similar if the playoffs never happened, if Lee's injury never happened—and to a lesser extent, if they never acquired Andre Iguodala.
Barnes averaged 16.1 points and 6.4 rebounds per game in the postseason, and the Warriors small-balled their way to the second round and a near upset of the San Antonio Spurs. Coach Jackson can't just ignore that. And he won't.
Demoting Lee to a sixth-man role isn't as egregious as it seems. All-Stars can come off the bench. Gregg Popovich moved Manu Ginobili into a bench role one year after he made a 2011 All-Star appearance. The difference is Coach Pop doesn't care what you think, and injuries to Ginobili made the decision for him. Not to mention Ginobili has vacillated between a starter and sixth man his entire career.
Unless Lee's health does something similar for Jackson, Barnes will be pulling bench duty.
Predictions: Lee wins the right to start, but the Warriors still play small a lot.
Los Angeles Lakers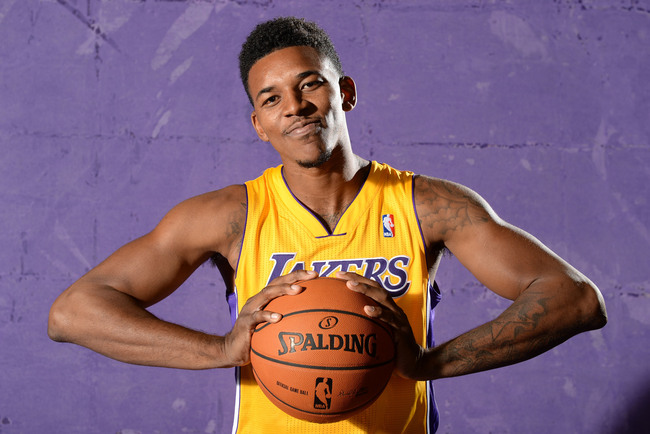 NBA Photos/Getty Images
The Battle For: Starting small forward
Participants: Wesley Johnson vs. Nick Young?

The Question: How do you like your defense, Magic Mike? Completely nonexistent or still pretty awful?
There isn't going to be much defense played by the Los Angeles Lakers this season. Get over it. Dwight Howard scampered off to Houston, and the Lakers willingly parted ways with Metta World Peace, their best perimeter defender.
The absence of that dominant defender increases the importance of Johnson. Three years into his career, he has failed to emerge as a consistent scorer, but he's been touted as a commodity on defense.
Young represents the other side of the spectrum, where defense is mythological and players are paid by the shot attempt. Unlike Johnson, he's not afraid to let 'er rip and is connecting on more than 37.4 percent of threes for his career.
Mike D'Antoni loves his treys almost as much as he loves pretending he knows how to spell "defense." I'll let you decide whom he places at the 3 next to Kobe Bryant.
Prediction: Magic Mike starts Young at small forward, and the Lakers learn the true meaning of "chucker."
New York Knicks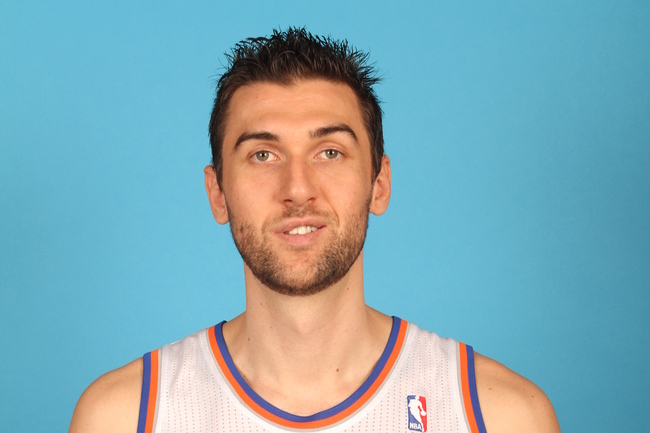 Ray Amati/Getty Images
The Battle For: Starting small or power forward
Participants: Andrea Bargnani vs. Metta World Peace vs. Iman Shumpert

The Question: Does utter confusion win championships?
Let's be honest with each other: Amar'e Stoudemire isn't going to start. The New York Knicks will be lucky if he can give them 20 minutes a night and appear in 45 games. Mike Woodson isn't going to start someone who's physically unreliable.
That leaves Bargs and World Peace. Oh, and Shump too. New York found success running a hybrid guard lineup last season, in which two point guards man the backcourt and Shumpert takes over at the 3.
Looking at the way the roster is currently assembled, that's the least likely option. Bringing J.R. Smith, STAT and Bargs off the same bench would mark the death of defense. More likely, the Knicks start Raymond Felton and Shumpert in the backcourt.
Now that really leaves Bargs and World Peace. Though World Peace allows Carmelo Anthony to remain at the 4, it leaves the Knicks with the same problem we discussed before: How do you find room for Bargs, STAT and Smith in the same second unit?
You don't. Bargs has been a starter almost his entire career. He adds size to the starting lineup and allows Anthony to assume the role of a stretch 4 on offense, while technically starting at small forward.
Expect Bargs to be a fixture in the starting five.
Prediction: Bargs is named the starting power forward, even though he'll really be the small forward.
Houston Rockets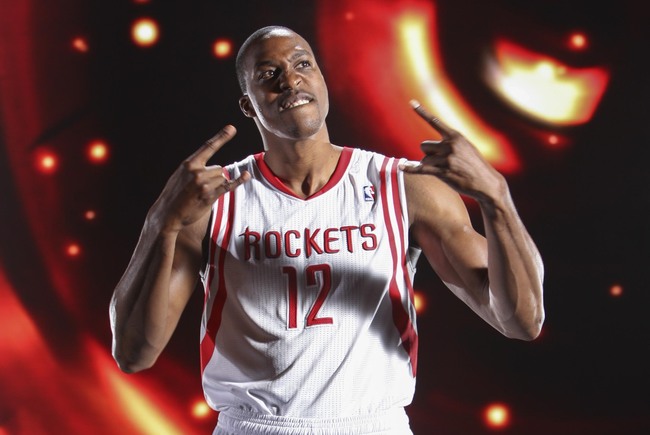 Troy Taormina-USA TODAY Sports
The Battle For: Starting power forward
Participants: Dwight Howard vs. Omer Asik vs. Anybody Else vs. Please Don't Let This Happen

The Question: Is it possible to contend while actively making decisions that hurt the team?
There's no telling where this battle will take us or what players are really battling for. The starting power forward position? Center? The right to not blow floor spacing straight to hell?
Howard is open to playing power forward and thinks he can play power forward.
"There is no need to adjust," he told reporters during a recent visit to Taiwan. "I have been playing basketball for my whole life. I started it up playing a point guard."
Spit that out before you digest it, because it's crap. Houston would have to change its entire offensive dynamic to make a full-time Howard-Asik pairing worthwhile.
Neither Howard nor Asik can play the 4 in the Rockets' current three-heavy offense.
More than 90 percent of each of their shot attempts came inside nine feet last season, according to Hoopdata.com. That won't fly next to ball-dominating guards like James Harden and Jeremy Lin. Dreams of contention will quickly dissipate into nothing.
Other, better options exist on the roster. Donatas Motiejunas, Reggie Williams or Francisco Garcia could start while Asik comes off the bench. Howard would start at center where he belongs, and the rest of the positions could be shifted around accordingly.
Ideally, the Rockets could also trade Asik in favor of a truer, more experienced stretch 4. But we don't live in an ideal world. If we did, Howard wouldn't be on the brink of starting at power forward and making a mockery of Houston's once-potent offense.
Prediction: Kevin McHale allows Superman to start at power forward. Upon seeing how poor a decision that is, he puts an end to the madness, and the Rockets either start an actual power forward already on the roster or go out and get one.
Keep Reading