X-Factors in the Battle for Each NHL Division in 2013-14 Season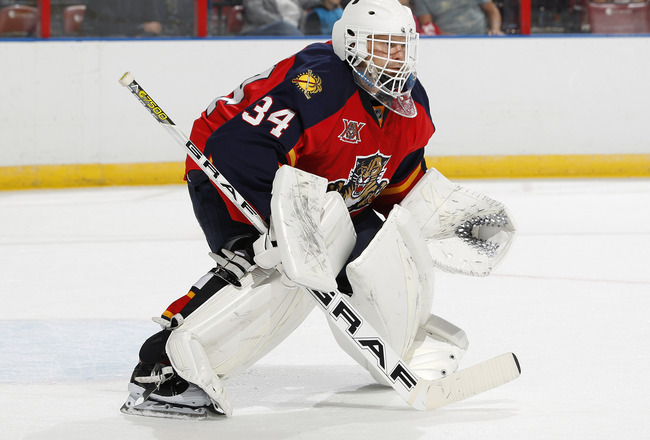 Joel Auerbach/Getty Images
There are going to be many dramatic twists and turns to the 2013-14 NHL season.
General managers who think they have given their coaches adequate talent will fire those coaches if their teams underperform.
Players who don't live up to expectations will be demoted or traded. Players who were afterthoughts in training camp may get an opportunity to play and become impact performers.
We may think we know what's going to happen, but there are dozens of X-factors that will impact the regular season.
In this piece, we look at three X-factors per division.
Atlantic Division
Detroit's Young Defense
The Detroit Red Wings have plenty of star power up front with Pavel Datsyuk, Henrik Zetterberg, Daniel Alfredsson, Johan Franzen and Stephen Weiss. They have solid goatending with Jimmy Howard and perhaps the best coach in the game in Mike Babcock.
However, there are questions as the Red Wings go from the Western Conference to the East. Those questions are on the blue line where young defensemen Danny DeKeyser, Jakub Kindl and Brendan Smith are going to have an opportunity to assert themselves.
Babcock is not looking for these young players to fill in or hold their own. All three have a chance to become stars. If they live up to their potential, the Red Wings have a chance to become the best team in the Eastern Conference. If they struggle, the Red Wings may be fighting for the last playoff spot in the conference.
The Return of Tim Thomas
Tim Thomas took a year off before he made noise that he wanted to return to the NHL. Thomas shocked the Boston Bruins when he told them he did not want to play last year, but they managed to survive without him.
While free agency was not kind to Thomas, the Florida Panthers asked him if he wanted to come to camp and try out for a position. Thomas was not too proud to prove himself, and he accepted the Panthers' offer. He was successful and made the team.
The Panthers struggled badly last year, and their goaltending was awful. Thomas has a chance to turn a weakness into a strength. Nobody is looking at the Panthers as anything but a tail-ender. If Thomas is on his game, could he become the X-factor that makes them competitive? That's what general manager Dale Tallon is counting on.
Can Tallinder solidify the defense?
The Buffalo Sabres have not been to the playoffs since the 2009-10 season.
That season, defenseman Henrik Tallinder had four goals and 16 assists with the Sabres and finished with a plus-13 rating. During that offseason, Tallinder signed with the New Jersey Devils.
Since that time, the Sabres have struggled. While there are many problems in Buffalo, it seems clear that the return of Tallinder should be good for the team, especially defenseman Tyler Myers.
The two had been partners in Tallinder's earlier stint with the Sabres, and that's when Myers was most effective.
If Tallinder is good for Myers this time around and steadies the Buffalo defense, he could be an X-factor for this troubled team.
Metropolitan Division
The Relationship between Martin Brodeur and Cory Schneider
There's every reason to think that general manager Lou Lamoriello was just planning for the future when he acquired Cory Schneider from the Vancouver Canucks.
Schneider gives the Devils a chance to have a seamless transition in net from Martin Brodeur to Schneider when Brodeur calls it a career.
However, there's one thing wrong with that scenario. Schneider is a better goalie than Brodeur is right now. Brodeur would never admit it, but he has to know that Schneider is quicker, more skilled and more consistent at this point in their respective careers.
The situation could get uncomfortable, as Brodeur may feel as if he is getting pushed out of New Jersey, and he could be filled with resentment as the season progresses.
That's the X-factor that could doom the Devils' season.
Growing Pains with the Rangers
The Rangers stopped growing under John Tortorella. President and general manager Glen Sather knew it and sent the explosive coach packing.
The Rangers had become focused on defense, shot-blocking and playing error-free hockey under Tortorella. Sather brought in creative Alain Vigneault to spark the offense and give the team's power play new life.
While Vigneault was quite successful in the past with Vancouver, he can't be expected to make it work in New York right away. The Rangers will need time to get used to their new coach's game plan and strategies, and it could mean that they will have to get hot in the second half of the season to make the playoffs.
Replacing Mike Ribeiro Won't Be Easy in Washington
The Capitals opened the season with a hard-fought 6-4 loss to the Chicago Blackhawks. In the game, head coach Adam Oates saw former Maple Leaf Mikhail Grabovski score a hat trick in his first game.
Grabovski is playing center on the Caps' No. 2 line this year. Does that three-goal outburst mean that the Caps have found the perfect replacement for Mike Ribeiro?
Ribeiro signed a free-agent contract with the Phoenix Coyotes after a stellar 2012-13 season. Grabovski put on an impressive show in his first game, but the Caps are looking for consistency and not stardom.
If Grabovski can score 25 goals, that should be enough to take the heat off Alex Ovechkin and Nicklas Backstrom.
Central Division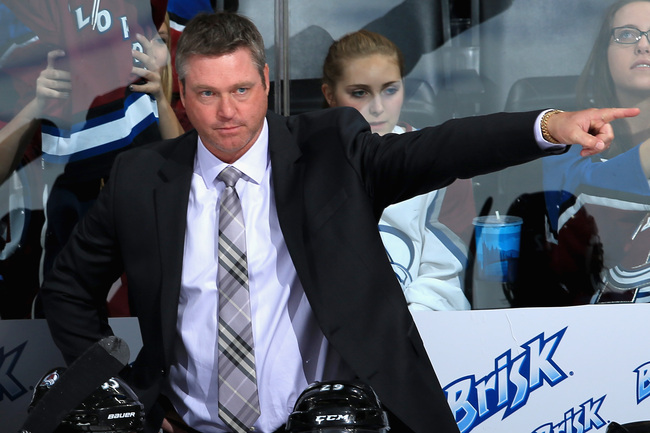 Doug Pensinger/Getty Images
Patrick Roy behind the Bench
Patrick Roy and Joe Sakic are teaming up in Colorado to try to turn the Avs into contenders. This is a bold move, but there are no guarantees that either man knows what he is doing. Sakic has never been an NHL general manger and Roy has never been an NHL head coach.
It would be hard enough if the Avs were a middle-of-the-pack team. However, they have been in the draft lottery three of the last five years and they have failed to make the playoffs in four of the last five seasons.
Roy has a roster with plenty of young offensive talent, but the blue line and the goaltending are problem areas. How is he going to minimize these weaknesses and how will he grow the young offensive talent? If he does not have the coaching acumen, the Avs could find themselves in the division's cellar. If he does have the skills, it could be a renaissance season in Denver.
Does Sergei Gonchar Have Enough to Run the Power Play
There are many issues in Dallas, as new general manager Jim Nill has made roster changes and brought in former Sabres bench boss Lindy Ruff to serve as the team's head coach.
Of all the moves that Nill has made, bringing in veteran defenseman Sergei Gonchar seems the most curious. Gonchar, 39, has been brought in to play defense and run the power play from the point.
If Gonchar were 29 or in his early 30s, this move would make more sense. Gonchar still has a decent shot and can pass, but his legs are not what they were and he does not have much energy.
It's hard to see this X-factor becoming a positive for the Stars.
Can Devin Setoguchi Bring the Firepower?
The Jets know they need to score more than they have in their first two seasons in Winnipeg. While they have all kinds of defensive issues, scoring 2.62 goals per game is not enough in the Western Conference.
The Jets have brought in right winger Devin Setoguchi to improve their offense. Setoguchi struggled to score during the last two seasons in Minnesota, but he topped 30 goals once and 20 goals three times during his run in San Jose.
That's what the Jets are counting on from Setoguchi. They expect him to give them a solid second-line scoring option that will help them become a more dangerous offensive team.
If Setoguchi becomes that X-factor, the Jets could become a playoff team.
Pacific Division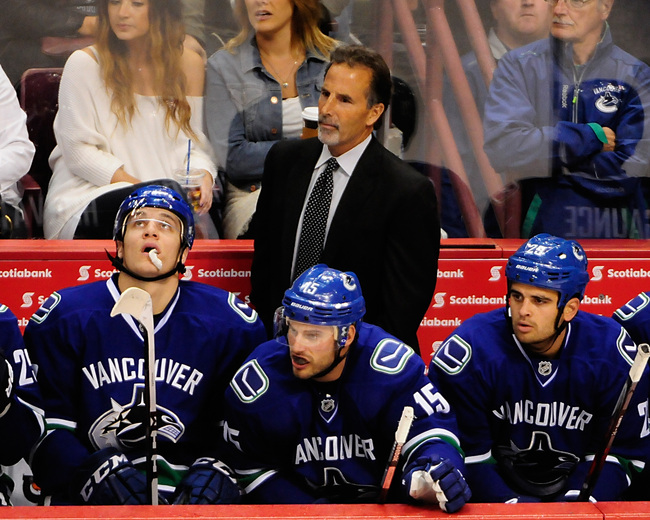 Anne-Marie Sorvin-USA TODAY Spor
How Will the Canucks React to Tortorella's Style
This is the X-factor with the Vancouver Canucks. They have several A-, B- and C-factors as well. The first of those has to do with Roberto Luongo's consistency in the net, and the next may be the play of what was a very disappointing power play last season.
Tortorella was brought in to raise the intensity factor. At the same time, Tortorella has been somewhat introspective since his firing by the New York Rangers and does not want to intimidate his players.
While Tortorella has many faults, he is an honest man and has to be true to himself. Sooner or later, he will reveal the explosive part of his personality to his players, and the reaction could be overwhelming to some of the more soft-spoken players on the team.
Smith's Goaltending Must Return to Form
The burden has been lifted in Phoenix, as new ownership has removed the specter of the team moving out of the desert to Seattle, Quebec City or some other location. That should create stability within the organization and allow the players to concentrate fully on their on-ice performance.
Nobody needs to step up more than goalie Mike Smith. He had a stellar run in 2011-12, as the Coyotes made the playoffs and got to the Western Conference Final.
Smith was not awful in 2013, but his numbers were not quite as impressive. He had a 2.58 goals-against average and a .910 save percentage. In 2011-12, those numbers (2.21 GAA and .930 save percentage) were better.
Smith has to get back to that form if the Coyotes are going to make a run to the postseason.
Will the Real Bruce Boudreau Please Stand Up?
The Anaheim Ducks were one of the most surprising teams in the league last year, as head coach Bruce Boudreau led them to a second-place finish in the Western Conference.
That was shocking, considering the Ducks finished 13th in the Western Conference the year before. Bourdreau got his team off to a sensational 22-3-4 start, and all memories of the awful finish in 2011-12 were completely wiped away.
But here's the problem: No team that Boudreau has coached has ever produced a long playoff run. He is clearly a coach who can fire up his players, but the intricacies of strategy often cause him problems.
That could make it hard for his players and management to have faith in him. He has already had one playoff failure with the Ducks after enduring five with the Capitals.
Do they really believe in him? That's the X-factor with Boudreau.
Keep Reading