Mocking Up the 2009 NBA Draft Lottery, if Drafting by Need
With the lottery set, I thought I would give you the NBA draft the way it SHOULD go, if teams were smart and drafted on team needs, rather than just on talent. If teams would pay attention to their own needs, we wouldn't have such bad teams picking in the lottery every season. As an avid NBA fan, I would like to see teams start drafting based on need rather than talent alone, because it is always nice to watch a good basketball team, rather than a bad basketball team with a good player or two on it.
No.1 - Los Angeles Clippers - Blake Griffin PF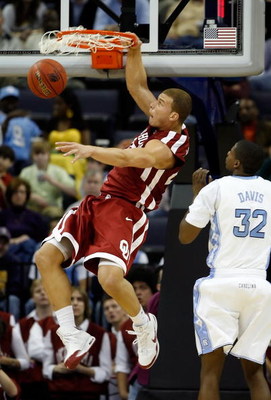 You can't pass up a player like Blake Griffin. He has all the goods at the Power Forward position.
He is a dominant scoring presence. He is a dominant rebounder on the offensive and defensive ends. He is a good shotblocker. He is an average-to-above-average defender.
Zach Randolph is a good PF, himself, but Griffin has the potential to be a transcendent talent in the NBA. Randolph does not.
Although, with all the talent available in this draft, I would not be all that upset (or surprised) if the Clippers made a deal with Sacramento, Oklahoma City, Minnesota, or even Chicago to get either of those teams two first round picks for the #1, seeing as how any of those teams would love to have Griffin, except for Minnesota, who already has Al Jefferson.
No.2 - Memphis Grizzlies - Jordan Hill PF/C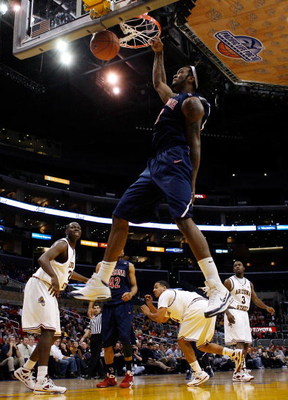 The Memphis Grizzlies have a lot of size and athleticism on their team. I believe they could add more size in Jordan Hill, and turn him into a center in the NBA. If he fails at that position, and doesn't have the strength to play down low with other centers (unlikely considering there aren't many true centers in the NBA anymore), he could be transitioned back to power forward, and take over for Darrell Arthur.
The low block is the Grizzlies biggest weakness, with their strengths being at the guard and small forward position (Conley-Mayo-Gay). With Jordan Hill's athleticism, he would fit in well with the style of play the Grizzlies already run, and want to run more efficiently.
I am not a fan of Thabeet, and don't think he is going to transition well into the NBA game, so I would say the Grizzlies would be better off taking Jordan Hill, or perhaps even pulling a trade with one of the teams who have two first round picks, so they can take a DeJuan Blair or Taj Gibson later in the round.
No.3 - Oklahoma City Thunder - Tyreke Evans SG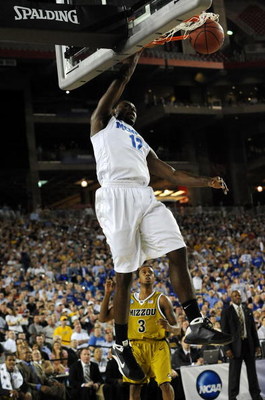 I am not sure why NBA scouts and GMs aren't as high on him as they should be. At 6'6" and 220 pounds, blessed with good ball handling abilities, a great shooting stroke, and speed to blow by anyone guarding him, he is the prototype 2-guard in the NBA.
And, on the Oklahoma City Thunder, their biggest issue is at the SG position, where Thabo Sefolosha starts for them. With all the talent the Thunder possess (Durant, Westbrook, Green), filling in the hole at SG would make them a dominant offensive threat.
Not only is he a great offensive player, but he plays great defense, as well. He, supposedly, lacks some discipline, but he had no issues at Memphis, and I am positive that if he, at least, gives 100% in the NBA, he will be the best player coming out of this draft, besides Blake Griffin.
No.4 - Sacramento Kings - Ricky Rubio PG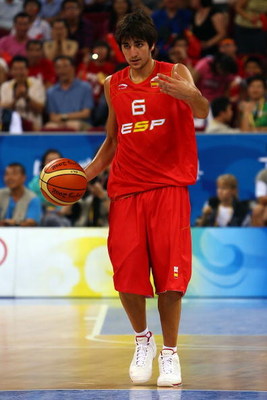 After seeing two Ricky Rubio performances in the Olympics last year, I was a believer. But, the fact that I have only seen him play twice is also a red flag to not draft him. The Euro Leagues are a much different game then the NBA, as are the Olympics, so who knows how his game is going to translate.
But, with the speed, talent, ball handling, and shooting abilities he has shown, it seems as though he will be able to translate his game to the NBA level. And, with the Kings needing a PG, Ricky Rubio is, obviously, the best option at that position. Had Brandon Jennings shown his ability at a US college, he might have been this pick, but I have to believe Rubio will be the man the Kings go with.
No.5 - Washington Wizards - DeMar DeRozan SG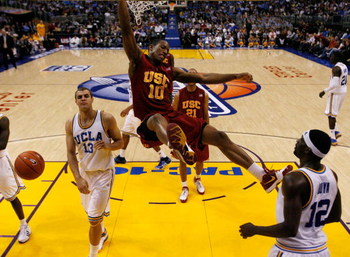 The Wizards need help at the guard position, without a doubt. And, I believe they need to draft as if Gilbert Arenas is going to stay healthy, and be able to play the PG position the entire season.
And, if he is, the addition of DeMar DeRozan will help the Wizards return to the playoffs, with ease.
He has great size (6'6" 215), and a great stroke. Although his ball handling ability is not what you would want from a SG, he can let Arenas and Butler handle the ball, and just become a Rip Hamilton-like player, coming off screens and putting up jump shots with that beautiful stroke of his.
I don't think he will come into the NBA and be dominant right away, but if he gets it right, he can be a 20 point scorer in the NBA.
No.6 - Minnesota Timberwolves - Brandon Jennings PG
With the front line being locked down with Love and Jefferson, the Timberwolves need someone to get the ball in their hands. You aren't going to win with those bigs when Kevin Ollie and Sebastian Telfair are your PGs.
With Jennings speed and passing abilities, he could be the right fit for Minnesota. He plays great defense, which is definitely a good fit for Minnesota, but does struggle a bit in the half-court offense, which is something he will need to improve on if he wants to succeed in Minnesota.
If he can develop a good outside stroke, defenses will have to stay up on him, which will allow him the ability to get into the lane and dish it off to the big men, or to Mike Miller spotting up on the wing.
No.7 - Golden State Warriors - Jonny Flynn PG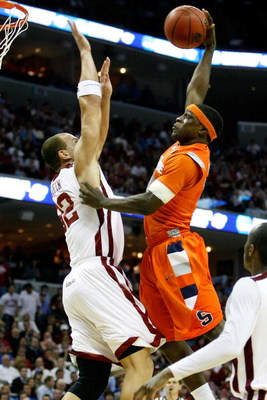 Jamal Crawford is not a true PG. If the Warriors want to succeed, they need to stop pretending that Crawford can play the point. Of course, I will say that this pick is relying on whether or not Brandan Wright can get the message, and become a force at the PF position that he was supposed to be coming out of North Carolina. If he can't, then I could see an Earl Clark pick here, but I think Flynn is the better NBA prospect than Clark.
Anyone who saw him play this past season understands his explosiveness and speed with the ball. And, in the Warriors system, speed is a must. Not to mention his ability to find others, and put the ball exactly where it needs to be, which is something that Crawford is not good at. Both Crawford and Ellis are combo guards, and it would be great for Golden State to have one guard who is true at his position.
No.8 - New York Knicks - Wayne Ellington SG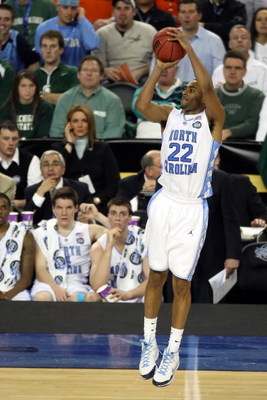 Wouldn't his shooting ability fit in perfectly with Mike D'Antoni's system? Could he not play the Joe Johnson/Quentin Richardson role in his system?
If you want to talk about pure shooters in this draft, you have to start with Wayne Ellington. And, in D'Antoni's system, spot up three point shooters excel. And, Wayne can do so much more than that. He can create his own shot if the defense closes on him, and get to the rim, and dunk in traffic or get to the line. And, if you are going to play the SG in the NBA, you are going to have to know how to get to the line.
No.9 - Toronto Raptors - James Harden SG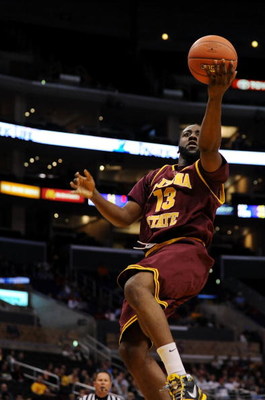 He is a scorer, plain and simple. Watching him play, you don't even understand how he gets it done, but he does. He is not a flashy player. He is not overstated. But, at the end of the game, he will always have 20 points, 7 rebounds, and 5 assists, along with 2 steals and a block. He is one of those glue guys on a team, but the difference is that he puts points on the board, as well.
And, in Toronto, he might be the man who can keep Chris Bosh in a Raptors uniform. Obviously, Bosh wants to win, and Toronto has a tough time doing that. But, that's because he has no help. With Harden's scoring ability, he will open lanes for Calderon to get to the rim, and will also allow less double teams to go to Bosh, allowing him easier play down low. It will also, give him an option to pass out to if he does get double teamed.
No.10 - Milwaukee Bucks - Hasheem Thabeet C
I am not a fan of Thabeet's, and think he will be a bust in the NBA. But, the value of getting him at the number 10 slot is probably too much to pass up for an NBA GM. With Scott Skiles as a coach, Thabeet is probably first on his board, considering defense is the only thing that matters to him. And, having Thabeet to anchor his front line would keep Skiles up at night, drooling all over himself.
If they can keep Villanueva, they will have enough offense with the return of Michael Redd, and Richard Jefferson on the wing. But, the help that Thabeet can bring on defense will make his pick at this slot worth it, considering they won't need offensive help from him. Although, if they lose Villanueva, this pick becomes a crapshoot, seeing as how they have nobody to score in the post.
No.11 - New Jersey Nets - Stephen Curry SG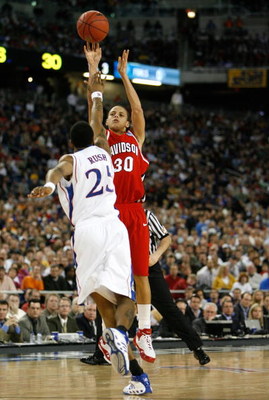 With the PG, SF, and C positions wrapped up in New Jersey, it would be a toss up between a SG and PF. I had a tough time deciding between Stephen Curry and James Johnson/Earl Clark. But, considering both Johnson and Clark are SFs by trade, I think that New Jersey will be better suited going with a SG with this pick.
The Nets were not all that adept at shooting the three last year, and the addition of Curry would definitely help with that. I think he can fill the role that Chris Douglas-Roberts can't in New Jersey.
He does struggle creating his own shots, at times, but his sweet stroke will be showcased on a team that already has talents like Devin Harris and Vince Carter attracting the top defenders on the other teams.
No.12 - Charlotte Bobcats - Gerald Henderson SG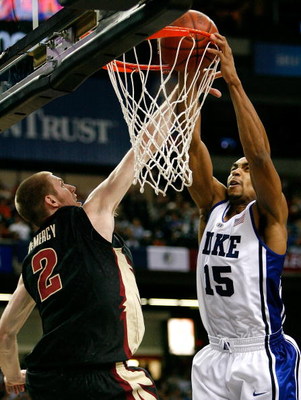 He is great in the open court, but has become better at creating his own shot. He knows how to get into the lane, and finish in traffic. Also, he can get to the line when needed.
His shooting stroke is decent. Not quite as good as the other premier SGs in the draft. However, with the intensity he brings on the defensive end, he can definitely become an all-around good guard in the NBA. I think he becomes a sixth man in his NBA career, but a productive one.
No.13 - Indiana Pacers - James Johnson PF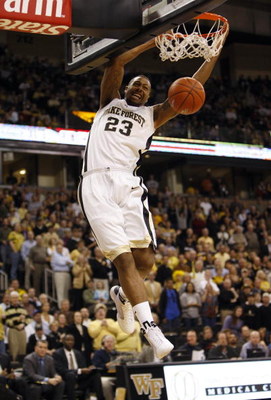 The Pacers are an up and coming team. With Danny Granger and Roy Hibbert on the front line, the addition of James Johnson would make that line a force to be reckoned with.
With Jarrett Jack and TJ Ford at the PG, I think they would be best suited to take a PF at this spot, allowing Troy Murphy to come off the bench. Thus, making them an extremely deep team in the front court. Having size-depth is one of the biggest advantages you can have in the NBA.
Johnson has athletic ability, a great mid-range game, and good handles for a man his size. He could work a good inside-out game with Danny Granger.
No.14 - Phoenix Suns - Earl Clark SF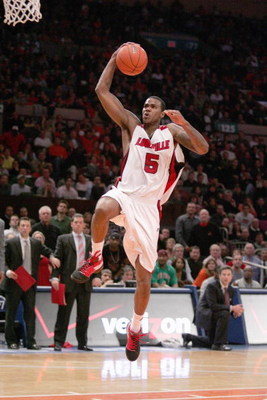 With all the talent at PG in this draft, most people believe they should draft for a Steve Nash clone, to take over once he is done. But, I am one that believes Barbosa can be that guy, at least for a year or two until another PG comes out of the college ranks that can compare to Steve Nash. Everyone thinks that Ty Lawson is that guy, and I think he would be a great pick here, but as of right now, the Suns need help at the SF position.
Matt Barnes and Jared Dudley are nice role players, but Earl Clark can be a starter in the NBA. He has great size, a great wingspan, plays good defense, and can even shoot the three as a 6'10" SF. In the offense that Phoenix runs, having a front line of Clark, Stoudemire, and Shaq would be the perfect complimentary line, with Clark being the outside guy, Stoudemire being the mid-range player, and Shaq being the inside presence. Talk about attacking teams from every part of the court.
Keep Reading