There's no question that the Pittsburgh Steelers are in bad shape. With an 0-4 start to the season (the first time since 1968), changes were undoubtedly in their future.
Now that the Steelers are on their bye in Week 5, they have an opportunity to regroup and evaluate where they stand, particularly on offense, which has been abysmal through four games.
One reason for this is the offensive line, particularly the offensive tackle position. On Tuesday, Josina Anderson of ESPN reported that the Steelers would be replacing starting left tackle Mike Adams with Kelvin Beachum, the jack-of-all-trades lineman who has played tackle, guard, center and tight end this year.
Sources: Steelers T Kelvin Beachum displaced Mike Adams as starting LT at practice today. He's expected to start Steelers @ Jets out of bye.

— Josina Anderson (@JosinaAnderson) October 2, 2013
However, that plan appears to have been quickly scrapped, with Ed Bouchette of the Pittsburgh Post-Gazette reporting that the Steelers have traded a conditional draft pick to the Arizona Cardinals for their incumbent left tackle, Levi Brown.
#Steelers send conditional pick to Arizona for OT Levi Brown. He's on his way to Pittsburgh. Must pass physical to become official

— Ed Bouchette (@EdBouchette) October 2, 2013
Those cheers you hear? Those aren't the sounds of Steelers fans welcoming the benching of Adams. They're the sounds of Cardinals fans bidding Brown good riddance. This is no upgrade for Pittsburgh—it's a desperation move borne of its 0-4 start and its limited options.
Don't be fooled by Brown's draft pedigree. Though he was taken fifth overall in 2007 (not coincidentally current Steelers offensive coordinator Todd Haley's first year with the Cardinals in the same capacity), Brown has been a bust.
Levi Brown Pressures Allowed, 2008-2013

| | | | |
| --- | --- | --- | --- |
| Year | Sacks | Hits | Hurries |
| 2013 | 4 | 6 | 8 |
| 2011 | 11 | 5 | 40 |
| 2010 | 10 | 10 | 50 |
| 2009 | 9 | 17 | 29 |
| 2008 | 13 | 15 | 40 |
| Total | 47 | 53 | 167 |
via Pro Football Focus (subscription required, data only goes back to 2008; Brown missed 2012 due to injury)
So far this season, he's given up four sacks, six quarterback hits and eight hurries. He missed the 2012 season with a torn right triceps after coming off a 2011 campaign in which he allowed 11 sacks, five quarterback hits and 40 hurries. He gave up 10 sacks, 10 hits and 50 hurries in 2010, nine sacks, 17 hits and 29 hurries in 2009 and 13 sacks, 15 hits and 40 hurries in 2008.
Needless to say, there's very little upside to this transaction, except for the Cardinals, who get a draft pick and the chance to cut bait with a player they were on the verge of releasing before the Steelers came calling.
On reports Levi Brown trade brings late round pick from Steelers, sources say #Cards "were prepared to cut Levi." Also, savings of about $1M

— Paul Calvisi (@PaulCalvisi) October 2, 2013
Among the 72 offensive tackles ranked by Pro Football Focus (subscription required), Brown ranks 60th through four weeks of this season. Adams ranks 69th. They're both performing poorly, and to say Brown is any better than Adams is a matter of very small degrees. Adams has thus far given up four sacks and six quarterback hits, the same as Brown, and has only performed worse than him in terms of hurries, with 13.
The only saving grace for Brown this season is his run blocking, for which he has a positive 2.9 grade, while Adams' is at -1.2. In fact, in his career, run blocking has been the only area in which Brown has shown talent, belying the reality that he's a natural right tackle who has been erroneously made to work on the left.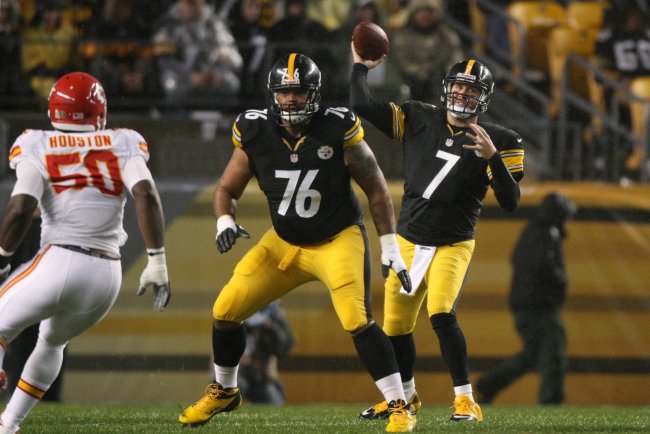 Jason Bridge-USA TODAY Sports
Therefore, if the plan is to bench Adams in favor of Brown, the Steelers will be repeating Arizona's mistake and the results shouldn't be very different. If the Steelers think bringing Brown aboard will help their stalled running game, they'll be doing so at the expense of Ben Roethlisberger's well-being. Even if Brown ends up at right tackle, it's still a major downgrade in pass protection.
The Steelers are searching for answers to turn around the disappointing first quarter of their season, but trading for Brown isn't one of them. It's a desperate move by a desperate team, one that doesn't do anything to solve their pass-protection woes and won't pay off in the run game either.
It's another bad decision by the Steelers after making many of them in the past 24 months, resulting in the 0-4 start they've had this year. Yes, they needed to do something to help their offensive line, but trading for Brown only hurts it that much more.