Start 'Em, Sit 'Em Week 5: Analyzing Best and Worst Options at Quarterback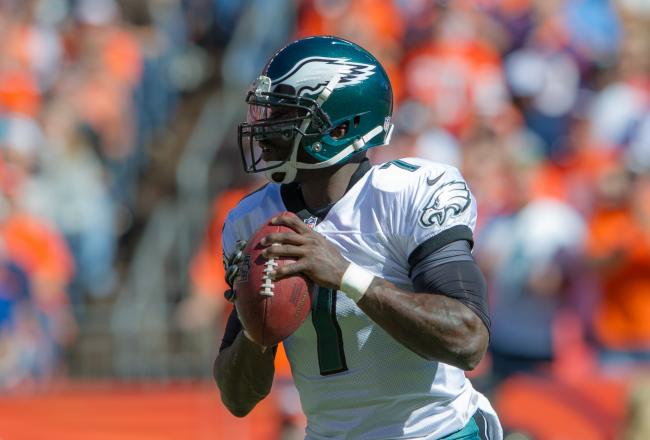 Dustin Bradford/Getty Images
The success of your fantasy football team this season can likely be determined based on quarterback play, but choosing the best options for your squad in Week 5 could be the difference between turning your season around and staying firmly planted in the cellar of your league.
It's safe to say that there have been surprises at the quarterback position already. Who would have guessed that Brian Hoyer would be a semi-viable play as the man under center for the Cleveland Browns? Not many expected Jake Locker (prior to injury, of course) to progress the way he has. On the other hand, Robert Griffin III hasn't been the quarterback owners expected after taking him pretty early in most drafts.
Of course, the staples of the position haven't disappointed. Peyton Manning, Drew Brees and Aaron Rodgers have been stellar, and owners have reaped the benefits of not having to worry about their quarterback from week to week.
Just in case you weren't lucky enough to grab a top-tier quarterback early on in your draft, this breakdown for Week 5 will help you decide between the studs and the duds at the position. Having a quarterback put up poor production is almost enough to guarantee your team a loss, so choosing the guys in the best position to put up big numbers is key.
It's not always the biggest names that produce. Finding the best matchups and monitoring who's hot will lead you to a fantasy championship. But first, let's focus on Week 5.
Start: Philip Rivers, San Diego Chargers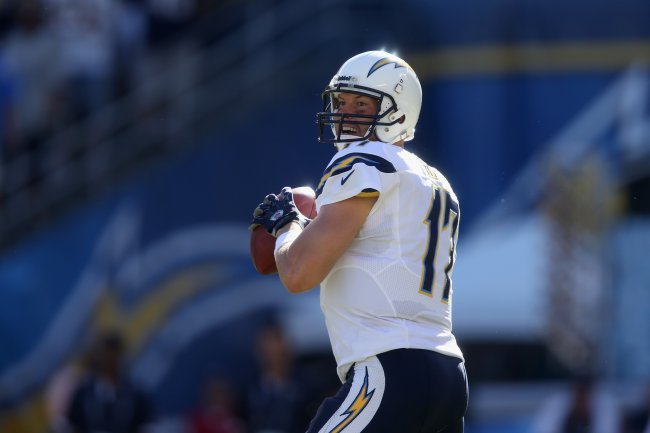 Jeff Gross/Getty Images
Owners who selected Philip Rivers late in drafts are reaping the benefits of a completely different quarterback than the man who tossed 48 interceptions between 2010 and 2012. This season, Rivers is playing like a top-tier quarterback.
He has led his San Diego Chargers to a 2-2 record, with both wins coming as a result of game-winning drives by Rivers. It's been his clutch play that has been the key in San Diego.
Rivers is on pace for nearly 4,800 yards through the air, as he's already totaled 1,199 through four games. Projections aren't always the safest thing to rely on but, while we're at it, it's important to mention that he's also on pace for 44 touchdowns and just eight interceptions.
In Week 5, Rivers will be taking on the secondary of the Oakland Raiders. Expect big numbers yet again.
Oakland allows opposing quarterbacks to pass for 237.5 yards per game, and they've allowed seven touchdowns through the air this season. Those aren't terrible numbers for a defense, but the fact that they've yet to intercept a pass would suggest that Rivers may be apt to take more chances downfield. If that's the case, then expect some big numbers.
Sit: Colin Kaepernick, San Francisco 49ers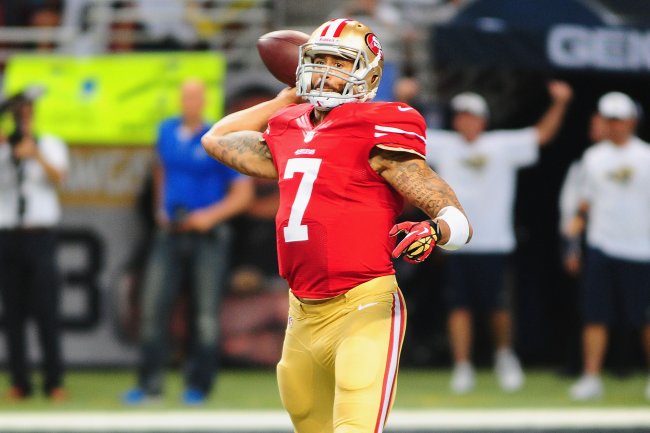 Michael Thomas/Getty Images
Colin Kaepernick has been one of the most disappointing fantasy quarterbacks this season, and the San Francisco 49ers can't be loving his level of production either.
The Niners are just 2-2 following a trip to the Super Bowl, and Kaepernick is a huge reason for their relatively slow start. He has just five touchdowns and 856 passing yards, and he's only rushed for 140 yards on 26 attempts. After throwing just three interceptions in seven games last season, he's already thrown four in as many contests.
Kaepernick will be a __________ fantasy QB the rest of the way.
Kaepernick has looked timid and unsure of himself in the pocket, resulting in missed opportunities and more turnovers. He hasn't taken all that many opportunities on the ground, but perhaps that's the best way to rebuild his confidence.
Regardless, he faces a tough matchup against the Houston Texans in Week 5. It's a matchup that will likely produce negative results for Kaepernick.
The Texans boast the top passing defense in the NFL, allowing just 141 yards per game through the air. They have allowed six passing touchdowns, though.
Going forward, I wouldn't consider Kaepernick a safe start until he strings a few consistent outings together. Sure, you drafted him with the intent of starting him every week, but it's time to search for another option for the next couple of weeks. Starting him against Houston wouldn't be a smart move.
Start: Michael Vick, Philadelphia Eagles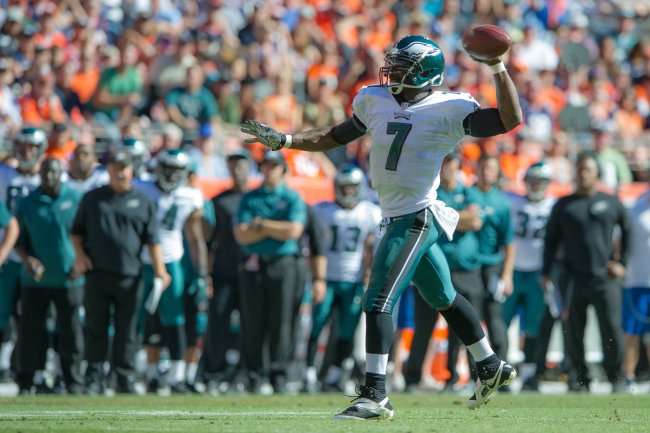 Dustin Bradford/Getty Images
The Philadelphia Eagles are just 1-3, but Michael Vick has been a catalyst for fantasy owners. He's back to his old ways, running the football in Chip Kelly's offense, and it's done wonders for his fantasy stock.
He's rushed for 228 yards and two touchdowns already this season. Couple that with his five touchdowns and 1,080 yards through the air, and Vick has been dynamic. He's on pace to amass 4,000 yards passing for the first time in his career, but keep in mind that he's played in all 16 games just once during his 11-year playing career.
He's healthy for now, and that makes him a viable option in Week 5 against the abysmal secondary of the New York Giants. Opposing offenses have had their way with the Giants defense, and there's plenty of reason to believe Vick will do the same.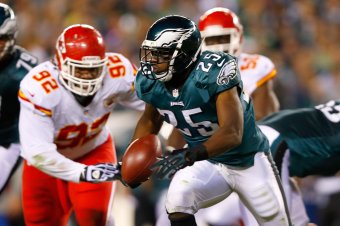 Rich Schultz/Getty Images
The Eagles have the No. 1 ranked rushing offense in the NFL. LeSean McCoy and Vick are a lethal tandem in the backfield and both will be running early and often in Week 5. Vick may not rack up big numbers in the air, but his numbers on the ground will surely make up for that.
Vick has been shaky the past two weeks, but expect him to get back on track in Week 5. Health is always a risk with Vick but, when healthy, he should be active at all times, and a strong matchup makes him a top play at the position.
Sit: Matt Schaub, Houston Texans
Bob Levey/Getty Images
There's a reason Texans fans burnt Matt Schaub's jersey after a Week 4 loss to the Seattle Seahawks.
That reason is that Schaub has been ridiculously inconsistent. Sure, he has completed an impressive 65.5 percent of his passes for 1,193 yards and eight touchdowns, but he has thrown six costly interceptions that have inhibited the Texans from winning ballgames.
Throw away the six interceptions (or maybe just a couple of them) and you have yourself a quality fantasy quarterback. But his inconsistency and propensity to kill drives by turning the ball over is enough for owners to pull their hair out. That won't get any better in Week 5 against the 49ers.
San Francisco has the third-ranked passing defense in the NFL, holding opposing quarterbacks to 190.5 passing yards per game. They have recorded three picks and 12 sacks.
The pressure that the Niners will most assuredly put on Schaub will be enough to force even more errant throws than he has already made. He struggled at the end of the game against a strong Seattle Seahawks defense, but it's easy to argue that San Fran's defense ranks right up there next to them.
This will be a bad week for Schaub and his owners. If there are options available off the waiver wire, then pick somebody up. Schaub is an extremely risky start in Week 5.
This article is
What is the duplicate article?
Why is this article offensive?
Where is this article plagiarized from?
Why is this article poorly edited?