LSU vs. Mississippi State: Live Score and Highlights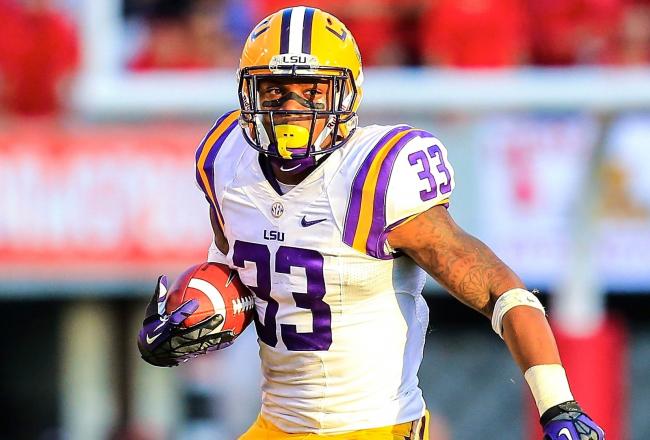 LSU 59, Mississippi State 26—Final

The LSU Tigers scored 31 unanswered points to pull away from Mississippi State and defeat the Bulldogs 59-26.
Odell Beckham was the standout performer for the Tigers in this victory, reeling in 179 receiving yards and two touchdown receptions. Here is a full breakdown of the game below.
What does this win mean in the long run for the Tigers? Well, it proves that LSU can score on great defenses. Say what you will about Mississippi State's offense, but this Bulldog defense is one of the better defenses in the conference. LSU piled on 563 yards against a team that was giving up only 310 yards per game entering the contest. Well, there goes that stat...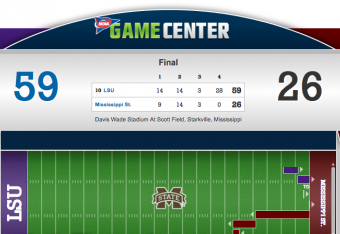 Here's a quarter-by-quarter scoring breakdown, via NCAA.com.
Confidence should rise down the bayou, as LSU's 59- 26 victory against Mississippi State was an impressive one. Mettenberger was 25-of-29 for 340 yards, two touchdowns and one interception. Hill had 157 yards rushing with two rushing touchdowns.
LSU 59, Mississippi State 26—4th Quarter (1:21)
A defensive subbing penalty gives LSU another chance and Hilliard punches it in.
I have one question, though—why is Mettenberger still in the game?
Just working the clock. Tigers are steadily pounding the rock to end this contest. On 4th-and-goal, Miles makes a classy coaching decision by electing to run it instead of pile on more points.
This will be #LSU's 14th straight win over State, 21st in last 22. LSU will be 11-1 here since 1988 and 21-1 under Miles after a loss.

— Scott Rabalais (@RabalaisAdv) October 6, 2013
LSU's depth at running back is really showing, as a fresh Terrence Magee picks up more first downs for the Tigers. The Tigers are closing in on 30 total for the game.
This one's getting ugly. More costly mistakes by Mississippi State, as Kwon Alexander gets a hand on Russell's option pitch. Lamar Louis recovers the fumble to set the Tigers up with great field position once again.
TOUCHDOWN LSU! Alfred Blue ran up the middle for an 18-yard TD run! #LSUWIN

— LSU Football (@LSUfball) October 6, 2013
LSU 52, Mississippi State 26—4th Quarter (6:46)
Tigers are going back to the old faithful—that vintage I-formation set. Copeland is back in the ballgame, clearing a hole for Blue's touchdown run.
As LSU looks to run the clock out, it seems as though Landry's consecutive touchdown streak will come to an end.
#LSU running it but Hill limps off and JC Copeland is also down. Alfred Blue now running.

— Scott Rabalais (@RabalaisAdv) October 6, 2013
Copeland is down. Preston Smith looks shaken up. Two key players for both squads look to be in agonizing pain.
RONALD MARTIN FROM OUTTA NOWHERE

— Pod Katt (@valleyshook) October 6, 2013
Give Ronald Martin credit tonight. The safety that's been under a microscope these past couple of weeks has stepped up his play and made key pass breakups tonight. Granted, Russell did deliver a late ball. Tigers take over.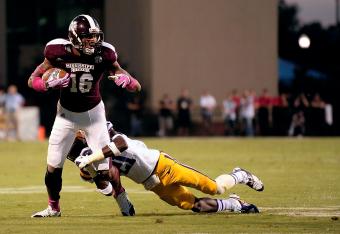 Unlike last week, LSU dials up heat on 3rd-and-long, and Barrow picks up a huge sack. This fourth down conversion is likely the ballgame.
Story of the second half—Mississippi State drives, reaches LSU's 35-yard line and stalls.
Imagine what Robinson would look like had he fully participated in fall camp.
Impressive drive by Mississippi State. Lewis is a weapon that Dan Mullen must use often in upcoming SEC contests. He has 124 receiving yards tonight.
Hill's touchdown run.
Beckham's touchdown that put him at 176 yards receiving (highest total receiving yards since Devery Henderson in 2002).
LSU 45, Mississippi State 26—4th Quarter (14:19)
Warning—arm tackling will not stop Hill. That just might be the dagger, folks.
Good pressure on third down by four rushers allows a misfire by Prescott on a crucial interception. White showed his athleticism by alluding Bulldog players en route to setting up LSU inside the 5-yard line.
.@LSUfball now over 300 yds passing in back-to-back games, a first in back-to-back SEC games since 2007 (Auburn 319, Alabama 388). #LSUWIN

— Bill Martin (@LSUBillMartin) October 6, 2013
LSU 38, Mississippi State 26—4th Quarter (14:50)
Yep, Beckham and Landry are the best tandem in the country. Beckham catches his second touchdown of the game.
Hill with a little swagger.

— Dandy Don LSU Sports (@dandydonlsu) October 6, 2013
The third quarter ends with Hill shaking his tail-feather, high-stepping on Mississippi State's defense. I can dig the confidence.
How Beckham gets that wide open, I'll never know. That's 146 receiving yards for the spectacular wide receiver.
Though LSU's defense has allowed Mississippi State to drive down the field, the Tigers defense has held strong within the "strike zone" (within 35-yard line). A missed field goal gives LSU great momentum, as the Tigers take over on downs.
This article is
What is the duplicate article?
Why is this article offensive?
Where is this article plagiarized from?
Why is this article poorly edited?

LSU Football: Like this team?