MLB Playoffs 2013: Examining Most Important Postseason Players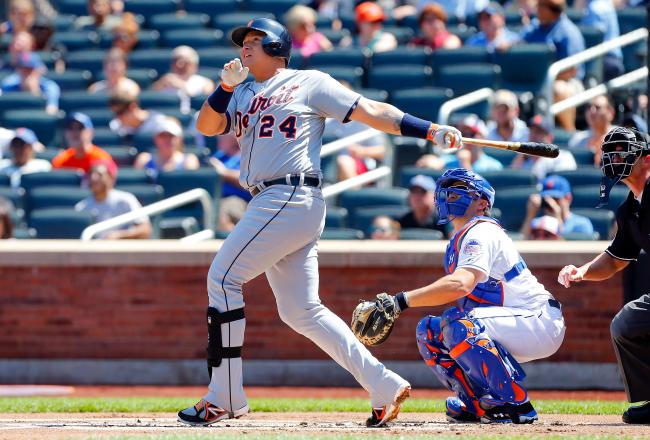 Jim McIsaac/Getty Images
The Major League Baseball playoffs got underway in an electric PNC Park atmosphere as the Pittsburgh Pirates knocked off the Cincinnati Reds in the National League Wild Card Game. The league has to hope the rest of the postseason lives up to that excitement level.
For that to happen, the sport's biggest stars must shine. While there's always a group of breakout players who help teams make deep playoff runs, it ultimately comes down to the marquee names leading the way for clubs in October.
So, even though the postseason features no shortage of star power, certain players will need to play a more important role for their teams than others in the coming weeks. Let's check out three stars atop that critical list as the journey toward the World Series heats up.
Miguel Cabrera (Detroit Tigers)
Cabrera was his usual dominant self in the middle of the Detroit order until September arrived. Then it seemed the mounting injury issues he was fighting finally caught up with him. His OPS dipped to a mundane .728 in the final month as he connected on just one home run in 72 at bats.
The MVP candidate's final overall numbers were still outstanding. He hit .348 with 44 home runs and the second-best on-base percentage of his career. There's no doubt the Tigers need him playing at that level if they are going to make a World Series run.
Detroit has to hope some extra time off near season's end and the break before the playoffs start was enough for Cabrera to shake off any nagging problems. Otherwise it will be a struggle just for the Tigers to advance beyond the division series.
Andrew McCutchen (Pittsburgh Pirates)
The Pirates received a pair of home runs from Russell Martin and another from Marlon Byrd to beat the Reds. That illustrates the improved offensive depth the team has added this season, but the onus is still on McCutchen to lead the charge.
Which of these players will have the best postseason?
What makes him special is his ability to put pressure on opponents in virtually every way. He can single and steal a base just as easily as he can hit a homer. He can score from first on a double or go from first to third on a base hit with ease.
When you add hit hitting and baserunning to his solid defense, it's tough to find a weakness. McCutchen is a dynamic weapon that gives the Pirates a legitimate chance to become more than simply a feel-good story because they finally returned to the playoffs.
Clayton Kershaw (Los Angeles Dodgers)
Having a pitcher who can shut down any lineup twice in a series is a gigantic advantage. Kershaw has proven he's exactly that after posting a microscopic 1.83 ERA in 33 starts. No other qualified starter had a mark below 2.19.
The Dodgers have a lot of big names in their lineup, including Adrian Gonzalez and Yasiel Puig. But for a myriad of reasons, from injuries to slumps and everything in between, they still ranked in the bottom half of the league in runs.
So getting strong starts from their talented rotation is crucial, just in case that offense doesn't hit its stride right away. It all starts with Kershaw. If he can set the tone by putting up a bunch of zeroes in Game 1 of the NLDS, the Dodgers will be off the to races.
To check out TBS' live coverage of the MLB playoffs, click here.
This article is
What is the duplicate article?
Why is this article offensive?
Where is this article plagiarized from?
Why is this article poorly edited?