Freshmen Report Card Grades Through Week 5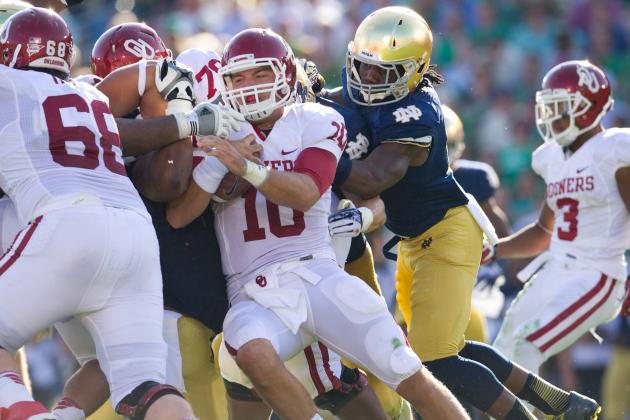 Matt Cashore-USA TODAY Sports

It was not a banner week for America's top freshmen, many of whom watched their teams (and specific units) suffer the worst defeats of their season.
Most of the nation's top youngsters are not accustomed to losing. Because of how dominant they were in high school, the feeling of getting beat up is completely new.
How will they respond from a Week 5 shellacking? Did they learn from the experience of embarrassment, or did it stunt their ripe self-confidence?
Only time will tell.
Note: The players graded are the top six prospects from 247Sports' composite rankings; one player from outside the top six who has stuck out; and one (very) superlative redshirt.
Begin Slideshow

»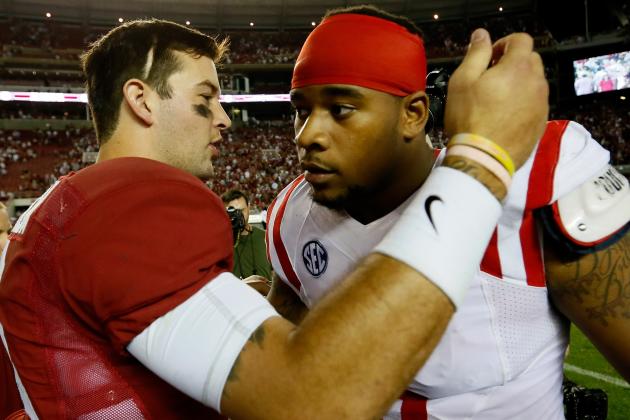 Kevin C. Cox/Getty Images

Previous Grade: A-
Last Week: 0.0 tackles (vs. Alabama)
Ole Miss did a good job pressuring AJ McCarron early (even when it didn't result in a sack), but as the game went on, the Rebels were unable to sustain that success.
Alabama wore out the Rebels defensive line over four quarters, focusing special attention on Nkemdiche, who didn't record a single stat in the 25-0 loss.
It's flattering that teams think so highly of Nkemdiche so early in his career. That's a testament to how good his tape has looked in the first few weeks.
But his job is to help stuff the run, and Alabama racked up over 250 yards on the ground. That has to force a slight dip in his review.
Season Grade: B+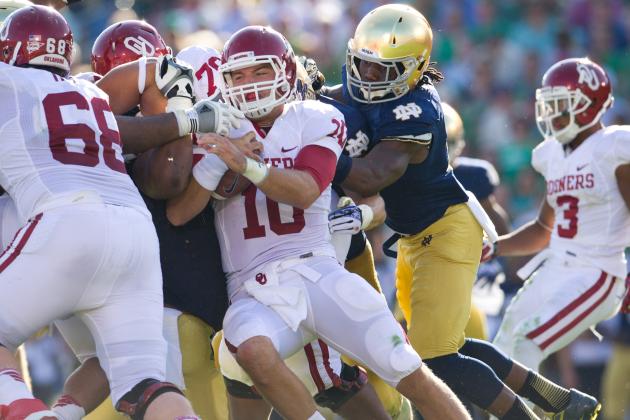 Matt Cashore-USA TODAY Sports

Previous Grade: B+
Last Week: 7.0 tackles (vs. Oklahoma)
Smith, as he has on more than one occasion this year, stood out as a bright spot in an otherwise dull defensive effort. His seven tackles were a career high, and he did a good job against Oklahoma's dynamic defense.
The Sooners challenged Notre Dame in more complex ways than Smith had seen in his first four games, but he was able to keep up with the speed of the game and contribute some positive plays.
The same cannot be said of the Irish secondary.
Season Grade: A-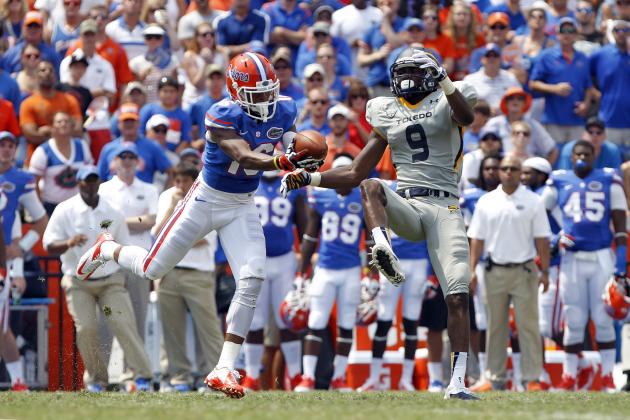 Kim Klement-USA TODAY Sports

Previous Grade: A
Last Week: 2.0 tackles, 1 pass defended, 1 interception (at Kentucky)
Hargreaves continued to make plays for Florida's defense, picking off his third pass of the season in a win over Kentucky.
Maxwell Smith had the audacity to challenge Hargreaves in the end zone on a deep ball, and the freshman made him pay. His three picks are the most on Florida's roster, most among SEC freshmen and tied for third-most among freshmen in the FBS.
With Loucheiz Purifoy and Marcus Roberson (hopefully) continuing to line up alongside him, opposing QBs will have no choice but to throw at Hargreaves. They can't just avoid him as they do with other dynamic corners.
He might actually lead the country in picks this year.
Season Grade: A+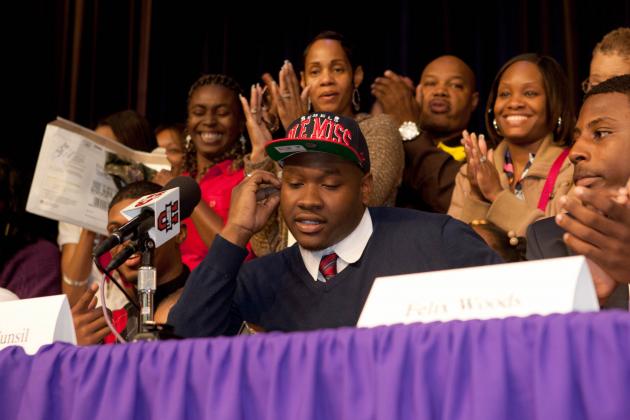 Rob Foldy-USA TODAY Sports

Previous Grade: B
Tunsil, like the rest of Mississippi's offense, lost some street cred at Alabama on Saturday.
The Tide pushed around the Ole Miss offense the entire game, and it was a thorough beat-down. They dominated on every level, from the offensive line to the outside.
It's always hard to evaluate singular offensive linemen in a game like that, since we don't know the blocking schemes. But Tunsil didn't stick out as particularly good, so he needs to receive at least some demerits.
That being said, it's hard to imagine a better learning experience for a young tackle than getting your butt kicked in Tuscaloosa.
Season Grade: B-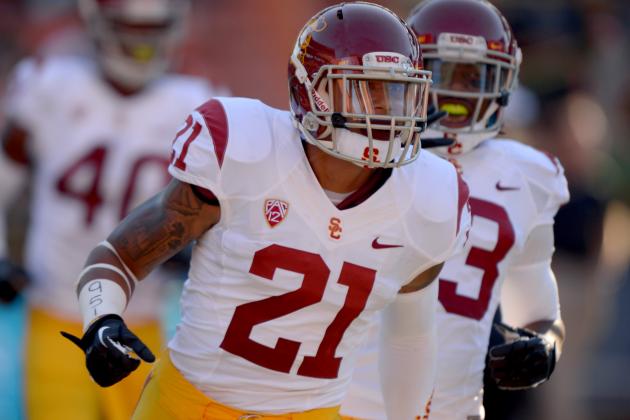 Kirby Lee-USA TODAY Sports

Previous Grade: A-
Last Week: 6.0 tackles, 1 pass defended, 1 interception (at Arizona State)
Speaking of units that lost some street cred...
USC's defense—thought of as one of the best in America—got shredded by Arizona State, letting the Sun Devils rack up 612 total yards and 62 points.
Cravens finished the game with six tackles and his second career interception, but like the rest of the Trojans' secondary, he was picked apart in coverage by Taylor Kelly.
The cornerbacks might have been more to blame than the safeties, but Cravens, for the first time, began to expose his youth in Tempe.
Hopefully that game provided a lesson.
Season Grade: B+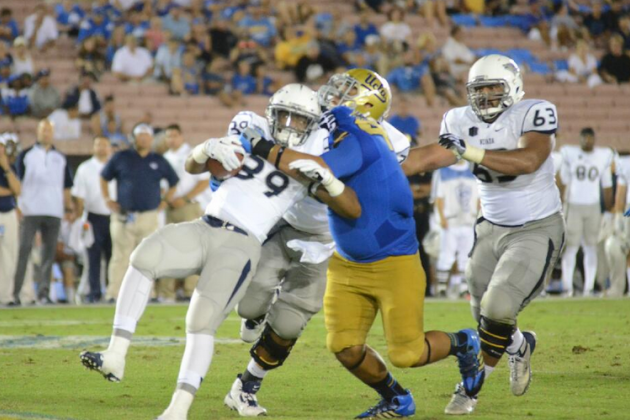 Photo Credit: Twitter – @GTurk1
Previous Grade: B
Last Week: BYE
The Bruins had the week off last weekend, sitting at home and preparing to face Utah in Week 6.
Vanderdoes' grade doesn't change from last week's B (explained here), but that likely won't be the case after Thursday.
Travis Wilson has the Utes offense functioning at a high level, and Vanderdoes will be relied on to help shut it down. This is one of the biggest tests of his career.
Season Grade: B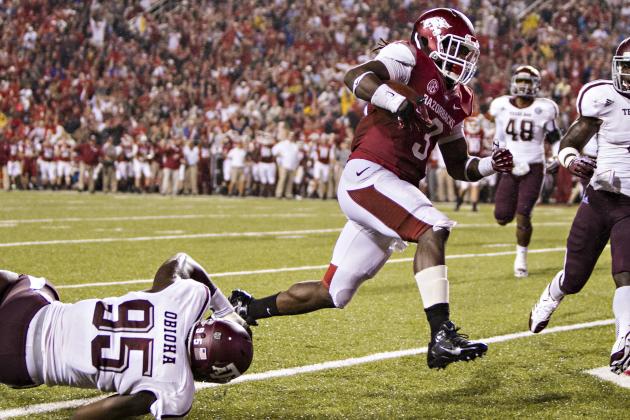 Wesley Hitt/Getty Images

Previous Grade: A
Last Week: 14 carries, 114 yards, 1 TD (vs. Texas A&M)
Arkansas trailed for most of the game on Saturday, resulting in a career-low 14 carries for Collins. After averaging 23 rushes per game to start the season, he has averaged just 15 in the last two weeks.
Unlike the Rutgers game, though, Collins made the most of his sub-20 carries, taking them for an average of 8.29 yards and finishing with his fourth career 100-yard game.
Texas A&M's defense is notoriously soft, but it was still nice to see Collins excel against BCS—and SEC—competition. That provided some credence for his early success.
Season Grade: A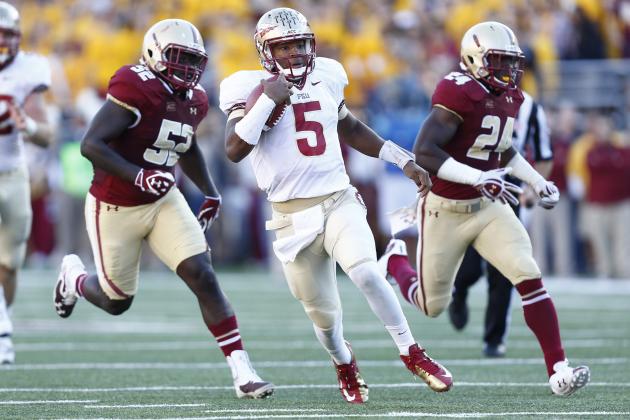 Mark L. Baer-USA TODAY Sports

Previous Grade: A+
Last Week: 17-of-27, 330 yards, 4 TD, 1 INT; 14 car, 67 yards
Florida State experienced its first scare of the season, struggling to pull away from Boston College for most of the game before eventually winning by two touchdowns.
Winston didn't enjoy his normal efficiency, completing "just" 63 percent of his passes (down from 78 percent entering the game), but he was more explosive than ever.
At the end of the first half, he danced out of pressure and heaved a ball into the end zone. Kenny Shaw made the Hail Mary catch and gave Winston a signature play to hang his Heisman campaign on.
It was truly, dare I say, Manziel-esque.
Season Grade: A+