Will US Open Cup Loss Affect Real Salt Lake's Postseason Aspirations?
Use your ← → (arrow) keys to browse more stories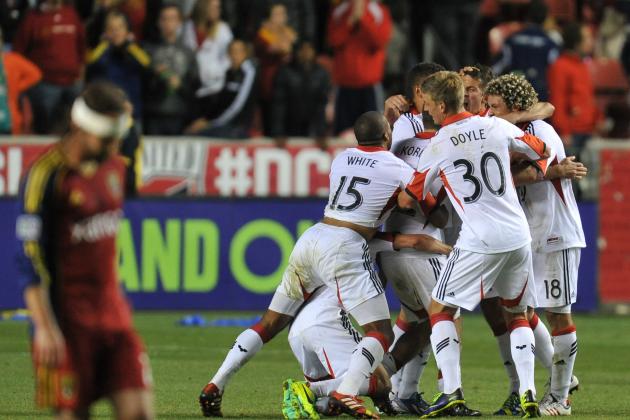 Gene Sweeney Jr./Getty Images

On Tuesday night in front of their home crowd at Rio Tinto Stadium, Real Salt Lake laid an egg and fell to D.C. United in the final of the Lamar Hunt U.S. Open Cup, 1-0.
Words can't express the disappointment at #RioT. #RSL falls tonight 1-0 in the Open Cup final to #DCU. Postgame starts now on @ESPN700.

— James Rust (@espn700james) October 2, 2013
Heading into the match, the Claret and Cobalt were the overwhelming favorites to win the 100th edition of the premier cup competition in America.
However, things did not go according to plan, as RSL fell to a D.C. side that clearly wanted to lift the trophy more than they did.
WATCH: Full highlights of the #USOC Final between @RealSaltLake and @dcunited - http://t.co/FjoBvu1tfG

— U.S. Soccer (@ussoccer) October 2, 2013
After the failure to bring home their second trophy in franchise history, RSL are now forced to recover quickly and march forward in their quest for the Supporters' Shield and MLS Cup.
Currently, Jason Kreis' side sit atop the Western Conference standings, just slightly ahead of Seattle on goal differential and one point off of the Supporters' Shield title, which, if the season ended today, would be handed to New York.
Although they only have three matches left on their regular-season docket, one has to ask the question of Real Salt Lake, and if they are mentally prepared for the playoffs after suffering such a disheartening blow on Tuesday night.
The latest cup final defeat by the club will certainly lay heavy on the minds of the of the club, who have also lost in the CONCACAF Champions League Final in 2011.
Borchers: "This team has a choice right now..." Goes on to say that #RSL can let this loss derail, or motivate to push on

— Sam Stejskal (@samstejskal) October 2, 2013
Adding to their string of defeats, RSL has been knocked out of the MLS Cup Playoffs twice in the last three years as the No. 2 seed at the semifinal stage. They were the No. 3 seed in 2011 and fell in the Western Conference Final to Los Angeles.
If the results from the past were not troublesome enough for the Utah-based club, their form of late in the league has not been stellar.
In the month of September, RSL were taken down by Seattle and then by San Jose in a shock defeat that sprung up hope about San Jose's dying playoff chances.
Why question commitment and desire? We struggled to break down another resolute defense. That's a problem we have. Not commitment.

— Matt Montgomery (@TheCrossbarRSL) October 2, 2013
Luckily, RSL got back on track on Saturday by defeating Vancouver, 1-0, but that was not one of their most convincing wins of the season by any stretch of the imagination.
In the final month of the season, the Claret and Cobalt will play three matches against Western Conference foes; only one of those clubs, Portland, is still left in the playoff hunt, which means they should carry some positive momentum into the MLS Cup Playoffs.
While Kreis has some excellent managerial skills and his players know how to win in the regular season, when the MLS Cup Playoffs begin in a month's time, everyone will be asking questions about how RSL will perform in an elimination format given their recent history.
How they respond to those questions in November and December will tell us a lot about how the club and its players respond to adversity and criticism, especially after falling to the worst club in Major League Soccer on Tuesday night with everything on the line.
Follow me on Twitter, @JTansey90